Paying homage to the age and original architecture of a 100-year-old home in Squirrel Hill, while also modernizing it and adding a sleekness to it.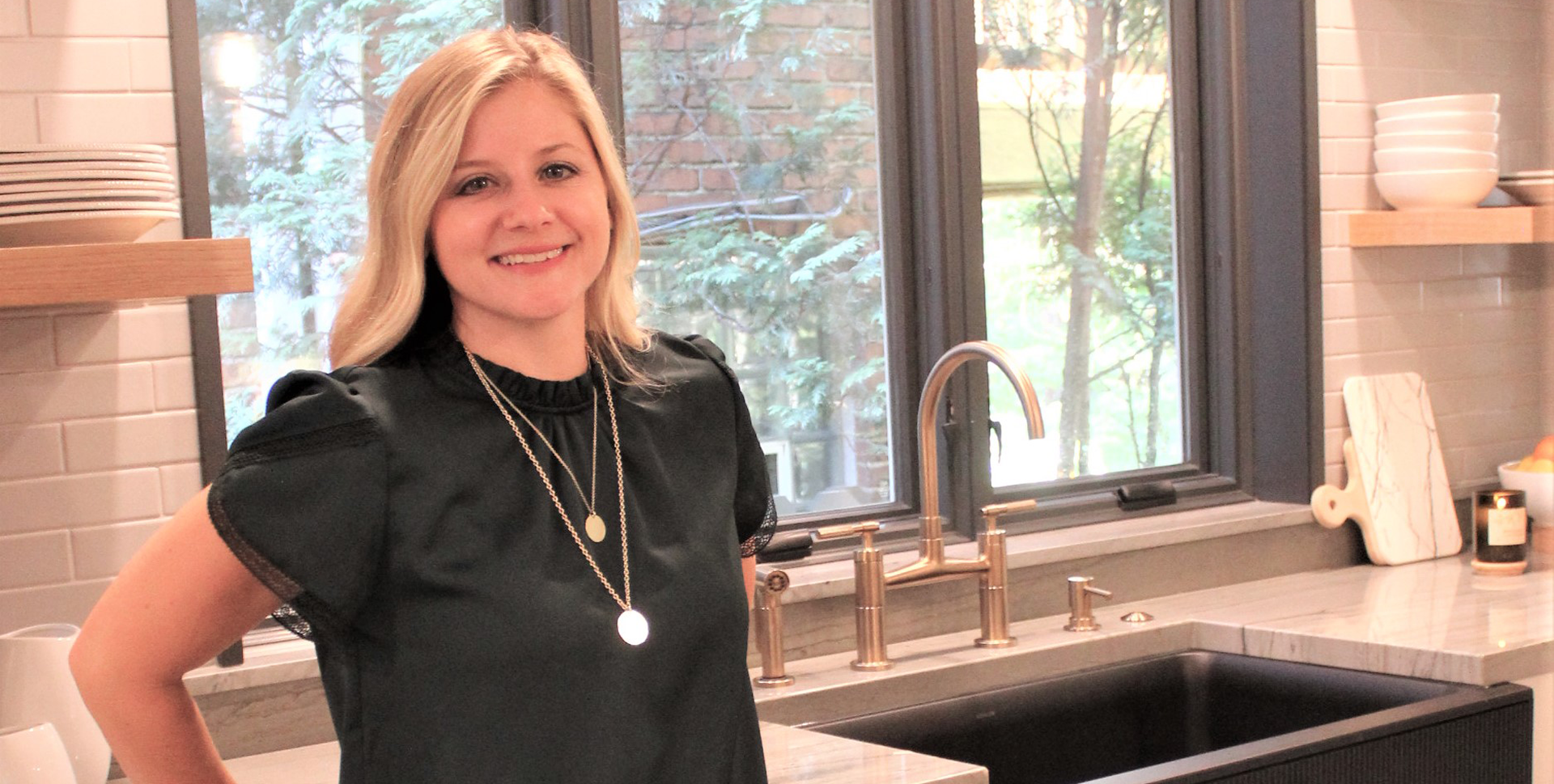 When Sarah and Doug Shriber hired designer April Spagnolo of Evalia Design LLC to help renovate their 100-year-old home in Squirrel Hill, they were looking to increase its functionality as well as to create a more streamlined look between the original portion of the Arts & Crafts/Colonial style home and a more modern addition that they had previously added. 
"We hired April to help us create cohesion between the old Shriber house and the new Shriber house," said Sarah Shriber. "We wanted to pay homage to the age and original architecture of the house, while also modernizing it and adding a sleekness to it."
The couple, who have lived in the house for the past 12 years, also wanted to make the kitchen area more functional, and add a large island with seating to make it easier to entertain. They also asked Spagnolo to find space for more first-floor storage.
"The home was unique. Being built into a hillside, you enter from the upstairs and walk downstairs to the kitchen," explained Spagnolo. "The kitchen, powder room, and laundry were tight, and in their current state were not functioning for the homeowners.
"I always aim to create a space that embodies my client's lifestyle," she continued, noting that the main goals were to create a larger, functional kitchen, laundry and mudroom space, and a powder room. "The client wanted a fun space, and I believe we achieved that." 
Spagnolo was brought in at the beginning of the project before any contractors were hired or any work had begun, which she notes is the best way to start a remodeling project. She held an initial consultation at the Shriber's home, where she talked to the couple about their needs and possible design solutions. She then asked the Shribers to complete a design questionnaire and Pinterest board which she used to  create preliminary sketches and mood boards.
After reviewing three design options with the Shribers, they selected the final design, which was put into CAD drawings and 3D renderings for final approval. 
"Space planning is my 'superpower,' so I can visualize the design when I walk into my clients' homes—after that, creating a base floor plan and concept sketches typically takes a few hours," said Spagnolo, adding that she typically presents clients with three preliminary options and then the final design, which is often a combination of the three initial layouts.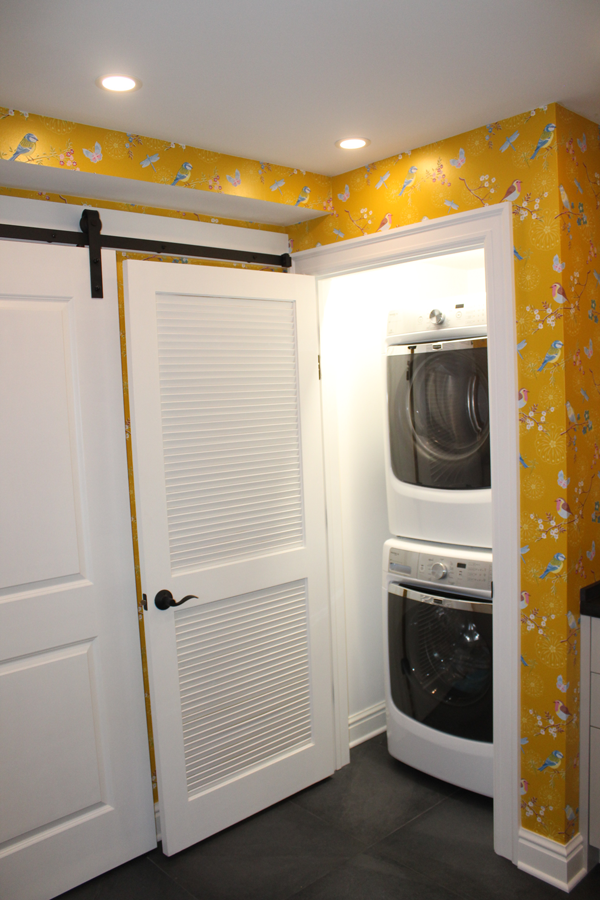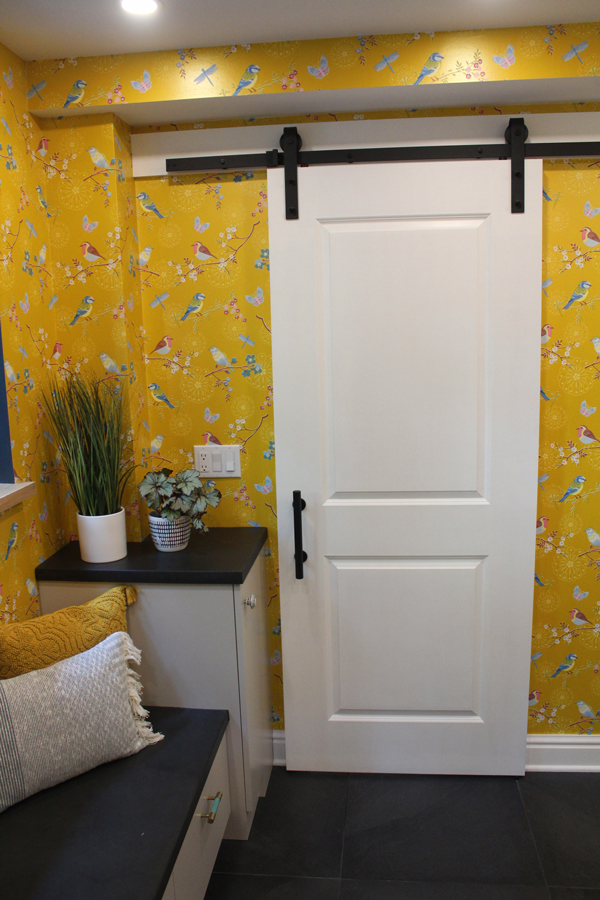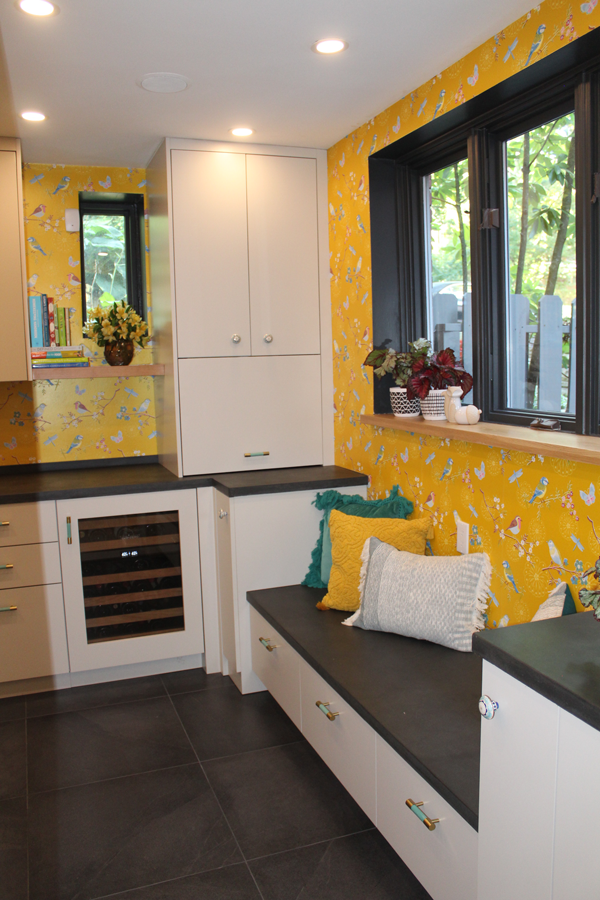 "April makes things very, very easy; she's not like a salesperson—she really understands design so she's very easy to work with," said Shriber, adding that they had "a ton" of input on the final design. "She listens the first time, she's laser-fast in the speed with which she responds, and communication is really important to her; that really resonates with me. The hardest part was picking the best option for each room because I liked them all."
Spagnolo relocated the powder room to an unused space beneath the staircase in order to increase the laundry/mudroom size. A two-foot bump-out was added to the kitchen, making it possible to maximize the kitchen island. She relocated the cooktop to the wall near the pass-thru and grouped all tall elements, including the refrigerator, oven, microwave, coffee, and pantry, to streamline the walkway.
The renovation was complicated by the fact that materials had to be brought in via stairs and tight passageways since the home was set into a hillside, which required careful planning of material sizes. Spagnolo noted that some existing property variances and chimneys also needed to be maintained.
"April understood instantly what we needed to do, and the way she transformed the mudroom was remarkable," said Shriber. "As we were standing in the old space, I told her that I wanted to create more storage, and she suggested that we move the powder room from one side of the wall to the other side in order to maximize space under the staircase that had never been used. That gave us room for a working mudroom, new countertops, drawers and cabinets, and an entire wet bar; it was completely transformative for our space."
Spagnolo also came up with the idea to add a bump-out to the kitchen, which, while only two feet, made a huge difference in the way the space could be used.
"It's only 24 inches, but it seems like the largest 24 inches ever," laughed Shriber. "Now I have a very high-functioning kitchen that works for how I cook. I spend an awful lot of time in the kitchen and now it's so sleek and clean and seamless. I find everything I need so easily; it's all where I want it to be."
The Challenges of COVID
Just like anything that's happened over the past few years, the renovation of the home was affected by the pandemic and supply chain issues. While Spagnolo says that she always preorders materials before beginning construction to minimize the timeline, there were some shipping and labor delays that simply could not be avoided.
"Had we not done this during COVID, it probably wouldn't have been so impactful to every step of the process," said Shriber of supply chain issues that included a dishwasher in quarantine. "Of course, we didn't know COVID was coming and we'd already made the commitment to do it, so we just had to make the best of it.
"It was like living in a time warp," she added, noting that she and her husband moved out of the house during the renovation. "In my mind, it took 72 years, but I think we were done in about 7 months, and that was by no means a reflection on the design or the capabilities of the design team; it was sheerly related to what happened when the world stopped."
Luckily, the couple had started working with Spagnolo far in advance of the planned renovation, which helped them keep the project going.
"While other people might have just said that they couldn't get it done, April kept everything moving along," said Shriber of contractor delays and job site shutdowns. "She's an excellent cheerleader, and we knew that she would make it happen."
Despite all of these complications, Spagnolo, who says she starts every project with the budget and reverse engineers the design with that information, was able to stay within the Shriber's budget, which was approximately $300,000 for materials and labor. 
"There were delays during construction, but Sarah and Doug were very patient. They were fun to work with, and I love how the design came together," said Spagnolo. "This project is by far one of my favorites!
"The newly designed space is fun and functional and the rooms flow together nicely," she added. "I believe it's a perfect space for the client's daily life while also allowing them more space for entertaining." 
Inspiring Further Design
According to Shriber, the finished renovation now informs what they want to do with the rest of house in order to bring these modern, clean lines throughout the space. "For example, our pillars look Colonial, so we plan to cap them and paint them white. We still have a lot to do with the staircase, finials, knobs, handles and finishes, and moving things—like all of the brass—out of the house.
"It'll be mainly paint and décor on the main level of the house, including the office and living room and  plenty of other places where we still want to move this concept through the house," she added.
According to the Shribers, if there's anything that they've learned from the renovation, it's to hire a professional to help with such a large undertaking.
"In fact, we hope to work with April again as soon as we pay for the kitchen," laughed Shriber.  NH