"In all things of nature there is something of the marvelous" opined the ancient Greek philosopher Aristotle.  Just imagine the pristine beauty of gently rolling land dotted with regal oaks and other, numerous trees reaching to the banks of the Allegheny River early in the nineteenth century.  Such may have been the "marvelous" experience of one Michael Bright, a farmer, who purchased a tract of land along this river in 1816 just northeast of Pittsburgh and named the general area after an ancient oak, the soon-to-be-growing town he called Oakmont.
As the years progressed, others followed to this seeming Eden on the river such that in 1889, Oakmont Borough was formally reestablished and now celebrates its 134th year of incorporation.  Today, Oakmont boasts a mix of old and new, with every street offering more charm to this quaint town according to its mayor, Sophia Facaros.  "There are many facets of Oakmont that appeal to many people," she noted.  "It's a walking community where students can walk to school and citizens can walk to entertainment, restaurants, banks and churches.  Additionally, the Oakmont Chamber of Commerce plans many outdoor events for all to enjoy."  Not to be lost on residents and eager out-of-towners alike is the well-known Oakmont Bakery, with its plethora of baked delights, and the Oakmont Country Club that has been host to 17 USGA Championship events, nine of which were the U.S. Open Championships with the tenth coming in 2025.  But Mayor Facaros also points to another, more recent gem in the Oakmont crown: The River's Edge of Oakmont, an upscale housing project begun in 2013 with Dan Mancosh as developer and builder along with wife Linda Mancosh, who plays a key role in exterior and interior design for this project.  "Since the start of this project in 2013, we've seen The River's Edge of Oakmont grow into such a wonderful, welcoming community," Dan Mancosh said.  "It's become just what we envisioned from the beginning and so much more.  Our charming Main Street leads you down to the clubhouse, which offers a pool, fitness center and lounge with stunning views of the river and wooded hillside beyond."  He continued that a river front park and winding path, perfect for walking and biking, can be found just behind the clubhouse along the water.  Darlene Hunter, Vice President and Regional Manager, New Construction, Howard Hanna Real Estate, reported that Oakmont has experienced significant growth in recent years and The River's Edge of Oakmont has played a crucial role in that growth.  "The area's historic charm, renowned restaurants, and entertainment options have made it a highly desirable place to live," she explained.  "Additionally, its walkability and proximity to the water give it an ideal balance between city living and suburban life.  When you choose to reside in Oakmont, you can enjoy both a peaceful and lively atmosphere."  She also noted that this is the last opportunity for prospective buyers to join The River's Edge of Oakmont, as it now enters its final phase of development.  "Currently, four unique home designs are being built: The Shoreline Estates, The Overlook Brownstones, The Monroe and The Lynden," she added.  "Each has its own distinct appeal with many features to attract buyers for various reasons."   Dan Mancosh continued that "with over 80 percent of the project completed, our vision has become a reality right before our eyes."  The near completed reality was inspired by a special opportunity to develop a prime piece of waterfront land within Oakmont Borough.  "This portion of Oakmont's waterfront has the unique characteristic of land gently sloping down to the edge of the river, hence the name for the project, The River's Edge," Mancosh mused.  "There really is no other piece of land quite like this in the Pittsburgh area."  The rationale behind The River's Edge development was to integrate housing architecture seamlessly with site design while offering a diverse mix of housing types to include single family homes, attached homes, brownstones and apartments in "neighborhood" groupings.  One objective within The River's Edge was to extend Allegheny Avenue, one of the two main boulevards that comprise Oakmont's central business district, to a new terminus at the Allegheny River Front along with extending the town's sidewalk network to terminate at the river front park for greater connectivity. "The River's Edge has been so complementary to our quaint borough.  One perk I often see as well as participate in is walking through the neighborhood," Mayor Facaros added.  "Riverside Park, our library and churches offer so many events for resident to socialize and enjoy."  To make The River's Edge compatible with the existing design of Oakmont's architecture and charm, much research ensued before any development began.  "When we began this project, we not only researched what constitutes a great neighborhood, but we also visited inspiring towns and communities of this nature," commented Ashley Riggs, Marketing Director, Brooks and Blair Waterfront Properties.
"This led us to create a master-planned community that incorporates design concepts of traditional neighborhood development.  We put significant thought into giving each neighborhood its own character while all relating it back to the town of Oakmont."  She added that the Brownstones, The Brooks and The Shoreline, some of the neighborhoods within The River's Edge, have their own unique charm, yet they complement each other well and complement the architecture and nature of Oakmont too.  "The Brownstones have a city-style vibe, The Brooks have a modern, luxe resort feel, and the Shoreline is inspired by coastal design.  All of them blend harmoniously," she explained.  "The community features green space, recreational amenities, pedestrian friendly sidewalks, and multi-level front porches.  Everything necessary to create a connected community."  Darlene Hunter added that the design of The River's Edge blends seamlessly into the town of Oakmont.  "Its design complements the town's historic charm while providing residents with every modern amenity you can imagine," she said.  Whether you're strolling along the tree-lined streets or enjoying one of the many green spaces, there's always something to see and do."  She pointed out that the town itself is but a short walk with plenty of entertainment and dining options available.  "It's not just residents who are benefitting from The River's Edge," she continued.  "Businesses are thriving, green spaces have expanded, and there's even a direct connection down to the river."  Sophia Facaros, too, has noticed the positive impact The River's Edge has made on the growth of restaurants, banks, pizza shops and medical offices, to name a few, all of which are part of this project's expansion. "The River's Edge of Oakmont has had a very positive impact on our town," Mayor Facaros continued.  "Its development has taken us from the rich history of Edgewater to a bright, new neighborhood.". 
American poet Gary Snyder once remarked that "Nature is not a place to visit.  It is home."  Perhaps that can be said of the idyllic setting that defines The River' Edge, attracting buyers from both the city and the suburbs.  Ensconced among ample green spaces, the tranquil flow of the river, and the lush treeline beyond, The River's Edge parlays these advantages with a well thought out master plan coupled with a commitment to exceptional design.  "While a city buyer may be attracted to the walkability and access to shops and restaurants reminiscent of their downtown living experience, a suburban buyer may appreciate our ample green space and closer community connection, making it an ideal place to downsize from a large suburban home and enjoy carefree maintenance living,"  Linda Mancosh said.  "Whether seeking a peaceful retreat or a more connected lifestyle, The River's Edge truly offers it all and we're so delighted to have brought this special community to Pittsburgh."  Such is the case with empty nesters Jamy and Robert Rankin, who were looking for a hassle-free lifestyle in a community not too far from their Stanton Heights home, given that family members still live there.  They also wanted a walkable community, one where parking wasn't an issue, but also one with an urban feel.  After much exploration, the Rankins struck gold with a single family, three story home with a carriage loft in The River's Edge of Oakmont in October 2022.  "The home and the community just fits all our needs," Jamy Ranklin explained.  The five bedroom, five and a half bathrooms offered the space they desired, with one bedroom converted to a large walk-in closet.  The third floor is used as a guest suite for family and friends offering privacy under the same roof with its bedroom, bathroom, living area, kitchen and a covered balcony, where the couple often retreats for relaxation, stunning river views, reading and "just chilling out" when friends aren't visiting.  And just footsteps away is what she described as a "fabulous clubhouse" with a pool overlooking the river, a fitness center, a room for small, private parties and an outdoor fire pit.  "We love to walk the community and into town," she continued.  "Walking along the river path, you see young people with babies, children on bikes, and older couples.  It's a nice mix of people."  As for the neighbors, "we lookout for each other.  Many of them are at the same stage of life as us, so we have that in common."  The Rankin's also enjoy entertaining, easily seating 20 guests around the table for a recently held progressive dinner while Jamy Rankin looks forward to the newly formed neighborhood book club.  "Our home is roomy and comfortable, the location is wonderful, and the low maintenance allows us to live a more carefree life,"  she added.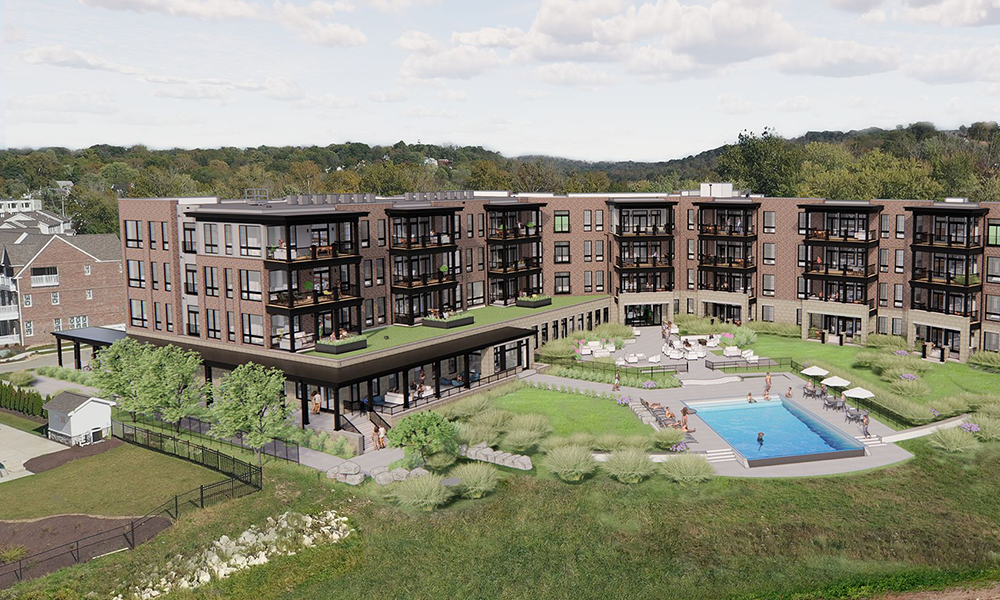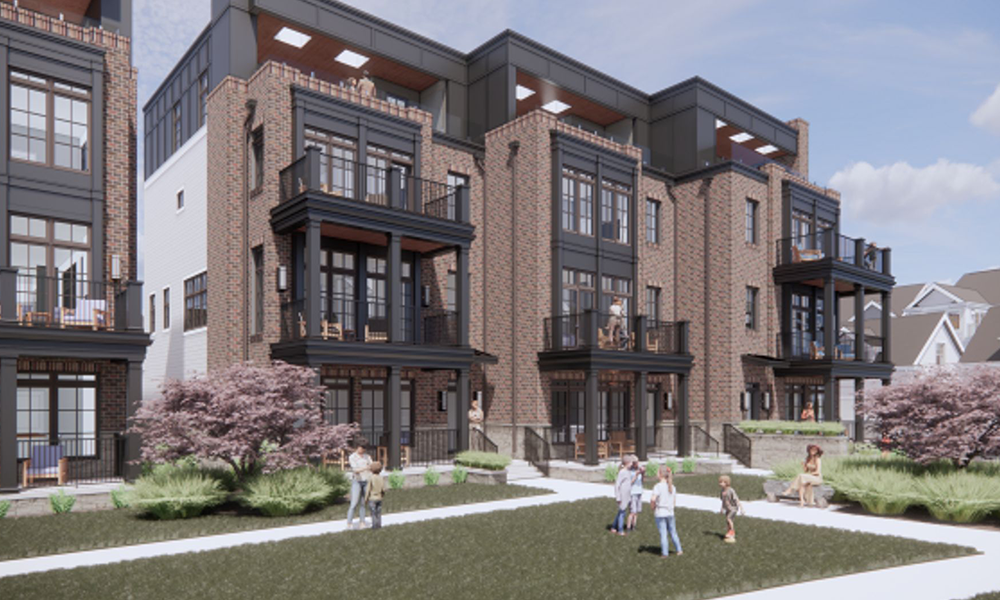 Dan Mancosh emphasized that they have been very intentional about connecting the community to Oakmont while preserving its nature and enhancing its charm.  "To ensure our homes would integrate seamlessly, we studied the architecture of existing homes within the town and incorporated the architecture of those existing homes, utilizing many of those design features into our homes.  Next came planning the green spaces.  We've added beautiful green areas, parks and trails to this stretch of the Allegheny River directly connecting to the town.  Just as Oakmont has great charm and character, it also has beautiful parks, trails and more.  We're happy to have been able to create even more that only adds further to the beauty of an already charming town."  With added business, entertainment and dining venues, "we've been delighted to contribute to this growth.  It' a win-win for our residents and the town of Oakmont alike."  While the project has proven to be a labor of love over the years, Mancosh revealed that the goal has always been to take an idea and a design that fits the land, rather than the reverse.   It also proved to be a win for Maggie and Don Thomas who built their home in The River's Edge of Oakmont "to fit our exact lifestyle."  Expecting their second child and outgrowing their two-bedroom townhome in the Squirrel Hill section of Pittsburgh, the couple began their search in an area Maggie had always loved, Oakmont.  "We wanted a highly walkable community, one that also had a neighborhood for our children.  The River's Edge served as the best of all worlds, along with the bonus of a river view," Maggie Thomas said.  "For us, a walkable community was a must and rare to find in a suburban neighborhood.  The River's Edge gave us the flexibility of both."  Their three story, single family build gave them ample room with five bedrooms, and six bathrooms, allowing for family and friends to visit and stay comfortably overnight or longer.  "The neighbors here are friendly, a number of them with young children as well," she added.  "We often have impromptu meetings in the green space near us for the children to mix, mingle and play."  She also sees the clubhouse, just steps away from their home, as another plus.  "We use the fitness center and frequently visit the pool, a great convenience without the maintenance that a home pool poses."  And, for an occasional date night for the couple, a short walk into town offers restaurants, a movie theatre and more.  Living in their new home for just over a year, she summarized that "in general, we feel blessed to be here with everything we wanted and more."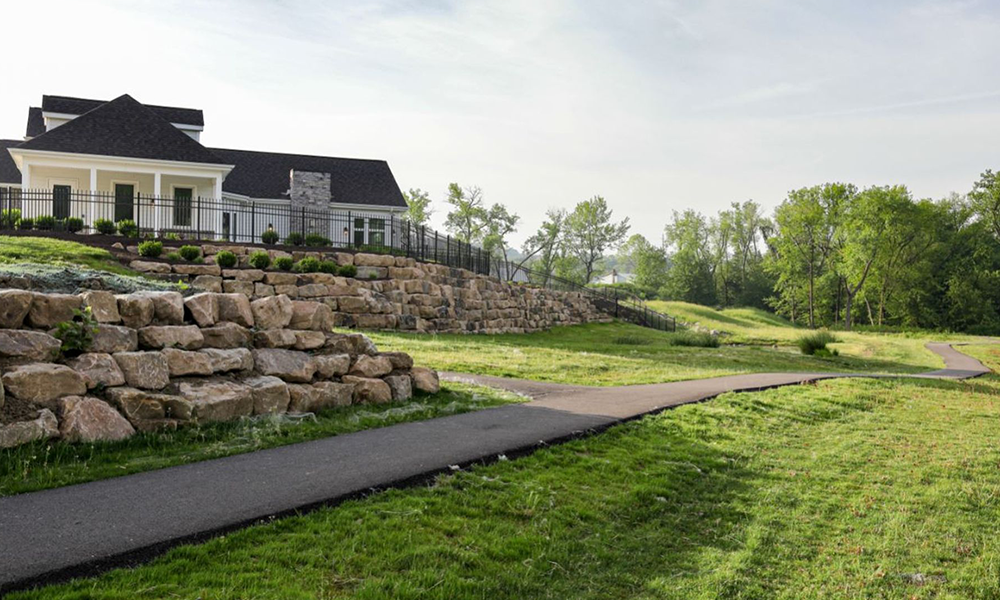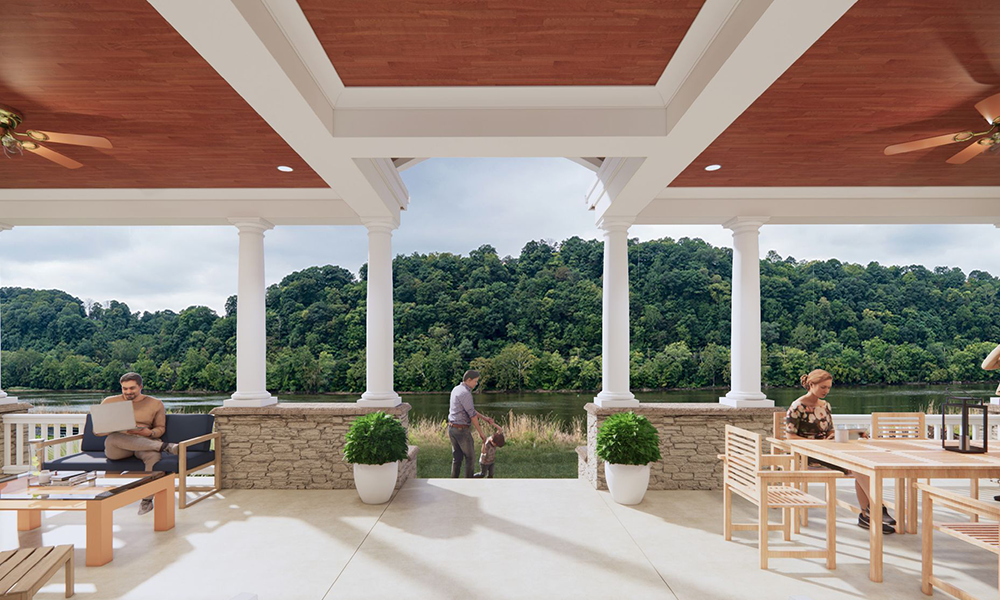 With The River's Edge now in its final building stages, one can look back at some of the first structures to be built such as the Celebration Apartments I, closest to the Oakmont business district, as well as some attached homes and city homes built in an earlier phase of development.  Now leasing, the Celebration Apartments II includes one, two- and three-bedroom apartments with spacious, open floor plans, private balconies, elevator access, a rooftop terrace and a fitness center, among other amenities.  Among the last neighborhoods to be completed are The Shoreline Estates consisting of 10 prime lots situated along the river.  "This waterfront experience is unlike any other in the city," Hunter stated.  "Offering spectacular views and beautifully crafted, single family residences, The Shoreline Estates boasts luxury living at it finest."  The multi-floor plan features two to three stories and is comprised of a gourmet kitchen, water-facing balconies, a large main level water-facing covered porch, luxurious master suite, an elevator and great entertaining spaces among other high-end features.  "When we travel, we always keep an eye out for exceptional ideas that we can incorporate into our home plans," Linda Mancosh shared.  "One such feature in a Shoreline home is the spa-like 'wet room,' an expansive space within the master bedroom holding a large bath tub and shower heads on opposite ends of this space.  A glass wall encloses the area and can be taken to the ceiling if steam showers are desired."  The Shoreline Estates were inspired by coastal living and designed exclusively for this neighborhood, with homes around 5,500 square feet and starting at $2 million.  Here, one home is sold and occupied, one under construction, and one still in architect and permit phase.  There is also one model Shoreline home under construction for sale. "Homeowners can also choose to build on these available lots and customize them to match their personal taste and wishes," Dan Mancosh said.  Also under construction are The Overlook Brownstones, a reminder of traditional brownstone structures found in large cities. "Here, the inspiration came from bringing modern city-style living to a charming waterfront town," said Hunter.  "The vision for The Brownstones was to offer the best of both worlds."  These homes offer four story living, ranging from 3,050 to 3,800 square feet and designed to be more spacious and grand than typical city-style residences.  "This neighborhood provides a walkable area in close proximity to all Oakmont has to offer for those who crave the excitement of city-style living while also offering the tranquility of a serene environment," she continued.  Each Brownstone has exceptional water views from a considerably sized fourth floor terrace, with the option to add an outdoor fireplace.  Elevators, open floor plans, wood flooring and premium finishes grace these builds with three of nine homes currently under construction and two now available, all starting at $1.4 million.  Within The Hometown neighborhood are two remaining Monroe Home designs and one of four Lynden home styles that are currently being built.  If pampering is your style with opportunities for leisure and enjoyment, then the Monroe home fits the bill.  With its three floors of open living space and total square footage ranging from 3,900 to 4,540, this home possesses an amazing owner's suite, gourmet kitchens, private in-home elevators and premium designer-selected finishes.  For the outdoor lover, multiple exterior spaces accommodate that wish with features such as a patio with fireplace, an outdoor sundeck and multi-level front porch balconies.  A prime corner lot also features a wraparound porch for additional charm.  The Lynden, the project's newest home design, exhibits an open floor plan, high ceilings, premium finishes and a first-floor primary suite within this two-story build, along with the option for a three-car garage on select homes.  Lastly, The Brooks at The River's Edge is now under construction with an anticipated completion of June 2024.  Here, the motivation for the build was to bring a level of comfort and sophistication in a luxury condo to Oakmont without the obligation to buy.  "Located along the river, the majority of these apartments have river views," explained Dan Mancosh.  "With its own infinity pool, fitness center and lounge, it will truly feel like living at a resort." Premium finishes, such as quartz countertops, stainless steel appliances, wide plank floors, 10-foot ceilings, large, covered outdoor decks, and more adorn these apartments.  A wait list for interested parties is available.
"Living at The River's Edge offers a unique opportunity to become part of a well-connected community in a stunning natural setting," concluded Darlene Hunter. "It's a very appealing lifestyle to many."  Dan and Linda Mancosh may have bittersweet feelings as The River's Edge project comes to its conclusion.  "We're very excited to seeing this project come to fruition," Dan Mancosh said.  "We look forward to leaving the town of Oakmont with a special community like none other in all of Pittsburgh."  NH