All in the Family – A Portrait of a Second Generation, Family-Owned Business
If there were an entry for "family-owned custom home builder" in the dictionary, you could very well find a picture of the Spagnolo Family next to the definition. Founded by Carl J. Spagnolo in 1955, Spagnolo Custom Homes, Inc. remains a true family business, able to claim the title of "oldest family-owned custom home builder in Western Pennsylvania."
Carl built the company himself and today, his two sons Frank and Angelo handle the day-to-day business with Angelo serving as President and Frank as Vice President. Mary, their sister, works as the office manager. Dina Spagnolo, Frank's wife, serves as the sole Howard Hanna real estate agent for all their properties. The company is known for having built over 450 homes in the most coveted neighborhoods of Pittsburgh's northern suburbs.
FRIENDLY, FAMILY-OWNED CUSTOM CONSTRUCTION EXPERTS
The Spagnolo family concerns themselves with every detail imaginable, and they are very serious about their work. Family is important, but equally important are their clients' concerns. When asked what is most unique or surprising about their business, Dina replies, "It is incredible how accessible these guys are to their clients. If the phone rings about a job, and we're all in the middle of a family gathering – boom, they are gone." This may explain how they've stayed on top of a very competitive game for so long.
Angelo admits that "originally, my goal was Wall Street." He then adds, laughing, "But that was not my mom's goal. It took a couple years, but once the business of building got into my bones, I knew it was right for me. It was very competitive when we got started, but there was enough business for everyone and the camaraderie [among builders] was strong."
Frank offers his perspective: "From a little kid on, I would stock shelves in the family grocery store business. You just did what needed to be done. My skills were learned from my father [Carl], and everything was 'hands on.' We continue to stay 'hands on' in our business today. We are available seven days a week, and we are on the job always. You just do what you have to do. I'm glad to be keeping our father's tradition going."
UNMATCHED QUALITY AND AN EXPERIENCE THAT ONLY A FAMILY CAN GIVE
For over six decades, the Spagnolo Family has been building homes in the Pittsburgh region. They specialize in high-end, luxury design on one-acre plus estate lots. Their successful home design is predicated on a few key characteristics. The first is that there is no wasted functionality. There are fewer rooms, but larger room sizes. The second feature is that the homes are predominantly found in a natural setting on a larger estate lot. Spagnolo Custom Homes stand out because they work as both builder AND developer. Frank explains, "Today you have to offer more than just a home; customers want an exceptional living experience. Such a result is only achieved by pairing designer homes with exquisite lots. I am most proud of our developments, which provide the opportunity to build on the most sought-after parcels of land in the area."
Specializing in site development, Spagnolo Custom Homes can build on the lot of your choosing, but they also offer current developments in Trinity Place, Babcock Boulevard Estate Homes and The Ridge at Manor, all located in some of the most prestigious neighborhoods in and around Pittsburgh.
Trinity Place offers gorgeous, private, one-acre-plus estate lots. These level lots are picturesque and perfect for building a spacious, customized home. Dina Spagnolo has the privilege of previewing and showing off the lots. In her opinion, "These are some of the most beautiful home sites/developments that have become available in the last 15 years. I like to think of the lots at Trinity Place as an opportunity to showcase a homeowners' unparalleled lifestyle. These are true luxurious, custom homes just waiting to be brought to life by the home owner and builder. Speaking as a realtor, the only limitations to this development would be someone's imagination or pocketbook, whichever comes first!" Presently, home construction has not yet begun, but several lots have been purchased. Eight lots remain.
The Babcock Boulevard Estate lots are premium lots situated on private, two-acre-plus home sites offering plenty of privacy. These properties are located within minutes to North Park, shopping, and the award-winning Pine Richland School District. Most attractive, perhaps, is that these lots sit in front of 75 acres of unadulterated land conserved by the Pittsburgh Land Trust, thus ensuring that the sight lines will not change. This community is sold out, but Trinity Place is nearby–right up the road.
The Ridge at Manor are well-appointed custom homes on one-acre-plus homesites in an idyllic setting and convenient location. They, too, are located within the Pine Richland School District and minutes away from prime shopping. All of the lots are contingent here.
Additionally, Spagnolo Custom Homes developed sites in The Villa of North Park, Trotting Acres, Karrington Woods, Georgetowne Townhomes, Langdon Farms, and Sinan Farms. Other beautiful custom homes have been built in such communities as Treesdale and Lake Macleod.
Homeowners John and Lisa Sieckowski broke ground in July 2019 and moved into their beautiful home this summer. John, who had worked with custom home builders on his previous four homes, shopped around for a custom builder, heard about Spagnolo's great reputation, and ultimately chose Spagnolo Custom Homes. John appreciated Angelo's demeanor and his overall philosophy of "We will do what you want. It's not the least expensive, but it will be the best." John recalled building with Angelo as "an amazing experience. There was never an argument, and any and all issues raised were taken care of immediately. They never changed prices on us and their vendors were first-class. Lisa sat with the vendors and gave full attention to choosing the details." The Sieckowskis decided on a modern farmhouse for their architectural style. Their home includes unique design elements such as wide-stamped concrete flooring, beautiful tilework in the bathrooms and a gorgeous wine cellar, which features a sitting area–built from the ground up by hand. John and Lisa love their house because of the excellent craftsmanship, adding, "What we loved about Angelo was the fact that he wanted to take care of us, and we definitely felt taken care of."
THE SPAGNOLO BUILDING PROCESS: BUILDING WITH EXPERIENCE
The Spagnolo brothers take the time to get to know their clients personally, which includes listening intently to their wants and "must-have items" for a custom home. Clients work side by side with Angelo, who has the job of walking potential homeowners through the journey of designing a "dream home." He is meticulous in helping them select design elements and details. The process and all of the moving parts that accompany such a monumental purchase are all managed by Angelo, who knows that "planning a dream home takes time. It's a very intimate process and in our business, we don't pass you off to a foreman. You get me."
Angelo speaks about the process firsthand: "You first have to have a clear understanding of the client's vision. Often, a customer may like their plan, but in viewing it with them, we can suggest changes to allow more space in one area or better utilization of another. We want every home to be unique, appealing, and functional."
He adds, "We use the best engineered products on the market. Very importantly, we don't rest on the reputation and work we did ten years ago. When people say 'They don't build 'em like they used to,' I say in return, 'Good!' We embrace the technological advances and the energy efficient products out there today." Once ground is broken and construction begins, Angelo keeps clients apprised of the progress. He is available anytime for any questions or concerns the client may have.
Lezzer Lumber has been the lumber vendor for Spagnolo Custom Homes since 1989. Eric McLaughlin, who handles outside sales in the Butler Office, has maintained what he calls "a true partnership" with Angelo for 4 years, calling him "the all-around best builder for customization." McLaughlin reveals that he weighs Angelo against his other customers, using Angelo as his "gold standard." Eric continues, "Angelo is beyond excellent to work with. He's the best of the best. He uses the best products and the quality of his materials is top notch." Eric, who has worked in the industry for both big box stores and family owned companies, says that Spagnolo's craftsmanship is superior to anyone he's seen. When asked why he holds Angelo in such high regard, Eric simply states, "He's just the overall best builder for customization, and gives customers exactly what they want. In terms of quality of products, he offers the best products on the market, and in terms of latest and newest technological advances, he does not miss a beat. So much of what I see out there… it just can't hold a candle to Spagnolo's craftsmanship."
Frank points out the true benefit of choosing his family's business and reiterates the key component of the relationship between client and builder: "When you build with us, you are not dealing with the foreman. You are dealing with the owners. Once again, we are 'hands on.'"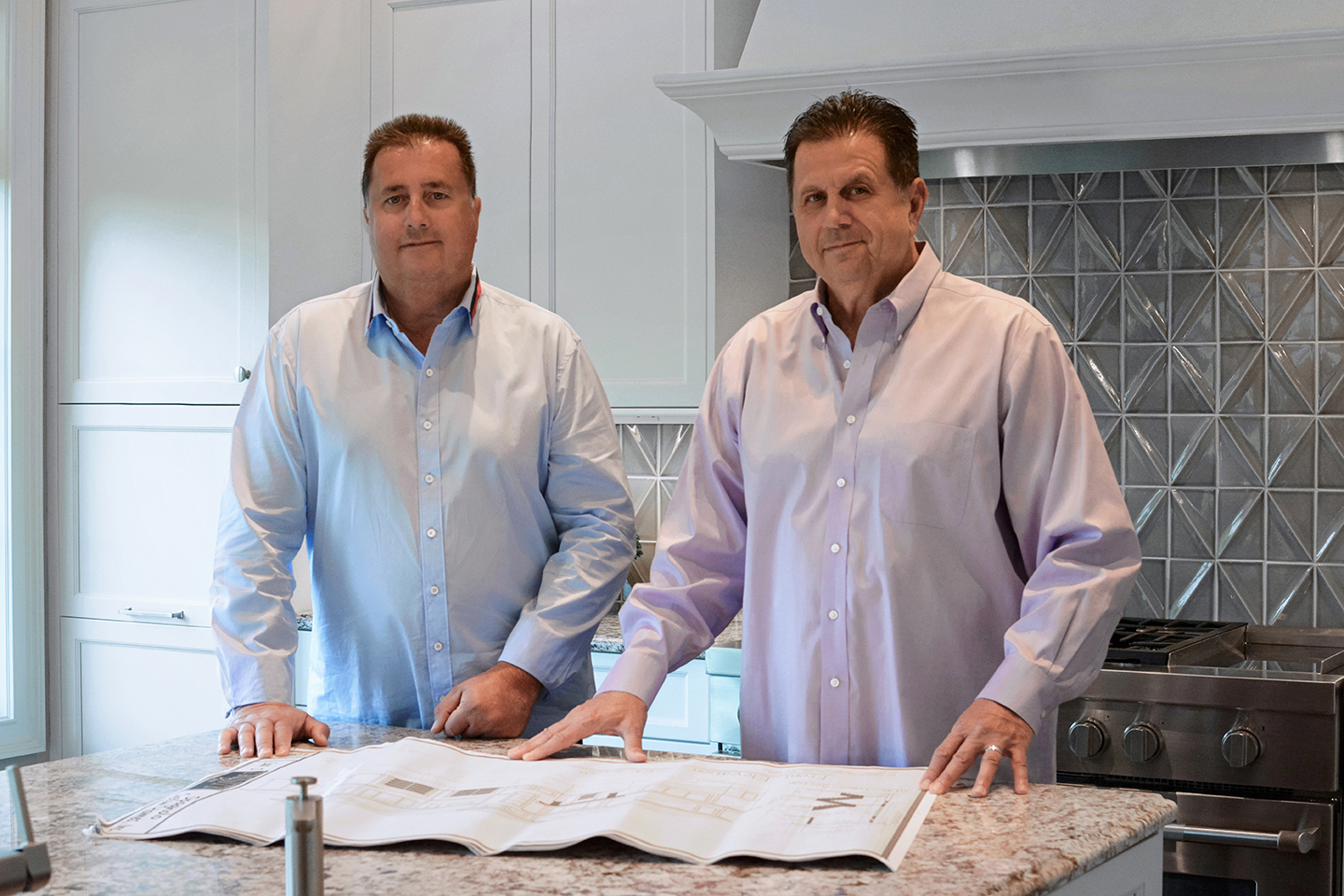 BUILD WITH SPAGNOLO CUSTOM HOMES AND BECOME A PART OF THE FAMILY
When asked what is unique about his job, Frank replies, "The smiles. At the end of the process, when I hand over the keys to new homeowners, the smiles on their faces are truly special. They are so happy with their homes. In fact, I would say that 95% of our customers are thrilled with the final product. In some cases, I am invited to come back 25 years later to sit down and have a cup of coffee with a former client. Really, new homeowners are clients for a long time. We are never done being their builder and we take pride in that fact."
Sean Hoover and his family are a case in point. Their very unique contemporary stone house with black siding sits in the woods of North Park and receives tons of compliments–even finding its way to Instagram, where admirers post photos after driving by. Sean, who wanted to be an architect as a young man, and who was always interested in design, became a first time custom build homeowner when he chose the Spagnolo brothers. His initial process involved extensive internet research, and after reading reviews, he made a short list of five builders. After he met Angelo, Sean simply realized, "I just liked him. He was helpful, patient and a straight shooter. I couldn't believe how accessible these guys were. Angelo pushed me on ideas of a few things that I hadn't thought of but was comfortable building, and I liked that. My 'must-haves' included a contemporary look to the house, and we wanted to settle on a woody lot. Once I landed on my clear idea, he ran with it and together we tweaked the idea, creating my home's exterior." When asked what Sean loved about the process of custom building, he replied, "We use every single nook and cranny of this house. This is where Angelo is incredibly helpful. No functionality was wasted. He would ask us, 'You think you want this room?" and made us think about why. My gut told me to trust him, and he never let me down. He did not nickel and dime us, and I appreciated his approach very much. Two years later, after I made one small request, Angelo sent a crew to fix the problem. He was really particular and I could not be happier."
In fact, the Spagnolo brothers' biggest honors originate from either having repeat customers, or building homes for people who were referred from former clients, or, and this is the highest compliment yet, building a home for the child of a past client. Those relationships speak volumes to the level of quality workmanship and customer satisfaction that Spagnolo provides.
Says Dina, "Whether this is your first time building a custom home, or you're a seasoned veteran, Spagnolo Custom Homes is the right choice. Our process is a bit different, our quality is of the highest level, and our service is like no other. When you partner with us to build your custom home, you become a member of our extended family, and we make sure to treat you that way."
MORE THAN BUILDING HOMES, SPAGNOLO CUSTOM HOMES BUILD COMMUNITIES
Carl always instilled in his children the importance of giving back to the places where they live and work. The Spagnolos are currently members of the Builders Association of Metropolitan Pittsburgh (BAMP). Most remarkable is the fact that Frank served on the Pine Township council for 16 years as supervisor. His brother Angelo is very impressed with the time and dedication his brother showed during that time. "He donated his time for sixteen years, which is major. A lot of personal time was given to help the township."
Trends come and go and the company keeps in line with the times. Says Frank, "Three years ago it seemed everyone wanted a farmhouse. Now, people are looking at contemporary looks. Traditionally, though, Pittsburghers look to the two-story, traditional idea of a home." Angelo echoes this same sentiment, and doesn't fret over trends, because he knows he and his brother can accommodate various architectural styles and particular requests.
Angelo is most proud of the fact that their business stayed strong after the most recent recession: "We survived. A lot of builders didn't survive those eight years of recession. Big companies took over and the small builders–the custom builders–they often didn't make it. But we did." His idea of retiring has slowed down in recent years, as he isn't in too much of a hurry. "Once this business is in your blood, it's all over. You don't want to do anything else." NH