There's a New Home in Town
"Everything you need. Nothing you don't"—the intriguing tagline of Module housing—immediately grabs the attention of folks interested in a new type of housing product. Based in Pittsburgh, Module offers energy-efficient homes, built with respect to the re-use of land and lot.
Their design successfully balances costs, quality and a contemporary aesthetic. Module homes are not traditional homes, nor are they meant to be. The type of housing was created for homeowners who care about a sustainably built home—one that is thoughtfully designed and tailored to city living.  
Module homes are built in a factory using modular construction, which means the houses are more precisely constructed. Currently, the factory partners are located in Northwestern and Central PA. Building homes to specifications—in advance—translates into higher quality control, no weather delays, and less waste. 
In the pre-construction phase, Module produces final drawings, secures building permits, and locks in prices for the factory-built components. During construction,  Module builds the homes in the factory, delivers and installs them with a crane. Module partners with local Pittsburgh-based general contractors to complete the foundation, sitework and interior finishes. In the post-construction phase, Module monitors utility performance of the home and occupant comfort, secures any certifications, and coordinates any warranty-related items.
The concept is fresh. Module currently offers ten models, which are outlined on their web site. These particular layouts tend to entice new buyers searching for affordable smart homes. All-electric, sustainable housing is the way of the future since the design relies on low carbon emissions. Single-family homes range from 1 bedroom/1 bathroom to those with 1,800 sq. feet with 4 bedrooms/3.5 bathrooms–and several options and combinations in between.
Redesigning Home Ownership for the 21st Century
Module homes are exciting for several reasons. First, Module can build a beautiful house on a challenging site. Secondly, they can deliver a finished product at a faster rate than a traditional build, saving up to 130 days on average of construction time. (For those who don't do math quickly, that's over 4 months). Third, and probably most convincing as a reason to buy, is that Module homes are zero energy ready homes, all electric and rely on absolutely no fossil fuels. All the homes are designed to the "zero-energy ready home standard" by the Department of Energy. 
Module touts the theory that a well-designed space that is right-sized is better than a big space that is not well designed. They also emphasize quality over quantity of space.
The homes are all electric. There is extra insulation in the walls, and high-quality windows and doors are used. All the homes rely on a low energy HVAC system.
Energy efficiency is a very attractive aspect, as the utility bills will be very affordable. In one particular development in a Pittsburgh city neighborhood, the average electric bills are cited as $119 per month, with water bills at an average of $56 per month. There are zero gas lines installed, which means gas bills are non-existent. Solar panels can be added to further reduce monthly energy consumption. The cost-savings were part of the original design since the company's mission is to support people's health and wellbeing in a well-designed, energy-efficient, highly functional home that will last 100 years. 
One Man's Vision
Brian Gaudio is the CEO who founded the company in 2016 after he moved back to PIttsburgh from the Dominican Republic. He earned his degree in Architecture from North Carolina State University, and furthered his education as a Fulbright Scholar, conducting community and urban planning research. Brian interned at Walt Disney Imagineering and continued working in the industry with a disaster rebuilding firm in both Mississippi and then in the Dominican Republic, which taught him sustainable architecture practices.   
Brian is motivated by one simple principle: to provide good design to more people. He can give the most sincere endorsement, since he himself lives in a Module home. He has been living in a 1,100 square foot model (that serves as the model home) since the fall of 2020.
Says Brian, "Well, it's definitely the nicest house I've ever lived in. Despite being on a busy street, it's pretty quiet. The same things that we use to make our homes energy-efficient double as sound insulation." He lives next door to other Module houses and loves the fact that he lives next to neighbors who appreciate Module's function and design.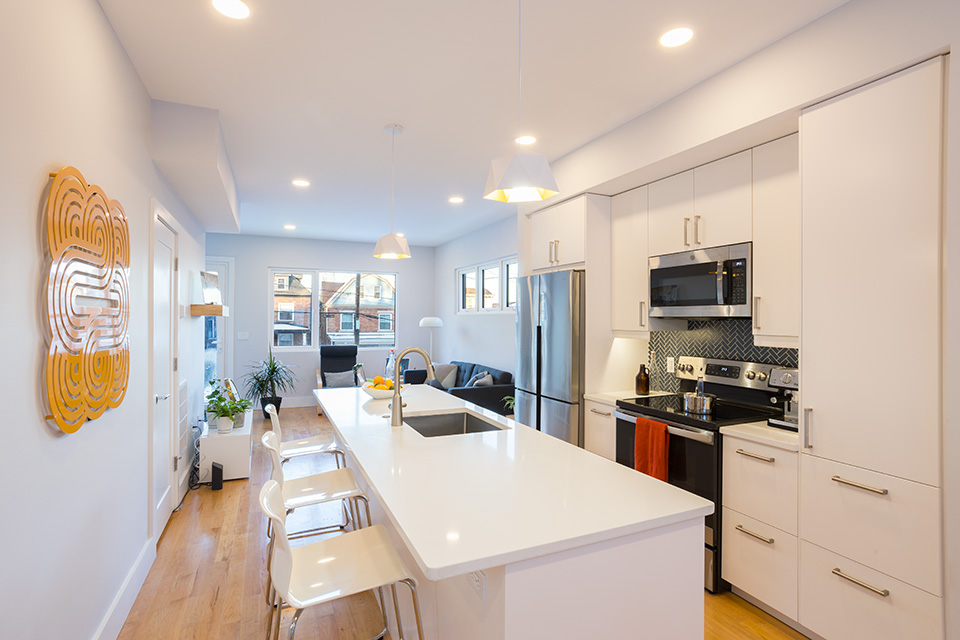 A Unique Perspective
Lu Zhu has the unique distinction of working for both Module as the Director of Real Estate Development and Howard Hanna as an agent. His background is in urban planning and design, receiving an M.A. in Urban Design from Carnegie Mellon University. Lu believes that a Module home is an excellent choice for many types of buyers. He's in a rare position to understand all angles of the production/construction and buying/selling processes. Says Lu, "There is a huge demand for quality new construction housing products. I would say Module's product is fulfilling a niche trend for urbanists for a very good reason. The quality of construction is excellent and the lifestyle it represents is fresh." 
At Module, Lu identifies new properties, coordinates the closings and develops real estate strategies. At Howard Hanna, he helps streamline the new build buying process for clients and believes that Module and Howard Hanna are collectively providing an excellent experience. Lu knows that there is an overwhelming amount of communication between the builder and the client, and he is there to make sure nothing gets lost in translation.
Lu explains who Module housing is for: "We target a 21st century, new generation homeowner, who is looking to leave a minimal carbon footprint. These are people who are looking for cleanness of design, who want to be able to bike or walk places, and people who don't want to spend time maintaining a big yard." Lu says that his clients range from single young professionals and downsizers to smaller-sized families.
Module homes fit the current market environment well. Some common denominators in the type of buyer Lu sees are people looking for efficiency, who do not mind a smaller lot size, and who prioritize easy access to amenities. 
Walking Buyers Through the Process
Many buyers are interested but somewhat apprehensive only because the process is new and non-traditional. Brian breaks down the steps for a client and makes the process easy to understand. He explains, "We build homes on spec. We buy land and then we select one of our standard models to build on the property. We then get our building permits, and zoning approvals in order and secure final pricing from our factory partner and our local contractor. Once we have those in place, we start construction. Once we reach significant completion, we then list the homes on the MLS and through our website. Homeowners can come in and purchase just like any other home on the market." 
From a Seller's Perspective
Tom Yargo, Manager of the Howard Hanna Shadyside Office, believes that a Module home is not restrictive at all when it relates to buyers. "They work great for first-time buyers or retirees. Multi-family condominiums are also available." While Tom sees interest in buyers from all ages, the number one quality he recognizes is an eco-conscious buyer. He also notes, "High-end amenities can be incorporated, and the solar panels are definitely a draw."  
Tom frequently deals with the many misconceptions people have with this type of construction. Understanding this potential confusion, he feels it is his job to not only educate potential buyers, but also educate the real estate agent community at large. Tom points out that Module homes are engineered homes: "A Module home is not a mobile home, and it is not necessarily less expensive than traditional-built homes. You will pay for quality, and you will get a great product in the end."
Module homes are ideal for clients who want a new home on a 25 or 30 foot wide lot and who don't want to renovate. They are not designed for clients who desire a custom home, but that doesn't mean that the quality of materials used is compromised. The cost of a new modular home ranges between $400K-$700K.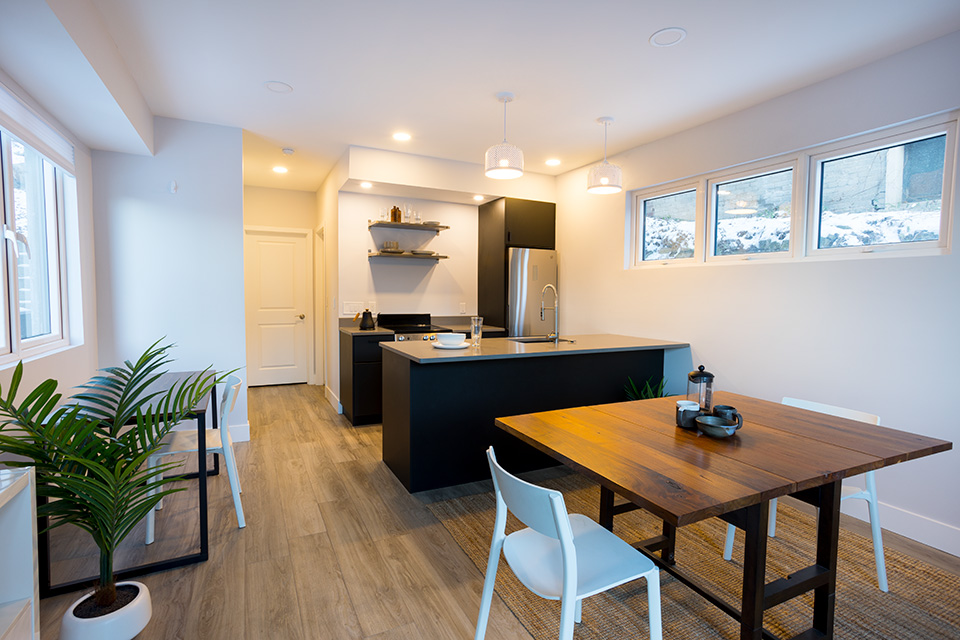 Homeowner Testimonials
Homeowners rave about the features of this type of housing. Tausha, who bought a Module home in the East Liberty neighborhood of Pittsburgh, loves the feature of the home's fresh air intake most. "There's always fresh air in the house. You don't have to open the doors and windows. When I first toured the home, I immediately noticed the fresh air. I then saw how the house was made and the love and care that was put into it. It's a beautiful house. I love it and I am so happy to be here. Probably the best part of my day is coming home."
Sid, another Module homeowner, says his favorite aspect of his Module home is the natural light. "There's tons of light. There are no dark, cavernous rooms. All the rooms have a great vibe. And it's not too big, and it's not too small. It's just right for me. Like a Goldilocks home." 
Market Ready
Module sells 2 and 3 story homes, but also duplexes (small, multi-family). They also are in a planning phase with a townhome development. For Pittsburgh buyers looking to live in the city, the North Side is becoming increasingly attractive. Soon, two properties on Boyle Street will be made available. Both properties have 3 bedrooms, and 2.5 bathrooms, with 1,680 sq. feet floor plans. Rear parking is offered. These houses provide a valuable urban escape without sacrificing the proximity of urban amenities. The home includes a warm and well-crafted interior design with options to upgrade. An open floor plan creates a light-filled space where homeowners can enjoy cooking while chatting with family or friends. Outdoor amenities include a rear deck for summer entertaining and the right amount of yard space for pets. The finished basement is purposely flexible where homeowners can set up a home gym or private office. The home was built with low maintenance materials and a low carbon footprint lifestyle in mind.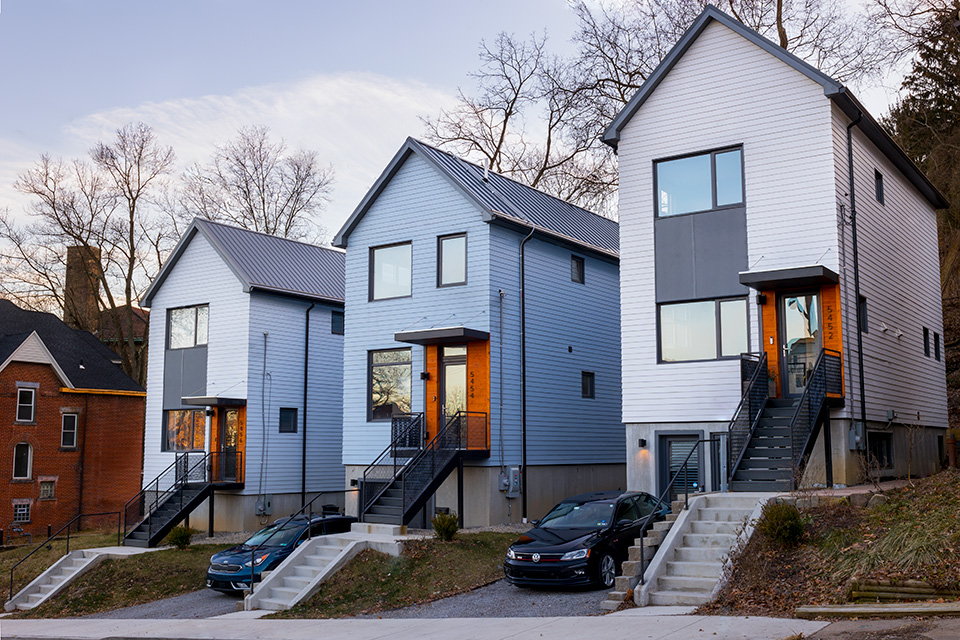 Big Picture Thinking
Module was one of three winners R.K. Mellon Foundation's "Social Impact Pitch Competition," held in 2022. They received a $250,000 grant being given to for-profit companies who operate with a public purpose. Grantmakers were impressed with Module, stating, "There is a need for more modular construction capacity in this region and the team here has successfully brought that here."
In addition to developing a sustainable, better-designed housing product, Module was also lauded for enhancing the quality of life for the residents living in them, the workers building them, and for the neighborhoods surrounding them.
With the R.K. Mellon funding, Module is launching the Last Mile Lab, their workforce training program which promotes innovation in the homebuilding industry. They will open a larger production facility (location to be determined) and scale up their production, with the logic of retaining a physical facility in the region that also provides good-paying jobs.
Their workforce initiatives highlight their two-pronged goal of promoting innovation while creating a more diverse, equitable, and inclusive way to build new housing. In partnership with the Trade Institute of Pittsburgh, Module teaches skills specific to offsite construction. They are increasing access to construction jobs and working to alleviate the labor shortage with a focus on jobs for women and minorities. 
What's on the Module Horizon?
With a supply chain in place, Module is thinking of expanding in the New Jersey and Philadelphia regions, and also in the D.C. and Maryland markets. At some point, they would like to build a larger production facility in the Southwestern PA region. 
Brian and his team are constantly working towards providing solutions to the complex problem of America's housing shortage. Brian is passionate about this challenge: "You got to take this on because the problem is so huge. We're short 4 to 5 million homes in the United States. If we can't build more new housing, then the problem of (current) prices will continue. We're trying to alleviate that shortage."  NH