Home ownership can provide a sense of pride, a significant financial asset, and, most importantly, a place for families to live and make memories. But any homeowner knows that there's work that goes into maintaining a home and property. Keeping yards looking nice, maintaining roofs, and shoveling snowy driveways are all part of the less-glamorous labor that goes into owning a home.
As the years go on, such tasks can take a toll. So, what's the solution? For many, it's low-maintenance living.
In communities with low-maintenance homes, services such as lawn care, snow shoveling, landscaping, exterior home maintenance, and others, are all taken care of for residents. Considering the convenience and sense of community that low-maintenance living affords, it's a small wonder that low-maintenance homes are so popular in Western Pennsylvania. 
The demand for low-maintenance living and for patio homes, carriage homes, and similar properties is certainly there. The most common buyers for these types of homes typically fall into an older demographic. Oftentimes, kids have grown and moved out, leaving a too-big home for parents who are entering or are several years into retirement. "Anyone can live in our communities," says Jessica Hunnell, brand ambassador at Scarmazzi Homes. "But the majority are empty-nesters and are retirees. I think there is just that general aging population in Pennsylvania that we definitely cater to." 
There's little doubt that Pittsburgh's and Western Pennsylvania's higher proportion of older adults ties into the success and popularity of certain low-maintenance communities. "In Western Pennsylvania, especially in the Pittsburgh area, we have one of the largest aging demographics in the country," says Jason Corna, vice president/residential division at Kacin Companies. "Patio homes and carriage homes have been popular in this area for a while, and they continue to be [popular] as the Baby Boomers start to age out into their retirement years."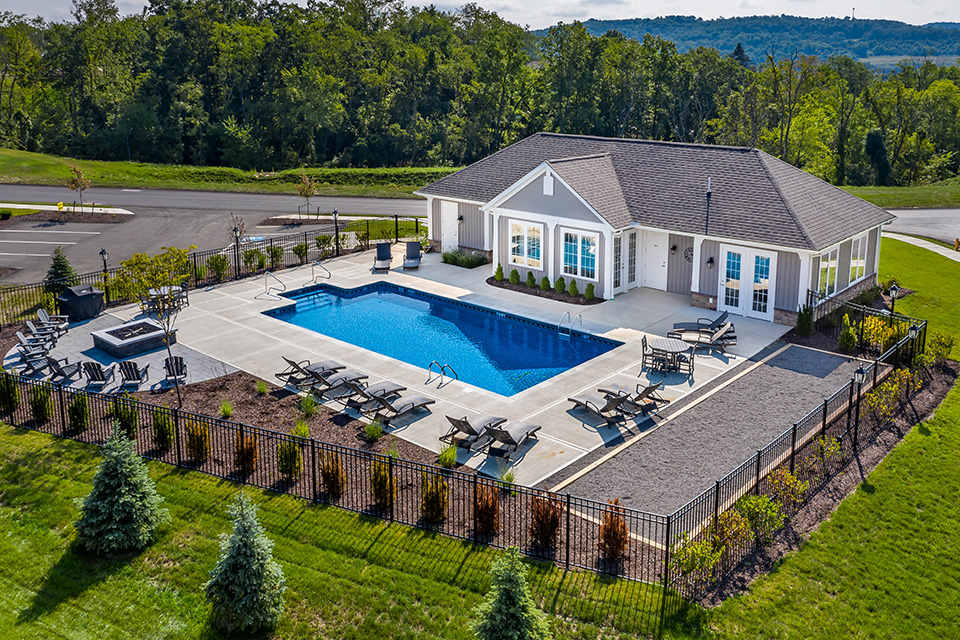 Areas with comparable demographics reflect similar trends concerning low-maintenance homes and their popularity. Corna says that when he travels, he often takes a look at local housing and other areas. Areas with higher populations of younger demographics tend to have more single-family homes and townhouses. But in places like Florida, which has a high population of older adults as well, single story patio homes are more prevalent, he says.
While popular now, low maintenance communities probably won't be slowing down either in terms of appeal or demand. "We see a pretty significant need in the market for low-maintenance housing," says Shaun Seydor, president of Pitell Homes. "We definitely see the market need being persistent through the next couple of decades for sure."
Some low maintenance home buyers live only temporarily in their communities. Homes that are cared for and maintained year-round are especially attractive to snowbirds who are absent during Pittsburgh's chilly months. "They want a property where they can lock the door and leave and not have to worry about anything," Corna says. 
Since properties are maintained year-round, a prolonged absence can more easily go unnoticed. And those who endure harsh winters at least have snow shoveled for them. Low-maintenance homes can be a great fit for those who have a second home or live elsewhere for any part of the year, however.
"Low maintenance" also pertains to homes and to structures themselves. Many of the homes and housing units within low-maintenance communities are built to last and require less care to maintain through the years. Corna says that Kacin's low-maintenance homes use PVC or another alternative to wood on their exteriors. Unlike wood, these materials won't be prone to weather or insect damage, and the paint can last longer. Such durability also helps home buyers to protect their investment.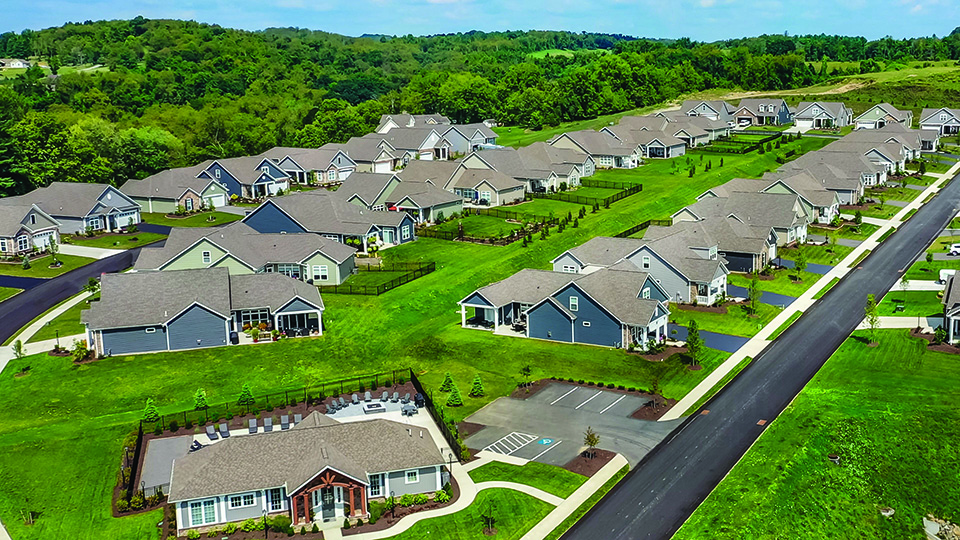 Low-Maintenance Living Couples Convenience and Community 
In many cases, making the move to low-maintenance also puts homeowners' minds at ease. Not having to worry about lawn care or snow shoveling is convenient, but most low-maintenance communities also handle upkeep for roofs, gutters, and other housing components. Most neighborhoods have a homeowners association in place that oversees upkeep. 
Since these communities often feature single story homes, getting around is easier without stairs. Sometimes age or injury prompts the move to a community with lots of single-story homes and no maintenance or yard work requirements. "We get a lot of people who say, 'I wish I would've made the decision sooner.' Or, 'I want to make the decision while I can, not when I have to,'" says Kelly Dunn, vice president of sales and marketing at Weaver Homes. 
Further, the added convenience can't be overlooked. Anyone with a large property or yard knows that upkeep and simply mowing the lawn soaks up time. And time may be the most valuable resource of all. "We find that the most valuable commodity people have today that they want to spend the most carefully, even more than their money, is their time," says Rob Bowman, president of Charter Homes and Neighborhoods. "Leisure and personal pursuits and things that people want to do with their time just don't include cutting the grass anymore."
The practical reasons for low-maintenance living abound. But there's more to community than convenience. For many home buyers, joining a community of neighbors and new friends provides an added benefit.
Sharing walls with neighbors, as with patio homes, carriage homes and other styles of attached homes, naturally brings people closer together. But beyond proximity, neighbors in low-maintenance communities have plenty of chances to get to know each other.
Communities frequently have a network of sidewalks and paved walking trails that encourage residents to get out and get to know the neighborhood and their neighbors. Additional amenities like community pools, clubhouses and exercise facilities add to these communities' appeal. 
Most neighbors have to meet up at bars, restaurants or someone's backyard. But club houses and meeting spaces in low-maintenance communities can host banquets, parties, and meetings right in the community. It's even common for food trucks to make regular stops in these neighborhoods. "There's a sense of community. So, when you're living in a patio home, you have lots of neighbors close. You tend to develop friendships," Seydor says.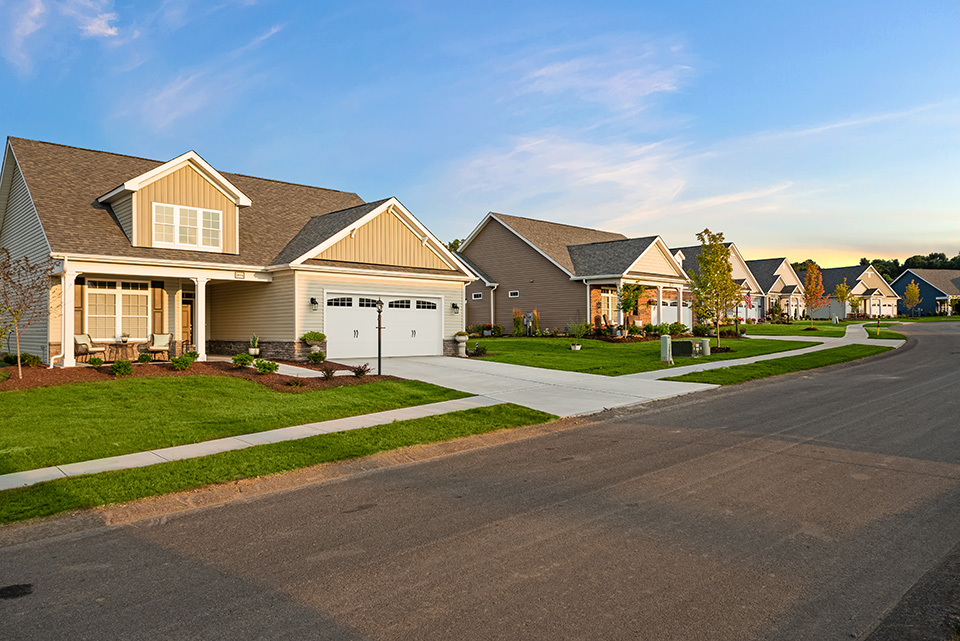 Design, Layout, and Land 
Despite their popularity, there's at least one big challenge to developing and constructing low-maintenance homes and neighborhoods: Pittsburgh's topography.
The availability of land for development around Western Pennsylvania is quite competitive in some areas. Perhaps more challenging, the hilly terrain isn't conducive to providing large swaths of flat land needed to develop community neighborhoods. Additionally, landscapes fit for building must also have access to basic utilities like water and electricity in order to plan a neighborhood and build homes.   
Dunn notes that Land Development poses one of the biggest challenges to bringing more low-maintenance neighborhoods on board. "In Western Pennsylvania, finding a perfectly flat piece of land is like finding a unicorn. We have to work with the topography we're given," she says. "So, we get creative in our site development." 
On top of landscape challenges, there's a degree of foresight that's needed to successfully plan and build a new community. It can take a few years from finding a property to putting in a street, constructing homes, and bringing a community online.
Despite these land challenges, there's no shortage of new low-maintenance communities being built, developed, and planned around Western Pennsylvania. New communities are in the works for Finleyville, Robinson, South Park, Murrysville, Saxonburg, Mars, and other parts of Southwestern Pennsylvania.
Areas north and south of Pittsburgh are seeing perhaps the most growth in terms of new and recently launched low-maintenance communities. Areas outside of the city provide the necessary space if only because it's easier to build out. In urban areas, developers can build up more easily than build-out. Plus, land costs tend to go up in urban areas.
Beyond location, home buyers looking at upcoming low maintenance communities have options in terms of home design and layout. While different communities contain different styles of homes, most feature single-story houses with various add-ons and options for additional space. 
Many homes are spacious but not large, offering two or three bedrooms with the ability to add an exterior patio, basement, or partial second story. Some homes can include finished attic space or an additional room for use as a home gym or home office, which are becoming more and more popular.
Some buyers of new homes can choose interior design and customization options, too, such as choosing the flooring look and material, selecting finishes, and deciding on other design details. 
The interiors of patio homes, carriage homes, freestanding units, and other types of homes commonly found in low-maintenance communities can differ. But many are spacious without being large and aim for a more open floor plan conducive to single-story houses. "In general, our homes are just very light-filled and open. The interiors also have a low-maintenance aspect," says Scarmazzi Homes' Hunnell.
In addition to maintained homes, the neighborhoods within a developed community are often equally well maintained and planned out, with ample sidewalks, landscaping, and a layout that's both aesthetically pleasing and welcoming. The safety of such neighborhoods also attracts buyers looking for a relaxed, neighborly community to join. 
With all the perks of low-maintenance living, there are still some reasons that compel buyers to stay where they are, however. Some homeowners simply don't want to have to face change. In the case of empty-nesters or recent retirees, some of these homeowners may not have purchased a home for perhaps 30 years. Reentering the market can be intimidating.
Part of what makes attached homes and low-maintenance communities popular, then, is the relative ease of home buying. Buyers can choose from pre-planned home designs and layouts and be walked through features and choices. "Our goal with everything is to keep things simple, to keep it easy, and not be overwhelming," Dunn says.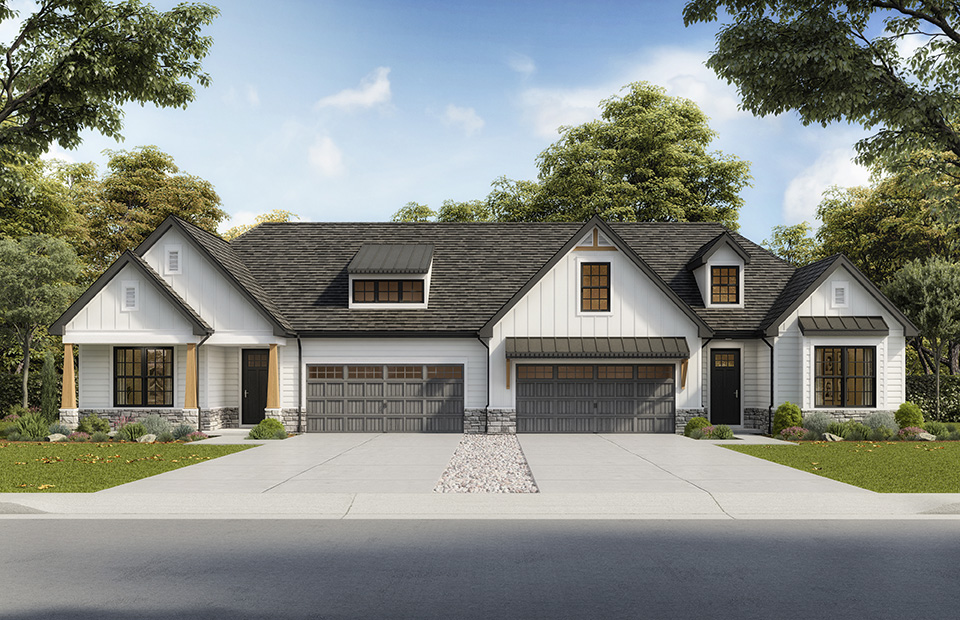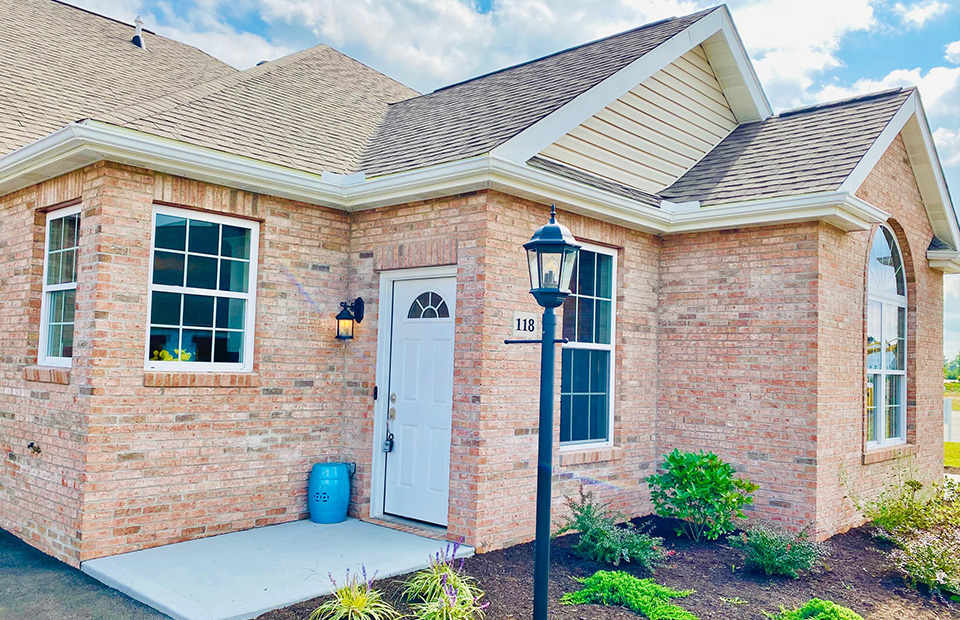 Who's Looking for Low Maintenance? The List Is Growing 
Retirement-age home buyers looking for a more convenient lifestyle are the primary buyers for low-maintenance homes. That's no secret, but it may not tell the whole story. Younger buyers and buyers who fall outside of the main market demographic still make up a growing share of the neighborhood in some low-maintenance communities.
Both single home buyers and young married couples, for example, are drawn to low-maintenance living for many of the same reasons as other buyers. They enjoy not having to worry about grass cutting, yard work, and other tasks and would rather spend time by the pool. "Some of the advantages are no grass cutting and no snow removal. All the exterior maintenance is handled," says Pitell Homes' Seydor. Young professionals may not be the majority market for low-maintenance communities, but most communities are not age restricted, so the homes are open to all buyers.
In the end, most home buyers are looking for a neighborhood that feels right and a home that suits their needs. In some cases, the services provided are a great perk but are ancillary to a neighborhood's overall appeal, says Bowman. "Our neighborhoods are multi-generational neighborhoods. We sell to people who are purchasing their first home and we sell to people where this is going to be the house that they are moving down to," he says.
And while services and included maintenance can be a key benefit, some buyers are simply looking for a way that they want to live and a level of maintenance that matches the lifestyle that they want, Bowman says. "They don't think of this decision as a low-maintenance decision. They think of it as a decision of 'what am I going to do with my free time?'" 
Some people who are from Pittsburgh but have moved away from the Steel City end up returning to the region in their later years, Dunn says. And those moving back home often look for low-maintenance homes upon making the return. 
In some cases, the move to low-maintenance neighborhoods is inspired by parents' move to a similar community. Dunn says that the typical age at which people look into low-maintenance homes is trending downward. For some, buyers see that their parents made the move to low maintenance and are then inspired to make the move themselves. Realizing that parents should have made the move sooner can prompt new buyers to make the switch at a comparably earlier age. 
If you're interested in moving into a low-maintenance community, when's the best time to act? The answer may be right now. Even with a number of new communities being planned and built in Southwestern Pennsylvania in the coming years, new low-maintenance homes tend to sell quickly. Initial buyers have more options in terms of selecting their home's design and layout, underscoring the need to act fast if there's interest. 
Even if you're not planning to downsize—or, rather, rightsize—for several years, showing interest in a home or upcoming neighborhood early on can help to reserve a spot while there's still time. "I would tell anybody that if it's been even a twinkle in your eye or it's crossed your mind to explore and to jump on something right away," Dunn says. 
In preparing for the future, there's no time like the present. Low-maintenance homes are growing in popularity and, often, in value, too. Convenience, community, and worry-free living matter, and low-maintenance living delivers all of that and more.  NH