Ask any real estate professional what the three most important aspects are in a property sale, and they will say, location, location, location. Perhaps nowhere in the northern suburban Pittsburgh market is this well-known mantra truer than at Laurel Grove, a brand-new development that sits directly across from Pine-Richland High School and Middle School campus.
The 89-acre development was the brainchild of Marty Gillespie, principal at Laurel Communities, a development company known for building everything from rental properties to luxury homes in premier neighborhoods. Laurel Communities was also the developer and builder of Bakery Village in Bakery Square, East Liberty, Highland Village Townhomes in Ross, and their current project, the Strip District Brownstones, among others.
Laurel Grove is a master planned community that will offer three distinct styles of homes at a variety of price points, from townhomes to moderately priced homes to luxury homes. Three builders are involved with the creation of Laurel Grove: Ryan Homes, Heartland Homes, and Infinity Custom Homes.
A Master Planned Community
Before, there was nothing but cornfields. But Marty Gillespie and his partner Dan Caste knew a good thing when they saw it. "We tend to focus on the top-rated school districts in the suburbs," he said, and Laurel Grove's location fit the bill to a T. The Pine-Richland School District consistently has been ranked as one of the top school districts in the region and in the state, even earning a top 10 in the state ranking from US News & World Report.
"We wanted to create a master planned community that had different housing types, from single-family homes, luxury-villa homes for empty nesters, and low-maintenance townhomes for younger couples," he said.
Laurel Communities began working on the project in 2015, though getting approvals took a few years because of the project's nature as a large-scale master plan development. Phase One of the project has been completed, with Phase Two commencing next year. Gillespie expects the community to be built out by the end of 2022, with a total of 235 homes.
Plans for a 5,000 square foot clubhouse with a fitness center, along with a pool and walking trails are in the works, along with outdoor living space with grills, firepits, a yoga room, and a great room that can be used for events. "There aren't many communities in Pine that have all of those amenities," said Gillespie, adding, "The home sites are really nice; they are very level, which is hard to find in Pittsburgh. There is a lot of open space in the plan, which is where we're running the natural trails. It's a nice setting."
In addition to the forthcoming Laurel Grove amenities, Pine Township is also conveniently located to other shopping areas within the North Hills suburbs, including the Village of Pine, only about six or seven minutes away, as well as the nearby shops at Treesdale. Cranberry Township also offers a myriad of shopping choices on both Route 19 and Route 228 and is a short drive north, while Ross Park Mall is only about 20 minutes south.
"The community itself has done a very good job with amenities for residents, including a rec center with an exercise facility. Their parks and rec is one of the best in the Pittsburgh region; that makes Pine a highly desirable area to live in," said Gillespie.
Plus, residents can hop across the street and walk the track at the high school or attend a Friday night high school football game.
Also, added, Joshua Mowrey, general manager at Ryan Homes, there is not a lot of new construction happening in Pine-Richland these days, so for those buyers who prefer to build a custom home, Laurel Grove is an ideal choice.
Ryan Brogdon, division manager/vice president, Heartland Homes, agreed that there are not many Pittsburgh communities like Laurel Grove, with the planned amenities, especially with multiple products and the potential for multiple demographics. "It will have a very unique neighborhood feel you don't always get in the communities in Pittsburgh," he said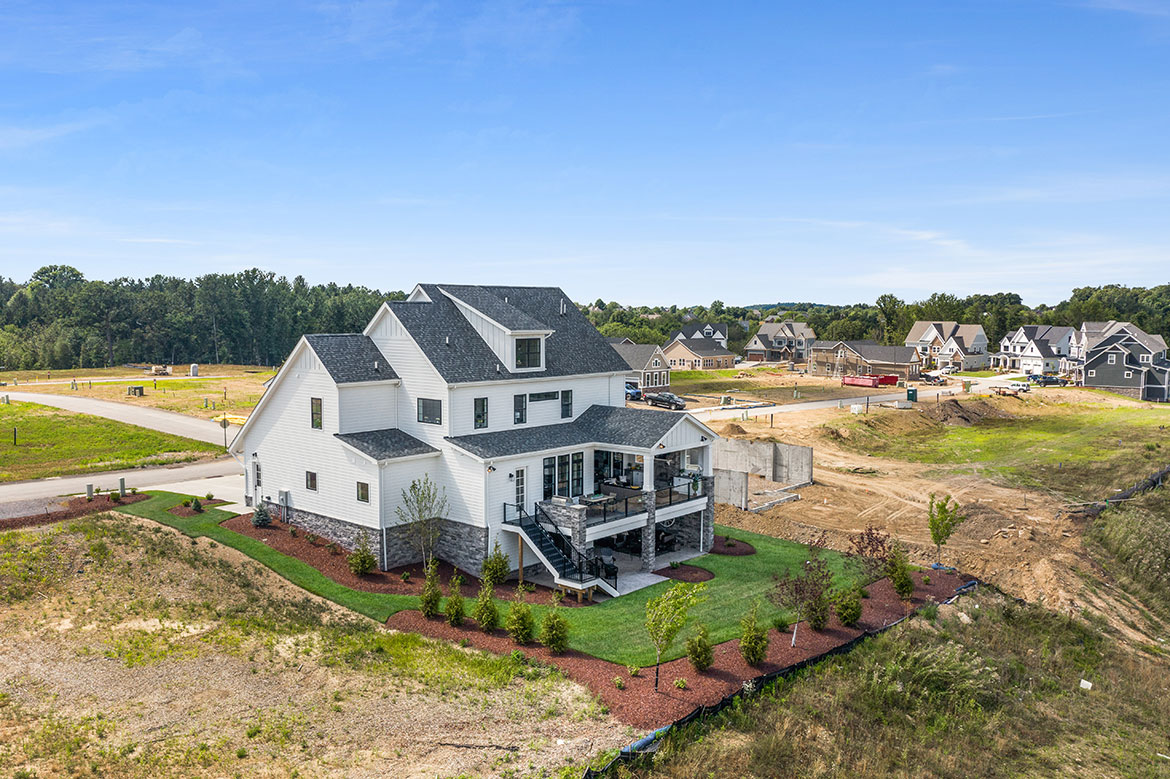 Three's Company
There's something for everyone at Laurel Grove, and with three builders on board, home buyers have a breadth of choices, including both townhomes and single-family homes at a variety of price points. The architectural style will lean toward craftsman, with reverse gables, metal seam roofs, hardiplank siding, and a combination of brick and stone. Gillespie said all the builders involved are working in harmony with regard to the overall community appearance.
Ryan Homes is the builder for all of the vertical townhomes, which are in the front section of the development. Ryan will be building a total of 120 townhomes; as of this printing about 13 have been built and sold. The three-story townhomes have the look and feel of single-family living, at a spacious 1,971 square feet and an open concept floorplan, with such high-end features as granite countertops and stainless-steel appliances.  Mowrey said that the townhomes start in the upper 200s, and after adjustments and upgrades, the average price tops out at around $315,000.
"The townhomes are the most affordable and best value for new construction homes in the Pine-Richland School District," said Mowrey. He said that the primary buyers are young families who want to buy in the Pine-Richland School District. "We are also seeing some single professionals who are excited about the location, the convenient access to Route 19 and Route 8 and all the commuter corridors in that area," he added. The commute to Downtown Pittsburgh is also relatively easy.
Heartland is on board to build three different products. The first is an attached first floor bedroom floorplan that starts in the high 300s. "These feature a first-floor owners suite, two-story great room, and a spacious loft and secondary bedrooms on the second floor," said Ryan Brogdon, Division Manager/Vice President, Heartland Homes.
Next is the attached traditional three+ bedroom floorplans, also starting in the high 300s. "These townhomes are a more traditional two-story floorplan and start at around 2,500 square feet of finished space," he said.
Finally, there are detached first floor bedroom floorplans that start in the low $500s. Brogdon describes these as "…luxury single-family homes with a first-floor owners' suite."
Brogdon added that the community will have a nice streetscape, featuring stone and brick homes mixed in with traditional looking homes.
Infinity Homes has 20 homesites in Phase One, with 12 sold to date, and plans for another 20 once Phase Two commences.
"The community had been developed by one of our developer partners, who we have had a long relationship with. We knew they had this particular community they had been working on for years, and we are very excited to be part of it, for various reasons," said Scott Blodgett, owner of Infinity Custom Homes.
He added that location and schools are always a very big driver for the communities in which his company chooses to build, and of course, the highly rated Pine Richland was a very big draw. "But beyond location within the township, this one is unique in that it is directly across the street from the schools. We're creating a unique lifestyle for our families, and we knew it would be very successful," said Blodgett.
Homes built by Infinity will be on the outer loop of the community and will offer the most privacy. "They are all positioned on half-acre lots. The community itself sits atop of surrounding areas on top of a ridge, which creates pretty views of Pine Township and lots of mature trees for privacy," said Blodgett.
Homebuyers who choose to build with Infinity can choose one of eight floor plans; the model in the community features the Napa floor plan. Blodgett said that standard features in any of Infinity's products include a very open floor plan, a sprawling kitchen with a large island, which is the focal point of the kitchen, and a great room right off the kitchen. The main floor is also characterized by a great deal of natural light and pretty views from the rear of the homes. Infinity Homes also include a dining area, which Blodgett said people are using for more casual 'flex spaces,' as the formal dining area is fading away.  A large finished walk-out basement with lots of entertaining space and room for an exercise area is another feature, as is a large loft space on the third floor. "People use this for an overflow area, or a movie room, for the kids or for a fifth bedroom. It also has a kitchenette and a full bathroom. These have become pretty popular spaces for Infinity," said Blodgett.
The company also adds a covered outdoor space, which they have found is quite desirable for Pittsburgh homeowners, along with an outdoor fireplace. "On nice evenings, you can watch a game outside, and this can become an extension of your home," said Blodgett.
"As the world is shifting more toward at home living, working and schooling, there is a home office, which is becoming a very important part of most family's lives," he added.
Infinity's four-bedroom homes, which rest on half-acre lots, in Laurel Grove start in the low $600s; of the eight plans available, six have owner suites on the second floor while two are on the main level.
All three builders said that they were excited to be a part of this exciting new development in Pine; Mowery said he anticipates it will fill quickly.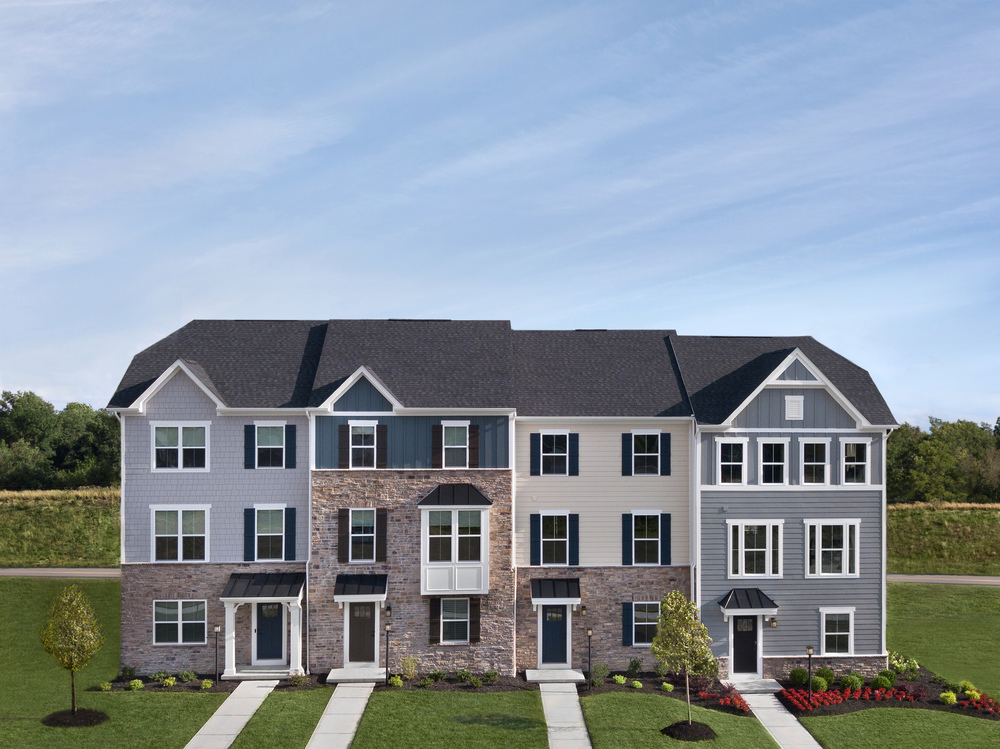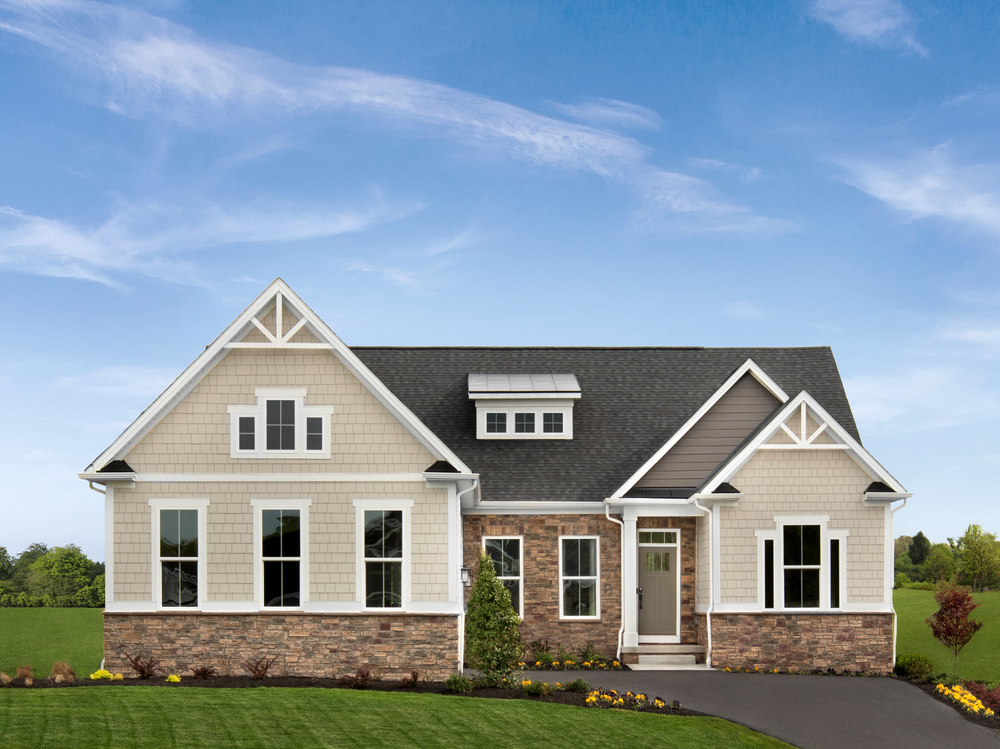 Demographics
Gillespie anticipates that the demographic of the new home buyers will run the gamut. It goes without saying that young families with school age children will be drawn to the plan based on its proximity to the high school and middle school, and these will include first-time buyers and buyers seeking an upgrade.
But move down buyers, the empty nester crowd, will likely find this development appealing as well, particularly those who have raised families in the district and wanted to stay in the area.
Though Laurel Grove is a long way from being filled, some new residents are excited to be among the first to buy property in the development.
Jessica Allen, originally from Monroeville, moved back to the area from Hershey with her husband and infant; they were the fifth family to move to the neighborhood. The main appeal was the proximity to the school district as well as the future community clubhouse and pool. "The other major reason is that we hope other young families would be moving here and we hope our kids can grow up with a lot of friends," said Allen. Plus, she has been taking advantage of the other amenities Pine has to offer, such as Pine Community Park.
Allen worked with Infinity Homes to build just the right home for her family, saying that it was a seamless experience. "We built the Cambridge Home with Infinity; it has a private backyard, so no one can build behind us. We have a forest of trees, and the dogs have a lot of room to run around."
So far, Laurel Grove has not only met but has exceeded Allen's expectations. "I love how remote it is but still so close to restaurants and shops. We are extremely happy with the decision we made."
Janie Mehaffy, her husband and two middle-school-aged sons moved to the area from Ohio. They honed in on Pine-Richland after hearing great things about the school district. Mehaffy said, "When we drove through town, we saw there was a new development going in across from the high school and we thought, 'Wouldn't it be amazing to live there?'" Having rented a Ryan townhome when they first came to Pittsburgh, the family decided they liked the low maintenance and simplicity of living in a townhome, so they purchased a townhome built by Ryan Homes.
Although they've only lived in the development since the summer, so far Mehaffy is impressed. "We love the close proximity to so much stuff. We can go to Gibsonia, Wexford or Mars in the same amount of time," she said. Often, on summer evenings, her sons would take their bikes while she and her husband would walk beside them to get smoothies and pizza at area businesses. "I love that this area feels like a small-town neighborhood but we have access to everything in the city easily."
"It's been really fun to see a community built from scratch; my boys are in heaven watching the construction to see how it's coming together. I've been impressed to see the coordination between the three builders," she added.
The Mehaffy family is also looking forward to the completed amenities. "I'm ready for the community to come together, with the clubhouse and pool. I envision it will just get better. I think it will be really, really good once it's all finished," she said.  NH