From time spent together cooking, eating, doing homework, or just hanging out and talking, the kitchen is one of the most important rooms in a house: it is where the heart of the home beats the strongest. This was especially true during the height of the pandemic and even now, many homeowners want to transform their kitchen into a stylish one that is both functional and beautiful.
The bathroom, particularly the master bath, has also gained elevated importance during the pandemic. Because people could not go to the gym or saunas, many viewed the bathroom as a respite from the day and wanted their bathrooms to reflect a spa-like experience.  
"You're investing in your home, but you're also investing in your personal life. Because we haven't been able to spend a whole lot of money out and about the past few years, a lot of people are investing in their homes," said Matt Hillebrand, principal/partner with Don's Appliances. 
"If there is any place in a home where you should make a larger investment, it's definitely kitchens, and then baths; those are the two biggest areas you will get the most bang for your buck in terms of a remodeling budget," he added.
Trends in Kitchen Appliances
What defines today's kitchen, according to Hillebrand, is "…a combination of technology, design and comfortability. I think people have to be comfortable in their kitchen, and today's kitchens have got a vast array of appliances that make cooking as easy as it's ever been."
Because people have utilized their kitchens a great deal over the last few years, cooking more meals at home, they are seeking technology to make their lives easier—and manufacturers are meeting those demands. Some of the available kitchen technologies are not brand new, but the interest in them is increasing.
"Induction cookware is at the very, very top of my mind. That will give you instantaneous heat using a magnetic cookware, which gives you similar results to a gas cooking unit. There is instant on, instant off, and everything in between in terms of controllability," said Hillebrand. It's also a lot safer because you don't have an exposed flame and are only transferring heat from the element to the cookware that is magnetic, and there is very little residual heat on top of the glass.
Hillebrand said that refrigerators are now being designed with better food preservation. "During the pandemic, you weren't going out and shopping every day; customers were looking for the best possible food preservation systems in refrigerators," he said. To this end, some manufacturers have refrigerators with two compressors: one for the refrigerator and one for the freezer. When you're not moving air from one compartment to the other, that provides consistent temperatures and maintains humidity in the refrigerator to preserve the life of fruits and vegetables seven to ten days longer than average. 
Another kitchen appliance trend is the built-in coffee system, which can either be placed on a countertop or slides into a cabinet. It is hooked up to the water line so it does not need to be continually filled. "It grinds individual cups of coffee to give you a perfect cup every time," said Hillebrand.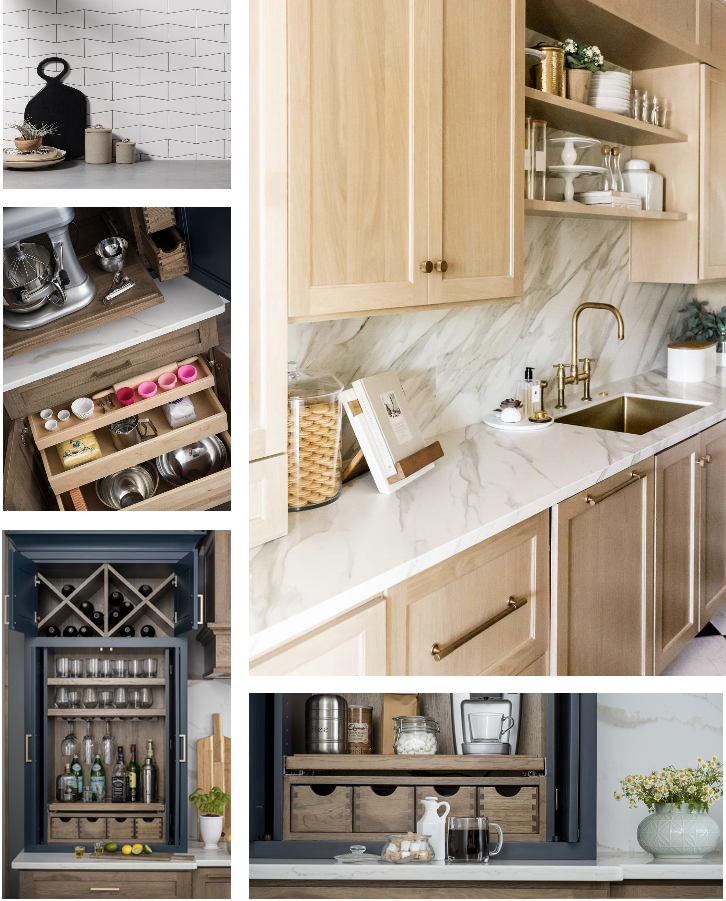 Steam ovens are gaining in popularity, and these can also be used as a steam unit. "If you wanted to steam vegetables, you can do that in your oven. You can also use a steam oven to reheat or you have the option to do a combination steam/convection. You can inject steam and cook at the same time to maintain that moisture in whatever it is you're cooking," he said.
Smart technology is becoming more popular in the kitchen as well. Many high-end manufacturers offer apps to control appliances, such as cameras in the ovens so you can look at your phone and see how your cookies look, all without getting off the couch. And if you've ever gone to the grocery store and realized you forgot to check to see whether or not you were out of milk, one refrigerator called The Hub by Samsung has a camera inside the fridge so you can peek inside and see what you need. 
As people entertain more at home, warming drawers are becoming popular. They're especially good when families with busy schedules are eating at different times. "You can hold food in a warming drawer for extended periods of time and keep it at a safe temperature; it does a great job because it doesn't dry food out. If you have multiple side dishes, you can hold them in a warming drawer for extended periods of time; it's great for holidays and parties," said Hillebrand.
And while trash compactors are not a new technology, they are gaining in popularity; Hillebrand calls them an underrated appliance.
Beth Fay Lane, marketing director and hardware specialist with Splash, a kitchen and bath design showroom with locations in Cranberry, Glenshaw and Murrysville, said that people are putting in larder cabinets, similar to a pantry but has even more of a multifunctional purpose—tall cabinets with doors that can be folded back. A larder contains built-in nooks and drawers and is used for storing baking supplies or beverages or even your coffee maker. "It's like getting a purse with compartments or pockets," she said. 
But perhaps one of the most significant kitchen trends this year is the sink that doubles as a work station, designed to minimize mess with built-in accessories; these sinks slide on tracks, converting your sink into a cutting board station, a drying rack, or a colander. 
Another must-have is the prep sink, which can be built into a double kitchen island; it is both a hygienic and functional kitchen solution. For example, you can use the prep sink to prepare raw meat and keep it away from other parts of the kitchen, reducing the chances of cross-contamination. And regardless of the type of sink you choose, Lane pointed out that hammered metal sinks with a metallic finish is a visually appealing trend.
Two other kitchen trends include touchless faucets and filtration systems. Hillebrand said some of these filtration systems not only filters the water but will dispense chilled water, heated water, as well as sparkling water.
Hillebrand said that depending on whether someone is building versus renovating is dictating the caliber of appliances. "If you're going to be in a home longer than 7-8 years, we are seeing more luxury, high-end appliances," he said. Conversely, for those doing remodels that are only going to be enjoyed for a handful of years, they are choosing upper end or middle-of-the-road appliances.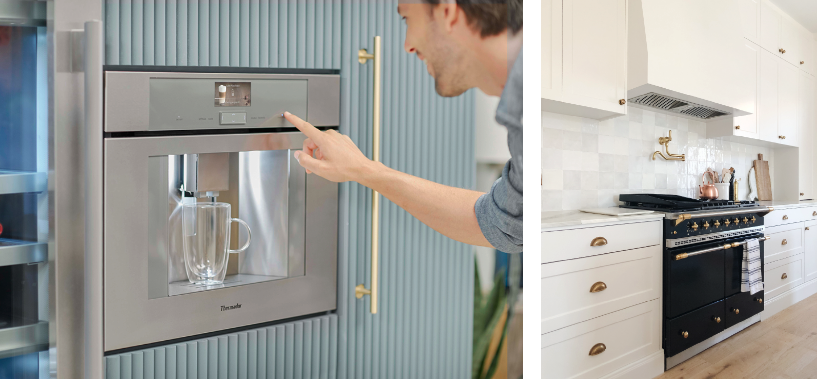 Kitchen Design
The new, technology-infused appliances that are out there would impress even a professional chef, but there's something to be said for the aesthetics of the kitchen. No matter your taste, there is something for everyone in kitchen designs, whether you prefer old world, contemporary, classically styled, or anything in between. The key word is simplicity. "No matter the style, people are still keeping things more simple, streamlined and uncluttered," said Tracy Sherksnas, Kitchen and Bath Designer with Splash.
Peggy DeTillio, Design Consultant with Scarmazzi Homes, said that today's kitchen is fresh, reflected in clean lines, and is airy and open. 
"Open concept is still very much alive and well," agreed Sherksnas.  This is true, even though people are often using these spaces as a work space or a place for homework. "It's more of a cohesive space for being together," she said.
Color
DeTillio said that white is still popular as a kitchen base color. "It represents purity and cleanliness and freshness. You can always change your color themes by accessories and furniture, so white is a nice clean palate to start with," she said. 
For those who do incorporate color, the designers are seeing a lot of blues, either in the island or the perimeter or even the backsplash. Sherksnas said that people are mixing and matching blues or darker tones as well as choosing warmer hues, including for their wood species, like natural maple. 
Lane added that she is seeing what she calls Scandinavian color palettes: heavy on the neutrals, natural woods, and creamier whites.
Finishes and Materials
"In hardware, definitely matte black remains very popular," said DeTillio. She added that she's done a lot of brush gold in cabinet hardware and plumbing fixtures. "I always encourage people to mix the metals; it's nice to have that more eclectic look," she said. 
Sherksnas is also seeing a lot of black finishes, along with stainless steel finishes to coordinate with appliances. Matte gold as a finish is also trending, but black still dominates. 
Lane is seeing a lot of British influence—painted cabinets and authentic golden hardware. "We have authentic premium products that look like they came out of an old manor house. Some styling is contemporary but finishes look old and authentic, which is a British look. Sometimes they are paired with raw wood or painted cabinetry; that has been popular
For countertops, quartz is number one, said DeTillio, and people want the design to be a bit simpler and less busy. 
Lane, however, said she is seeing the manmade quartzite as the number one choice in countertops, followed by marble and then quartz. "We are incorporating wooden butcher block-type countertops as well as edge treatments, which is a pretty way to incorporate more warmth into a space," said Lane, adding that homeowners are also doing wooden tops on a certain section like on the island or the bar. 
Sherksnas said that no matter what people choose for materials, they are viewing their island as a focal point. "They are gravitating toward quartzes that have a marble look with waterfall edges."
Backsplash design are numerous and as individual as the homeowner, but Lane said there is a lot of very intriguing and artistic designs these days in natural stone, with some people blending different colors of stone in a pattern, while others will feature metallic accents. "If you look at the same piece of tile, you can lay that out six different ways, depending on the pattern," she said.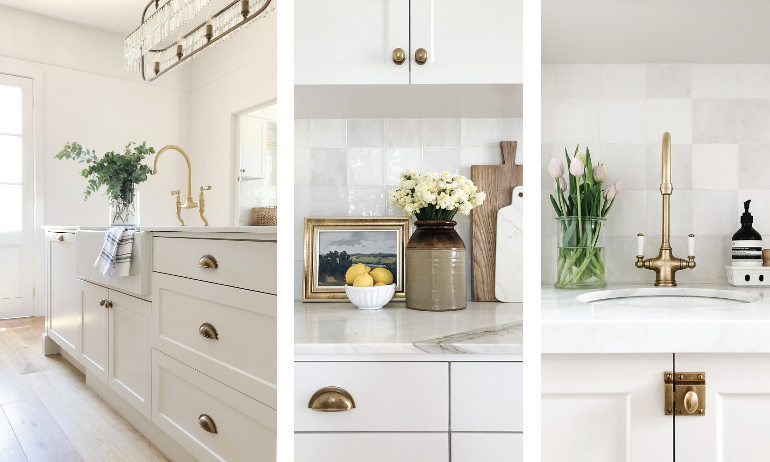 Trends in Bathroom Style, Design and Features
Many people want a fresh, clean look, but something not sterile looking. "That is where you can have natural stone, or a lighter palette but still have dimensional tiles and veining for flooring and the countertop," said Lane. 
People start and end their days in the bathroom, so it makes sense that the bathroom be a low-maintenance, Zen-like space, and people have stepped up their bathroom designs to achieve those goals. "We are really seeing a boom in what would have considered high end luxury—people are loading master and guest bathrooms with these features," said Lane.
When gyms and country clubs were closed, those who renovated their master baths opted for steam showers. "The steam shower experience is fully customizable. There's sound, light, and you can control the temperature, the duration of time, and you can add aromatherapy to it. That is something people really enjoy," Lane said. 
Sherksnas added that walk-in showers are very popular, featuring a no or low-threshold entry, which can accommodate a wheelchair if necessary. This is one example of universal design and are good for people living in multigenerational homes or those who intend to age in place. 
Rain showers are still popular, though Lane said they are often paired with other shower heads, like a wall-mounted, hand-held shower on a slide bar (also known as a hand wand shower head). People are also incorporating benches into the shower. 
While the shower may be a place to rejuvenate, the bathtub is a place to relax. For those who have the space, freestanding tubs are having a moment, said both Lane and Sherksnas. Freestanding tubs come in a variety of colors and styles, so they can blend in with virtually any bathroom design, and because they are not built-in, they can be placed anywhere, though often they are the focal point of the bathroom. People can choose to add heated backrests or air jets to create bubbles. 
In keeping with the low-maintenance goals, DeTillio said that people like the matte tiles, which eliminates noticeable smudges and water marks. She said clients like marble and marble-like tile materials, which gives a luxurious look and feel to a bathroom. 
Color-wise, the designers are seeing beige, taupe and earthy, warmer grays. Matte black and champagne gold is popular in the bathroom, but traditionalists are sticking with brushed nickel finishes. 
Sherksnas said that people are painting their vanities and choosing rectangle sinks as opposed to oval. Three-dimensional tile designs in the bathroom along with large format tiles have been very popular, as well as back painted mosaic glass. 
Trends in Bathroom Technologies
Borrowing from our European neighbors, today's bathrooms are all about the bidet, or a washlet. "A washlet is a very, very intelligent bidet," said Hillebrand. A washlet has a lot of different features that can be operated via remote control, such as a heated seat and a fan. Regular toilets can also come with bidet seats, as an extension to your current toilet.
And like the kitchen, with its smart apps, there are also smart shower systems, with such functions as voice control, temperature control, shower duration control, etc. 
Sherksnas pointed to LED lighted medicine cabinets that lifts up and can be recessed or surface mounted as a new, high end option for the bathroom, as well as a grooming drawer complete with electric outlets in the back of the drawer. 
Other high-end features popular in high-end bathrooms are towel warmers and heated floors.
"It is one thing to treat yourself to a massage every month or two, but it is another thing to have quality wind-down time, anytime. That is where the cost-benefit comes in when you invest in more luxury-type features," said Lane.  NH