NORTH MEADOW
Along Yockey Road in Washington Township, Westmoreland County sits a stretch of land that once buzzed with the sound of airplanes touching to the ground. It was a private landing strip used back in the fifties by a flyer who rented the land from Mr. Yockey himself, Richard Kacin said.
Kacin, founder and president of a residential and commercial construction business – KACIN Companies – owned this piece of property since the early eighties. Back then, he and his dad bought the land together and used it as farmland.
My dad liked the lay of the land," Kacin said. "He thought it would be good farmland. My dad loved to grow potatoes and other vegetables, so we did that for a few years and made rental arrangements for other farmers to use the rest of the land."
Kacin always envisioned developing it when the time was right, and this year, KACIN Companies finally broke ground for its newest residential plan, North Meadow.
This broad, flat piece of land made for the perfect plot to develop single-floor homes, Director of Sales and Marketing Jason Corna said.
"We saw that there was a need in the area for one-level, low maintenance living," Corna explained. "We decided that the time was right to develop the first phase of North Meadow to address that underserved segment of the market."
The North Meadow plan is broken up into two phases. The first phase has a total of 33 home sites, all designed to need little or no maintenance. Nine of these home sites are dedicated to single family, one-level living ranch designs.
"These homes have amazing open flowing designs with great features and options," Corna said. "They will have a minimum of three bedrooms and two full baths with spacious two car attached garages. They will also have the option to add additional rooms on a second floor if the buyer so chooses."
The additional 24 home sites will consist of single level patio homes, accommodating local buyers wanting to escape from high-maintenance, multi-level living. These homes will have the same open floor plan as the single-family homes, a minimum of two bedrooms, two full baths and a spacious two car garage. Adding additional rooms to the second floor is optional to the buyer, as well.
"Phase two will be developed down the road," Corna said. "It will consist of a mixture of single family, detached homes. These home sites will average around one acre, and the majority of homes will be traditional two-story designs."
But no matter what home type a buyer chooses in the North Meadow plan, KACIN Companies ensures that it will be built to the highest standards in the region.
"We worked tirelessly to keep costs down while continuing to offer high quality construction and finishes that KACIN Homes is known for," Corna said. "All of the homes are nicely appointed with custom kitchens, granite and quartz tops, stainless appliances, hardwood, ceramic tile, plush carpet, etc."
The homes also come with options for full finished basements, cathedral ceilings, three car garages, three- or four-season rooms, covered patios and much more.
"We work with our buyers to customize the homes to meet their needs," Corna said.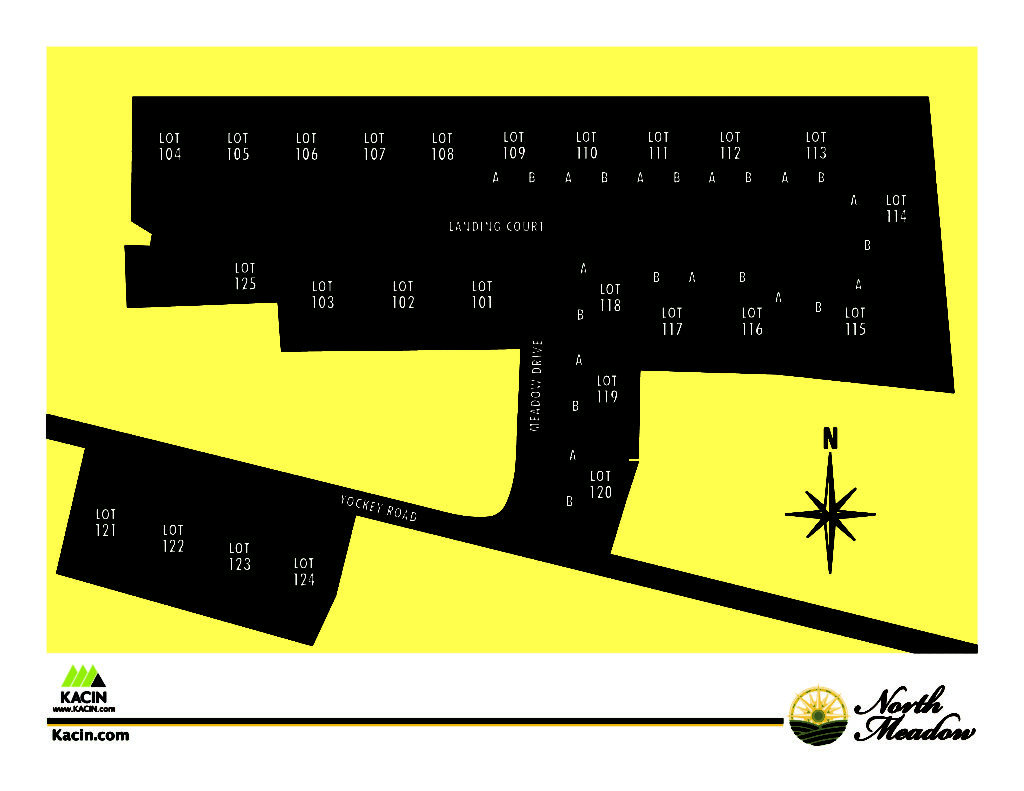 GROWING A COMMUNITY
The homes in North Meadow will be situated in the Northern part of Washington Township, near residential communities, businesses, parks and the Roaring Run Trail (part of a rails to trails project along the Kiski River in Apollo).
"The location is amazing with great views and easy access to main roads," Corna said. "The community is located in the Kiski Area School District. A few of the local communities that are easy to access from North Meadow include Allegheny Township, Bell Township, Plum Borough, Monroeville, Murrysville Delmont and the entire Kiski Valley."
According to Niche, a neighborhood data and ranking site, the median home value in Washington Township is $161,000, and 84 percent of the homes in the area are owned, rather than rented. The newer builds are consistent with the price value offered by the North Meadow plan. In addition, a large portion of the population in the area tend to be retirees, making it the perfect place to develop an active adult living plan.
The homes in North Meadow are valued in the low to mid $300k range, Corna said.
"A great segment of today's market is downsizing to one-level living," Kacin said. "We've done a lot of that over the years around Western Pennsylvania."
Some of KACIN Companies' other one-level builds are included in the recently completed South Meadows community in Linwood. That build aimed to provide maintenance-free living for active adults in the Greensburg area, with amenities including a community clubhouse, swimming pool, easy access to shopping and more.
In Washington Township, the community welcomed this new build, recognizing that it would mean sustainable growth for the community.
"Washington Township is a great place to live," Kacin said. "The people of the township were really accommodating. It's for the overall betterment of the community and will help to keep some of the original residents."
LEAVING A LEGACY
This year, KACIN Companies celebrates 59 years of building residential homes, condominiums, communities and commercial spaces. It all began when Kacin was just 19 years old, and a friend of his family trusted him to draw their construction plans and build their home.
"I broke ground on Good Friday of 1960," Kacin said. "It was just me. I was going to night school. I wanted to go into architecture."
All on his own, he built that home for $15,800 – a number that sounds shocking today.
"The trust that people had in me as a young man is something I will always be grateful for," he said. "I was raised around carpentry and farming, and I had a good work ethic. I tried to seize every opportunity."
His business cultivated in a true grassroots fashion, earning new projects from referrals in his community.
"I put up a sign and it just grew from there," Kacin said.
Since then, KACIN Companies has built a countless number of houses for families to call home.
"We've even had some families that we've built three homes for over a period of time," he said. "The family has grown and moved around in the same area."
Not only does KACIN Companies have a trusted name in the eyes of family customers, but it has a unique relationship with its employees. Jason Corna and Bruce Corna, Vice President of KACIN Companies, are a testament to the company's generational bond.
Bruce Corna joined the team in 1977, and Jason grew along with the business. In his early teens, he followed his dad into work, learning and working with the KACIN team and contractors.
This is the legacy that Richard Kacin thinks is so important to the mission of his company.
"It means everything to me," he said. "It's not just only a business. It's everything that goes with it. These people… they are more like family."
So, whether they are constructing homes for families or bringing them on the team, KACIN Companies believes that strong relationships build strong communities. NH