Following the collapse of Westmoreland County's prominent manufacturing industries of the 1970s and 1980s, many residents were forced to move out of the County to seek employment opportunities. Many of these residents were of the age to start families. As such, Westmoreland County is now experiencing the effect of a missing generation. This missing generation is now in their early 30 to late 40s and would be having their own children, but that will not be occurring in Westmoreland County. This has created a ripple effect that continues to spread throughout the County today.
Coupled with this effect, families across the country are having fewer children and having them later in life. Families, on average, are much smaller than they were just a generation ago. As such, graduating classes at local high schools continue to get smaller and smaller. The youngest generations are saddled with
high student-loan debt, pushing family life further and further down the road. Consider that in 1976, across the United States, 40 percent of mothers had four or more children. By 2014, that figure dropped to 14 percent.
At the same time, mothers having one child increased from 11 percent in 1976 to 22 percent in 2014. This is a national change in family creation and child-rearing trends.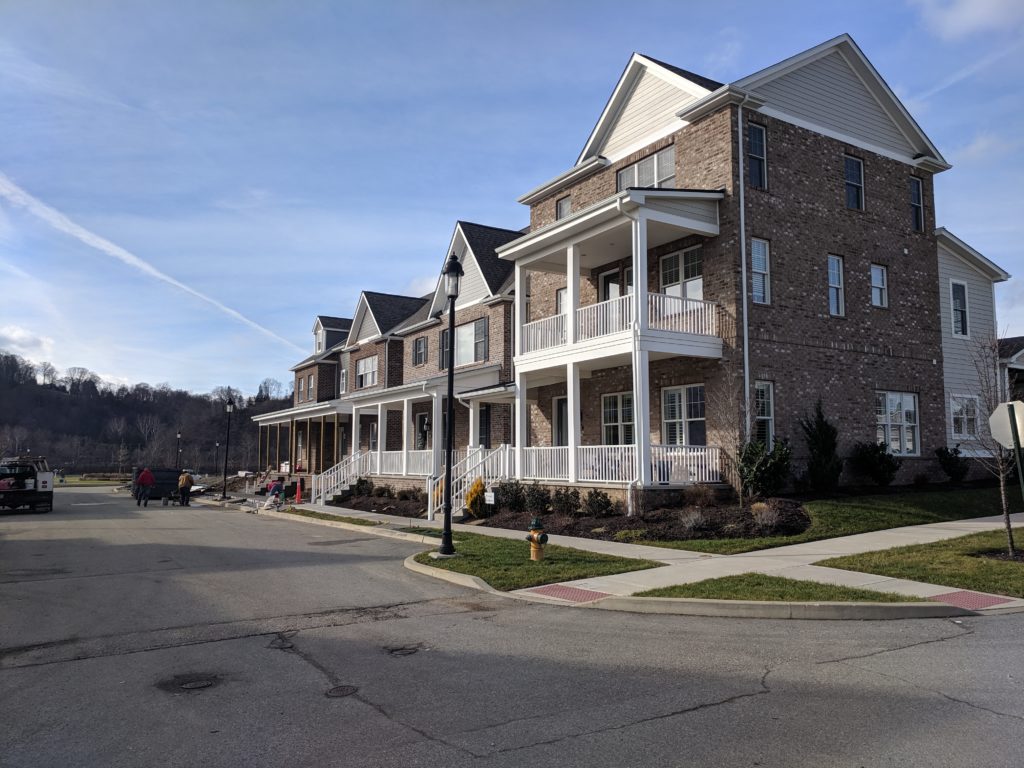 Together, these two factors drive deaths to outpace births by 1,000 people per year in Westmoreland County. Such a large natural population loss negates any growth we might have experienced through migration. These figures remain true for nearly all of the Southwestern Pennsylvania region. Therefore, we are not going to solve our population issue by just attracting from neighboring counties. The whole region will have to begin attracting residents from a more diverse world. Today's youngest children represent the most diverse population the United States has ever seen, and the generation after it will be the most diverse yet. We must understand that this is not only for the people who are here today, but the people who will be here tomorrow. This means that migration is essential to Westmoreland County's ability to compete for jobs and employers. This figure is likely to increase in the future as almost 25 percent of the population is between 45 and 59 years old. The single largest age group, at almost 9 percent of the population, is 50 to 54. As a result, the median age increased by five years between 2000 and 2010. By 2020, it could be as high as 51. For context, the US median age in 2010 was 37, while ours was 45.
That said, in December of 2018, the Board of County Commissioners of Westmoreland County have created a plan to help develop a more livable and prosperous county. Part of this plan is to develop ways to meet the areas housing needs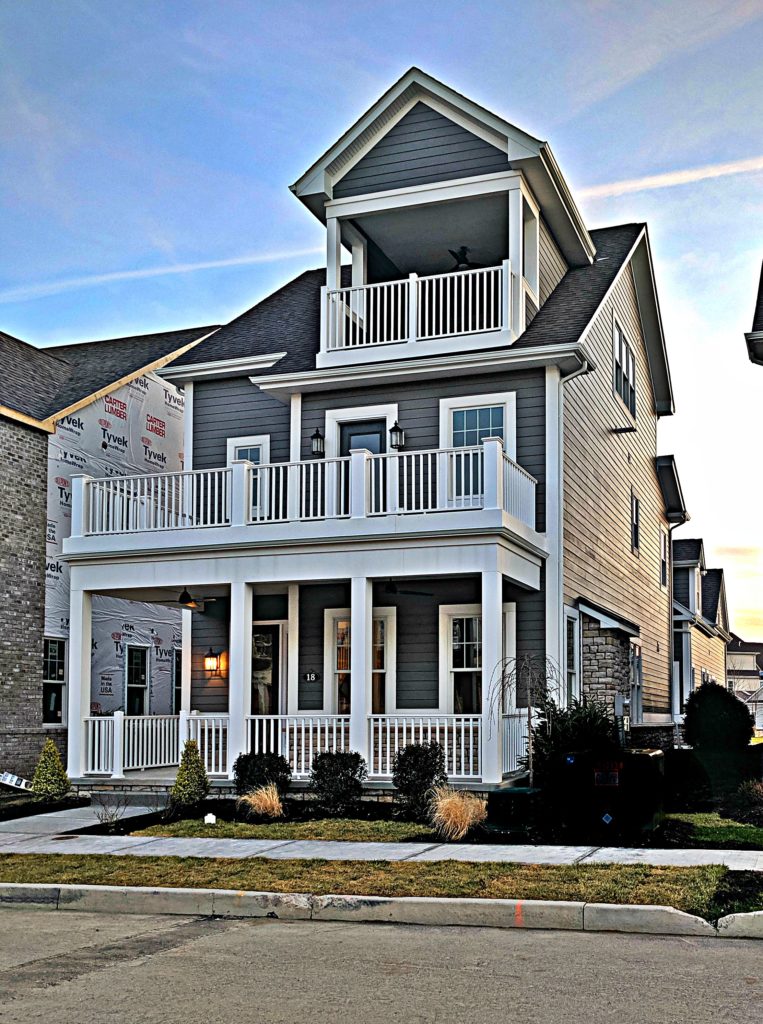 Housing
If you build it, they will come!
Different generations have varying preferences for their housing options—from a traditional single-family home to an apartment. Providing these options can accommodate as many peoples' preferences as possible, allowing more of them to live in the area. This public engagement process identified the Westmoreland community's need for additional housing options, particularly multi-family. Outreach participants expressed the desire for this housing type to support the desires of aging seniors and young professionals. A variety of types would not only accommodate the need of the existing population but also help attract new residents. Need for additional housing options is not only supported by type but also tenure, i.e. homes for owners and homes for renters. Over 77 percent of the households in Westmoreland County are owner-occupied.
Providing housing options throughout the County will help attract new residents to areas across Westmoreland and allow them to stay as they progress through various stages of life.
The Great Recession, combined with the mortgage crisis, hindered mobility and curtailed home buying, dragging down the growth of suburbs. At the same time, urban cores began to grow more quickly than they had before, inspiring questions about the future of America's development. Recent migration trends, however, suggest otherwise according to this on-line article published for www.economist.com/unitedstates in April 2018. The article further cited an analysis of the U.S. Census Bureau that showed "lower density suburbs and exurbs – areas separated from cities by rural land – have been growing more quickly since the Great Recession…" Others note reasons for this shift as stemming from the desire for more space, varied amenities and costs, among others, posing a great attraction for millennials and baby boomers alike.
Residential construction has been slowly rising in the years following the recession when construction came to a standstill, but housing starts still aren't on pace with demand. Again, the U.S. Census Bureau indicated that 1.33 million housing units were begun in January 2018 nationwide and that number came in as a 10-year high for housing starts but has not extended beyond that January peak throughout 2018. For those looking at affordability, a December 2018 article penned by Laura Agadoni, a landlord, journalist and prolific writer on various home topics, noted that "On average, nationally as of 2017, the median price for a home in the city is $431,000 compared to $230,000 in the suburbs." The article also cites better schools, a greater sense of community, and quality of life as additional perks to suburban living. So, how does this stack up for living in the eastern suburbs in southwestern Pennsylvania?
Serene Living
A burgeoning region for a laid-back lifestyle coupled with the benefits of gracious living are the suburbs of Westmoreland County, bordering Allegheny County to the west. With its pastoral landscapes, quality schools and health care, availability of land, and a plethora of recreational/cultural opportunities, this primarily suburban/rural county has much to offer millennials, families and well-heeled baby boomers. With its lower taxes and network of roadways offering accessibility to Pittsburgh and beyond, Westmoreland County is proving a strategic destination for house hunters and businesses alike. Areas such as Murrysville, Penn Township and North Huntingdon followed closely by Hempfield Township, Unity Township and Ligonier are often considered "hot" areas for new home builds and a quality lifestyle in the county, among others. "We are seeing steady growth in the Westmoreland County communities closest to Allegheny County," said Justin Parry, President, Parry Custom Homes. "These areas continue to be desirable for families looking for close proximity to Downtown and shopping, but with the benefit of lower taxes." Janice Smarto, Manager, Berkshire Hathaway Real Estate, Greensburg office, looks toward costs as one factor for outmigration from the city to the east. "There is so much industry and growth [in the city], the prices are skyrocketing in the Pittsburgh rental market," she explained. "That raises rental property values and taxes, so it has any number of people coming out to the east. And, they don't mind traveling." This migration is the consequence of the cities' success, not their failure. Housing and rental prices in many of the country's largest metro areas have soared, inspiring residents to pack up and move out." Smarto also cited that many leave for a less hectic lifestyle and are finding much to do in Westmoreland County. "People are buying homes even if for a shorter period of time," Smarto added. "They call looking to rent, but find there's opportunity to build with good resale potential." Parry agrees noting that lower taxes are an immediate reason people are looking toward communities such as North Huntingdon, Penn Township and Murrysville. "These areas boast great resale values and great school districts," he continued. "People like the idea of not being 'on top' of neighbors and having a little more space and privacy. People looking for property turn to Hempfield, Unity and Salem Townships because of their more affordable prices and the likelihood that they can obtain more land for a more reasonable price. With Routes 22 and 30, along with the turnpike close by, they are able to get space and privacy with the convenience of amenities and quick access to Downtown Pittsburgh for work."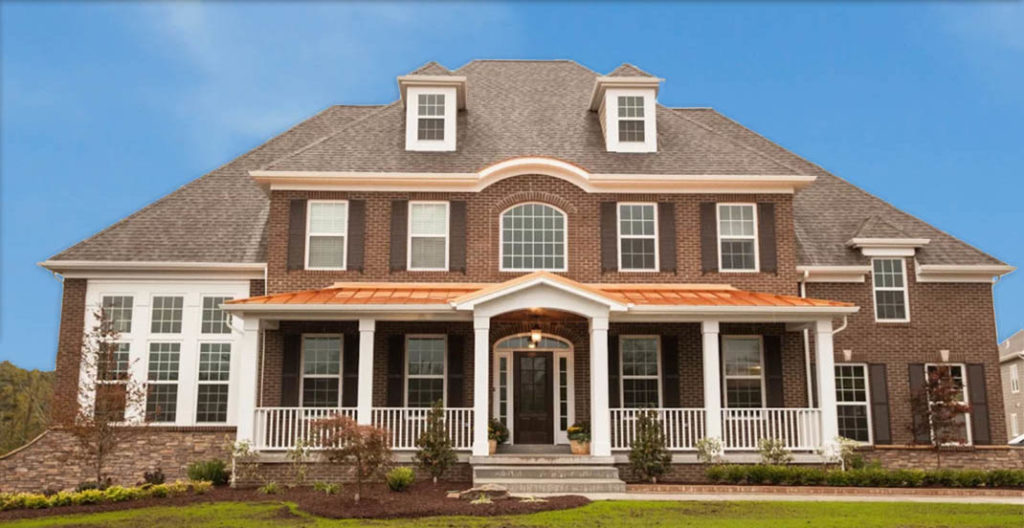 But these aren't the only attractions appearing in the east. A snapshot of Westmoreland County, with its population of some 353,000 is comprised of 1,027 square miles and serves as the second largest county in southwestern Pennsylvania. Home to various business and industry, the County is home to 17 school districts, private schools, and five colleges/universities. Replete with recreational areas, historic charm, numerous churches/synagogues, cultural offerings and Excela Health, an award-winning health care system, the County offers low taxes and a low crime rate (1.5 per thousand versus the Pennsylvania rate of 3.3 and the national rate of 3.0). In addition to interstate highways, the County also offers railroad transportation and the Arnold Palmer Regional Airport. Its home ownership rate is 78.8 percent, higher than the national average of 63.1 percent.
The Housing Scene Out East
Individuals, couples and families in varied age groups, are looking eastward when it comes to home building and buying.
Jack Pellis, President, Pellis Construction Co., known for their high-end custom homes over the course of more than 50 years, has seen a dramatic shift from custom home requests to "retirement-type" products. "For the past five years, there has not been much of a demand for custom homes," he reported. "Villas, patio homes and single-level communities have been in demand." To meet that demand, the Greensburg-based builder developed Fairfield Estates, one of four planned residential communities nestled in the scenic confines of Hempfield Township, just minutes from the University of Pittsburgh-Greensburg campus and a few miles from U.S. Route 30 and downtown Greensburg. Gaining a reputation as one of the "hottest" builds in the area, Fairfield Estates features paired and single villas, along with lots, larger in size, dedicated to custom built single-family homes, all geared toward retirement living but easily accommodating younger families. The community is set with no-through roadways, HOA-provided lawn care and snow removal, and attractive common areas including fountains and a stocked pond. "These units are very high quality," Pellis added. "Many of our customers lived in custom homes but don't want to step down in quality." The single-level living villas offer a contemporary flair with standard features such as high-end appliances, granite countertops with larger islands; under and over cabinet lighting; walk-in showers; hard wood floors with hand scraped, wider boards; brick, stone and siding combinations to meet particular tastes. Paired villas here start at $350,000 with single-family villas coming in at $450,000. Single-family custom homes on estate lots are priced upward to $750,000. With only 28 lots now available, Pellis sees his customers here as those living locally but desiring a change in lifestyle. "Some buyers have moved from out-of-state, but we are pulling more from North Huntingdon and beyond," he
said. "Some are returning to be near family."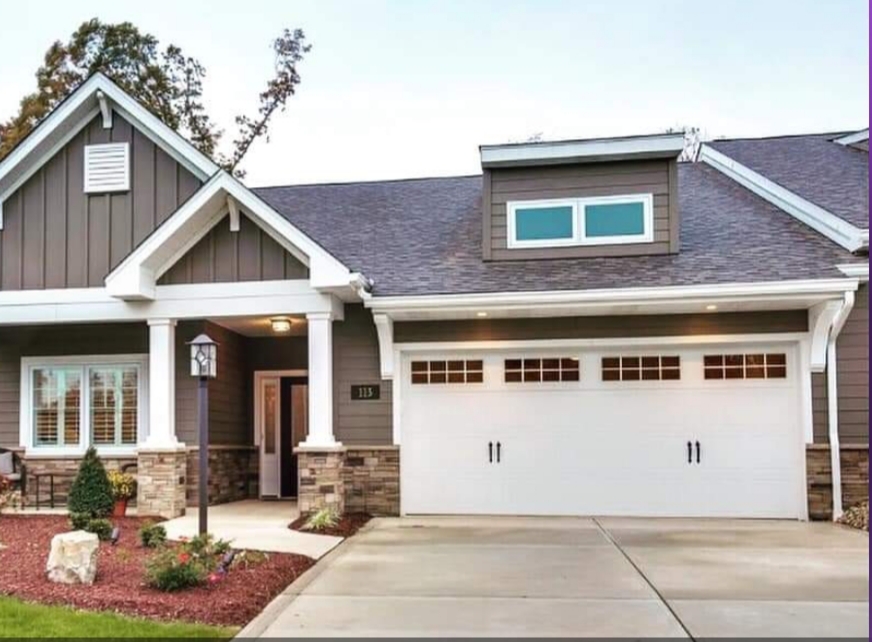 Jason Corna, Director of Marketing and Sales at Kacin Companies, builder of the North Meadow housing development in Washington Township agrees that buyers are local, looking for this low-maintenance lifestyle with low taxes and good schools.
Seeing growth in the multi-family builds with limited growth in high-end, custom home sales in Westmoreland County is Darlene Hunter, CNHS, Vice President and Associate Broker/Regional New Home Manager for Howard Hanna Real Estate Services. "I believe [movement within Westmoreland County] is a local market, with prospects moving near or within their local areas," Hunter commented. "I don't see much migration from other areas unless there is a need for families to relocate due to employment or family issues." What she does see are those who are moving look for affordable, multi-family (patio-type) homes between $250,00 and $350,000 or, affordable new construction – single-family homes from $350,000 to $550,000, noting growth locations such as Murrysville and Penn Township, where taxes are lower and good school systems with convenient access to shopping, dining, recreation and Downtown Pittsburgh. It bodes well to note the average property taxes for Westmoreland County sit at
$1,885, with the Pennsylvania average at $2,553 and the U.S average at $2,197.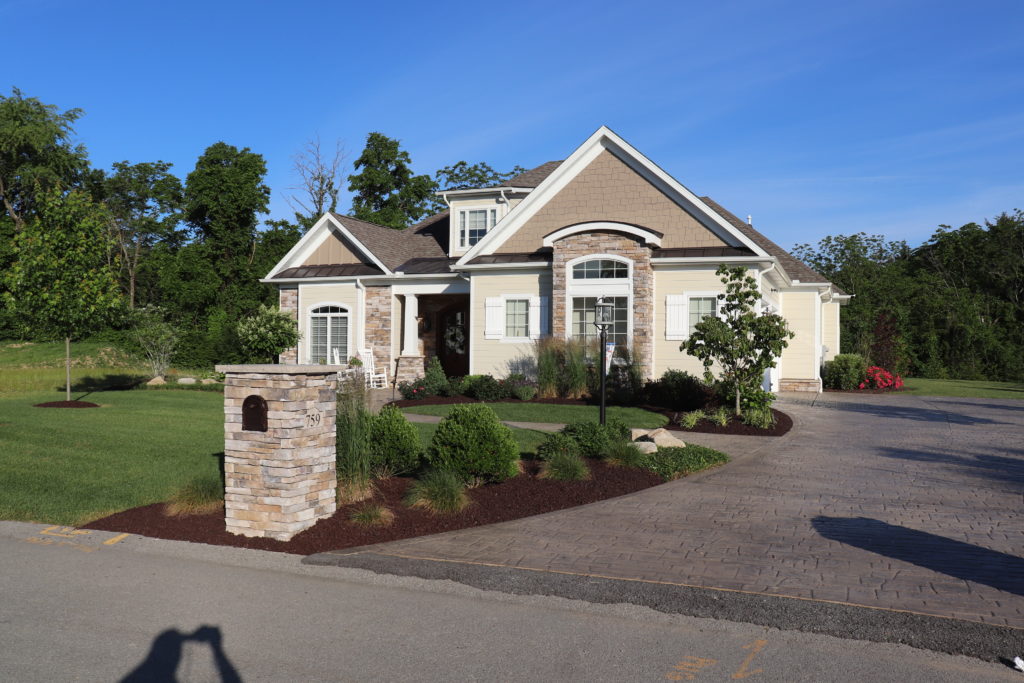 J. Michael Ruefle, Jr., President of Suncrest Homes based in Murrysville, also sees new construction as relatively flat but admits that financing may be somewhat difficult for smaller builds. Despite the odds, Ruefle continues to see activity in western Westmoreland County. "We build in Murrysville and Penn Township, which has become exciting," he said. "We are seeing a lot of growth in Penn Township and Murrysville because it is right on the Westmoreland/Allegheny County line and very accessible to amenities. It gives you the ability to get to Downtown Pittsburgh easily." One of Suncrest's successful projects is Sterling Oaks, situated in picturesque Level Green bordering on the eastern portion of Monroeville. The 47-lot community, part of the Penn-Trafford School District and located near U.S. Route 22, the Pennsylvania turnpike and Route 376 East, boasts custom single-family homes and carriage homes. "Our carriage homes range from one to three and a half stories, but we are also building ranch style homes and a story and one-half homes for clients who want additional space," he said. "Many want a master bedroom on the first floor but still desire this additional living space." When building for baby boomers, he noted that low maintenance, one-level, open concept living is very important. But the demand for hardwood floors, stainless steel appliances and granite is across the board. One of the more unique aspects of Sterling Oaks is its proximity to the Westmoreland Heritage Trail. "Here, you can walk, run, ride bicycles or cross-country ski. It's created excitement for people of all ages – young families, those in their 50s, 60s, 70s and older." The trail covers just over 8.5 miles from Saltsburg to Delmont, and 5.9 miles from Murrysville to Trafford, with handicap accessible surfaces and parks dotted along the way. Interestingly, he reports a vast number of requests for larger lots from all age groups. "Many want that larger lot for the sake of privacy," he noted. "They want a manageable home but a couple of acres. There is definitely a demand for single-family homes in all price ranges. Some purchase two lots and may put a 2,500 square foot house on one acre. Not everybody wants to be close to neighbors." To fulfill that objective of more land, Ruefle added that there is still much land to be had in Murrysville and farther east, in townships such as Salem and Washington. Similar to other Westmoreland County builders and realtors, he also sees that those coming to communities such as Sterling Oaks are from within the county, moving from their current location to another.
Parry added another perspective to the mix. "We continue to see young families turning to the eastern suburbs for the schools and the ability to get more bang for their buck," he said. "We are also seeing empty nesters and those without children becoming attracted to Westmoreland County to get away from higher taxes and the hustle and bustle of Allegheny County." He continued that those approaching retirement are looking to downsize and don't want fluctuating monthly expenses, such as rising taxes. "Even when taxes rise in Westmoreland County, they are starting at a lower point [than Allegheny County], which makes them more manageable when looking at it from a fixed income perspective." Despite some evidence to the contrary, Janice Smarto also sees some younger families moving back to the area. "They are coming from out-of-state to move back where their families are located," she said. "They want their children to grow up knowing their extended family."
What's Trending in Westmoreland County?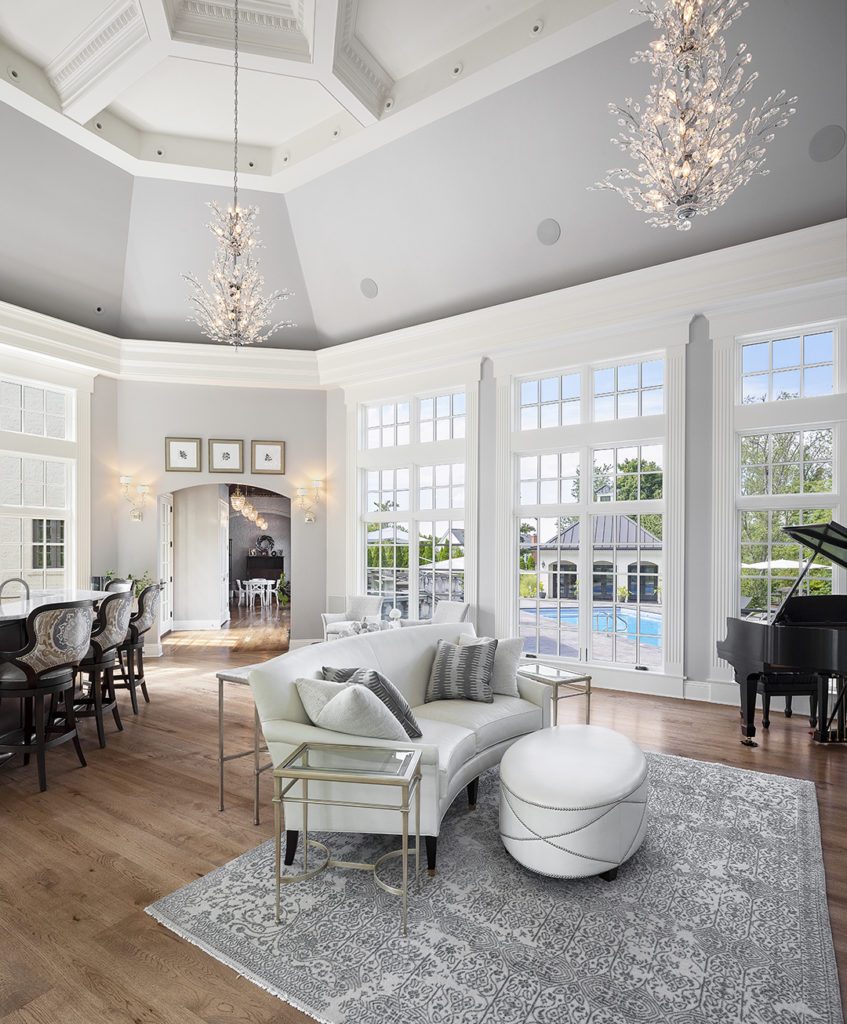 At Sterling Oaks and other Suncrest locations, clients across the board are looking for handicap accessible amenities such as wider doorways, low thresholds in showers or curbless showers, whether it's needed now or at a future time, given that younger couples might look to the addition of older parents to the household. Justin Parry explained that for young families, two-story builds remain the most popular but, families with children are also looking to first floor masters, especially if they are building their forever home. "People want something to grow into, and single-family living is important for people looking to live in their home for decades," he continued. "Single-family living is extremely important for people looking to downsize or build a retirement home. A ranch home is an obvious choice but first floor masters are appealing because they offer more bang for your buck in overall value since two and three bedrooms can be located upstairs, making an overall smaller footprint for the home."
Westmoreland County could be considered a microcosm for home trend wants around the region with very few exceptions. Smarto points to the less expensive HOA fees found in Westmoreland as compared to Allegheny County. Further, she finds that younger clients will look at resale homes but not much older than 10 to 15 years and generally ones that have already been updated. For those interested in very high-end living, she looks toward communities such as Ravenwood in Greensburg. Located on 96 acres of verdant property, this community features lots just under one acre up to more than nine-acre parcels with prices for lots and homes up to $1 million. Of a similar nature, Palmer Place, developed by golf legend Arnold Palmer and Roy Saunders of Palmer Place Development Co., LP, boasts elegance and style with its custom homes and myriad home amenities built through Pellis Construction. This gated and fenced residential community of 88 units includes 44 single-family homes from $700,000, and 44 villa-style homes known as "The Village at Palmer Place" where residents enjoy the walking trail, pool and pool house.
Regardless of the home, be it large or smaller, a villa, carriage home, single family or multi-family home, people in Westmoreland are seeking ease, convenience and aesthetic appeal.
"In all types of housing, some outdoor green space, patio, or decks are a must," remarked Darlene Hunter. "Kitchens and baths are still hot items with good quality appliances, bars, pantries, walk-in showers and free-standing tubs. Lower maintenance exteriors, like hardy plank siding and stone accents are also still popular." Building for Westmoreland County baby boomers demands low maintenance. "Everyone wants low maintenance," Ruefle said. "Younger buyers have active lifestyles with little time for maintenance." He also sees that the open concept is popular among all age groups. Justin Parry agrees and takes it one step further. "When people build, they often want to be able to get everything they want without looking for projects down the road. Gourmet kitchens and open concept floor plans continue to be important for the majority of our customers," he said. "Modern farmhouses and craftsman-style homes continue to be the trends in Westmoreland County, with traditional homes remaining in the top three. Consumers are also becoming more educated on the construction of the home, realizing that shiny finishes do not translate to a well-built home. They want solid-pour foundations and steel beams in the basement as well as higher end finishes, like maple cabinets with granite countertops and an island in the kitchen. He continued that energy efficiency is on customers' minds from upgraded insulation to efficient windows. "People want all the bells and whistles." NH