If you're thinking about selling your home in the near future, installing home automation technology could be a smart investment.
Smart home tech is in high demand among home buyers. Home automation upgrades can help you compete in a cold market, sell fast, and get top dollar for your property. Plus, you'll get to enjoy all the benefits of smart home living until you sell! You likely have a few questions about home automation technology and how it can affect the home selling process — here are some tips to help you out.  
Why Invest in Smart Home Tech?
Once luxury features, smart home technology is becoming increasingly commonplace. According to ComfyLiving, around 53 percent of Americans have at least one smart home device! This technology benefits homeowners in numerous ways. Smart tech can improve your energy efficiency, lower your utility bills, maximize home safety, and make your life more convenient. And when it's time to sell, these benefits can increase your home's appeal.
Investing in tech upgrades is a great way to make your home stand out on the market. When selling a home, it's important to consider your competitors. Researching your local real estate market online is a great place to start! Explore other listings in your market and note desirable features that they have in common. This can help you determine which tech upgrades buyers expect when house hunting in your neighborhood.
Technology is especially important to younger buyers. Built-in tech is very attractive to millennials who grew up with the convenience of technology. Since millennials are quickly becoming major players in the home buying market, tech upgrades might be essential to capture the attention of today's home buyers. 
Simple and Affordable Tech Upgrades
Smart home technology can fit a wide range of budgets. You can spend less than $50 on smart lighting for your living room or thousands of dollars on a single smart appliance. The good news is that home buyers tend to value basic smart technologies the most. Fundamental home automation features have become very affordable, offering the best ROI when it comes time to sell. With smart shopping, you should be able to install these smart home essentials for around $1,000 to $2,000!
Basic smart home upgrades prioritize comfort, safety, and security. For example, smart smoke and carbon monoxide detectors can notify homeowners of issues by phone and call emergency responders automatically. Smart lights and thermostats help to cut energy consumption and lower utility bills. Smart locks, security cameras, and video doorbells improve home security by enabling homeowners to screen visitors and control who has access to the home. And since modern security cameras connect to wifi, they're even easier to install than older systems that require drilling holes and running wires. 
Try to think beyond the individual devices. Forbes explains that a true smart home involves integrated technology. Aim to create an ecosystem of interconnected devices that streamlines usability. A collection of standalone devices is just more gadgets to navigate and manage throughout the day, but a fully connected system allows for a high degree of customization.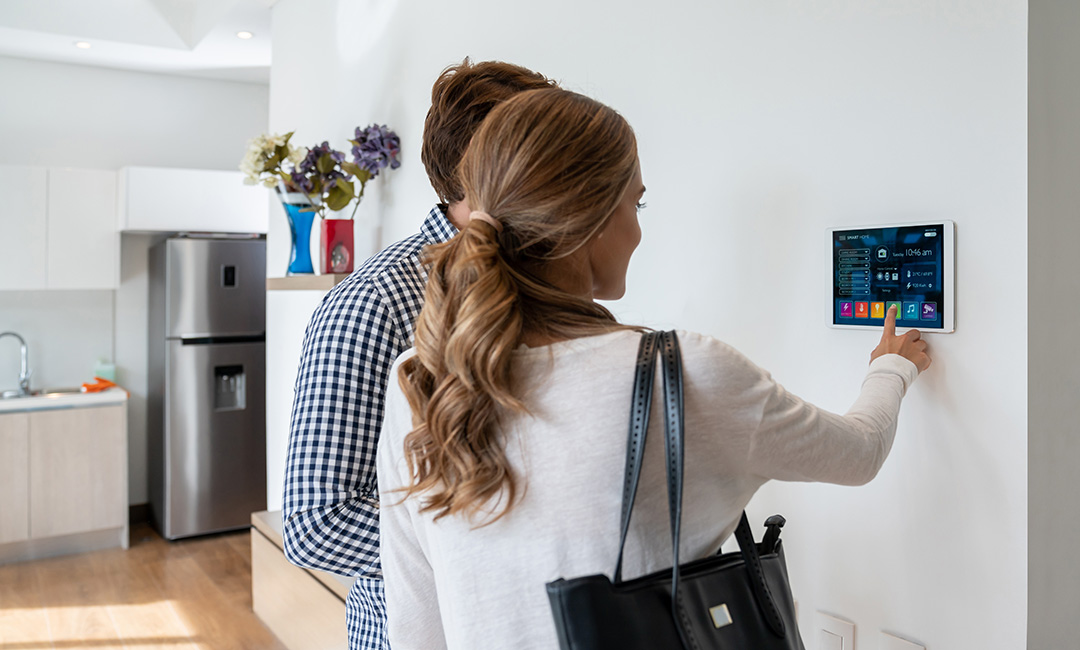 Cutting-Edge Updates
Homeowners with bigger budgets may want to splurge on cutting-edge technology to take their smart home to the next level. While these upgrades may not offer the same ROI as lower-cost investments, they can make your life a lot more convenient. Some smart upgrades will even increase your self-sufficiency! For example, power generation technology like solar roof tiles will reduce your reliance on the power grid. Some other advanced tech upgrades to consider include smart kitchen appliances and smart irrigation systems for your lawn and garden.
Although you may not be able to recoup the full cost of these upgrades when you sell, they may pay off if you plan on living in the home for a while. For example, since smart watering systems will reduce your water usage significantly, this investment can offer long-term costs savings. The same goes for energy-efficient appliances. Remember, you can always take your smart home devices with you if you end up moving before they pay off. 
Tips for Selling Your Smart Home
When it's time to sell your home, make sure you can get the best possible ROI for your tech upgrades. It may be worthwhile to take some of your tech with you instead of including it with your home sale. Think carefully about which upgrades will boost your home value and which would be better to pack up and move. For example, you might want to bring your smart appliances to your new home and leave basic tech features like smart light bulbs and thermostats. Importantly, be clear about which devices will be staying for the new owners. You don't want to mislead your potential buyers.
Market your smart home by highlighting your tech upgrades in your home listing. Write listing descriptions that reveal how buyers will benefit from your smart home investments. For example, you could mention that the video doorbell and smart security system can make your home safer for families with young children. Or, professionals can turn the lights on remotely when they're working late. Zero in on these benefits and buyers will flock to your listing!
Before moving, make sure to factory reset all of your smart home devices to protect your personal privacy. Even if you trust the new owners, you never know who could get ahold of your data. Factory resetting your devices will also make it easier for the new owners to customize each tech solution for their needs. You may also want to leave instruction booklets behind so the new owners can find their way around their new devices.
Smart home upgrades are smart investments. Whether you're currently prepping your home for sale or you plan to stay put for a few more years, outfitting your home with a few automation gadgets can increase your home value and help to minimize your time on the market. At the very least, these smart devices will make your life a lot easier!  NH