If the coronavirus pandemic has taught me anything, it's that my mid-century ranch home falls woefully short when it comes to truly flexible space.  Don't misunderstand.  I love my home, imbued with years of sweat equity and viewed with a deep satisfaction in all that has been accomplished.  Recently, with time more abundant thanks to sheltering in place, an interesting challenge presented itself: How to improvise with the available space.  So, when I greet my spouse each day after he arrives home from the hospital, our ritual of swapping his scrubs for clean garb begins.  As he changes in our "dressing room", otherwise known more commonly as the garage, I begin to wonder, "What are home buyers seeking, given this 'new normal' we are experiencing? What is trending in new home building, or remodels, based on this event and possibly other, unforeseen phenomenon to come?"  Of note is the fact that, as the pandemic began its seeming decline, new single-family housing sales rose.  According to the U.S. Census Bureau and the Department of Housing and Urban Development, May 2020 sales climbed "16.6 percent (676,000) above the revised April rate of 580,000 and is 12.7 percent above the May 2019 estimate of 600,000 (as of June 23, 2020). The report also listed a median sale price of new homes as $317,900 with an average sale price of $368,800 in May 2020.  Robert Dietz, Chief Economist for the National Association of Home Builders (NAHB), cited construction gains "in lower density markets like smaller metros and large metro exurbs in the months ahead" with new home sales up by 6.8 percent in the northeast section of the country.  In a June 8, 2020, release from the NAHB, they posit that the Covid-19 pandemic compelled people to look at "everyday experiences including how they live.  In residences such as single-family homes or townhouses, residents may be looking to incorporate spaces such as home offices and exercise rooms to be able to remain productive while safely in place."  Closer to home, Paul Scarmazzi, founder of Scarmazzi Homes along with his wife, Lisa Scarmazzi, noted that sales and customer interest have been very strong locally and across the country.  He added that 67 percent of builders across the country reported exceeding expectations in June and another 13 percent have met plan.  "Put another way, only 20 percent of builders did not meet their pre-pandemic plan," he said.  "Seventy-eight percent of builders reported year-over-year sales increases through June.  The new home and existing home inventory is fairly tight making it more of a seller's market than one would expect given all the recent news."  Realtor Marilyn Davis, Berkshire Hathaway Home Services, has been busy selling homes since the area turned "green", with people tiring of rent payments, particularly with favorable interest rates, or having seen that their current home was inadequate in terms of space and functionality given the pandemic.  "We've experienced somewhat of a first in many years – receiving multiple offers on homes," she reported.  Jeff Costa, Founder and Operating Manager, Costa Homebuilders based in Elizabeth, Pa., also saw a marked increase in his new home business.  "Many of our customers are now looking at a mix of interior styles," he said.  "Customization continues to be of the utmost importance." 
Flexibility, Functionality and Form
There's no doubt that the pandemic has affected, in part, trends in new home floor plans.  Flex spaces, segmented rooms and private work quarters may be entering the home designing lexicon just as great rooms, dens and formal dining rooms begin to wane.  An NAHB website account suggests that home building trends throughout 2020 will encompass energy efficiency, multi-family flex space, and open design, with those flex spaces adding "increased functionality."  The account continued that using space for multiple purposes "… is not only efficient, but appears to be here to stay – a positive trend to waste less, repurpose more and make less of an impact on the environment.  What's more is both first-time homebuyers and repeat buyers are okay with smaller spaces, but they want high quality finishes and features."  Dr. Jackie Craven, writer and author on architecture, the arts, home décor and sustainable design, in her Thoughtco.com article titled "Top 10 Architecture Trends for Home Design," stated that "Changing lifestyles call for changing living space."  She predicts the home of the near future will incorporate pocket doors, sliding doors and other movable features that invite flexibility into everyday living.  She continues that "many houses include private 'bonus' rooms that can be used for office space or be adapted to a variety of specialized needs."  Davis also observed that clients who originally wanted a two-bedroom home are "now looking for three bedrooms since one may be dedicated to office or flex space for other uses."
The home office, a long-time trend, has moved to the forefront as desired space.  Gwen W. Dakis, AIA, Owner, dragonARCH consulting, llc., located in the city neighborhood of Friendship, has worked in residential architecture for 25 years and has witnessed the evolutionary nature of the home office.  "Early on, we saw the larger desk in the kitchen," she explained.  "Later a basic home-type office might be relegated to a spare bedroom.  As computers made work outside the traditional office setting more popular, expanding the work week from the typical 40- to 45-hour span, people began to hybridize space in the home.  Now, not only are we available 24/7 thanks to technology, but with Covid-19, most worked from home and also have children being schooled from home.  So, the home needs to be rethought in terms of allocation of space."  And, she sees that allocation as "very different and very, very flexible."  Costa, too, has fielded requests for zoom rooms and his/her offices, which are separate from other areas of the home but are not necessarily large rooms.  "Many people want insulated walls and solid doors for their offices," he added.  "They don't want the sounds of barking dogs or other noises to be heard in the background."  He noted that instead of the more formal study, people are asking for a "flex room" to fulfill multiple purposes easily.  Scarmazzi acknowledged that the home office space has been on the radar for many years but with more people working from home long-term, the function of that space is becoming more relevant. "They [home offices] need to be private spaces where it's not disruptive to home life and where home life can be sequestered from the work environment.  Technology will become more important with stout wireless for speed and hard wiring for more robust performance dependent on the user's field of work," he said.  Of further interest related to technology is the growing trend of the Smart Home, especially among millennials and refueled by the Covid-19 pandemic.  An updated article (May 6, 2020) from RealEstateAgent.com purports that prevailing trends in Smart Home technologies during 2020 will include smart speakers, smart heating and cooling, smart home cameras and smart lighting.  With millennials becoming the fastest growing group of home buyers (Corelogic.com. March 27, 2020), the oldest portion of that group, ages 27 to 36, "have already purchased smart homes (36 percent) while 58 percent of those who have not are interested in doing so."  Lee Calisti, lee CALISTI architecture+design located in Greensburg, Westmoreland County, has also witnessed younger homeowners' interest in Smart Home features.  "Growing up with technology, they favor homes that have options to control temperature, lighting, security and entertainment with phones and other mobile devices," he remarked.  "Some might even delve into Smart Controls for energy-saving devices or renewable energy sources."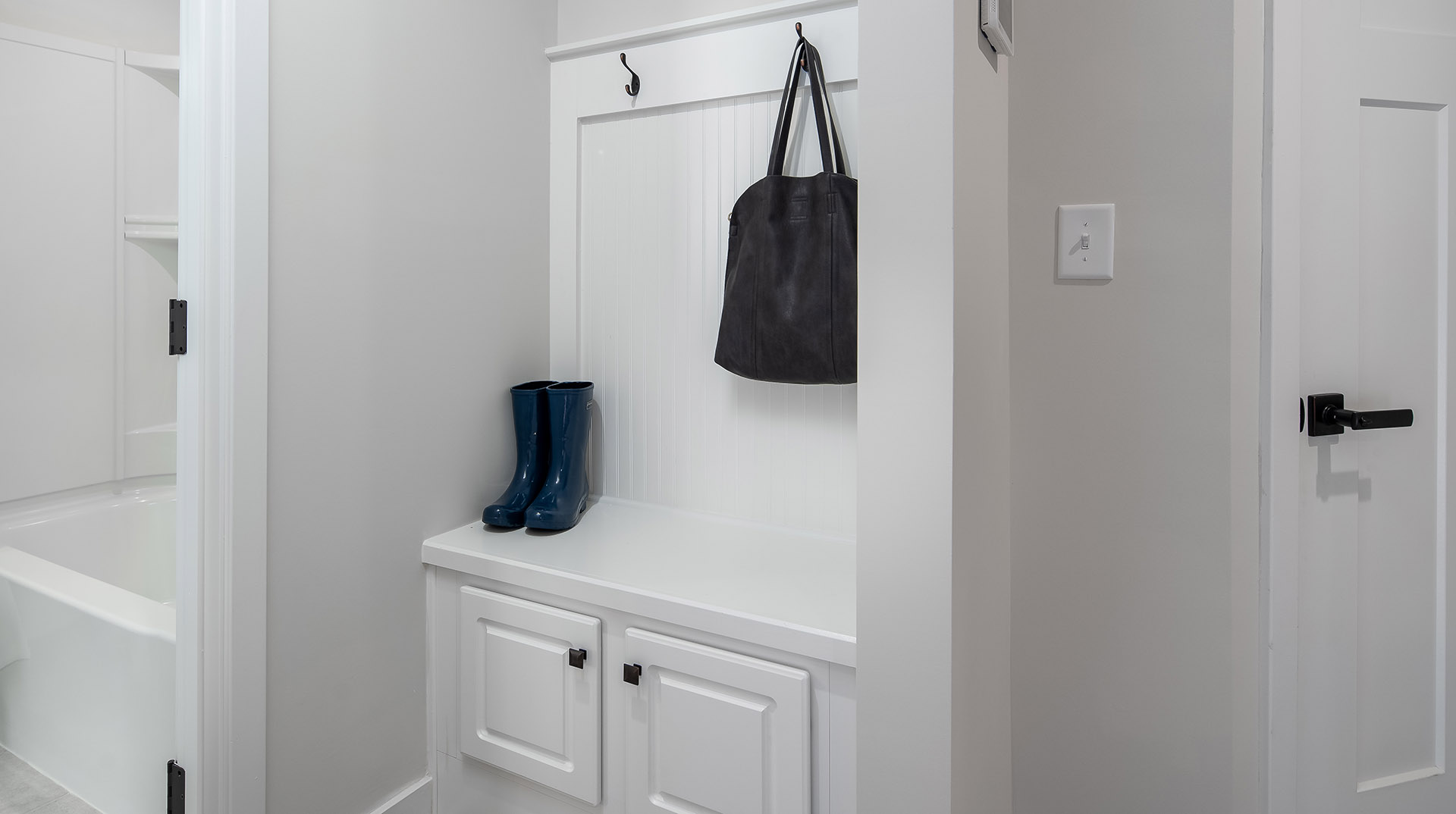 Of great debate is the viability of the open concept space.  Architects and home builders alike have considered its pros and cons with varied conclusions.  Lisa Johnson Mandell, real estate writer for Realtor.com (June 10, 2020), explained that the open concept trend "has dominated residential real estate over the past few years."  She points to others who have surmised the open floor plan "as the culprit for a lack of privacy, terrible acoustics, and unavoidable background noises … especially when everyone at home badly needs to focus" given the pandemic.  Jeff Costa, of Costa Homebuilders, sees the open floor plan has having real value.  "Almost all the homes we're currently designing have the open floor plan," he noted.  "The kitchen area islands have increased in size to accommodate more people and allow for greater work space.  Another growing staple is the mudroom located off the kitchen."  Gwen Dakis sees mudrooms trending near the top of moms' lists of must-haves.  "We get requests all the time for mud rooms," she said.  "Whether in a new home or renovations, it's more about people with kids looking to control and maintain the mess, and maintain some sort of order."  Calisti added that homeowners are still looking for the open floor plan, speculating that the impetus for the request may come from "a background of living in small, confined spaces, regardless of the overall home size."  He cautions, however, that removing an arbitrary wall may not result in a successful design and may encourage poor furniture layout.  "Rooms that provide visual access to one another while maintaining their own identity make for the best solution," he added.  While some view the open floor plan as the key to lost privacy, wall space and quiet, Calisti finds that the open space allows for meaningful interaction.  "When we designed our house in 2006, an open floor plan was not only a common design feature, but was connected to our family values," he explained.  "Although we have only one son, our house design fostered the ability for everyone to share the same room, even when we might be on multiple devices.  No one hides away in a separate room and this has proven successful from the time our son was 5 through 18 years old." 
To announce the death of the dining room may be premature, however, experts point to its decline in recent years.  "Initially, the living room gave way to the open space with a kitchen and family room, but still keeping a dining room area," Dakis said.  "But the more formal dining room typically was broken out for holidays, with many turning it into office space otherwise.  In larger homes, those around 3,500 square feet, people still may want that formal dining room space but it has become more optional with people living life more casually. Ultimately, given recent events – and not knowing what might come at us in the future – the flexible rooms like the dining room need to be able to pivot in 24 hours.  A dining room can gracefully pivot to accommodate work-at-home parents, a space to school children, and still feel like a place where you want to be – home." Calisti finds that formal dining rooms are rare in his practice.  "We tend to focus on contemporary expression.  We find people, when directed, are not interested in larger homes, but better design," he explained.  "In order to capitalize on keeping a home small, rooms must have multiple uses.  The Covid-19 pandemic has caused many dining rooms to morph into home offices." 
Flexibility has also encompassed the idea of mutigenerational living.  "More mother-in-law suites, whether it's a room addition or finishing a basement, are being requested," Costa acknowledged.  "Mom may sell her home to provide some equity to help her grown children's home build.  We are seeing budgets change to include those in-law suites."  Not necessarily seeing this same request, given that his home builds are targeted toward active adults and empty nesters, Scarmazzi commented that about one-third of his customers "are opting for bonus suites with our one-level patio homes to provide for separate space for adult children or for grandchildren to visit, play or stay."  From time to time, Calisti has included au pair suites and accessible features in some of his projects.  "This year has brought several inquiries from people seeking design services to include spaces for an aging parent, a spouse with mobility limitations, or merely, single-living planning to aid in the future," he commented.  Marilyn Davis agreed that clients are looking for sufficient space for an aging parent or an adult child.  "I do see this request as a trend whether it's a room on a lower level or a flex space that can accommodate temporary or permanent situations as they arise."  Overall, Jackie Craven suggests that "The homes of tomorrow will be easy to move around in, even if you or members of your family have physical limitations."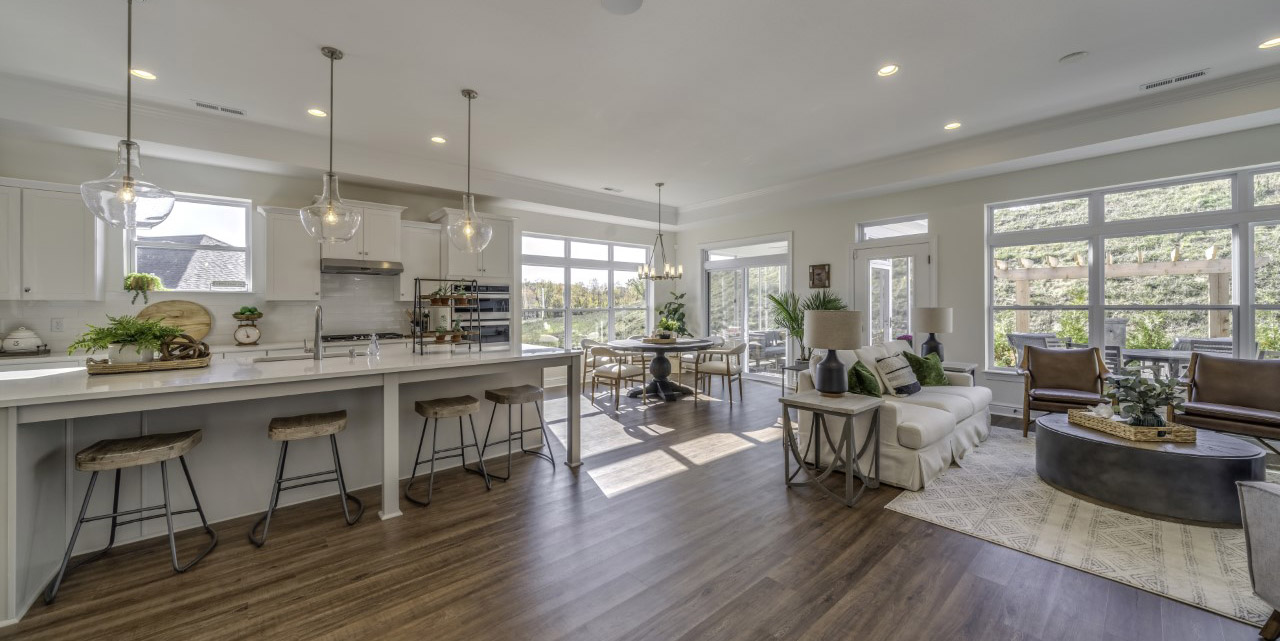 Amanda Lauren, Contributor, Forbes.com, Real Estate, Décor and Design, tells us "If there is one way to describe the interior design trends … in 2020, it's anything goes" further sharing that "individuality will be extremely important."
 

Gwen Dakis, AIA, owner of dragon ARCH consulting, llc, in Friendship, Pa, tells us that good trends have staying power while "the better ones morph" such as diversity of kitchen design options to home personalization.

 

Below are some additional trends for 2020 as predicted by various experts locally and nationally.
Warm colors, saturated hues and jewel tones to replace neutral colors
Patterns, in particular, layered patterns
High contrast design via trim and ceilings
More natural materials
Two-tone kitchens
Unique rugs
Bidets
No-touch faucets
Air purifiers
Cork flooring
Unique wood detailing
Prep pantries
Environmentally conscious designs
Large format windows
Personalized lighting
Non-traditional storage
Mixed textures/materials
From NAHB, Builder and Developer, Realsimple.com, Forbes.com
Private Places, Open Spaces
With the recent quarantine and sheltering in place, outdoor space has served as a needed refuge.  Just ask nurseries and garden suppliers about sales this past spring!  Again Craven, in her article on architecture trends for 2020, sees an increased interest in eco-friendly architecture that "encourages builders to incorporate outdoor spaces with the overall home design.  The yard and garden become part of the floor plan when sliding glass doors lead to patios and decks."  While not a novel concept, it's a trend that continues to hold immense appeal.  "It's our belief that outdoor space will be equally important for people," Scarmazzi remarked.  "We've been providing our customers with large outside private courtyards for the better part of a decade and know that people love well-designed outdoor living space."  The NAHB, in their "Best in American Living ™ Awards Showcase Top Design Trends for 2020" mentions large format, expansive windows as trending in all housing types, letting light in but designed to keep nearby neighbors out.  Costa, too, has noted customers' desires for lots of glass and more metal.  "People are looking for a mix of styles with a bit of a contemporary look, a 'modern farmhouse' as one example," he said, adding that large windows and modern features "reflect personal preferences."  Since the pandemic, Davis has fielded questions about pools.  "Prior to Covid-19, pools were considered a liability in the region, but given the times, I've never had so many requests for pools."  She continued that outdoor fire pits, full kitchens and bars couched in beautifully landscaped spaces have proven to be an at-home retreat for many.
Changes in home exteriors are not as common as those seen inside the home but echo some of the same concerns and wants with regard to sustainability, eco-friendliness and safety.  Costa sees vendors and manufacturers who will market products that can be sanitized easily, such as front porch railings.  Calisti points to more options for siding, trim and decking.  "Although I don't prefer vinyl siding, the industry provides more colors and trim options," he said.  "Fiber cement is almost commonplace and is a more durable option, fitting the growing wish for contemporary homes."  He stressed that despite those advances, most continue to favor brick and stone.  Scarmazzi agrees, finding that brick and stone fronts dominate, but that siding "has been enhanced to introduce multiple colors and styles, such as board and batten and shakes along with gable accents. Craftsman elements are obviously popular in many of today's homes."  Davis, too, finds that Craftsman-style homes are popular but is not seeing vinyl as a popular choice.  "Hardie Plank and stone, along with brick still reign supreme for home exteriors." 
On a larger scale, Scarmazzi believes that the whole pandemic has shifted people's relationships with home spaces and "some design trends and buyer preferences will change as a result.  Although it's still early, home offices, home gyms and healthy homes are leading Google search trends."  Costa believes that giving customers a choice grants them the ability to customize which, in turn, gives him the ability to be as flexible as possible.  And while trends may come and go, he holds one thing as certain: "Ultimately, people may not want certain trends in time, but what they want are their own personal preferences." NH