Whether in a kitchen, bathroom, or bar, picking the perfect countertop is a balancing act between budget, aesthetics, and maintenance — so understanding the multitude of choices helps homeowners find the perfect fit.
A countertop, when chosen wisely, puts the finishing touch on any home design or remodel. Before delving into the details, it's important to be familiar with some of the basic questions: Is natural or manufactured stone better? How durable is it? How do I maintain it? Answering some of these basic questions first helps whittle down the options and lead to the one that fits your priorities.
Top Five Tops
When first approaching the dizzying array of countertops, a solid place to start is with the most popular selections, one of which is natural stone. Though there are several – soapstone, limestone, sandstone, and slate, to name just a few – granite and marble still reign supreme.
Granite's universal appeal is its variety of colors and styles, and its durability and low maintenance due to hardness, low absorption rates, and resistance to high temperatures. One of the greatest things about granite, in addition to its timeless beauty, is that every slab of granite is completely unique and can cost between $40-$60 per square foot, uninstalled.
Marble is an excellent choice in natural stone for a timeless appeal, as long as the homeowner is ready for the maintenance and is willing to take precautions to prevent acidic spills. Marble's pronounced veining and unique colors make it a beautiful choice in kitchens and baths. High-end marble is more expensive than other stones, selling for as much as $100 per square foot. A close relative of marble, travertines offer a variety of earthy tones, provide design flexibility but have use and care characteristics similar to marble.  It can sometimes cost less than marble because it is easier to cut, reducing costs on this end.
Quartzite, another natural stone, is mined like granite and sawn into slabs. Because of its low porosity and excellent durability, it is one of the more forgiving stones, resisting staining, scratching, heat, and breakage. Expect to pay $60-$150 per square foot for quartzite.
Similar in name but not to be confused, quartz is among the most popular engineered material chosen for countertops. Quartz is fabricated from natural silicon dioxide and synthetic materials. It remains one of the top choices because it has the look of stone while also allowing homeowners to customize the design. Quartz comes in a wider variety of colors from neutrals to bright blues. But although it is almost as expensive as natural stone, it's not as natural looking and can cost $60-$75 per square foot.
"Bottom line is that there's no perfect stone, natural or manmade," says Chris Morrow, owner of Ultimate Granite and Stone in Gibsonia. "None is ever 100 percent scratch proof, heat proof or chip proof. Each type of natural stone has characteristics that make it harder, softer or shinier than other stones," he continues. "Our staff can help you determine which stone will be best for your application and lifestyle," he says.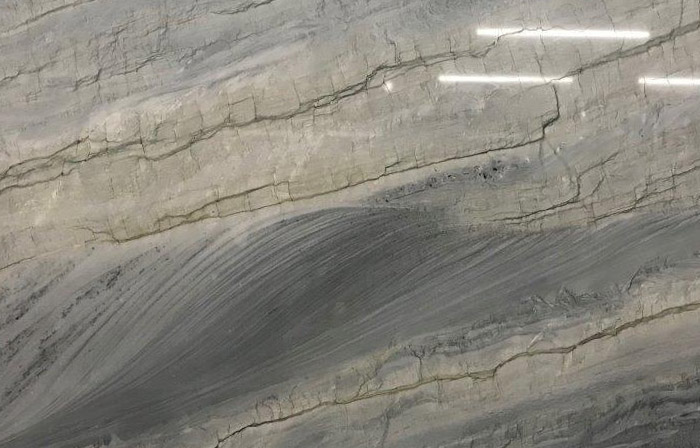 Images supplied by Ultimate Granite.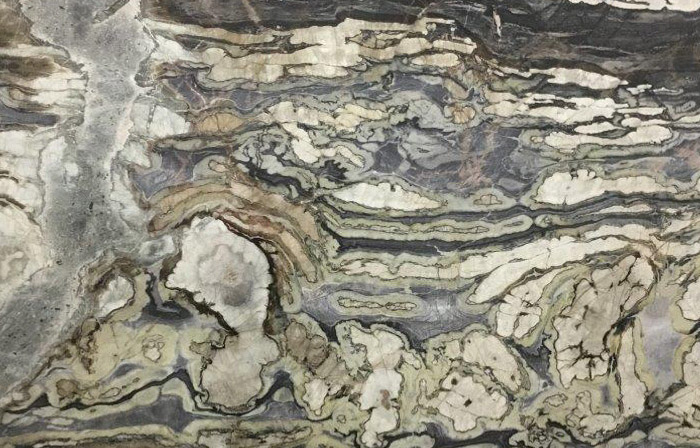 If You Can't Take the Heat
The kitchen has become the heart of most homes, so choosing the right countertop in this particular space is especially daunting. After all, this is where families gather to cook, eat, entertain, and work.
"Educating the client is key," says Maria Fairbanks, design and sales consultant at SPLASH in Glenshaw. "We have customers who come in and want quartz because they think it's the 'end-all be-all' but are surprised to learn it's not heat or stain resistant. Once they learn more, they might find that natural stone might be a better choice," she explains.
During a recent kitchen remodel, Fairbanks and her client ended up with not one, but two types of counter materials. "The Ben Avon home is over 100 years old, so we decided early on that we wanted to keep the kitchen true to its history," Fairbanks recalls. The client found a large antique piece that, when refinished, would serve as the kitchen island. "I knew that a natural stone would be the perfect fit for an old piece like that," she says. As such, they chose a classic Carrara marble, despite it not being scratch-resistant. "We went back and forth but I explained that in an old home like this, it's okay to have some scratches. It's going to look like it's been there forever."
As a compromise, they went with a more utilitarian quartz in white for all of the perimeter countertops, as well as on the wet bar. Not only did it make sense for durability, but mixing and matching materials adds to the design's visual impact.
Another statement-making countertop material being used more and more in kitchens is porcelain. It may not be the go-to material, but its popularity is on the rise, due in large part to the fact that it comes in virtually any shade or pattern and can resemble marble, metallic, wood grain, rusted steel, or concrete.
Also new on the scene is sintered stone, manufactured using technology that mimics the natural processes which take thousands of years to create stone. This manufacturing procedure involves mixing sands, clays, and pigments with water, then pressing it into slabs. Slabs are decorated or colored – often to look like natural materials – then fired in a kiln. Sintered stone is quickly becoming a hit with designers and homeowners alike. It can be made to be a variety of colors, textures, and sizes. And, it's almost always lighter than other materials, too.
"However, porcelain and sintered stone are difficult to fabricate and install," Morrow warns. "You want to choose a fabricator that has adequate experience in working with these products. And you should expect longer lead times and a higher price point for these items as well."
Style and Sustainability
Despite fabrication difficulties, sintered stone is gaining ground because of its sustainability – a factor more frequently influencing the decision-making process for today's homeowners. Unable to be etched or scratched, this is the surface that will last forever, but an added appeal is that it can actually clean the air. Some sintered stones, like Lapitec and others that use topical treatments on their surface, react with UV light to clean the air, by breaking down pollution through a chemical reaction.
Homeowners have plenty of options to purchase from manufacturers whose mission is to create healthier, more durable surfaces, and divert waste from the oceans and landfills. "Other eco-friendly countertops include quartz tops made from recycled glass, and PaperStone made of recycled paper," says April Spagnolo, owner of Evalia Design. PaperStone is a heavy-duty solid surface known for its performance, contemporary appearance, and environmental sustainability. Running about $65-$100 per square foot, it's a non-porous surface made from 100 percent post-consumer recycled paper and a petroleum-free resin that provides a lifetime of stain resistance and absorbs virtually no water. While it is nearly as hard as metal or stone, PaperStone is relatively easy to fabricate, cut and shape, which saves on installation costs.
Similarly, IceStone diverts hundreds of thousands of pounds of glass from landfills, and, combined with concrete, is naturally porous. However, the manufacturer has incorporated a new permanent, protective treatment that enhances IceStone, making it a high-level performing surface. That, plus colors ranging from Saphire Snow to Morrocan Red means it can add a unique personality to any design. Recycled glass countertops are usually priced between $50-80 per square foot.
Durat is yet another sustainable option, with 28 percent recycled content that has kept 200 tons of post-industrial plastic from the waste stream.  Boasting a rainbow of over 60 colors, Durat is fully customizable and can be molded and can even be shaped into furniture and sinks.
The use of reclaimed wood is another sustainable option that can make a beautiful statement. "I'm seeing a lot of wood countertops on kitchen islands," reports Tracy Sherksnas, a kitchen and bath designer at SPLASH. "Wood brings a nice warmth to the space, but they need to be oiled and cared for."
Picking the Particulars
Even after a homeowner has sorted through the multitude of choices and finally landed on the perfect material for their countertop, the decision making is far from over. "Depending on the application of your stone selection, there are various items you need to select, says Morrow.  "They can include edge(s), finish(es), enhancements, special sealer applications, and add-ons like steel supports and care and maintenance products."
The countertop finish impacts the way a countertop looks and feels by changing the stone's reflectiveness and by highlighting the colors and patterns of the material. It also effects how it performs because different finishes have different maintenance requirements and resistance to wear and tear.
Next up is finding a countertop edge that matches the closet style. The more ornate ogee edge, for example, pairs with a traditional style, while a waterfall edge fits perfectly with a modern style room. "Most of my clients prefer simple edging. No matter their style, a clean classic look is what's going on right now," Sherksnas reports.
"Expense plays a role, too, as more decorative edges mean a higher price tag."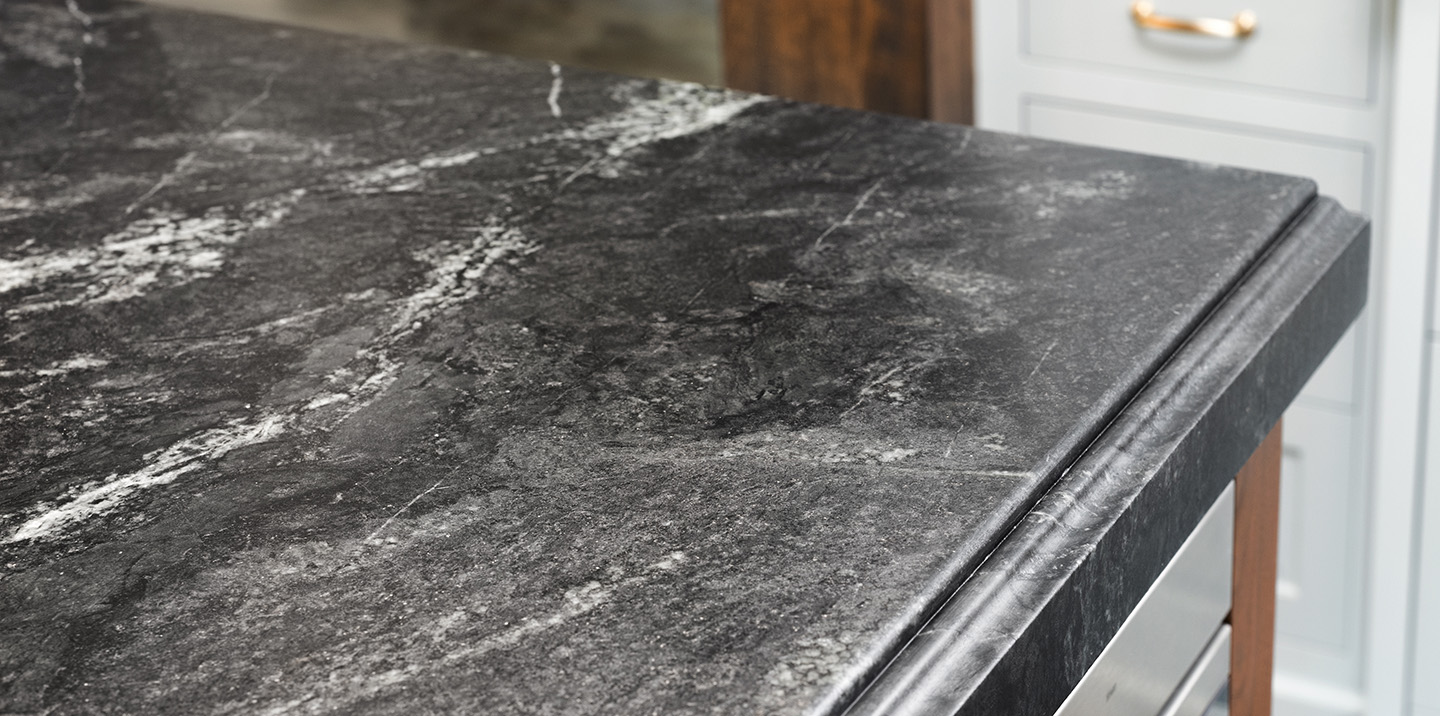 Bed, Bath and Beyond
Next to the kitchen, the bathroom is the other space where countertop choice defines the style and design of the space. "People are all over the board in bathrooms," admits Fairbanks. "Concrete is popular, particularly NativeStone from a company called Native Trails." Hand-crafted using a sustainable blend of natural materials, these eco-friendly bathroom sinks are exceptional in their lighter weight, one-of-a-kind coloration, and extraordinary stain, scratch, and crack resistance.
"Less is more in the bathroom," she notes. "Solid flat materials and integrated bowls work very well here." Integral sinks, she explains, are made from the same material as the countertop they are set into. The effect is the seamless appearance of a smooth transition from sink to surface.
"Recently we've been using porcelain slabs in bathroom projects," adds Spagnolo. "There are some amazing ones that look like natural stone. They can be used on the floor, walls, ceilings, and in showers. Best of all, there's less grout joints to clean!"
In addition to bathrooms, a closet island in the master bedroom's dressing area is a popular place to experiment with countertop materials that can't stand up to kitchen use. "For clients that have the space, huge master closets are very popular," says interior designer Heather Delaney. Modern closets have become glamorous dressing rooms with chandeliers, shelves, seating, and a storage island that pulls it all together. "I recently did an island just for jewelry storage. We used a beautiful gray quartz, the same we used in the master bath."
Delaney is also seeing an increase in more elaborate entertainment spaces that include custom bars. "Selecting the right material for your bar top is important for getting both the look and the functionality that you want," Delaney points out. "Choosing materials that are durable and stain resistant are good to keep in mind. Red wine stains on marble are a nightmare," she emphasizes. "But the bar area is a place to do something fun, too. In another recent project, my client wanted navy cabinetry so we paired it with a black leathered granite with a chiseled raw edge. It's in his office, so we wanted it to feel masculine."
Likewise, Morrow says Ultimate Granite is installing stone not only in every room inside the home, but outdoors as well. "When choosing outdoor kitchen countertops your priority should always be durability first, and looks second," he suggests. "Granite's a popular, durable option. It stands up well to the elements, doesn't absorb stains or odors as easily as other stones, and shouldn't fade in the sun."
Whether it's inside or out, a new build or a small upgrade, countertops have a huge impact on a home's aesthetic. Other than flooring, there's probably no other product that's available in such a wide assortment of materials and styles. "It takes time to narrow down the choices, but it's worth it," Sherksnas concludes. "I call it the eye-doctor test. Put two choices up and ask which do you like better. Put that one up next to a third and ask again. Keep going until you find the right one."
However it's narrowed down, in the end, the best choice for a countertop is one that performs well, achieves the desired style, but leaves something left in the budget for the inevitable next home project.  NH