From organization methods to elegant custom builds,
the closet design business is booming.
Google "closet design in Pittsburgh" and the 700,000,000 results are a clue that people in the Pittsburgh region, just like the rest of the country, are obsessed with a cleansing and containing
the clutter.
In fact, a Home Organization Market Study by the Freedonia Group estimates the demand for home organization products in the United States has increased 3.5 percent per year since 2015 to a whopping $10.5 billion. Why the buzz about this once humble space? Simply put, people today have a lot of stuff and are looking for help storing it.
With Marie Kondo asking "does this sweater spark joy?" on Netflix and The Home Edit's duo of organizers posting pristine pics of color-coded closets on Instagram – there are plenty of experts to turn to for help. Locally, closet designers, professional organizers, and builders are busier than ever helping homeowners purge, design, and create the perfect storage space.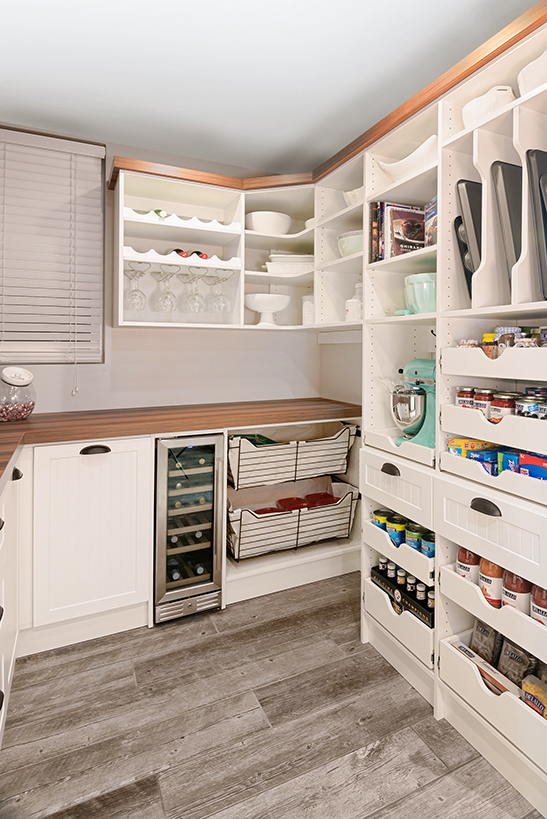 "It's an exciting time in the closet industry," says Laura Ferri of Inspired Closets by Tom, a locally-owned business servicing the Pittsburgh area. "Closets and home organization are becoming a major focus for home buyers and homeowners as television shows and real estate listings prominently feature them."
Jill Pearsall, a design consultant at Infinity Custom Homes in Cranberry, agrees that customized closets and storage spaces are incredibly important to buyers these days. "The increased focus is due to the current trend where the master bedroom is a retreat," she suggests. "Clients want to maximize usable space and access their clothes, accessories, and other belongings with ease. In our fast pace world, this is key!"
Walk Right In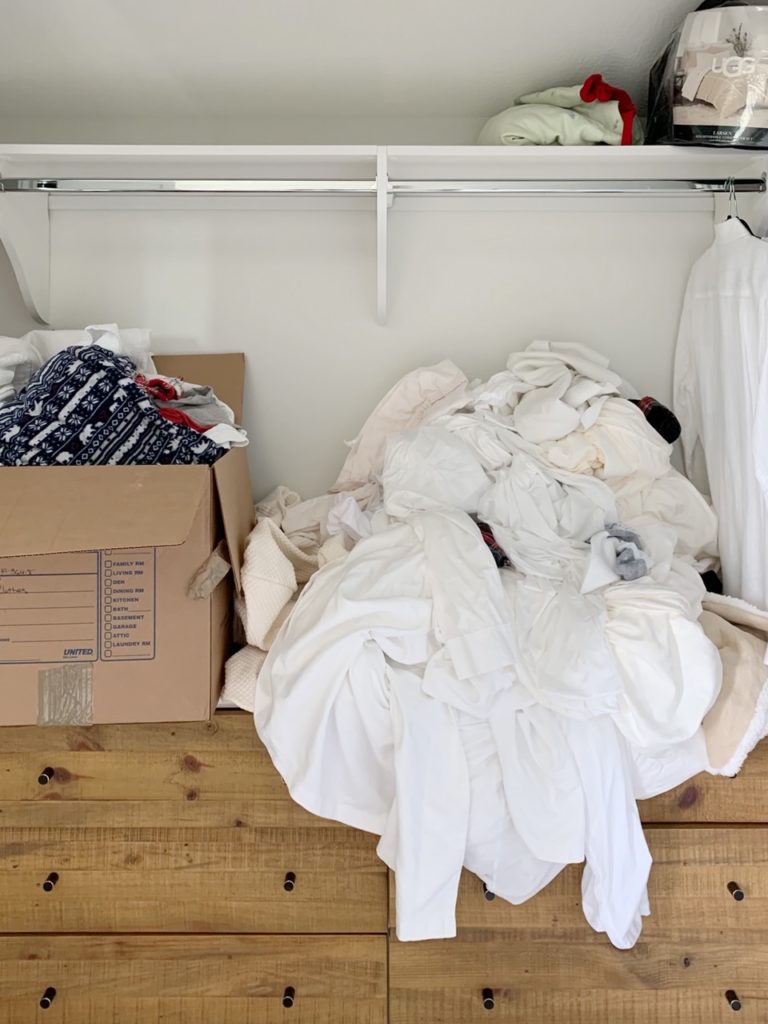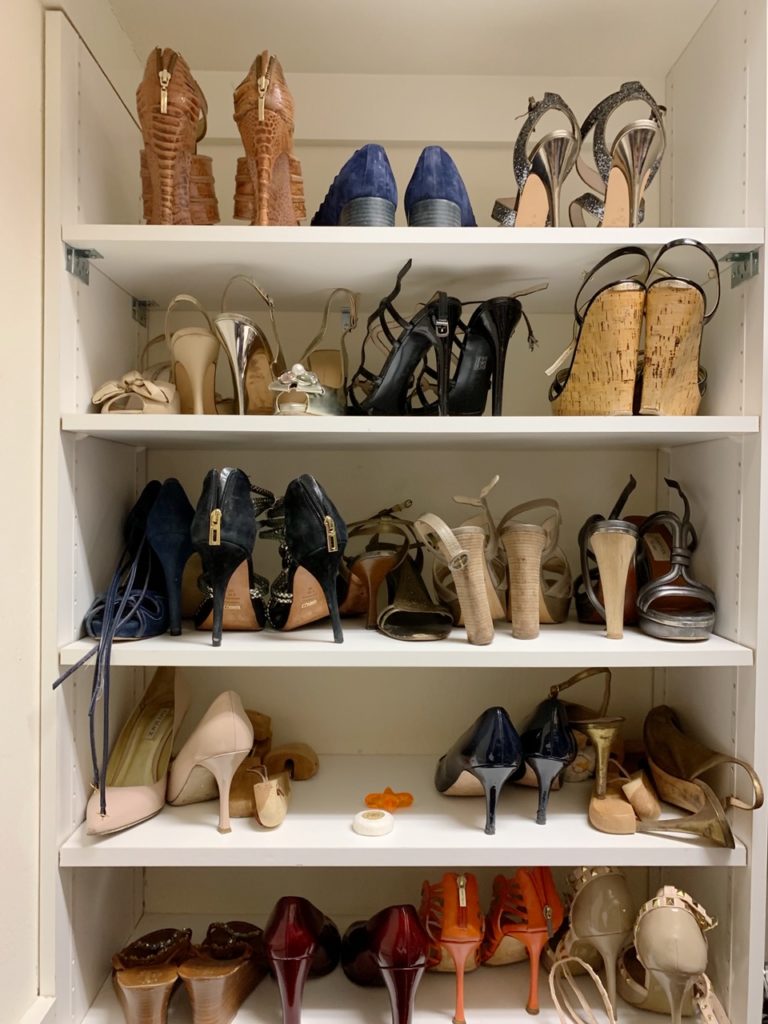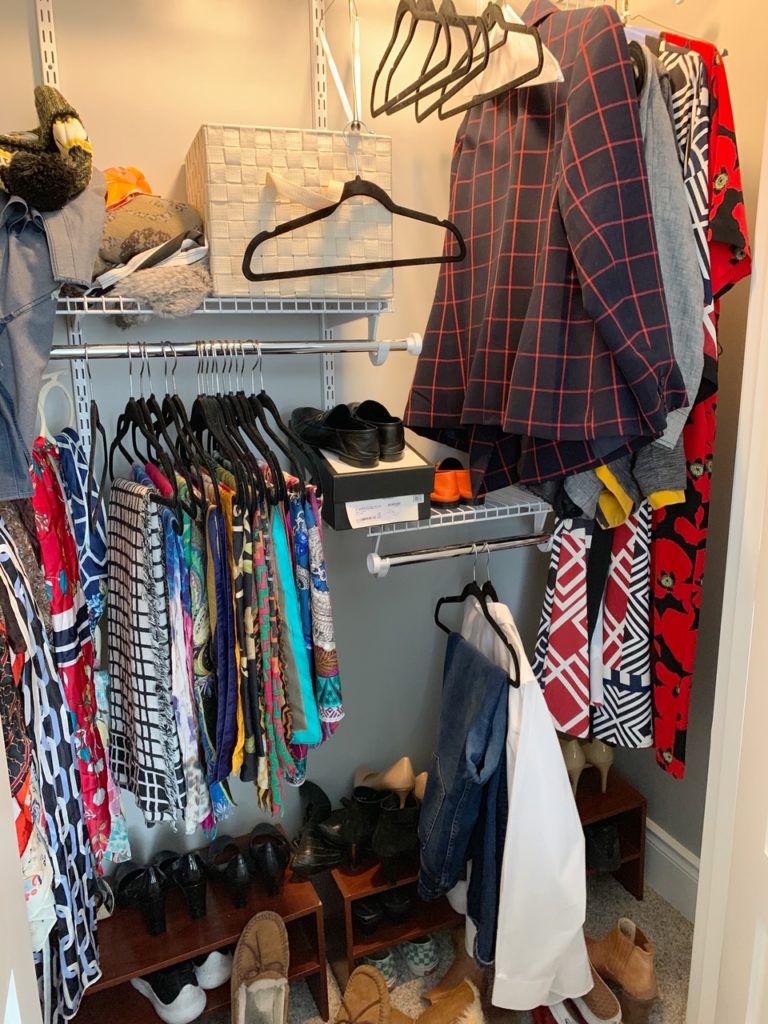 Images by NEAT Method Pittsburgh
In order to accomplish a serene, clean and organized space, Pearsall says buyers are foregoing dressers and wardrobes that muddle the bedroom. "Instead, they are utilizing the closet space as the go-to area to house all their clothing and accessories."
It can be argued that separate closets have been bringing peace to couples for years. But these days, one large shared closet divided by an island is all the rage. The counter-top is a great place to choose or fold clothing, and can also be used to showcase jewelry and accessories. An island creates additional storage, like it does in the kitchen, and makes for a grand impression. And it provides access from every side and can be built at different heights to fit each individual.
Another trend in high-end closet design is the use of elaborate lighting and, according to Ferri, options abound. "One of the more interesting things we've been doing is lighted rods," she shares. "It's an amazing feature because closets are often adjacent to the bedroom and a large overhead light can disturb someone who is asleep," she says, explaining that lighted rods illuminate the clothes while not pouring light out into the bedroom. "The cool thing is that they can be turned on with a remote, or through a motion sensor so they go on when you walk in," she adds. What's more, lights can be controlled using an app on a smart phone. "You can turn them on and off and even control the type of glow. Now we can say there's an app for everything," she jokes.
Detailed lighting plans that include a combination of statement chandeliers, task lighting, and accent lights are now making their way into the closet, along with other extravagances once reserved for kitchen design. "When we started Ultimate Granite back in 2001, natural stone was a luxury item seen primarily in kitchens," remembers Chris Morrow of Ultimate Granite in Gibsonia. "Fast forward 18 years and we are putting natural stone and quartz in every room of the home including
master closets."
Adding to the glitz and glamour are glass shelves and doors, unique and intricate cabinetry, and high-end hardware. "Balancing the budget with these luxury closets can be challenging at times," Pearsal points out, but says more of her clients are investing in this space.
Small but Mighty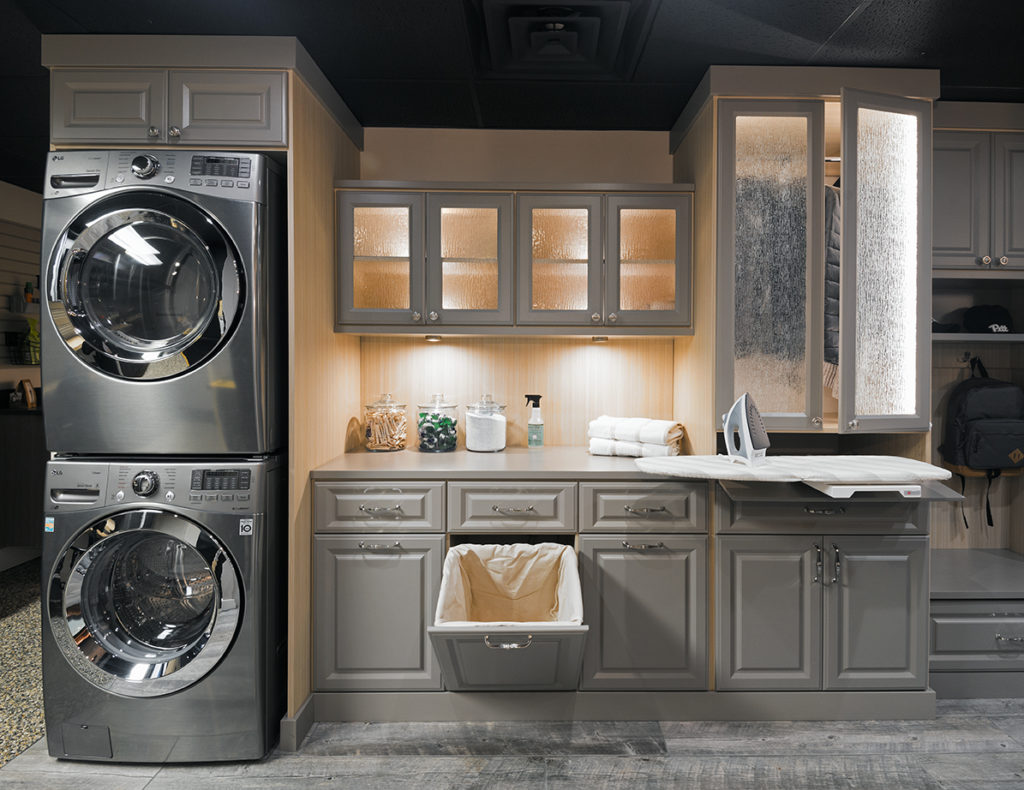 However, not everyone needs to spend big bucks to pick up their storage game and gone are the days where dream closets are reserved for the likes of Carrie Bradshaw or Khloe Kardashian. Now, even the smallest of closets are getting some much-needed attention. Whether it's baby boomers downsizing or millennials opting for apartment or small-home living, space is at a premium, and homeowners want to make the most out of it.
"So many homes – both old and new – have unusual spaces which, to my eye, present opportunities especially when it comes to storage," says Mark Ellermeyer, owner of Ellermeyer Home Company. He comes up with creative solutions by zeroing in on the homeowner's specific goals. He asks detailed questions about what is being stored, what is used most, takes measurements of specific items, then designs something that fits those needs. "I love making efficient use of otherwise wasted space," he admits.
Organizer and home-stager Kristin Fox says storage struggles are not always due to how a closet is designed, but rather the stuff itself. "Most of my clients are at the age where they are downsizing so they really need to get rid of things," she says. Her mantra, like many organizing gurus, is if something hasn't been used or worn in a year, it shouldn't be taking up precious closet space. "If you are saving a bridesmaid dress you know you'll never wear, or holding onto a favorite pair of jeans for when you lose that last 15 pounds, it's time to let it go." Fox also says that everything should have a proper home. "You should not store batteries and light bulbs in your bedroom closet," she laughs.
Like Fox, professional organizer Nikki Osborn suggests taking everything out of the space and start categorizing it. "You have to see the inventory in its entirety, and start putting like with like," she says of the process her company, NEAT Method Pittsburgh, utilizes.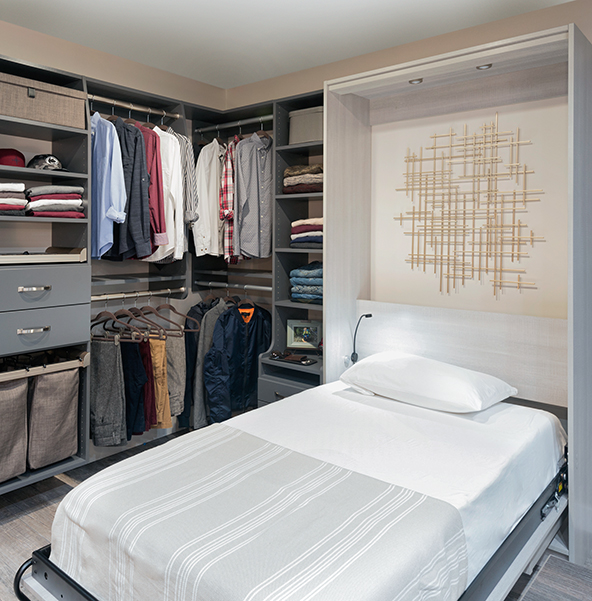 "For clothing, we do a massive purge session and make piles to donate or consign," Osborn says. From there, meticulous measurements are taken before a shopping trip to a place like the Container Store in Ross Township – the "Mecca" for all things organized. "There are so many solutions available like drawer dividers, stackable plastic bins for shoes, jewelry trays, and acrylic sorters for clutches and wallets."
When it's time to put items back in the closet, Osborn's method is equally meticulous. "We color code everything starting with white, then go through the colors all the way to black," she says. "Essentially, we want you to be able to shop your closet, as if you were shopping at a store."
Indeed, today's closet trends are all about the "boutique" aesthetic. "A cohesive look is important no matter what size the closet," adds Osborn. "Displaying things so they are easily accessed saves you time and saves you money, because you aren't re-purchasing items that are buried," she points out. Another way to see what you've got is incorporating glass doors and shelves that adds both glamour and airiness.
This boutique trend also opens up homeowners to play with color through paint and wallpaper. Where white and gray used to reign supreme, pastels and bright colors are injecting personality and style. "The closet is where most people start their day, so we want people to be inspired by their space," says Ferri.
Open and Shut Case
Aesthetics are especially important when creating an "open closet," a concept that is taking off in studios, apartments, and smaller homes where storage is limited. Essentially, an open closet is today's answer to the old pop up wardrobe or plain metal clothing rod. Using coordinating shelves, hanging racks and baskets, an open closet can kill two birds with one stone – a storage solution and a beautiful feature on an otherwise blank wall.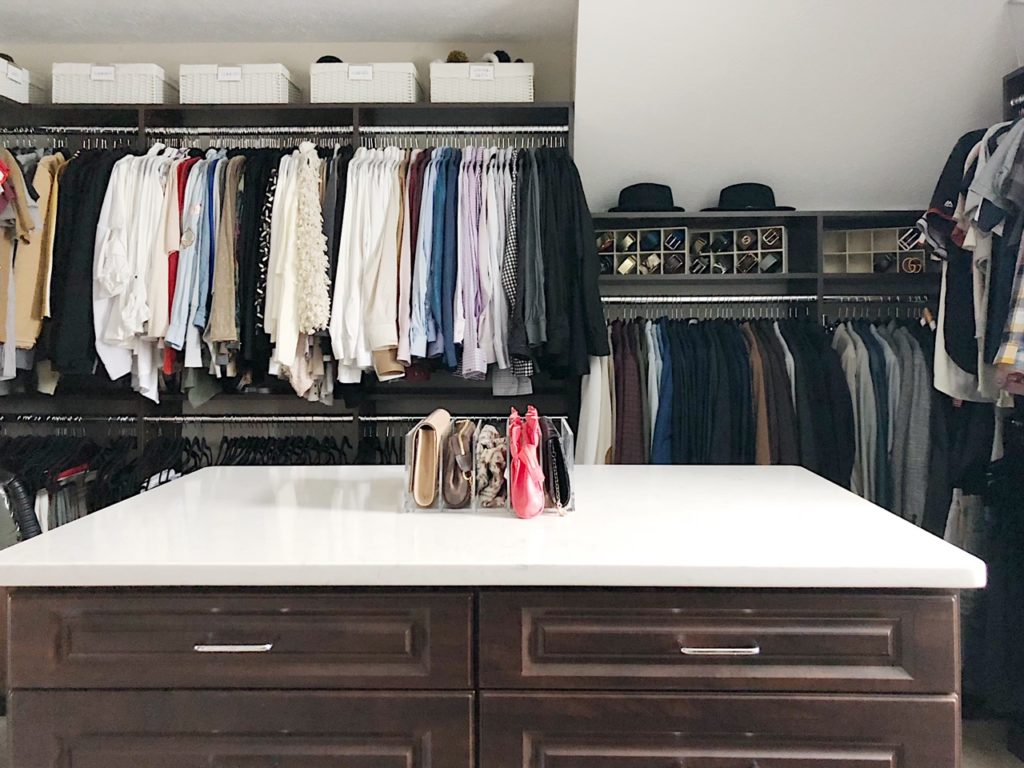 The open closet is especially appealing when NEAT Method's color-coded system is in place, or for showing off a collection of beautiful shoes, hats, or jewelry. "Organizing shoes on shelves by style and by color can be very attractive," Osborn suggests.
Homeowners are taking the concept into walk-ins, using a mix of open shelving and creative cabinetry that display rather than simply store clothes. At Inspired Closets by Tom, their show room has an abundance of clever and unexpected display features that beautifully organize clothing, shoes, and accessories. "We encourage clients to bring plans and pictures to the show room so we can understand what their vision is."
Adjustable shelves and hanging bars are becoming fairly standard in most custom closets, too. Not only does this mean you can rearrange your closet space as your needs change, but it makes it easier for a new owner to reinvent it which might appeal to future buyers.
While today's boom in closet organization and unique design is in part about home value, it is more about creating a moment of calm in an otherwise hectic day. After all, be it a simple wardrobe in a studio apartment or an expansive walk-in with all the bells and whistles, the closet is where many people start their day. "People are realizing just how satisfying living in an organized home can be," Ferri concludes. "They are realizing how great it feels to start your day in a beautiful closet." NH