Whether building a new home or updating a single room, a properly lit space can make or break a design
When designing any space, there are countless choices that, when working together, make a room come to life. There are the highly visible decisions such as floor plan or paint color, and there are inconspicuous ones like finishes on door pulls or the size of baseboards. But all these meticulous choices both big and small would get lost in the shadows without suitable lighting.
"The way a room is lit can help define its design aesthetic, just like jewelry helps define an outfit," says Elizabeth Johnson, Senior Design Consultant, ASID Trade Partner at Arhaus Furniture in Shadyside. "Proper lighting makes a home more welcoming and comfortable," she adds.
To accomplish this, designers, builders and electricians work to incorporate several layers to illuminate a space. Understanding the different types of light, and the different problems each solves, is key to a successful lighting plan.
Layers Of Light
In most rooms, ambient lighting is the first of three types in the space. Also called general lighting, it is typically emitted from the ceiling and provides a soft glow that brings warmth and depth to a room. Ambient lighting can emanate from recessed lighting installed into hollow openings in a ceiling or flush-mounts, which are dome-shaped fixtures mounted flush to the ceiling. Ambient lighting is meant to supply uniform, unfocused illumination.
Task lighting is the layer that puts the light source where it is most needed – in areas where activities require more focus, such as applying makeup or food preparation. Johnson cautions. She encourages clients to pay attention to task lighting, and where it is placed within a room. "A room needs to be balanced out with a combination of task lighting," she points out.
The last, but certainly not the least, important layer is accent lighting. These are the elegant chandeliers, sleek pendants, or dramatic floor lamps that are often a room's showiest of light sources. With a multitude of styles and designs, this type of lighting serves to create a strong visual impact by highlighting architectural features like entryways or vaulted ceilings, or decorative elements like a piece of artwork or a collection of heirlooms. "A common mistake people should avoid is using only one type of light source," Johnson says. But used together, these three layers are the basis of a good lighting plan.
"The placement and use of lights in a home can be just as important as the interior design," echos Megan Prazer, Design Consultant at Weaver Homes design studio in Mars. "Lighting changes everything – from under cabinet lighting to recessed lighting overhead – it can make all the difference in what the customer ultimately choses in their design.
Form & Function in the Kitchen
An intentional and deliberate plan that incorporates three layers of light is important throughout the home, but is arguably most complex in the kitchen, given the room's variety of uses. From cooking and entertaining to after school snacks and homework, the kitchen's multiple tasks will run more smoothly if they are well lit. So it's important to consider the plan early on.
"We usually begin the lighting discussion as soon as we show the client the design that we have come up with," says Ranee Edinger of Santa's Kitchen & Home in Mars. "In the case of remodeling, we get into the detail of the lighting on-site, once demo is complete."
When building or remodeling a kitchen, it's wise to consider all the ways the kitchen will function – then light it accordingly. "As a design consultant, I work closely with my customers to go through their daily routines," explains Melissa Michel of Brennan Homes in Evans City. She and her clients spend hours discussing each room, and exactly what daily activities will take place there. "In the kitchen, we talk a lot about how much they like to cook, if they entertain and throw big parties," she says. The more specific a homeowner can be about exactly how they will use their kitchen will result in a better lighting plan. "It's important to have the right types of lighting for all the different things that go on in there," Michel adds.
The array of lighting choices can make anyone feel in the dark, so consultants like Michel thoughtfully guide clients through what could otherwise be a stressful process. "We start with basic lighting packages to streamline their choices," she says. Like most new-home builders, Brennan Homes offers groupings of basic lighting that will result in continuity from room to room. "There are different price points for packages that include a combination of lighting that works together like vanity lights, recessed and flush lighting," she explains.
While options in recessed lights are generally basic, the selection of fixtures like pendants – the ones most often found above a kitchen island and extend down from the ceiling to define a specific zone – are boundless. "Because the open concept is still very popular, people like to add pendant lights to make the kitchen area more defined without having to put up a physical wall," Michel noted. "The drop down of the pendant lighting sets off the area from the rest of the space."
Whereas over-island pendants used to be small and sleek, today's customers are going big, using pendants as large as 24 inches to create a dramatic look over the island. "Islands have replaced the more traditional dining tables, making them the focal point in the room," explains Molly Singer of Molly Singer Designs in Pittsburgh. "We are doing fewer but larger fixtures over an island. Don't be afraid to consider a hanging shade or a pair of chandeliers, as these can help create unexpected flair," she suggests.
Another way to make a statement is to mix styles in the kitchen. "If your cabinetry is more traditional, consider lighting choices with more of a contemporary slant. This juxtaposition of styles helps to create layers of interest in a space," Singer points out. Light fixtures installed inside glass-front cabinets are another popular trend in kitchen design. Singer says LED tape lighting has mostly replaced the more traditional puck and rope lighting. "They are so small that it's almost invisible inside of cabinets and running it up and down both sides of a cabinet helps to balance out the light inside," she says, adding a tip to always put under cabinet and interior cabinet lighting on a dimmer. "I think people undervalue the importance of dimmers. I use them everywhere, on every switch throughout a home. Being able to adjust light levels throughout the day is critical."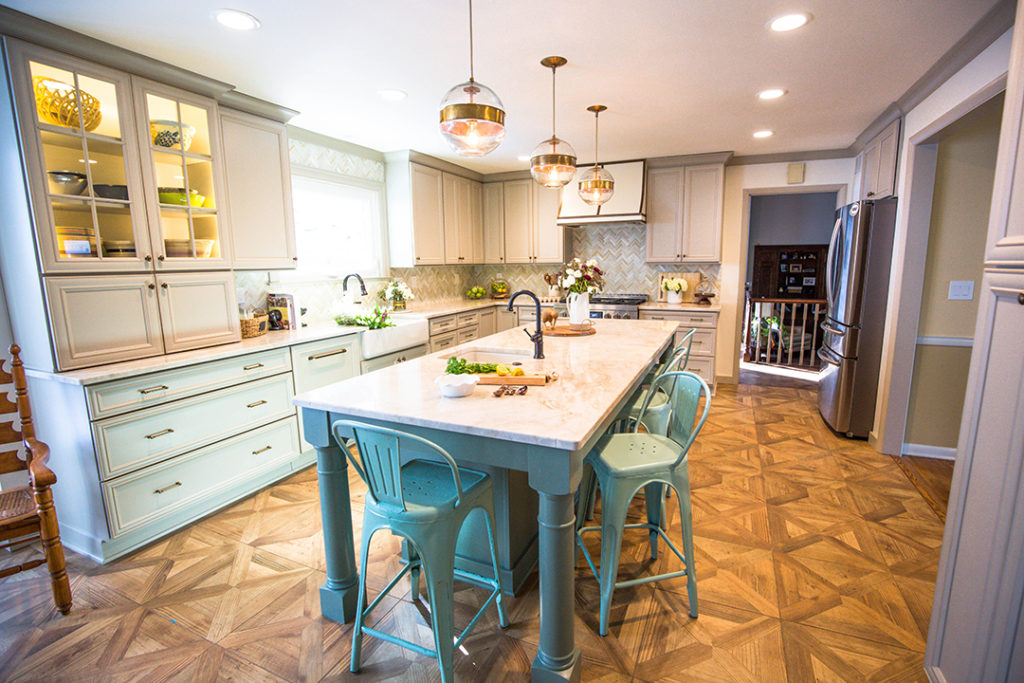 Bathed in Light
Oversized and statement fixtures are a growing trend not just in kitchens but also in a space that used to be a design after thought– the bathroom. As bathrooms become larger and more elaborate, proper lighting is essential to making the most of this space.
Thus, bathrooms have become a great place to add a little sparkle. "If your going for glitz and glam you may want to use materials like crystals cut in elongated shapes like long teardrops, or cylindrical tubes," Johnson says. "I love the look of crystals arranged to create starbursts or to resemble a whimsical crystal-encrusted dandelion," she divulges. "Chandeliers are showing up more often in bathrooms over a soaking tub and in bedrooms or in an oversized walk-in closet to add a little elegance and drama."
No longer viewed as a utilitarian space, the master bath has become more spa-like. "Chandeliers above free-standing tubs are still in huge demand," adds Prazer. "This adds a bit of glamour to the space. "But they still need to be properly lit in order for them to function well. For instance, it's important to light the vanity area with ample task lighting, which can be a fixture above the mirror or sconces on either side. Professionals caution that light pointing directly down will be harsh and unflattering, and asymmetrical lighting will create uneven illumination. Prazer is also a fan of dimmers in the bathroom. "It just allows for a softer, less harsh light in the middle of the night."
All Through the House
A comprehensive lighting plan is imperative for kitchens and baths. In the rest of the house, the right fixtures can enhance the look and feel of every room – and never before have there been so many options. "I recommend looking on sites like Chairish or Sotheby's Home where you can find truly unique, one-of-a kind vintage fixtures," Singer suggests. "I'm also a big fan of Visual Comfort, which can easily be purchased through a variety of vendors online."
Whether you go online or to one of the area's many lighting specialty stores – like Cardello or Ferguson, both in Cranberry or smaller shops like Guiding Light in Aspinwall – the choices are blinding. Designers say light fixtures are a good place to take chances and play with trends. "Lighting trends seem to be following furniture with urban farmhouse, glitz and glam, and mid-century modern leading the way," says Johnson. "Another popular trend is to use wooden beads and wooden 'crystals' on a traditionally shaped chandelier," she adds.
On the other side of the spectrum, the very angular mid-century modern is making a mark on lighting design. "I'm seeing a lot of mid-mod aesthetic in bedrooms now, especially with sconces," Johnson says. "Think very simple, almost task-style lighting for reading. The sconce works well in this mod look because the trend in bedroom furniture is also simple and streamlined," she says, adding that minimalist nightstands create a need for incorporating these types of sconces.
Like all design components, lighting too is getting "smarter." Components such as smart chandeliers, fans, and switches are more accessible than ever and easy to integrate a design plan. Even bulbs are smart – they can dim, change colors, and even play music. They can also make you sleep better with settings that suppress melatonin levels during the day and increase melatonin closer to bedtime.
High-tech or not, lighting plays a crucial role in interior design. After all, it's the best way to enhance aesthetic appeal and create ambiance. The seemingly simple act of light placement can either make a space look bigger or smaller, wider or narrower. It can enhance the colors or make them dull. What's more, it has an effect on the overall mood of the room and of the people who enter it. "So don't just let lighting be in the background of a design. Use it to accentuate the design," Johnson concludes. "Think of it as a sculptural piece of art in the room." NH