If you buy a house built by Benjamin Marcus Homes, "your home will never be your neighbor's," said Vice President Barrett Hoskins.
It's a goal that has been passed down to him from his father, Mark Hoskins, founder and president of Benjamin Marcus Homes. They believe that in today's world of cookie-cutter design and corner-cutting methods, it is more important than ever to make each build unique and distinguishable..
Since Mark Hoskins founded the company in 1979, Benjamin Marcus Homes has been committed to making its customer's dream-home a reality by providing a custom-building experience. Their builds can be found in twelve neighborhoods in and around Pittsburgh, including Peter's Township, Upper Saint Clair, South Fayette, Pine Township, North Allegheny and more.
Currently, the team is focused on building accessible homes in
desirable areas.
"My goal was to go up the 79 corridor and get in the areas that have vacant land in the best school districts," Hoskins said. "We were always full custom, larger estate homes. Now we want to bring our product to more people by producing high quality in a smaller footprint."
That way, Hoskins said, more families can lay roots in their favorite neighborhoods.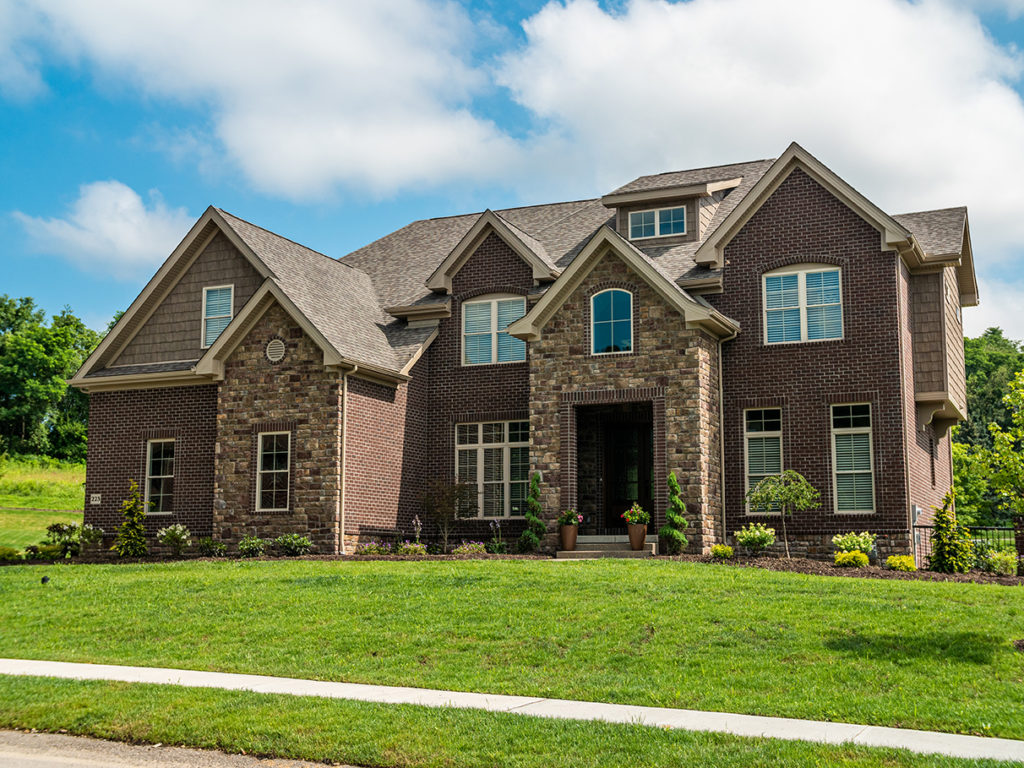 The Custom Experience
No matter what type of home or package a customer is looking for, Benjamin Marcus Homes has made it both personalized and approachable, from one-on-one meetings with the builders themselves to the intuitive home design plans.
"When we wanted to expand our model, we came up with what we call the 'home series,'" Hoskins said. The series includes three levels of custom options – Estate, Cornerstone and Keystone.
"The Estate Series is the highest end, fully custom, biggest footprint home with all the bells and whistles," Hoskins said. "If you can dream it, we can
build it."
This series, along with the other packages, offers features from a structural standpoint that makes the home sturdy and reliable, such as 2" by 6" exterior walls (instead of 2" by 4"), a poured concrete foundation or full grouted walls, premium siding and masonry exteriors and a covered
front entry.
"It's not always what you see, it's what is behind the walls," Hoskins said. This means bringing the strongest and most well-made insulation, beams and floor systems.
"Structural components are just as important as a pretty kitchen," he said. "Buying a house is the biggest investment that people make so you want it to stand the test of time."
The Estate Series goes on to offer other premium features such as a 10-ft. ceiling on the main level, copper plumbing, a landscape package, finished garage, gas fireplace, designer light fixtures, a stainless-steel appliance package, hardwood floors, heated three-car garage and more. An Estate Series Home can cost upwards of $900K.
"The Cornerstone Series has a varied size footprint and a little less customizable," Hoskins said. "It's still high end, we are just starting with a floor plan rather than starting from scratch. These are a custom home with more defined layouts."
With this package, a customer can pick from more than fifteen configurable floor plans and a generous combination of custom selections, like the features included in the Estate Series. A Cornerstone Series home can cost as much as $500K.
"This plan is meant to increase efficiency and give people a better price," Hoskins said.
The Keystone Series also brings the quality and comfort of buying a premium quality home, but at its most affordable price point, averaging at about $450K.
"With the Keystone Series, the customer is rewarded because you get more square footage for your money," Hoskins said. "It works really well with the buyers who are happy with the entry level amenities but still want a quality home."
But despite the home package a customer chooses, there are some features that are mainstays in all of the builds by Benjamin Marcus Homes.
"We always include stainless steel appliances, driveway and concrete work, maple cabinetry, granite countertops, brick and stone on the outside," Hoskins said. The list goes on.
These top-of-the-line features and customizable choices are what Hoskins says makes Benjamin Marcus Homes stand out from other builders.
"I include more than anyone else upfront," he said, meaning that a customer can choose from a variety of options – like cabinet colors or door styles – without having to upgrade and pay more on top of their package.
Hoskins said that Benjamin Marcus Homes' price point may be a little higher to begin with. However, the customer gets more value when all of the unique options are taken into account. This way, the buyer can choose whatever their heart desires and truly make a house their home… unless they want to get the same siding as their neighbors, Hoskins said. "We won't let them do that," he said with a laugh. "We pay fine attention to detail. No two houses are exactly the same."
BUILDING A LEGACY
When Barrett Haskins was around twelve years old, he remembers the excitement of when school was out for summer. He looked forward to playing with his friends and having fun in the sun, "but my dad had other plans," he said. The fun would have to wait until the work was done.
"That's basically when I started working with my dad on the job sites," he said. The first job he had was cleaning the houses after all of the construction was completed to get them ready for the buyer.
While he would rather have slept in back then, Hoskins is thankful for the good work ethic his father instilled in him on those early summer days,
and he's proud to be a part of the family business.
"It's a good feeling to know that you're carrying on a legacy," Hoskins said. "I like working with my family. It can be challenging, but at the end of the day, you're family. You can trust everyone."
Hoskins looks up to his father's devotion to his craft after all these years and his goal is to keep the values that have always stood in the family business. Even today, Hoskins said that his father spends a lot of his days on-site to make sure that the homes are built to his high standards.
"He loves building homes. This is his passion," Hoskins said. "It's really nice…Growing up, I didn't know what I was going to end up doing."
But now, he can't imagine doing anything else than carrying on what his father started. And just as Benjamin Marcus Homes is built on the foundation of family, they want their customers to feel at home when they are working with the team.
"We want everyone to feel like family," Hoskins said. "We know that buying a home is the most emotionally attached purchase that people make…This is where you exist, where you raise your family. We want to make it the best experience."
That's exactly what keeps their customers coming back.
Whether their lifestyle has changed or they are just ready to downsize, Hoskins said that one of the biggest compliments to their work has been their many returning customers.
"You don't think that when you build a nine-hundred-thousand-dollar house that you're going to build another house for someone down the street in the same neighborhood," he said. "They love the process, they love the quality, they know what they are getting."
To the entire Benjamin Marcus Homes team, that is a true testament to the quality of their builds and their relationships with their customers.
"We can stand by the work we are doing, and if they need to come back, they can," Hoskins said. "I think that's really something." NH