When Cheri Druzak found an undeveloped 30-acre lot in Collier Township with a pond on the property, she knew it would be the perfect spot upon which to build a dream home. But there was a lot of work ahead of Druzak and her husband Jeff, not the least of which was finding just the right builder who would understand their vision and who would have the knowledge and experience to build a house from the ground up on uncultivated land.
Druzak and her husband, an avid golfer, previously lived at Nevillewood in Presto, Pennsylvania, where Jeff had the opportunity to golf regularly. Cheri joked that the only way she could get her husband to move out of their former golf community was to build a golf simulator in their house so that Jeff can enjoy the game all year round.
It is safe to say that this type of feature—a golf room—typically is not part of any type of standard builders' package when building a custom home. But the beauty of the Build on Your Own Lot option with Costa Homebuilders is that you can design your dream home with any features you can think of, no matter how seemingly over the top or out of the realm of 'typical'—and they will not bat an eyelash. Essentially, if you can dream it, they can build it.
"We interviewed three builders, and we liked Costa from the very beginning. They just made you feel at home. A lot of builders make you pick from models that they have, but Costa said, 'whatever you want we will make it happen.' That was the key. They have not disappointed me. They have blown it out of the park for me, I am very happy about that," said Druzak.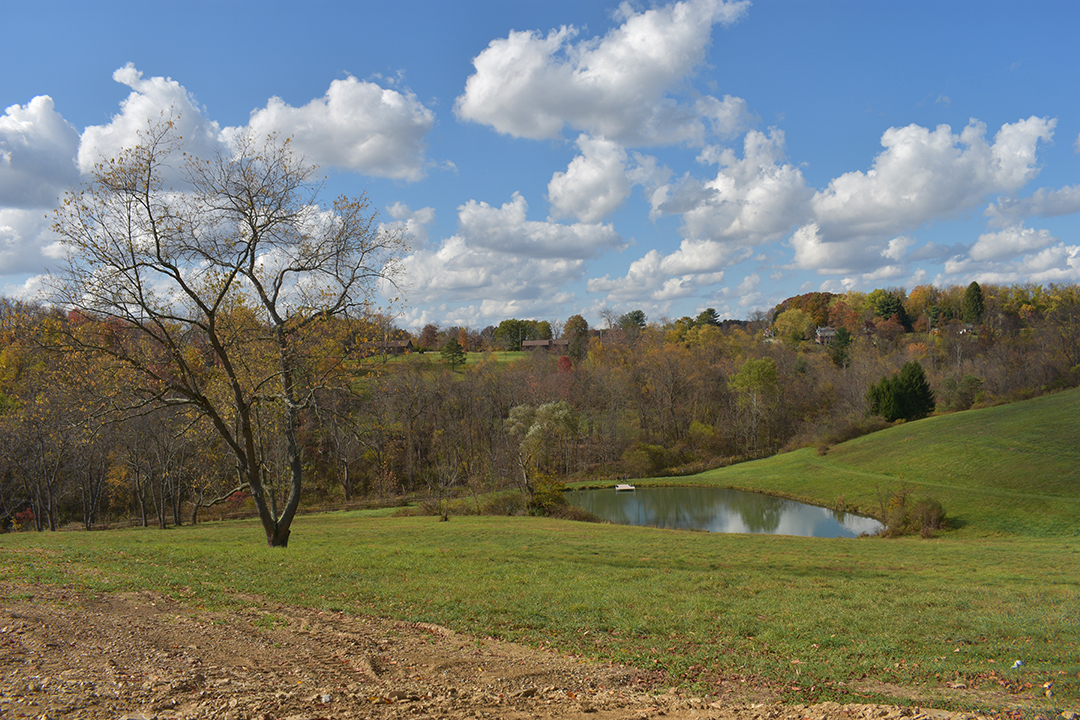 Costa Homebuilders:
A Legacy of Quality
Jeff Costa, founder and operating manager of Costa Homebuilders, is a fourth-generation builder, having owned the company for 23 years, concentrating on building luxury custom homes. "Our main focus is on non-production homes, or custom stick-built homes. So, if you find a photo on the internet, we can build it," he explained.
Costa runs his business based upon an important philosophy, which reflects his passion for his career as a custom home builder: "When you pull into your driveway every day at your house, it has to be something you're excited about. I want to help people make that happen," he said, adding that this was especially true during the pandemic, when people were home all the time.
There are three main reasons why custom-home building clients choose Costa to help build their dream homes. One is the trademarked "New Life" process, which is Costa's way of incorporating a structure into the building timeline so that the customer has dates and deadlines so that things can stay on track all throughout the journey.
The second is the team. "We like to think we are the gold standard as to how a custom home gets built. We learned to use some of the best products, so it's not just meeting minimum building code; we are building a quality home that will be there for generations," he said.
Third is execution and finishing the job, all of which is backed up by decades of experience and a slew of happy customers.
Build on Your Own Lot: Advantages 
Headquartered in Elizabeth Township, Costa Homebuilders has built custom homes in numerous planned communities covering many surrounding counties, including Ridgewood Heights in Cecil Township, Cherry Valley Estates in the Fort Cherry School District in McDonald, Piatt Estates in Chartiers Township, and its latest project, Chapel Harbor in the Fox Chapel Area School District.
With a belief that building on your own lot has numerous benefits for homeowners who go this route, Costa has offered the Build on Your Own Lot option from the company's inception. 
Customers who want more privacy or who need more space for such options as a pool, sport court, or horse barn tend to choose this option. "Most of these lots are typically larger, which offers more privacy to the homeowner. You're in a neighborhood, but not in a row where everyone is visible," said Costa.
Though Costa gives all of its custom-home clients the freedom to put their own spin upon any house that they build, even in a planned community, another major advantage of building on your own lot is that the buyer is not limited to a specific floor plan, translating into endless customization possibilities. Costa Homebuilders does offer hundreds of home plans but very rarely someone will choose an exact one. "Instead, they may like an exterior of one home but the floor plan of another, and we can work with our architect to achieve both" said Costa.
Clients can also build a larger house on their own lot. In a plan, an average home might be 3,200 square feet but when someone builds on their own lot, an average home size could be closer to 4,500 square feet. 
And with a larger lot, last minute plans usually can be accommodated, such as when Druzak decided she wanted a wine room to display some bottles in the basement. "It wasn't in the original plans, but they had no problem with it," she said.
Another advantage to building on your own lot is that there are fewer building restrictions. "Some people don't want to live in a neighborhood where you have covenants," added Chris Zacur, Costa's construction manager. Costa agreed, noting that a current customer is building in a planned community but because of neighborhood covenants, his homeowners' association will not let him build a deck on his house in the way that he envisions.
Of course, as with any building project, there can be challenges to overcome, such as trees to clear or where exactly on the property to build the home or how long of a driveway to construct. While there may seem to be an overwhelming amount of issues to resolve at the outset, Costa's years of experience working with raw land helps ease the process for his clients. And in fact, Costa himself has a true passion for helping a client to build an estate home on their own lots.
Like the Druzak's, often customers will already own land before they find a builder, but sometimes, they will ask Costa to help them secure land. In those situations, the company has the rights to exclusive, real estate software, so they are able to do a search and find available lots pretty quickly, depending on the customers' preferences.
One perceived challenge with building on your own lot in the Pittsburgh area is the dearth of vacant lots sitting on the market. However, said Costa, "there are many lots that may have an older structure on it that could be taken down to reveal a beautiful piece of land."
Once a homebuyer does find land, invariably there will be additional costs associated with it; most of the cost comes from having to purchase the land itself, getting the utilities—gas, electric and water—to the house, building a driveway from the street, and sometimes, running a septic system if necessary. While the majority of Costa-built homes in planned communities run between $700,000-$900,000, the price for building on your own lot usually exceeds a million dollars. 
But clients are made aware of the budget up front so that there should not be any surprises. "If you're on your own lot, it's all about the budget. That budget will steer us," said Costa. In fact, he believes that his company's process—budgeting first and then drawing the house—sold the Druzaks on the company. 
"The Druzak's house is 750 feet off the street, so we had to develop this land, and that is what we're good at. We are good at taking a raw piece of land and turning it into a masterpiece," noted Zacur.
In the end, though, most customers believe that it was all worth it. "The prize is that you have your own estate," echoed Costa.  
Build on Your Own Lot
Project Profile
The Druzaks are empty-nesters and decided to build a new home, as they wanted more open space, both indoors and outdoors. When they saw this 30-acre lot in the Collier Township area, they put a bid on it, having been drawn to the pond, the acreage and the location. 
The Druzaks built a craftsman style home based on the home that they had owned in Deep Creek, Maryland. "I wanted a large, open area with beamed, wood ceilings, a screened-in back porch and stone fireplace, and they got it right away; they understood," she said.
The exterior is a very contemporary look, with dark windows and gray siding, and has a four-car garage along with a deck and two covered porches, including the aforementioned covered porch with a stone fireplace on one side of the kitchen. What added to the craftsman look, said Tony Ferrare, sales manager with Costa that helps clients with the selections process, was the hardie board exterior and the mix of horizontal planks. Due in part to the pond view, the porch areas and the stoned archways, Ferrare commented that "The exterior elevation is second to none."
The house features two bedrooms on the main floor and two in the basement, though they use one basement bedroom as an office. The master bedroom was mindfully placed at the back of the house for another spectacular view of the pond. The golf simulator room is a favorite of her husband's, as he is able to play a virtual game of golf on whatever golf course he wants at any time. When he's done golfing, the two of them can relax in the first-floor media room with theater seats. Costa also installed an interior elevator.
The lower level features a bar and wine cellar and a family room. There is a view of the outdoor pond from the great room and kitchen, the latter of which has a cool hidden pantry. 
The house is an open-concept, as the couple did not want a formal living room or dining room. "I had that in Nevillewood, and no one sat in there. I just wanted a pretty big open space with a large eating area," she said.
Costa broke ground on July of 2020, and the couple moved in this past April.
In addition to Costa Homebuilders being attuned to what the Druzaks envisioned, Druzak also appreciated the organization, and the fact that there were no surprises along the way. "They sent you their budget and a timeline, which was great; it really keeps you focused," she said. Anytime there was a possibility of going over budget, it was fully discussed and approved before any decisions were made.
The Druzaks also appreciated the ease of working with the company, from the woodworkers who made the kitchen cabinets to the landscapers. "The people they referred to me were outstanding."
"The highlight for me is the screened in porch where I can look out at the pond every morning. The property is beautiful," she said.
Costa said that after listening to what their needs were and their lifestyle, he believes that the house is 100% usable, meaning that there will not be any space that will go unused. In addition to usability, what also stands out to him are the flow of the floorplan and the finishes chosen by Druzak.
"The thing to me is that there's not one room that does not have a wow factor—the 'wow' keeps going throughout every space," said Ferrare. Highlights for him include the kitchen/great room space with vaulted cedar ceilings and the double kitchen island.  "We worked hard as a team to make it happen, and the end product is something they are proud to call home and we are proud we did it for them."
Between the beautiful, large lot with a view of a pond, the covered porches, the 25-foot high ceilings and the view out back, Costa views this project as 'picture perfect.'
Building Relationships
The Druzaks feel at home and at peace in their new house. Even though they have a great deal of privacy, they are conveniently located to the Robinson area, the airport, and they can even get back to their old stomping grounds at Nevillewood in five minutes by jumping on the highway.
"The number one thing that you've got to do when you're building a house is you have to have a good relationship with the people that you hire. It's life, it's building a house, it's a big deal for you and your family. In the end, you're hiring an expert, but it's all about relationships," said Zacur.
Costa agrees wholeheartedly. "When you're building a house, you have to feel good about your builder and the builder has to trust you—it's like a marriage for a year. We got along really well, and I feel our transparency with the budget and the good relationship we had played a big part in that.  NH