Much is occurring some 33 miles east of Pittsburgh.
 

That is to say, new home construction in Westmoreland County is proliferating within its 1,036 total square miles where pastoral settings and laid-back lifestyles blend perfectly with burgeoning business opportunities and captivating cultural/recreational amenities
As the second largest county in southwestern Pennsylvania, Westmoreland County boasts a range of camping areas, verdant rolling hills, and federal, state and county-owned parks among its outdoor recreational offerings, and is often referred to as the Gateway to the Laurel Highlands.  Also of note is its affordable housing, low taxes, top notch health care, and quality educational system from pre-schools to local colleges and universities.  Cultural venues abound including the Westmoreland Museum of American Art in Greensburg, the county's seat, and the Southern Allegheny Museum in Ligonier, to name just a few, along with historical sites such as Bushy Run Battlefield, Fort Ligonier, Historic Hanna's Town and others.  The Palace Theatre features year 'round notable performances and is home to the Westmoreland Symphony.  Local and college theaters also offer entertainment while seasonal fairs and festivals delight the senses.  If desired, a trip into Pittsburgh and to the Pittsburgh International Airport is a short drive via U.S. Routes 30 and 22, and the Pennsylvania Turnpike.  Within Westmoreland County, the Arnold Palmer Regional Airport in Latrobe runs regular flights to southern destinations as well as commuter flights to the Pittsburgh Airport.  To say Westmoreland County is a family-friendly locale is a truism, but just the tip of the lifestyle iceberg with rural, suburban and urban living choices for people of all ages, with new construction, high end homes including single-family living, paired villas, custom builds, carriage homes and more to suit an individual's needs.  Not to mention, there's land, lots of land still available for building within the county.  Helene Nseir, Real Estate Agent for Berkshire Hathaway Home Services The Preferred Realty, confirmed the abundance of land, some yet to be developed.  "Penn Township and Murrysville, with their close proximity to Pittsburgh, is really desirable."  She also admits that the low Westmoreland County taxes are appealing to buyers.  "The fact that we have not had a county-wide tax assessment keeps our taxes low, but no one knows how long that will last," she said.  "We are not running out of land.   If anything, the problem seems to be infrastructure and sewage availability."  With people working from home, she sees Westmoreland as a "perfect fit" for those wanting to move from Pittsburgh to a smaller community like Greensburg, Murrysville or Unity Township.  "It is still a relatively easy commute to Pittsburgh for the amenities of sports teams and cultural events, but a less hectic day-to-day lifestyle without the traffic."   Darlene Hunter, Vice President, New Construction, for Howard Hanna Real Estate Services, believes that the demand for empty nester first floor living is high, but sometimes the terrain and existing zoning create obstacles for new development,  but she finds that single-family homes are still the most prominent choice in Westmoreland County, with a variety of floor plans that include first floor master bedroom options.  "The Westmoreland market is stable for new construction," she said.  "However, I see the pace of sales slowly rising for true custom, high-end homes."  At the same time, Nseir is witnessing a competitive advantage to new construction for empty nesters in the county.  "I feel that patio homes and 55+ communities are the strongest sales in Westmoreland County.  Homes sites such as Kacin Companies and R.A. Snoznik Construction are very popular and trending.  Someone like Jack Pellis has completely sold out his empty nest community in Hempfield Township, with those units in the high $300,000s and into the mid-$400,000s.  The demand for empty nester homes has arrived."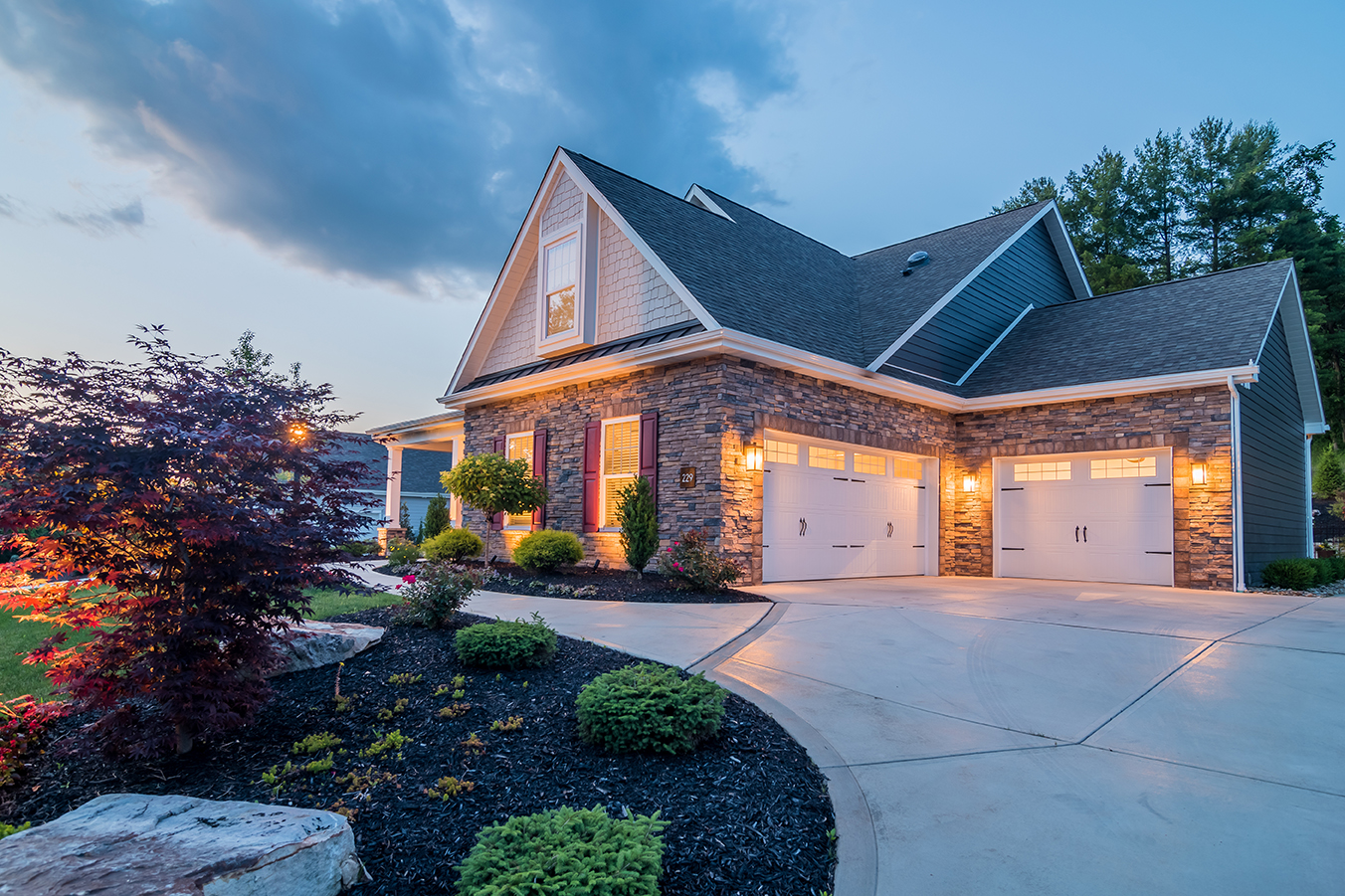 Custom builder Jack Pellis, President, Pellis Construction Company located in Greensburg, has taken note of this demand for new construction.  Founded by his father, Tom Pellis, in 1966, Pellis Construction centers around its founding vision and principle – putting the customer's needs first and foremost, acknowledging that customer's special vision for a new home.  Pellis himself meets and works with each custom home customer throughout the building process, assuring attention to detail, design and scale.  "I continue to see a strong demand for both single and duplex-style villas in our communities addressing low maintenance living," he said.  "Although location and high-quality standard features continue to attract Boomers, I feel that it is our in-house design and customization that separates us from the competition."  Fairfield Estates in Hempfield Township is one of four planned communities featuring low maintenance single villas, duplexes and custom homes in the Craftsman style and starting in the low $400,000s.  The homes offer upscale floor plans; high-end finishes; and brick, stone and siding combinations, with a community pond and pleasant green spaces.  "Buyers are attracted to the continuity of design and their ability to imprint their style on both the interior and exterior," he added.  Moving further east, Pellis recently kicked off construction in the final phase of Wimmerton Place, set in the rolling terrain of Unity Township and the Laurel Highlands, building nine presold units of the 32 total building pads.  "The base price of these well-appointed, single-level homes is $385,000, but buyers can opt to add covered verandas, screened patios and basements, to name a few, customizable features."  Units in both developments range from 1,650 to 2,500 square feet with Anderson windows, stone accents with either James Hardie Siding or quality vinyl, depending upon the community.  Interiors are standard with granite countertops, hardwood or vinyl floor plans, walk-in showers as well as many other customizable features.  All floor plans utilize open concepts and hallways are widened for greater accessibility.  Pellis is also working on plans for a new patio home community in Hempfield Township to include some 40 pads for both paired villas and single units.  "There is an increased demand/interest in custom homes," he explained.  "We have four design-build projects on the boards that range from 3,800 to 5,500 square feet.  I feel the demand will continue as talk of interest rate hikes will motivate buyers to lock in now."
Headquartered in Murrysville, Kacin Companies, founded by A. Richard Kacin, has been building upscale residential homes, communities and condominiums in the region since 1960, based on the premise that "strong relationships build strong communities."  Demand for these homes proved strong in the second half of 2021, continuing in 2022 according to Jason Corna, Vice President, Residential Division of Kacin Companies.  "The majority of our customers are looking for one floor living or first floor master designs," he proffered.  "The demand is pretty evenly split between our single-family homes and our carriage and patio homes."  He continued that the patio and carriage homes are highly customizable, where most everything on the home's interior can be redesigned.  "The exterior elevation of these homes are predetermined," he added.  "Our single-family homes are also extremely customizable, with the ability for both interior and exterior redesign possible.  We also work with customers to design and build one-of-kind custom homes on a case-by-case basis."  Construction was started in their North Meadow Community some 18 months ago, with construction of Kacin's first home in their Hillstone Village Community begun in late 2021.  North Meadow, located in Washington Township, offers low maintenance patio homes at 1,748 square feet with larger options available depending on the model or if a second floor is desired.  Depending on size, these homes start at $349,900+.  Single-family homes provide 1,997 square feet or larger with a price of $395,900+, again, size dependent.  Nine-foot ceilings; Manor House cabinetry; stainless steel kitchen appliances; custom trim work, and granite and quartz tops are but a few of the standard interior features of these low maintenance homes.    Hillstone Village, Kacin's latest build in Murrysville, offers low maintenance carriage homes at 1,840 square feet that can be finished out to some 5,000 square feet, and start at $469,900+.  Single-family homes begin at 2,000 square feet, growing to most any size desired, with a starting price of $625,100+.  Here, home interiors also include nine-foot ceilings; stainless kitchen appliances; tiled master showers with glass surrounds; custom trim work; Kooch cabinetry, and granite and quartz tops, to name a few, while concrete lead walks and driveways, Hardie Plank siding, Anderson windows, and GAF shingles are but a few of the quality exterior standards.  A clubhouse, pickle ball and bocce ball courts, and sidewalks grace the Hillstone Village community, with HOA fees ranging from about $70 to $170 a month depending on home style.  While North Meadow is not an HOA community, both embrace all age groups with "our designs tending to attract a higher number of empty nesters."  Looking toward the future, Kacin Companies is poised to start land development for Phase Two of North Meadow, which will consist of 30+ single-family homes.  "Also, we are always looking for opportunities for our next development," Corna added.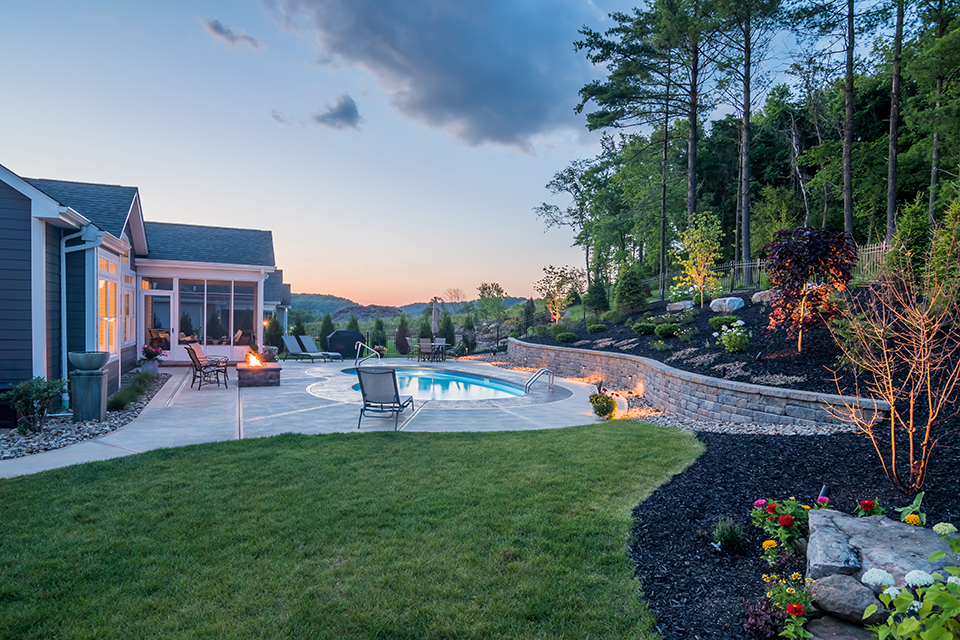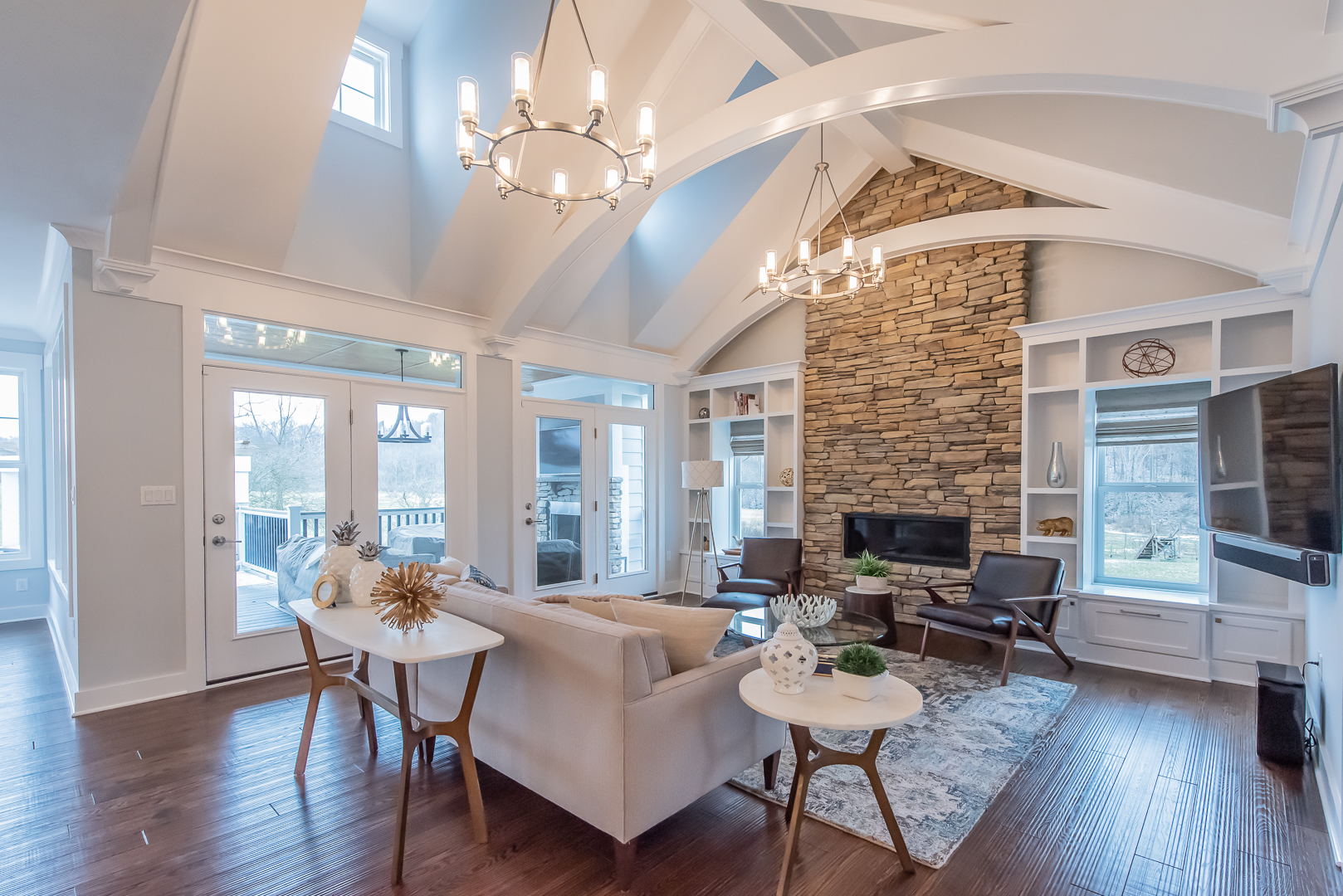 More than 40 years ago, Bill Scalise established a design-build company in the western Westmoreland township of North Huntingdon.  Today, son Dom Scalise is at the company's helm serving as president and continuing the tradition of fulfilling his clients' new home dreams, especially at their latest build called The Legends.  This three-phase development comprised of custom homes and one/two story villas is situated on lush surrounds that offer convenient access to Pittsburgh and the Pennsylvania Turnpike.  "Demand for new homes has been steady for our paired villas (patio homes) since we started the phase called The Villas at Legends in 2019," Dom Scalise reported.  "We saw an up-tick during the pandemic onset in the first and second quarters of 2020."  He continued that The Legends home plan offers a prime North Huntingdon location, lower taxes, and is in close proximity to Allegheny County.  "Originally, the first three phases of this custom plan exclusive to Scalise Homes were comprised of single-family residences, of which only a few remaining home sites are available," he said.  "Those seeking homes here represent a mix of age groups with couples and singles beyond child bearing years tending toward the paired villas."  Here, interior customization is fully available within its 1,900 square foot space, with some homes boasting an equal size basement.  A low monthly HOA covers grass cutting, snow removal and periodic landscaping.  With distinctive elevations, striking interior floor plans, and upgraded features, customization assures an opportunity to suit any lifestyle. Covered patios, an upgraded kitchen or a large bonus space are just some of the features that can be added.  In the first quarter of 2022, Scalise will be finishing the villas with its last four units, all with walk-out basements.  The development of an additional Villa phase is under exploration, to be set on approximately 20 acres with 24 to 30 single and paired units. 
For close to 40 years, Ray Snoznik has been adding to an extensive resume of custom built, single-family homes constructed in Allegheny, Butler, Armstrong and predominantly Westmoreland counties.  Also venturing into land development, the Village at Kistler Ridge in Penn Township is his latest project.  Located in the preeminent Penn Trafford School District and centered among Greensburg, Murrysville and North Huntingdon, the property was formerly Kistler's Golf, a once popular spot for golfers practicing their putting and driving skills.  Having worked with the Kistler Brothers on past projects, Snoznik acquired the golf property in 2018 when the Kistlers made the decision to close the golf course and sell.  Using Penn Township's PRD ordnance, Snoznik's vision for the land was to build a mix of patio and single-family homes along with commercial space/apartments.  Phase I of the project included 28 paired villas, of which just one remains available for sale (starting in the low $400,000s), a commercial space/apartment building (eight units total), pickleball court, a tot lot and community gazebo.  A few of the Kistler Golf mini golf holes will be kept and maintained for use by the property owners.  "This phase offers picturesque views and low maintenance living," said Snoznik.  "This quaint section, with its two oversized cul de sacs create a small, private enclave."  
Using exclusive home plans and Snoznik's signature open concept floor plans with fresh, modern designs, the villas feature slab or 13 course basement foundations, and many options for customization and finishing loft spaces and basements.  The two models featured in Phase I—the Croton and the Cottonwood—were "specifically selected to headline our villas because of their livability and aesthetics."  Those are two of the five values that are part of Snoznik's exclusive plans, designed by Values That Matter, with Sustainability, Affordability and Functionality as the other three key components in their design.  With the start of 2022, construction is full steam ahead for Phase II, which is 17 single-family lots.  "Construction is underway on several homes," Snoznik advised.  "By spring, you'll see a new community coming to life."  Interest in the homes has come from a mix of age groups according to Snoznik.  Ranch style, story and a half, and two-story homes will range from 1,700 to more than 3,000 square feet, again offering slab or 13 course full basement foundations.  Front elevation options include the Modern Farmhouse, Prairie/Mid-Century Modern and Craftsman styles.  Amenities in Phase II include green space, walking paths, and outdoor exercise equipment stations.  Slot reservations are currently being accepted for Phase III with 44 additional single-family homes and four more duplex units for a total of 93 homes once all is completed.  The materials used in Snoznik's homes include some of the best products on the market, like James Hardie cement siding; Owens Corning roofing; Silverline and Anderson windows; Astria fireplaces; Wolf cabinetry; Silestone quartz countertops; Whirlpool and LG appliances; Kohler, American Standard and Moen plumbing fixtures; Lennox HVAC equipment; Karndean LVT flooring, and Shaw carpeting.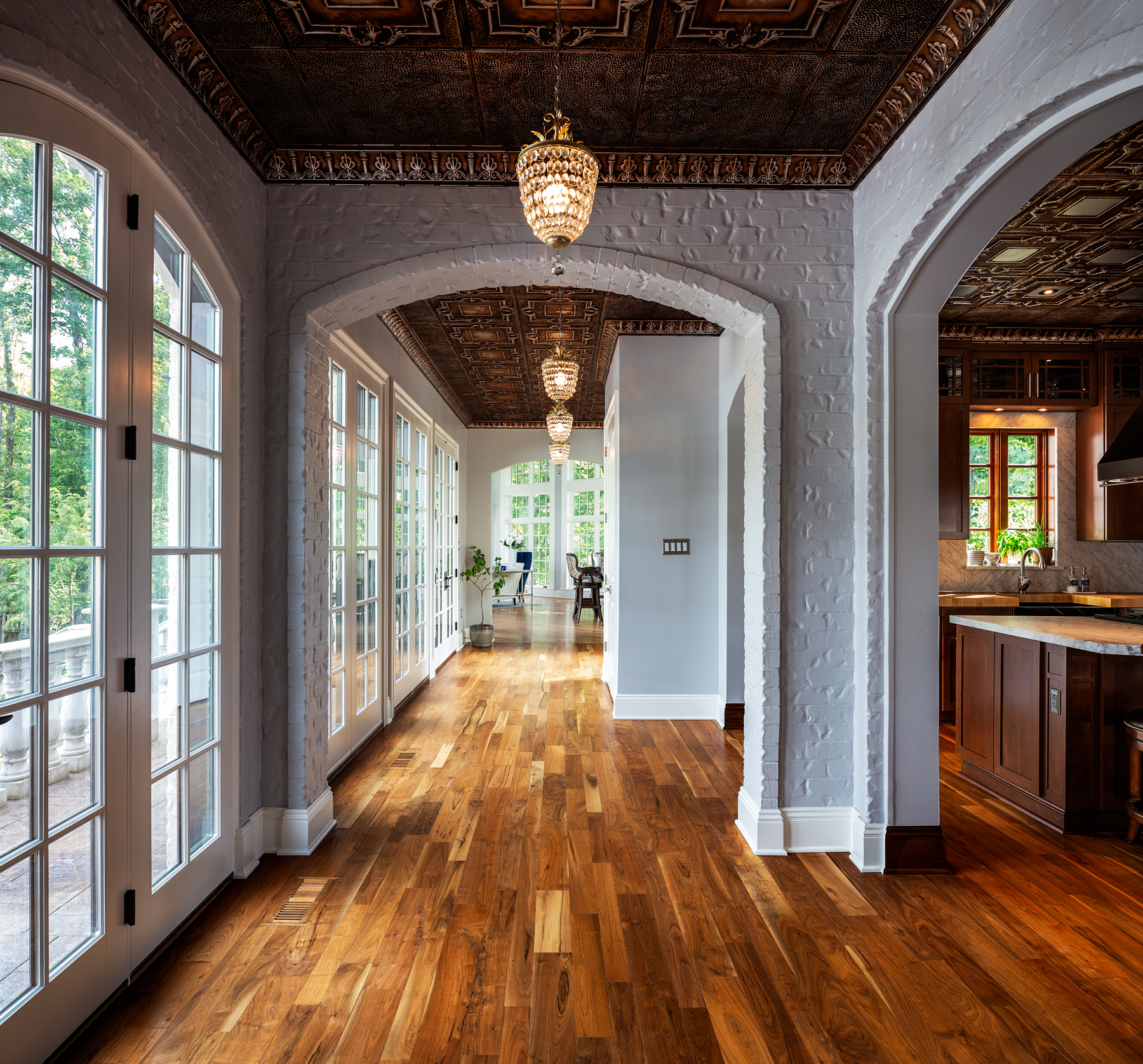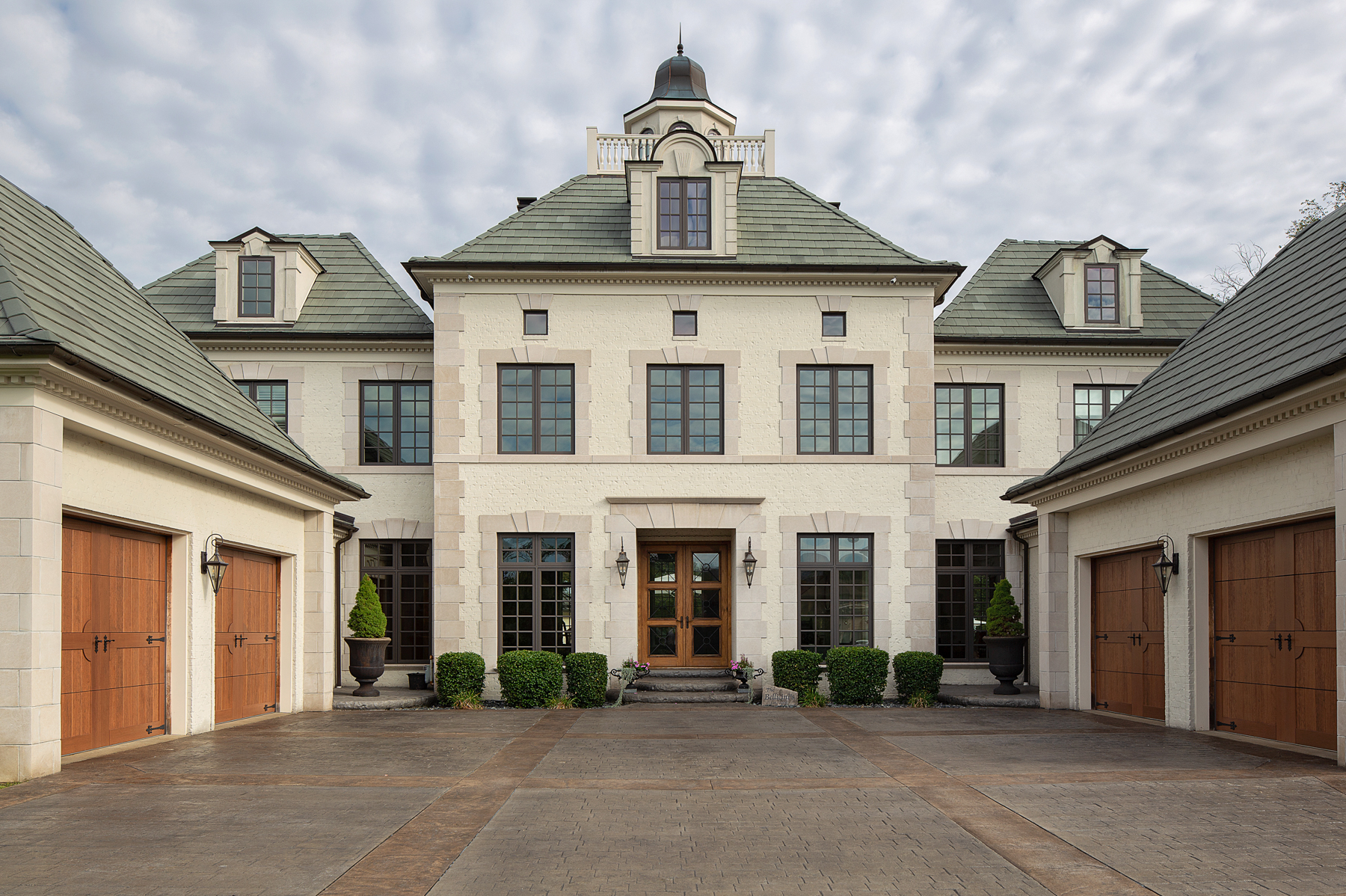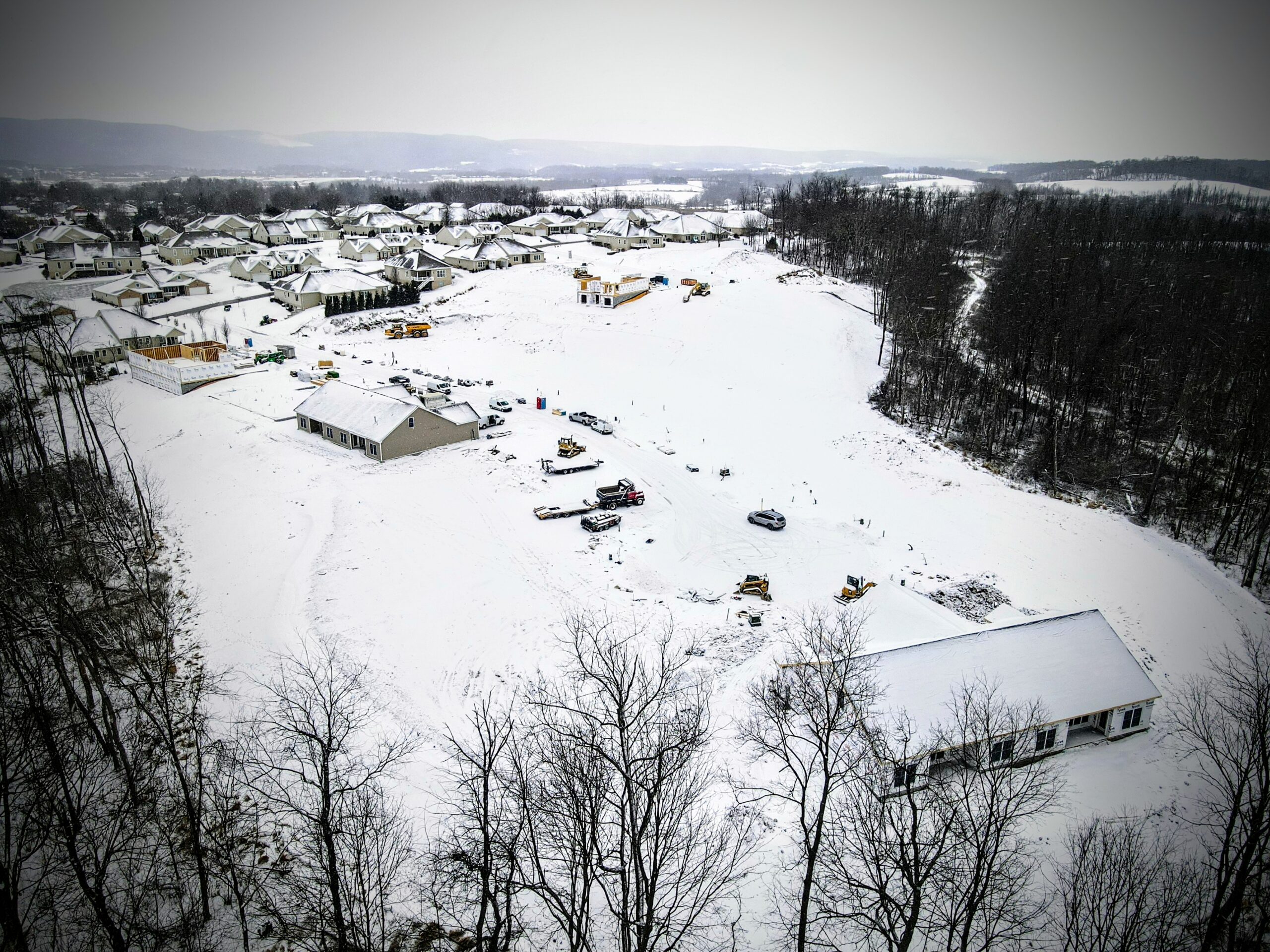 While all builders acknowledge the challenges Covid has presented, the overall consensus is that careful planning is key to the successful start and completion of today's home construction projects.  Dom Scalise noted that all phases of construction have been affected by Covid that have resulted in supply chain issues.  "We are still experiencing extended lead times throughout the process as well as labor shortages," he said.  "Fortunately, cohesiveness with the general contractor and his suppliers and subcontractors helps to minimize disruption and has not affected the quality or satisfaction for our clients."  He stressed that open communication and careful planning throughout all phases of the process are of utmost importance.  Jack Pellis considered these Covid challenges an opportunity to improve efficiencies as a building company, with his team working hard at sourcing materials and placing timely orders.  "The relationships we have fostered with both subcontractors and suppliers is a huge advantage in the current environment and a key to continued success," he said, citing examples of some challenges such as eight to 12 weeks for windows and up to 40 weeks for garage doors.  Adaptation has allowed Kacin Homes to meet building challenges.  "Lead times for certain materials have definitely increased, so delays and extended build times have been the result," explained Jason Corna.  "We expect delays in the current climate, however, and plan accordingly."  Darlene Hunter, Howard Hanna, has seen supply chain affecting the building industry across the board.  "Specific appliances, garage doors, specific windows and custom cabinets are just a few of the affected items often delaying closing," she said.  "Some builders are requesting the right to substitute items in their contracts or requiring closing if the home is substantially complete."  Ray Snoznik sums it up succinctly and simply:  Delays are happening but planning ahead is key with the market."  NH