Homeowners Customizing Living Spaces with Upscale Renovations
By Vanessa Orr
When it comes to making upscale renovations, most projects are only limited by the size of the lot, the investment a homeowner wants to make, and their imagination. While some homeowners may dream of an updated kitchen or bathroom, others may want a full outdoor kitchen with additional entertaining space. And then there are those who want to take the house down to the studs to design a completely new home customized to their dreams.
I can't think of a project where a client said what they wanted to do and we said no," says Dante Fusaro, vice president and director of residential construction for Phillip Wentzel Custom Homes (PWCampbell). "As long as the structural foundation is intact, most things are possible."
Interior Improvements
According to Fusaro, within an existing home, the kitchen is always the number one renovation that clients request. "Every house we touch gets a new kitchen," he says, noting that the average lifespan of a kitchen is about 15 years.
Kitchen renovations can include custom cabinetry work, adding upscale appliances, increasing the amount of entertaining space, or completely redoing the kitchen from top to bottom.
"When people have the kind of money our clients have, they never like the kitchen to begin with," laughs Mike Kelly, president, Aspen Valley Contracting Inc. "And because they have the money, they can create the vision of how they want to live."
Master baths are the second-most requested renovation, and most home updates also include replacing all of the doors and windows in a home.
"New windows and doors increase energy efficiency, and of the seven projects we've currently got underway, five of them are getting all new windows and doors, including interior doors," says Fusaro. "Clients want thicker, more robust doors and aluminum-clad, high-end interior windows."
Basement renovations are also gaining in popularity, with people adding game rooms or rec rooms for entertainment purposes.
"If the house doesn't have a finished basement, clients may request building the basement out significantly to include bar-type setups, entertainment spaces, exercise rooms, full baths and even extra bedrooms," says Barrett Hoskins, vice-president, Benjamin Marcus Homes. "A lot of people are also requesting theater rooms—we used to do a lot of those and now we're seeing a big resurgence, including adding stadium-style seating and huge projectors."
Speaking of electronics, many tech-savvy homeowners also want "smart" homes that can be regulated from their phones, which can control everything from the lighting to the security system to TV channels, window shades and more. The majority of these types of improvements are usually contracted out to companies that specialize in this area, since these systems need continual updating.
"When we're building from scratch, people want to add smart home devices, but that's not something that we get into," says Hoskins. "Technology is changing so fast that it doesn't matter what you get today; something better will be out there tomorrow. There are a lot of great systems out there that can be integrated into a home, but it's hard to figure out where to make that investment to stay in front of the pack."
Clients are also requesting upscale home additions, which are limited only by lot size and neighborhood or municipal regulations on how large a home's footprint can be.
"We've built everything from bigger entertaining spaces on the main floor, to great rooms, to spaces to hang out around the kitchen to breakfast rooms," says Hoskins. "We've also made kitchen decks into four season rooms to make them more accessible and open."
In addition to cosmetic renovations, purchasing an older home can also mean investing in the home's mechanical systems. These can include replacing boilers with forced air heating; replacing cast iron pipes with PVC and more.
"Some renovations are more difficult than others, which is why new construction is easier to manage," says Hoskins. "Unfortunately, buyers who purchase an existing home inherit some of the prior owner's problems, and you may not know all of them until you start construction. There can be a number of unforeseen issues when you renovate instead of buy new."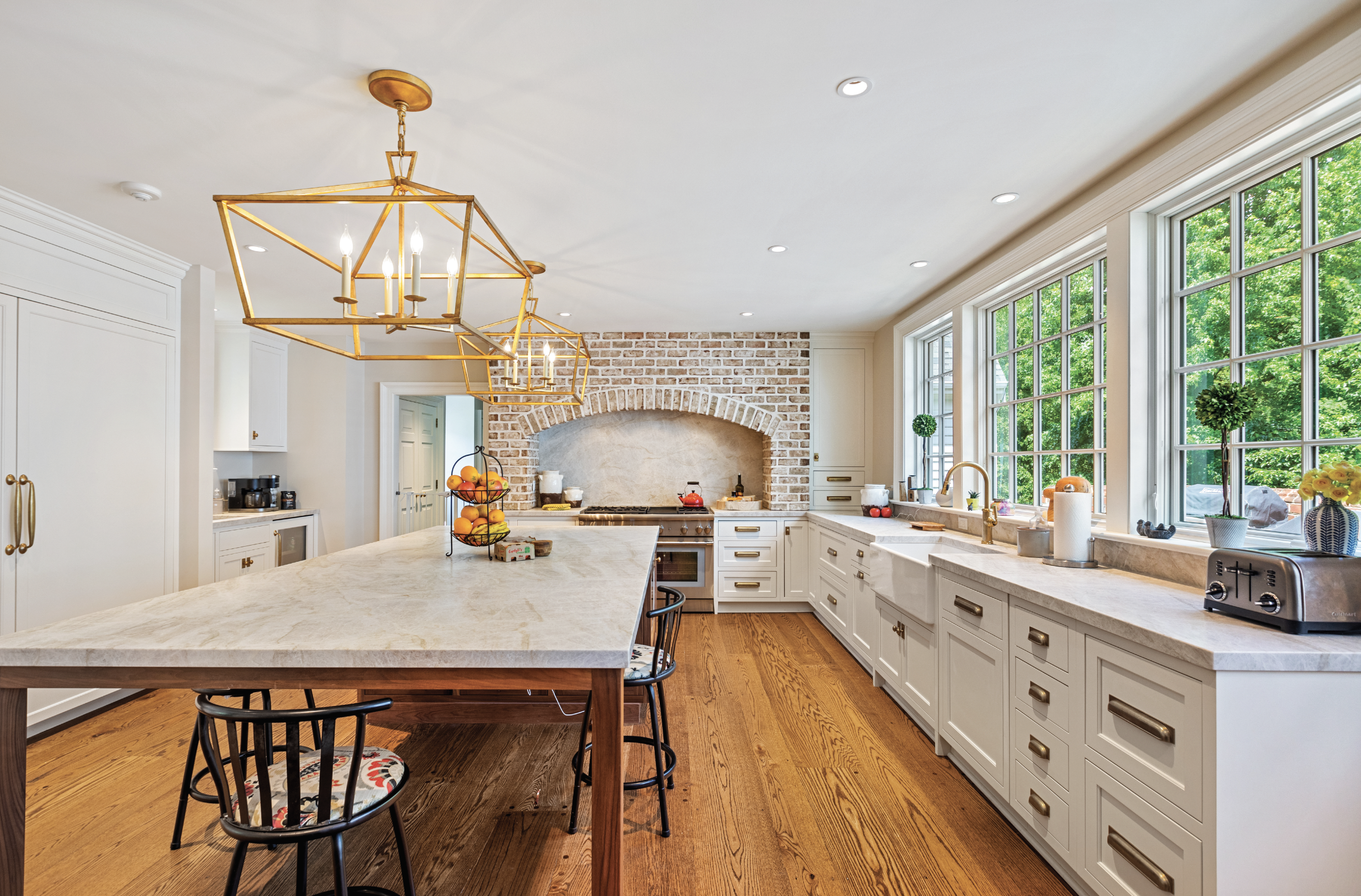 Whole House Renovations
Why stop at one or two rooms when you can renovate a whole house?
According to Fusaro, a lot of the renovation work that his company does is large-scale; very rarely do they get involved in just a kitchen or bathroom remodel. Projects include adding more square footage to houses, or removing interior walls to make more airy, open spaces that can be used for entertainment.
He gives the example of a project in Hampton where the house is being fully gutted and 400 sq. ft. of space is being added to create a four-seasons room. Another 400 sq. ft. is being added to create an outdoor porch. Previous projects have included adding between 1,000 and 2,000 sq. ft. to a home's existing footprint.
"What drives these types of renovations is the scarcity of land in neighborhood pockets like Fox Chapel and other high-end areas," he says. "People want two- to three-acre lots with privacy, and when there is not a lot of land available, they purchase older homes and tear them down or take on massive renovations.
"Their minds are made up before they purchase the home," adds Fusaro, who walks properties with clients prior to them purchasing the home to make sure that it is structurally intact and that their plans are feasible. "Most people that are purchasing older homes realize the investment they'll be making in renovation work. And more often than not, once they purchase the home, the renovation work starts quickly thereafter."
While there are still a lot of new construction projects going on in the Pittsburgh area, Hoskins says that many people want to stay in specific houses or at specific locations. Land may also be too expensive for them to build a home from scratch, or life circumstances don't make it possible for them to do a full move.
"A lot of times, it's just about liking your house or location, but wanting it to fit how you are living and working now," he says.
While Pittsburghers do want their homes updated, Hoskins adds that most homeowners here tend to lean toward the more traditional when renovating a home.
"Pittsburgh is always a little behind what's considered modern nationally," he says, noting that this is also true with new construction. "We're slightly behind what people do design-wise nationally, and in the use of different elements and colors, which changes about every three to five years."
Aspen Valley Contracting Inc. is currently in the process of two major renovations; one budgeted at $2.5 million, and the other at $3 million. Both are whole-house renovations that include site work and indoor and outdoor work, including the addition of patios and swimming pools.
"While one home is contemporary and the other is traditional, the one thing that they are looking for is quality across the board," Kelly says, noting that one of the projects is the third home that they've done for the client, who bought the home with the idea of a complete  renovation. "Generally, these clients have no idea what it will cost until it's done, so it takes a substantial bankroll to do this."
Is it Worth the Investment?
Upscale renovations aren't cheap; renovating an unfinished basement can cost $100,000, and simply putting high-end cabinetry into a kitchen may cost $200,000. Gutting a home and renovating the basement, kitchen, foyer, dining room and living room can run north of $1 million.
"The benefit of this type of renovation is that clients get exactly what they want," says Fusaro of gutting an existing home. "When you aren't constrained by working within the four walls that are already there and you gut it down to the studs, rather than getting 60 percent of the amenities you want in a new home, you get 95 percent of what you want through renovations.
"Rarely, when someone buys a new home do they love every facet of the house," he adds. "A lot of our clients are high-net worth individuals and they have the money to get what they want. Price is not their only motivating factor when making decisions: it is the relative value of what they get by spending that much money. And if it is valuable to them, they'll do it."
He notes that value is relative in the eye of the beholder. For example, while a brand new kitchen may increase resale value, adding 300 sq. ft. to create another bedroom in the home can be more important to the person who lives there.
However, while renovating a kitchen or master bathroom and updating it to current trends definitely adds value to the home, homeowners need to hold onto the properties if they want to try to recoup that investment.
"If they are willing to wait five years before selling it, these renovations can add tremendous value to the home," says Kelly. "But they won't get it back in under five years."
"More often than not, when I bring a realtor in after renovations, they say that the home has absolutely increased in value," says Fusaro. "And if the homeowner resells it after taking it down to the studs and then rebuilding, they're basically providing peace of mind for the next buyer that other than the foundation, they're buying a brand new home."
According to Hoskins, high-end clients tend to be less concerned with pricing themselves out of the market or seeing diminishing returns.
"People who like where they live want it to fit how they live," he says. "Most clients coming to us are making these renovations for themselves; not to try to make money by selling the home in a year. While our customer base is financially savvy and interested in making a good investment overall, they aren't doing these renovations as a way to increase the value of the house."  NH