Totteridge Golf Course Community
Patrick Cendes knew he had a gem in his hands when he and his investors purchased Totteridge Properties in Westmoreland County in 2015. The 550-acre housing development extending over two ridgelines is centered around a stunning 7,154 yard, 18-hole golf course built by famed golf course designer Rees Jones. However, in Cendes' opinion, the property was underutilized and underdeveloped, so he set out to transform a stagnant community into an aspirational one: Totteridge is dynamic and thriving, with an abundance of attractive amenities.
When Cendes came into the picture, there had been no new construction in a number of years. "Our team came in to Totteridge at an attractive entry point and instituted a turnaround for this development. A homeowners' association had been set up but there was not much activity in terms of construction. For us, we saw a tremendous amount of potential," said Cendes, who is the company's director of real estate. Moreover, the golf course had not been maintained very well, resulting in a domino effect of the real estate segment of the property not being appealing. His approach was to build something that complemented the entire golf course area in order to make the whole project successful.
Cendes knew that the golf course was a great way to bring in traffic but first he needed to "show that there was stability and confidence in the area with this new ownership team. To me, real estate isn't too complicated—it is supply and demand. There was demand for the area. It had community amenities and was an inviting place to live. Then the builders saw that there was interest," he said. That was a key factor that helped spark the momentum for the current construction boom.
Fast forward almost five years, and today, Cendes, is excited about what he has accomplished thus far, and he is eagerly anticipating the next segment of development.
"We're the fastest growing new home construction community in Westmoreland County," he said. He attributes the growth in part to the visibility of the owners and the commitment of management as well as their integration in the community as well: Cendes and his wife live in Totteridge themselves.
Amenities
Totteridge Properties is located in Greensburg, Westmoreland County in the Greensburg-Salem School District. The community is 12 miles from Murrysville and lies about 30 miles east of Pittsburgh with easy access to highways. It is also convenient to the University of Pittsburgh at Greensburg and to the Arnold Palmer Regional Airport, which is serviced by Spirit Airlines.
The focal point of the community is undoubtedly the lush golf course as well as the panoramic views from all of the properties. Although not everyone who moves into Totteridge is a golfer, Cendes implemented a promotion in which new residents received a one-year free membership to the practice range. "It's like having a park in your backyard! All of that resonated with a lot of people, as they liked the tranquil area," he said.
Cendes' company renovated the golf clubhouse to improve the kitchen and added in a new pro shop with new merchandise that appeals to golfers and residents alike.
"People want to feel like there's a sense of community," he said, noting that that feeling was lacking in previous years before he bought in. To rectify that, his company sponsors one event per quarter, which brings residents together and fosters that community-like feeling.
Other amenities include an exercise room, a pool and walking trails.
Development
When Cendes and his company took over in 2015, the residential development consisted of twelve duplex buildings and eight single-family homes.
Currently, there are two distinct communities that have been created by Cendes, which are served by two homeowner associations: The Villages at Totteridge and the Village of Banbury.
The Villages at Totteridge is a low maintenance, multi-family/villa community. Buyers can choose from several single-floor villa plans with a great deal of customization options. The Village of Banbury is a single-family luxury home area. Banbury buyers can choose from ranches, story and a half, or two floor single homes.
"The Totteridge community takes a British bucolic theme with the rolling green hills and links-style golf layout. Totteridge itself takes its moniker from a posh, countryside town outside of London. Each street and phase in the community has names of hamlets that are in the United Kingdom," said Cendes.
Both neighborhoods feature stellar views for all potential buyers, no matter where they choose to build.
Cendes began with patio homes at a lower price point to get some activity going but lately he's shifted his sights on introducing luxury villas. "Our recent approach has been to focus on the higher end buyer at this point, given that it's a golf course community," said Cendes. Price points for the patio homes start at $305,000, while the single-family homes start at under $500,000.
Since taking over, he has sold an additional 45 duplex units and 10 single-family homes. Last year alone, he sold 28 units: 21 duplex units and seven single-family units. As of this printing, there are three quick move-in luxury villas currently available.
Totteridge is a lifestyle community for all age ranges, though demographics for new buyers depend on the product. Luxury villas are often sought by families downsizing or by snowbirds who live half the year in Pennsylvania and the other half in warmer weather. Many in this demographic are attracted to 'stress-free' living, in that the homeowner's association will take care of such chores as snow removal and lawn mowing.
Builders Perspective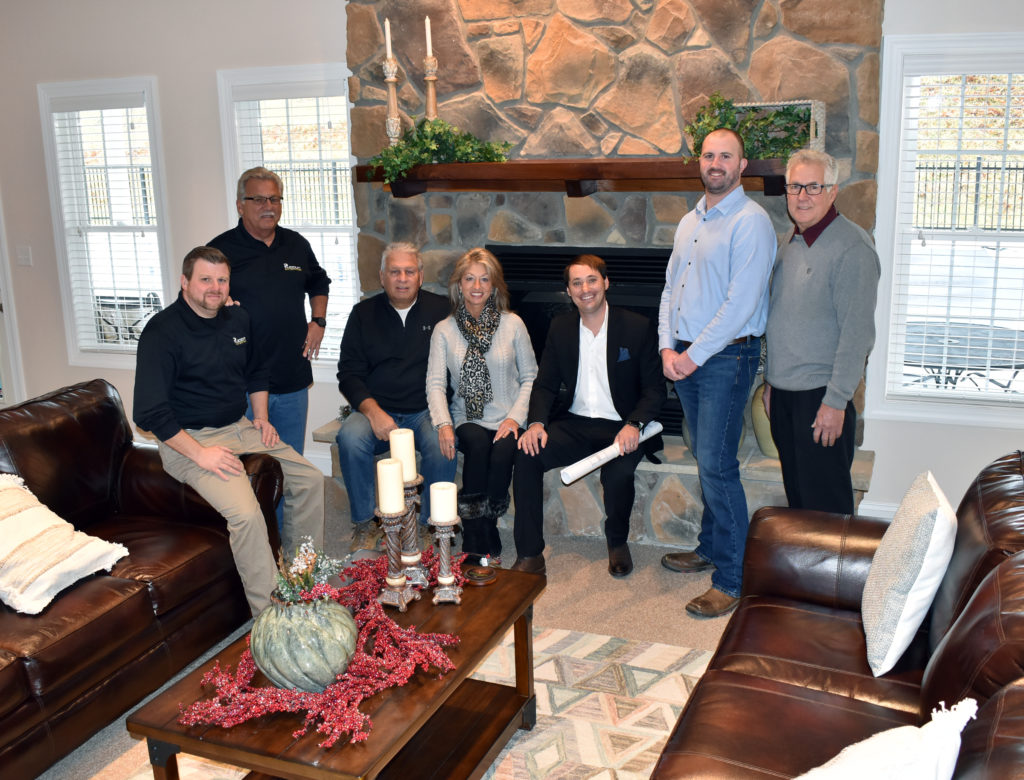 Since Cendes has been at the helm, Totteridge has experienced a flurry of development: five builders have come aboard to construct a variety of new homes in the plan. These include All Star Homes; Dennis Henry Contracting; MK Homes; Stonecrete Builders; and Ricciuti Enterprise, Inc.
Although the homes are diverse, the properties are in sync from a design standpoint. "Quality is the number one factor I was looking for in a builder," he said, adding, "We're now at the point where builders are calling us to get involved with the community, which is a nice transition from doing cold calls."
One such builder that has recognized the potential for tremendous growth at Totteridge is All Star Homes. Spearheaded by Chuck and Jeanine Wiggins, the company is based in North Huntingdon and specializes in custom home design.
In one year, All Star Homes' contribution to Totteridge has been the construction and sale of ten luxury patio homes on five lots on a quiet cul de sac called Bellefield Court in the Villages at Totteridge. The entire street overlooks either the golf course or the ridge; either way, the scenery is spectacular and is a big draw for buyers, many of whom are empty nesters.
The company offers two different models, explained Jeanine Wiggins.
"The most popular is The Luxe. It has a side entry that allows for a beautiful flow of the open floor plan. It has a grand, two-story entrance with a beautiful staircase up to the loft area," she said. The main living area is 2,100 square feet and includes a first-floor master bedroom. The selling point of these models is usually the 560 square foot loft. The loft features a bedroom, bathroom, living space, and an area for storage that some customers convert into an office, exercise space, or even a wet bar.
The other model is called the Preston. It's a spacious 2400-square foot ranch that features an open floor plan with large, bright windows. The Preston could be a 2-3 bedroom-unit, depending on how the homeowner wishes to set up the space.
Both models have formal dining rooms and feature large walk-in showers.
Wiggins said that these patio homes appeal to the customer who wants to move from a large family home but does not want to give up space nor desires apartment living.
She said that after a period of stagnation, Totteridge enjoyed a resurgence due to the products that were brought in, the quality builders available, better marketing, and new ownership. "When the new ownership took over, they totally changed things around by getting in a good product and making a lot of improvements," she said. "The golf course is very well maintained and is considered one of the top golf courses in the area; there are not that many golf course communities around that offer the nice homes that Totteridge offers."
As a testament to how much the Wiggins' believe in Totteridge, they decided to build their own ranch home at Totteridge in the Village of Banbury, a development in which they are one of three approved builders.
Another custom builder on board is Ricciuti Enterprise, Inc., headquartered in Plum. "We initially were invited into the plan by the previous owners of Totteridge Properties, coinciding with their sale of the golf course and property to Patrick and his partners. We were excited to be invited to revitalize a development that had been stagnant for so long and saw great potential for a patio home market in this community, with its offering picturesque views, maintenance-free living, the amenities of a clubhouse with gym and obviously being on a golf course," said Dom Ricciuti Jr., part owner and vice president.
The company broke ground in 2015 on the first attached unit. They only had one sale in 2016 but they were optimistic that the word was getting out about the growth of the development. Indeed, sales increased each year; they've sold 26 units to date, including several single-family homes in Banbury. For 2020, they currently have a total of six units under agreement.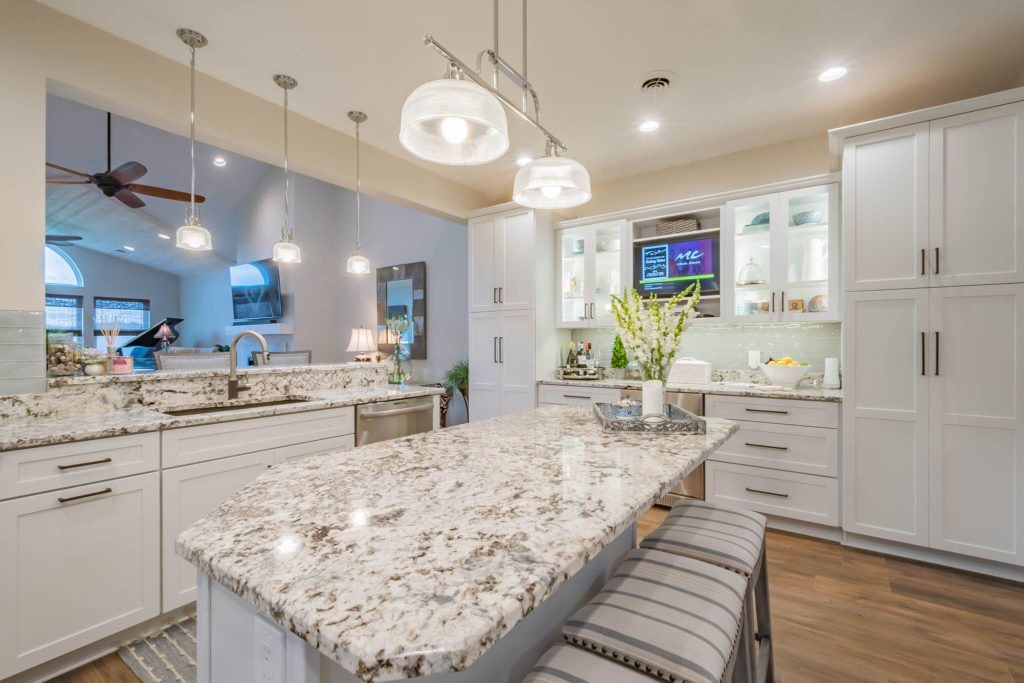 The attached patio homes offer just under 2,000 square feet of living space with an optional sunroom feature, with three bedrooms, two bathrooms, and a two-car garage.
"The unit features all one level living and has a great open floor plan. Our customers can also custom design their interior finishes, kitchens and baths with different design options. The base price of our units is $305,000. This product has also won the BAMP (Builders Association of Metropolitan Pittsburgh) Housing Excellence Award for Best Single-Family Attached Home of the Year in its category in 2018 and 2019," said Ricciuti.
Ricciuti added that he is excited to have an opportunity to work with the developer and customers on custom-designed single-family homes in Banbury as well. "We are very proud of our involvement in the success of the Totteridge community, to date. We look forward to working with the developer on future growth at the community," he said.
Financial Perspective
Gregory Boyd is the V.P. Commercial Real Estate Lender for NextTier Bank and provides financing for a portion of the Totteridge project, with plans to assist with the financing of future lot development. His residential mortgage team is also assisting buyers with financing of completed homes.
Boyd met Cendes through mutual friends. "I always had a good feeling about Patrick becoming a successful real estate investor and developer. He's a young guy with a bright future ahead of him," said Boyd.
Like many other residential development projects, Totteridge was negatively impacted from the effects of the recession, but Boyd believes that Cendes' came in at the right time and with a good vision for a vibrant golf course community.
"I am impressed with how quickly Patrick and his team have turned around what was previously a stalled project, and have generated construction activity and home sales in a relatively short period of time after acquiring it. Patrick has teamed up with good builders that are delivering a high-quality duplex product with landscaping and snow removal services as part of the program. There are also several single-family homes under construction with terrific views of the golf course and surrounding countryside," said Boyd, adding that he believes the quality of the community as well as its golf course and amenities will continue to improve under Cendes' leadership.
"As they continue to gain traction with builders and home buyers, the community should continue to grow and improve every year, continuing to add value to the Greensburg area."
Homeowner Perspective
Dr. Nicholas Senuta, a chiropractor with offices in Latrobe and Greensburg, lived in a nearby community with his wife. As empty-nesters, he and his wife realized that they no longer needed their 4,500 square-foot home, but they still wanted to live in a spacious house that was more suitable for two people.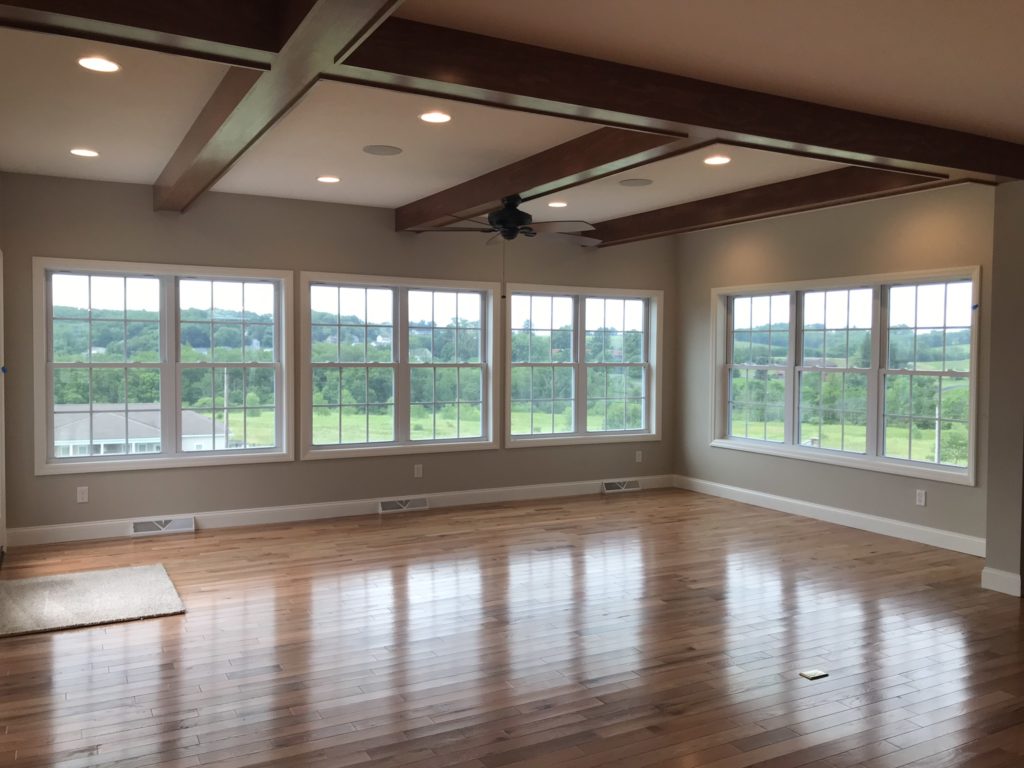 Senuta was quite familiar with Totteridge, having played golf there on numerous occasions. "I've observed Totteridge for many years," he said. In his estimation, it was one of the most beautiful areas around, with its picturesque views and deep lush greens, so it made sense to move to the community. He looked at other developments in the area but none had quite the same curb appeal, and many were overpriced for less quality.
Senuta initially bought a home in Totteridge but never moved in, as he and his wife realized it was too small for their needs. They ended up renting it and eventually selling it. Then, when Cendes came into the picture and started to redevelop Totteridge, Senuta saw how quickly houses were being built. "Once they started breaking ground on certain cul de sacs, the units were being sold before they were even built. They were being sold out almost immediately; that is how fast it was moving," he said.
"I kept watching, and when the right cul de sac came into existence with the right view, we knew we were going to do this," he continued. Once Senuta and his wife found the lot, the back of which overlooks the first fairway and green, Senuta contracted with All Star Homes to build a brand new 3,200 square-foot patio home in the Villages at Totteridge.
"We did not down-size, we mid-sized," joked Senuta. "The unit was big enough, spacious and beautiful inside. We consider this our beach home on the golf course; it's gorgeous," he said.
For Senuta, the building process was a joy from start to finish as the builders were very accommodating, agreeing to every decision. "We made changes in the floor plan and made it to customize our needs. Everything you can think of in this home, we picked out. It was not our first time working with a builder, but it was the best time," he said.
The result was an open floor plan with grand views the whole way around. "There is lighting throughout. Even on a dark, dingy day, the home feels lit up," he said. The home features Cathedral ceilings, big open windows, a first-floor master bedroom and bath, and a loft upstairs.
"People walk in here and it's like a wow factor," he said.
Besides appreciating the beauty of his new home and scenic surroundings, Senuta enjoys being part of a community and has taken advantage of the pool and clubhouse, and naturally, the golf course. "It has a nice community feel. The neighbors are extremely friendly. The community has gatherings, such as an autumn fest and a Christmas party. It is like being on vacation," he said.
Another bonus for Senuta is the proximity to his office, shopping, restaurants, and to major highways.
And although he has not experienced any issues with his home or with being a Totteridge resident, he knows that he can just make a quick phone call and any problem will be resolved immediately.
"I don't know if there is anything growing as fast in Westmoreland County than this place," he said, adding he's already recommended Totteridge and his builder to others seeking to build a home.
More To Come
The initial success of the first phases of development spurred the company to continue, full speed ahead.
In the summer of 2019, Cendes invested in purchasing an additional 20 acres to accommodate 40 new multi-family units.
"In that new phase, we are going to initially release approximately 20 new units, which will be fully developed and marketed by Spring 2020. This new phase will be steps away from the recently refurnished resident pool/clubhouse/fitness area," said Cendes. It will be part of the Village of Totteridge and will have a unique entrance. It will also continue with the British theme, as he has named the new streets after British towns.
Given the demand, Cendes said he will be building duplexes similar to the current units. "We started marketing the current areas in August 2018 and are about 75% sold out. The new phase will be opening up in Spring 2020. There are only five homesites left in this phase, which is in close proximity to the golf clubhouse," he said. He forecasts that the new phase will be sold out by the end of 2020.
Cendes' long-term plan is to continue to fashion Totteridge into an aspirational community going forward. "With the community growth, its amenities and peaceful countryside, Totteridge is a unique place for young families, those looking for a retirement dream home, or someone who wants to wake up every day to go golfing." NH