Pittsburgh is more than welcoming to young professionals seeking remote career opportunities.

 

With major employers like PNC and US Steel, it makes sense that Pittsburgh is one of the best U.S. cities for jobs and a cost of living well below the national average.

 

Three top reasons for living Downtown include the desire to live in an urban environment, proximity to work and walkability.

At a more elemental level, an educational site published by National Geographic (education.nationalgeographic.org)  reinforced the same rate of growth, also pointing out that this growth is a result of natural increase translated as births to those currently living in cities, but also acknowledging that continuing migration from rural to urban areas plays a prominent role in growth as individuals seek out new opportunities.  On a national level, the U.S. Cities Fact Sheet (css.umich.edu) cites an estimated 83 percent of the U.S. population currently lives in urban areas, an increase from 64 percent in 1950, and by 2050, an increase to 89 percent is on the horizon.  Pennsylvania, and Pittsburgh in particular, are not immune to this growth, with the accolades for Pittsburgh living mounting in 2022.  Among 150 metro areas across the United States, Pittsburgh ranks 26th in Best Places to Live, #1 in Best Places to Live in Pennsylvania, and #6 in Cheapest Places to Live according to realestate.usnews.com rankings.  Further, a 2022 Niche.com national survey rates Pittsburgh as the #1 Best Cities for Young Professionals (out of 228 cities), #18 Best Cities to Live in America, and #21 Cities with the Lowest Cost of Living in America.  Suffice to say the ingredients for a satisfying and successful lifestyle await those pondering a move to our fair city.  Darlene Hunter, Vice President, Regional New Home Manager, New Home Division, Howard Hanna Real Estate Services, views Pittsburgh continuing its emergence as a new revival.  "The Strip District and Lawrenceville areas still carry the energy of growth and excitement," she said.  "Other areas such as the Oakland corridor and the Northside are brewing new projects and growth.  The plans for Oakland include partners such as Carnegie Mellon University and UPMC, and are excitingly ambitious and will create an abundance of jobs and future business opportunities."  She believes Pittsburgh still offers a quaint, urban feel and attracts urban dwellers from other parts of the country as they seek to relocate.  "We offer competitive rents and housing compared to other parts of the country along with big city amenities."  Indeed, Pittsburgh is comprised of 90 distinct neighborhoods and, according to livability.com, is one of the most affordable markets in the country for a city of its size. An extraspace.com/blog/moving (October 21, 2022) placed Pittsburgh in its top 11 Best Cities for Young Professionals noting that "Pittsburgh is more than welcoming to young professionals seeking remote career opportunities, with major employers like PNC Financial Services, PPG Industries and Alcoa, it makes sense that Pittsburgh is one of the best U.S. cities for jobs and a cost of living well below the national average."  In a recent 2022 Downtown Resident Survey conducted by the Pittsburgh Downtown Partnership (PDP), three top reasons for living Downtown surfaced including: (1) the desire to live in an urban environment; (2) proximity to work, and (3) walkability.  Further, survey respondents also considered the top positive factors of living in Downtown to be: (1) walkability; (2) convenience; (3) bars and restaurants; (4) activities and events, and (5) arts and culture.  "The Golden Triangle, the Central Business District and the urban downtown core of Pittsburgh, is the most exciting neighborhood at the heart of one of the most dynamic cities in the country," remarked Cate Irvin, Director of Economic Development, Pittsburgh Downtown Partnership.  "Living in Downtown Pittsburgh means living in the center of it all — world class theatre, nationally recognized dining destinations, historic architecture, professional sports teams, beautiful parks, and the energy of urban living all right at your doorstep."  Pittsburgh, indeed, is not without a plethora of amenities.  Darlene Hunter pointed out that those living in the city love their theatres, culture, education, music, sports, fine dining, boutique shopping and "the beautiful city of Pittsburgh offers it all in an affordable, attractive package.  Let's not forget our beautiful rivers, boating, kayaking and other water sports that our rivers provide.  I think the appeal is to all age groups, something for everyone."  Kathryn Schlesinger, Senior Mobility Project Manager, Pittsburgh Downtown Partnership, agreed that the dense layout, walkability of the neighborhood, and plentiful amenities make Downtown "the perfect neighborhood for all ages.  Downtown offers the most big city vibes and is an easy neighborhood to get around without a car, making it very appealing for everyone, from young professionals to active retirees."  Within blocks is the Cultural District chock full of theatres, museums, the symphony and more with casual and formal dining, retail shops, festivals, sports venues for the Pittsburgh Steelers, Penguins and Pirates equally nearby.  "Since Allegheny County's public transportation system, Pittsburgh Regional Transit, is currently designed as a hub-and-spoke system, over 80 percent of all bus service converges in Downtown," Schlesinger continued.  "Pittsburgh also offers a publicly owned and managed bike share system and launched electric pedal assist bikes in May.  Irvin also reported that, in the past 10 years, over $1.9 billion has been invested in improving the Golden Triangle and more than 3,200 new residents have moved in, including young professionals, empty nesters, families and students, all making Downtown Pittsburgh their new home.  With estimates drawn from the U.S. Census Bureau, the American Community Surveys and internal data from the Pittsburgh Downtown Partnership, the current Golden Triangle population is approximately 7,000 residents, with an additional 14,633 living in the surrounding neighborhoods consisting of Uptown, Strip District, South Shore, North Shore and the Lower Hill.  According to the Pittsburgh Downtown Partnership State of Downtown: Downtown Resident Report, November 2022, "Residential occupancy rates began to rebound in the first quarter of 2021 and have continued to improve or remain relatively steady even with the addition of 1,864 new units, demonstrating the ability for the Downtown market to absorb additional inventory.  The Golden Triangle market has rebounded to pre-pandemic levels, with the occupancy rate climbing from 86.1 percent in the second quarter of 2021 to 91.9 percent in the third quarter of 2022, while adding nearly 900 units."  And, while Pittsburgh is touted as affordable and highly livable, how does that translate in terms of numbers?  Irvin shared that Downtown Pittsburgh rents tend to be on the upper end of the spectrum in comparison to the region as a whole, with the average rent in Greater Downtown at $1,393 for a studio apartment, $1,666 for a one-bedroom apartment, and $2,132 for a two-bedroom apartment.  "The rents range by neighborhood and building type," she explained.  "When looking at six of the most recent premium apartment projects in the Golden Triangle, representing 896 total units at 93 percent occupancy, the average rent for a studio is $1,649, $2,072 for a one bedroom, and $2,391 for a two-bedroom apartment.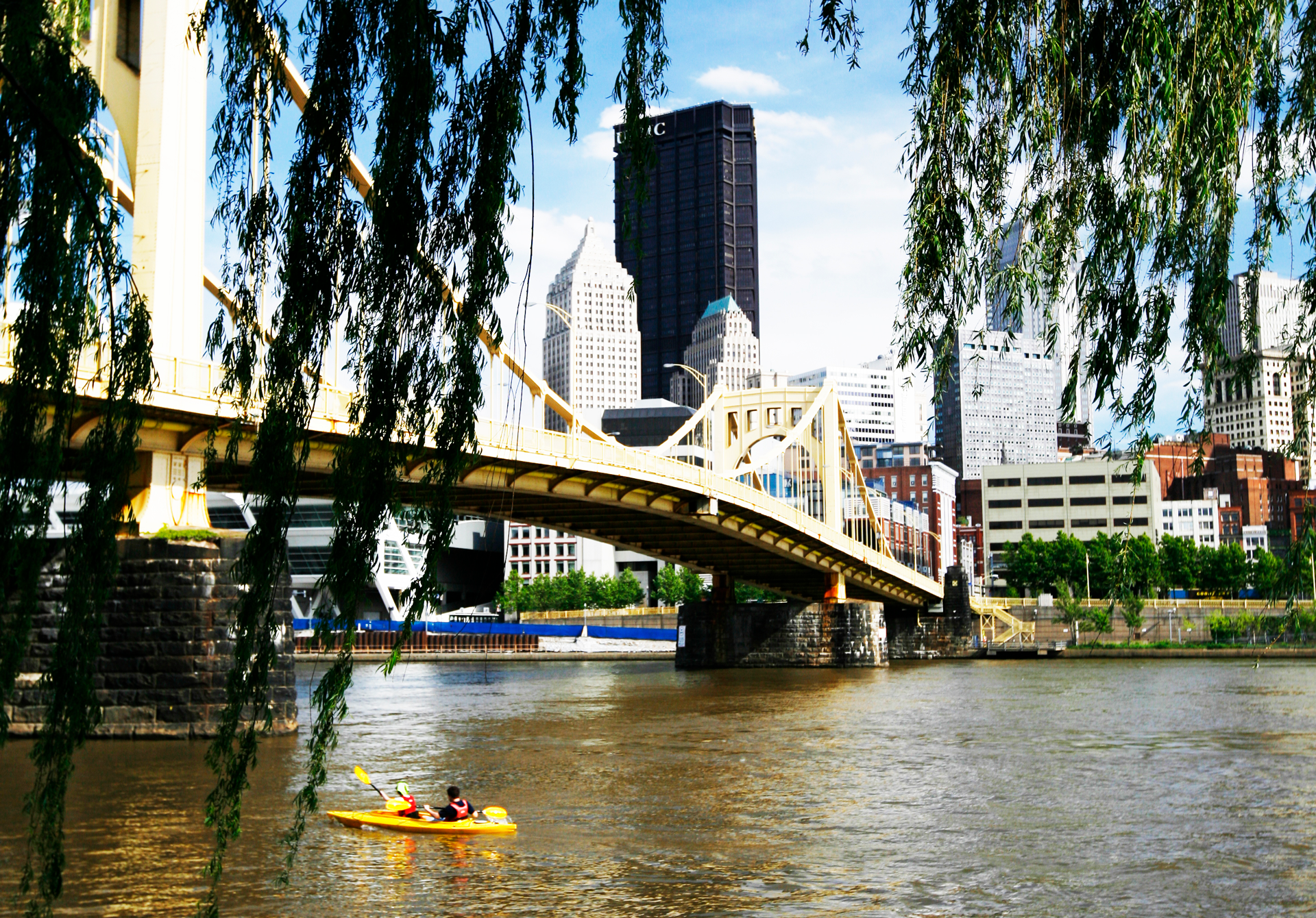 An August 6, 2022 Tribune Review article reported that some 80 large construction projects were underway or in the proposal stages ranging from office space to affordable housing, multi-use retail sites to hotels, apartments, upgrades to existing facilities, and more, with the Strip District leading the way.  "There are a number of apartments emerging in the Strip District," Darlene Hunter stated.  "Hullett Properties is proposing to build a 179-unit apartment complex at the former lampshade warehouse site at 50 26th Street, a project recently approved by the Pittsburgh Planning Commission."  She continued that the complex will offer a rich amenity package featuring a pool, lounge and retail shops.  At 2926 Smallman Street, Penrose Advisors is preparing to erect an 84-unit apartment building at an old filling station for gas powered vehicles, with the design phase started in October.  "The newer apartment complexes generally include state-of-the art facilities resembling amenities and services that many home ownership condominiums also provide," she added.  "One of the newest apartment complexes, Helm on Allegheny, features traditional apartments with inspiring river views, affordable options and co-living neighborhoods."
Cate Irvin offered that residential growth is a major development focus in the Greater Downtown area, noting that there are more than 9,000 residential units in the Greater Downtown area, with the largest percentage concentrated in the Golden Triangle, followed by the Strip District.  "The majority of available units in the Greater Downtown area are rental apartments, with condominiums making up 15 percent of the existing housing market," she affirmed.  "Over the past 10 years, we have seen 44 new residential development projects that have welcomed nearly 8,400 new residents to the Greater Downtown, with 23 office-to residential conversions that have breathed new life into some of the Golden Triangle's beautiful historic buildings."  She expounded that 6,030 new units are in the pipeline including 1,350 units under construction and another 4,680 planned or conceptualized.  Among the projects in the pipeline is the Brickworks, a highly anticipated development on vacant property located at Smallman Street.  Owned by Chicago based McCaffery Interests, this eight-building project will feature 224 apartments and 60 townhouses.  Further, the Pittsburgh Penguin's plan for the Lower Hill Development that includes Midpoint's City Edge planned development, will have the Lower Hill adding more than 1,400 new units to the neighborhood over the next several years, Irvin and Schlesinger added.  They also have found that, across the country, cities are grappling with the evolution of their central business districts given the pandemic's effect on work patterns leading to a decrease in daily downtown activities, a work from home scenario, and shifting commuter patterns.  "Commercial districts with little to no residential presence saw a drastic drop in daily activity, while mixed-use neighborhoods fared much better," Irvin added.  "The adaptive reuse of older office buildings has been slowly occurring in cities for decades, but the pandemic has accelerated interest and funding for these types of conversions."  Both also pointed out that many of Pittsburgh's historic buildings are no longer viable as offices due to the aging infrastructure and decreasing vacancy rates.  "Investments in a mixed-use Downtown will create a more resilient and vibrant city center," Schlesinger added.  Darlene Hunter is also witnessing this type of conversion, given a demand for "right-sizing" by many buyer profiles for homes in the city where existing buildings and warehouses can be converted affordably into condominium housing units while keeping the historic charm and integrity of the building alive.  A recent example is the 31st Street Lofts, an historic building dating back to 1871, which served as a turn-of-the-century schoolhouse.  "From schoolhouse to ultimately 14 residential apartments, Bonn McSorley is converting these units proudly to luxury condominiums to hit the market in 2023," she said.  "But, conversion of these types of properties and historic facilities doesn't come without the challenges of working within the parameters of existing construction and bringing the building up to current city building codes."  Howard Hanna Real Estate will serve as the marketing team for the 31st Street Lofts project.  She also emphasized that the profile of a renter versus that of a buyer has its differences.  "Those who elect the rental option are often 'testing the waters' because they may be unsure of their length of employment, where in the Pittsburgh market they want to settle, or are just not prepared financially to make the home ownership investment," she explained.  "The beautiful array of rental choices in the city affords a good selection and variety."  Further, she noted that Pittsburgh's Innovation District of Oakland is also moving forward with development plans by its anchor institution. An August 6, 2022, Tribune Review article reported that projects in Oakland in the pipeline are running upward to $100 million.  Those projects include university housing, research centers, athletic facility upgrades, and major hospital projects, the largest of which is a UPMC Presbyterian Hospital tower with a $1.5 billion price tag.  Carnegie Mellon University, Carlow University and the University of Pittsburgh also have upcoming projects planned.  As for living space in Oakland, Walnut Capital has proposed a large residential building plan focused on those working in the area or moving there given the level of professional work opportunities rather than student housing.  "Walnut Capital will be developing approximately 13 acres from Forbes Avenue and across the Boulevard of the Allies and Halkett Street for its Oakland Crossing project.  It will be a mixed-use development with a plan for 1,000 residential units," Hunter added.  One of the project's goals is providing residential living at market rates for employees of the area's institutions as well as others working in the area, along with affordable housing.  Proposed plans also encompass wide sidewalks, a small park, retail shops and a grocery store, giving the area a true neighborhood feel.  To date, Walnut Capital is looking toward a potential groundbreaking within the late first quarter of 2023.
Many of the proposed and recent developments are based on current market rates however, affordable housing has risen as a true need throughout Pittsburgh. To meet that need, Mayor Edward Gainey announced the Downtown Pittsburgh Pilot Conversion Project in April 2022, a joint effort among the City of Pittsburgh, the Urban Redevelopment Authority of Pittsburgh (URA), Allegheny County and the Commonwealth of Pennsylvania.  The purpose was to facilitate more office-to-residential building conversions thereby allowing for more housing units, including affordable workforce housing.  This past September, the City of Pittsburgh Planning Commission voted to recommend the approval of this legislation that "would eliminate existing residential density restrictions and streamline the approval of multi-family residential developments in Downtown" according to the Pittsburgh Downtown Partnership.
More Options on the Horizon
Innumerable residential projects have been proposed, are going before the Pittsburgh City Council and others for approvals, or are underway with options for all.  Many are in the Golden Triangle while others, as Darlene Hunter noted, are currently in the planning phases in Pittsburgh's North Shore and Uptown neighborhoods.  Below are just a few more of the many proposed, helping to continue Pittsburgh's trend as one of the most livable cities in the nation.
Easter Seals Building, 2525 Railroad Street
Owned by Oxford Development Co., the property will be part of Oxford's Three Crossings development and will feature two, new office buildings as part of its mixed-use plan that includes a 300-unit apartment project called The Yard.
GNC Headquarters, Sixth Avenue
Bought by Victrix LLC and includes 254 apartments.  The plan includes retail stores and services on the first floor, a rooftop amenity space, some parking for cars and bicycles.
Iron City Brewery property, 3234 Liberty Avenue
The former building here held the Sunshine Biscuit Co. and sits near the Polish Hill West area, touching other close sections of town. An RDC Inc. project, Brewer's Block, as it is known, offers a wide range of amenities such as a rooftop pool and deck, a clubhouse with a lounge, game area and bar, fitness center, yoga room, climbing wall, bicycle and residential storage, dog park and much more.  Following phase one will be a second phase to be completed in 2023.
Post Gazette Building, Boulevard of the Allies
Owned by DiCicco Development, the company is considering many potential uses for the building including apartments as part of a mixed-use conversion.
YWCA of Pittsburgh Building, 305 Wood Street
City Club Apartments, LLC, developing 300 units in its City Club Apartments, of which 10 percent will include affordable, studio apartments. Plans include a rooftop pool, a two-story restaurant, and a health club.
Generally speaking, how will continuing development affect the city?  While hard to predict given outside variables such as the economy, population shifts, buyer demands and desires, growth and revitalization can serve to enhance not only the city, but the region.  Darlene Hunter believes that as Pittsburgh continues to grow with projects such as the Oakland expansion, "what else could result but an influx of talent of all varieties from across the country.  Because of the types of technical, scientific and medical opportunities that will emerge, I would think that the 30 to 50 age group would be most attracted to the employment opportunities here."  Members of the Pittsburgh Downtown Partnership also look toward the repurposing of historic office buildings as a means of building preservation as well as breathing new life into the city.  "Through the preservation and conversion of historic buildings, famous Downtown icons, such as the Kaufmann's clock, are no longer just welcoming shoppers, they serve as a beacon for new residents calling this building home," said Irvin.  "With the opening of Target on the ground floor, the building once again welcomes shoppers to the iconic former department store, while the upper floors are home to new residents.  Converting downtown buildings into residences creates a more resilient community, supporting a new mix of retail and services while complementing the office and hotel markets that have thrived in Downtown for generations."  NH