The Convenience of Townhome Living Meets the Amenities of a Single-Family Home
Moon Township's only new luxury townhomes are making a splash in the Pittsburgh region, not only for the community pool to which all homeowners have private access, but also for the other, incredible amenities the property offers. Village at Marketplace is referred to as a "resort-style" community for a reason.
Village at Marketplace is referred to as a "resort-style" community for a reason. The feel of the homes are vacation-like, largely because of the open concept main floor and the option of a bonus covered outdoor living area. There's access to biking and walking trails which, for buyers with an active lifestyle, is a great timesaver. Lawn service plus mulching is included—another key timesaving factor for folks looking to maintain a low-maintenance lifestyle.  
Location, Location, Location
The real estate cliché "location, location, location" is completely applicable in the case of this new townhouse development. The address provides quick access to the airport, to I-79, and to I-376—all major Pittsburgh routes. Homeowners also enjoy a (no exaggeration) 5-minute drive to Robinson Center shopping which includes a retail mall, grocery stores (including a giant Giant Eagle Market District), many restaurants and brewhouses, a movie theater, the region's only Ikea, and all the popular big box stores.
Brittany Manno, Sales Manager for Heartland Homes, believes that Village at Marketplace is perfect for so many reasons—namely the location, the quick access to amenities, and the school district. She emphasizes the Village's ideal location for Pittsburgh living, since homeowners gain quick access to the airport and major routes while situated so close to any store or service they may need. They also have the real advantage of residing in a true community, where residents can enjoy trails and green space outdoors and share great resources such as the pool and clubhouse–all without leaving the neighborhood. Having wooded trails nearby and access to walking and biking trails is special. Says Brittany, "Living here is great because you get both the urban and suburban experience." 
She wants potential residents of this plan to know that they would be investing in a great opportunity and will be in good hands with the process of buying and settling into a new home. Having worked with other companies, she sees firsthand how Heartland Homes focuses very heavily on the client—providing excellent customer service as well as managing and delivering on client expectations. 
In terms of energy efficiency, Brittany explains that each design factors into this important priority: "These plans have been individually thought out and in these units, Nest thermostats are included." The lower a HERS score, the more energy efficient a home is, and a new Heartland Home is in the top of its class for energy efficiency and greater cost savings. 
Perspectives from First Time Home Buyers
First time, new home buyers Jignesh and Natasha Patel can vouch for the townhome's ideal location: "We both are Pittsburgh transplants, and location was the most important factor in choosing our new home. School and work brought us here, and we needed to find a good happy medium with our commutes. Location helped narrow down the area, and so now, neither person has a longer commute than the other."  
Location, price and the option to customize were the biggest reasons they chose Village at Marketplace. Says Natasha, "It checked all the boxes. Being close to the airport is a perk, as we hope to travel more. It will make traveling so much easier. We love being close to the parkway and the Robinson Shopping area."  
As busy professionals, they both talked about how the Village at Marketplace met their needs fully. They enjoyed customizing their new home, appreciated the tier system that Heartland Homes offers, and found that the overall process, which can be daunting, actually turned out to be a smooth buying experience.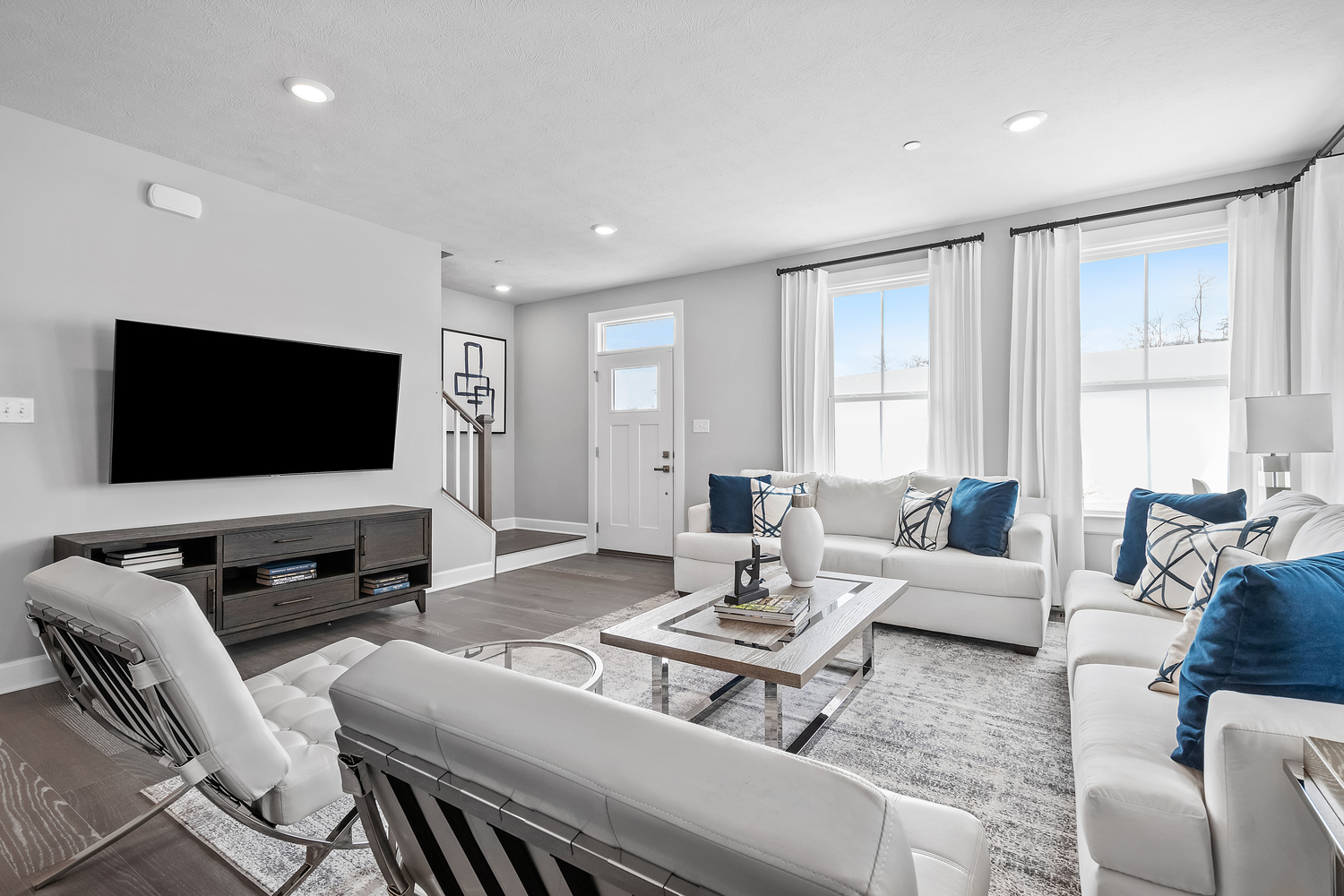 Customizing A Townhome: "Your Personal Pinterest Board"
Natasha says, "It was like watching my own Pinterest board come to life. I really enjoyed the customizing process. Even though it's a large development, and the exteriors look similar, the ability to customize the home made it personal for us. I really liked Heartland Homes' tier system which made it able to control our spending, and to assess and evaluate where we wanted to splurge. It was really important for us to have that first-floor kitchen/living area. That's where we are going to be entertaining people. We assume that guests will spend 90% of their time here, and we probably will as well—so it was great to be able to make that space as grand as we wanted". 
They found Stefanie Cope and Randi McGovern—the Heartland Homes' sales agents they worked with— to be extremely helpful. The couple appreciated how transparent Stefanie and Randi both were, in terms of practicality, use, and the cost of customization. Natasha relates her experience: "As a first-time buyer, I would say that the process itself has been very easy. From the standpoint of expectations–everything from the amounts, to the timeline, to letting us know about any changes— we've always been kept in their communication loop. The whole process was streamlined. It didn't feel as scary as it seemed in the beginning."
She continues, "Even though we chose a townhome, there is a single-family vibe to our place. Being able to choose what type of flooring, what type of countertops, the color of the cabinets was nice. If we bought a pre-owned home, we wouldn't have even had the choice to think about what we wanted. There's not a part of our home that we customized that we don't absolutely love, because we had 100% control over it."
Jignesh too enjoyed the fact that they were able to pick and choose elements, but not having it be a fully-customed design: "We found a really cool balance where I felt we could make some key decisions together about what we wanted in our dream house—without feeling the burden of designing this thing from scratch while working full time or being a full-time student." The amount of time required to walk through all the details felt just right for the Patels. He adds, "the fact that we chose a project starting literally from the dirt was interesting. From a financial standpoint, it was great to jump in early." 
Jignesh summarized the homebuying process: "The best word I would use to describe it was 'smooth.' Both Randi and Stefanie were very straightforward, which kept things simple. Also, they were willing to provide their professional judgment, which was helpful because they have an understanding of how a home can be laid out and how rooms are oriented. It was nice to receive that feedback."
The Patels will move in this upcoming summer. What do they most look forward to once they move into their new home? "Mainly, we can't wait to host friends and family when they come to visit," says the couple. "Accommodating family from out of town and giving them a spot to sleep comfortably will be nice."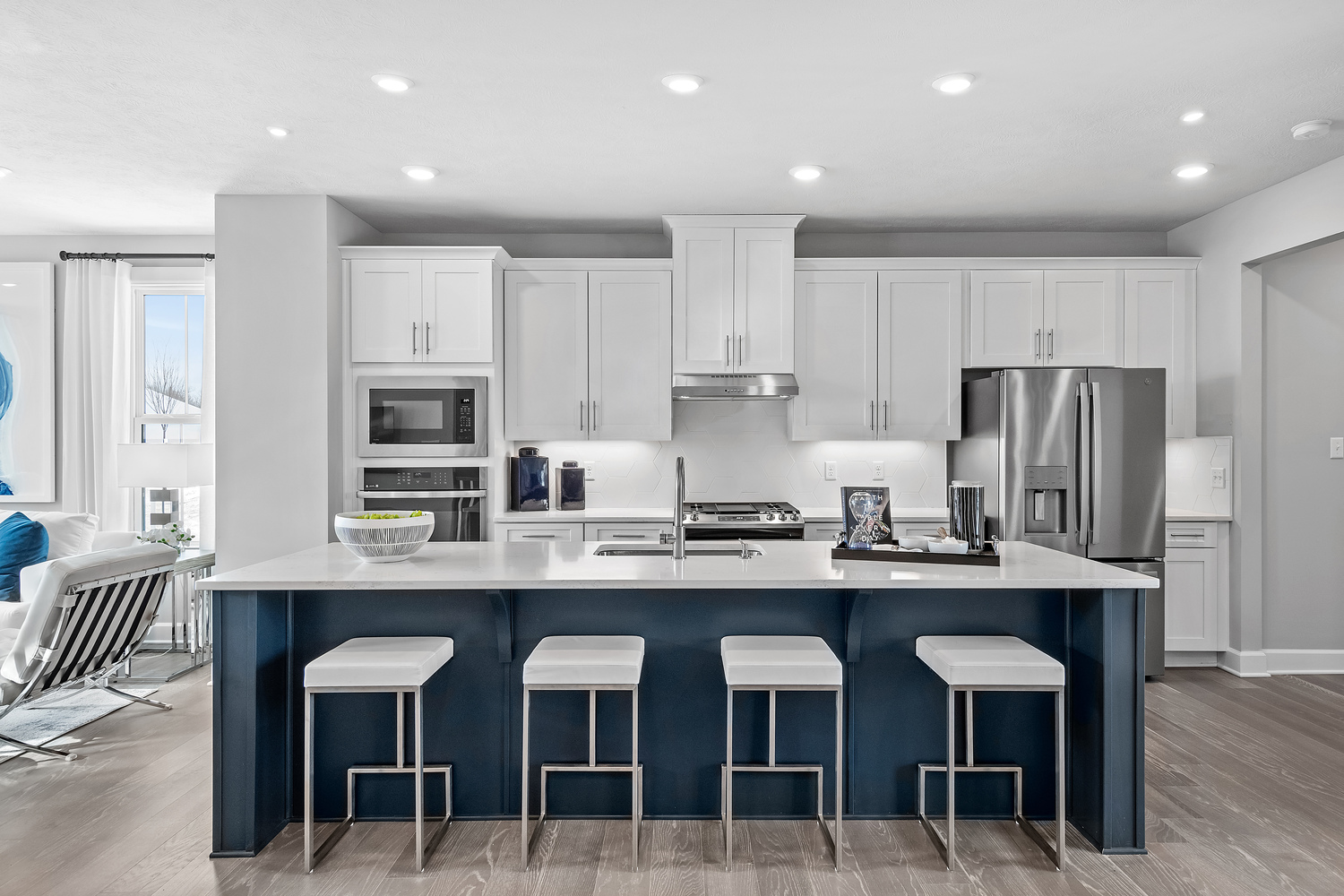 Interior/Exterior Options
The kitchens built in Village at Marketplace are what many buyers fall in love with. The gourmet kitchens feature oversized islands, granite countertops, built-in stainless steel appliances, plentiful pantry space, hardwood floors, and ample cabinet storage. As mentioned, the main floor remains an open concept plan—ideal for both family living and entertaining friends and family.
Distinctive about the Village at Marketplace's floor plans (available for the Serenade model) is the addition of an extra outdoor living space that extends the main floor entertaining space outside. Adding an outdoor fireplace to this living space only adds an unexpected wow factor for both residents and guests. Homeowners can easily envision enjoying both their morning coffee and their evening cocktails in this extra outdoor extension area.  
Townhome owners also love the flexibility of the lower level, which many consider bonus space that can be transformed into a home office, a home gym, gameroom or home theater.  Or, homeowners have the option to convert the lower level into an additional bedroom and bathroom.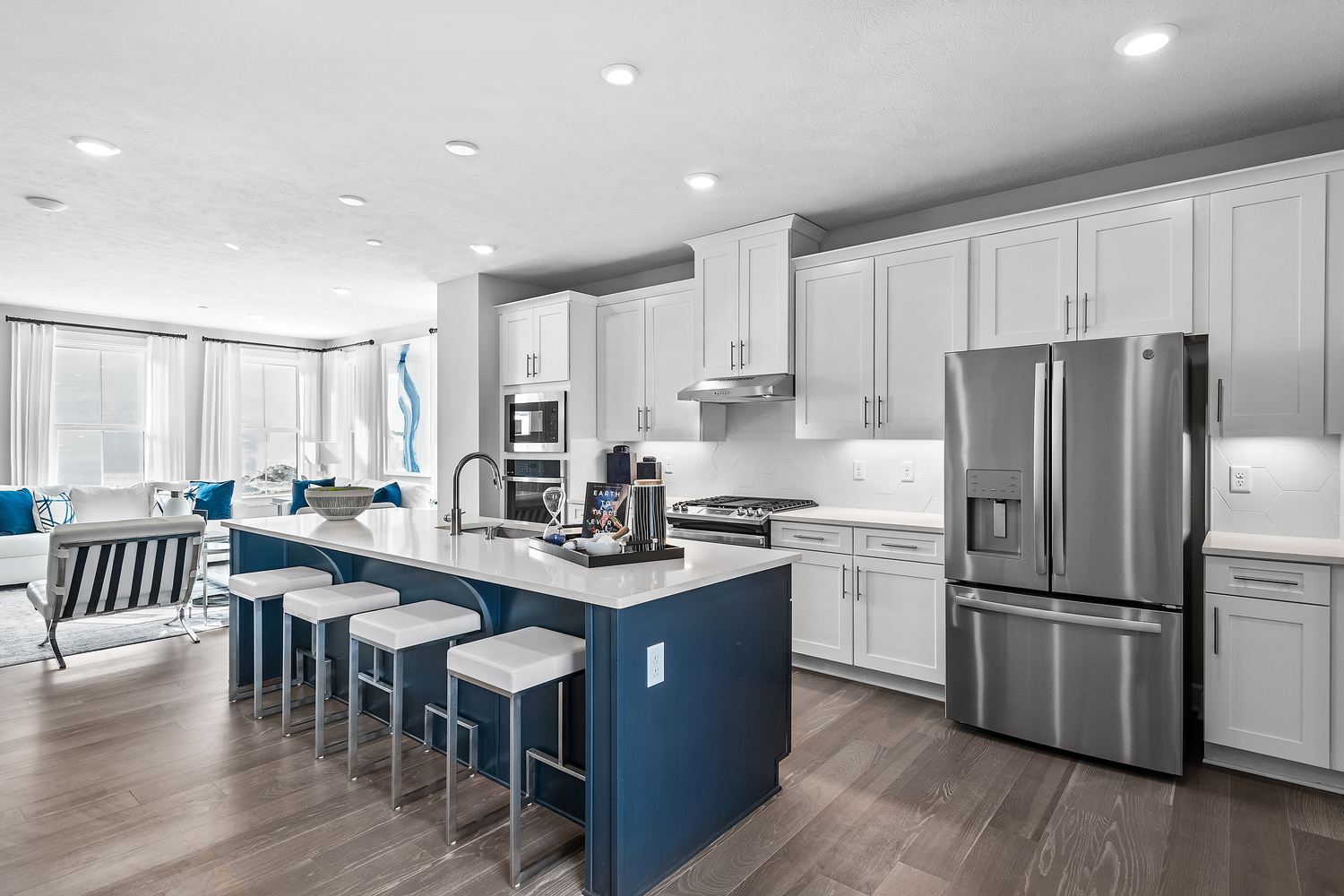 Building New in Moon Township
Scott Brilhart, Moon Township's Assistant Manager and Planning Director, says that Village at Marketplace "brings significant value to the township. It is a new housing product being introduced—the first of its kind here in Moon—of this size, with these various layouts. It's also a large development, with almost 400 units being added. Integrating walking trails and having a common green space in and around the plan offers a little bit for everyone."
He explains the origins of the plan: "This site was rezoned to encourage mixed use space, and Marketplace Avenue will serve as 'Main Street' on which retail and office space will be offered in close proximity to the residences." The overall design of the plan highlights its walkability, a feature which modern buyers are prioritizing. Adds Scott, "Moon Township has a lot to offer. We have great parks, and open spaces. We are close to great shopping and anything you might need."
Scott concludes his thoughts by stating, "The Village at Marketplace has been very welcome, and for a long time. We have wanted to see this particular side of Moon developed for a while now." He envisions these townhomes as a perfect choice for younger people, empty nesters, new families–anyone really—who wants to maintain a low-maintenance lifestyle and to live close to all the amenities.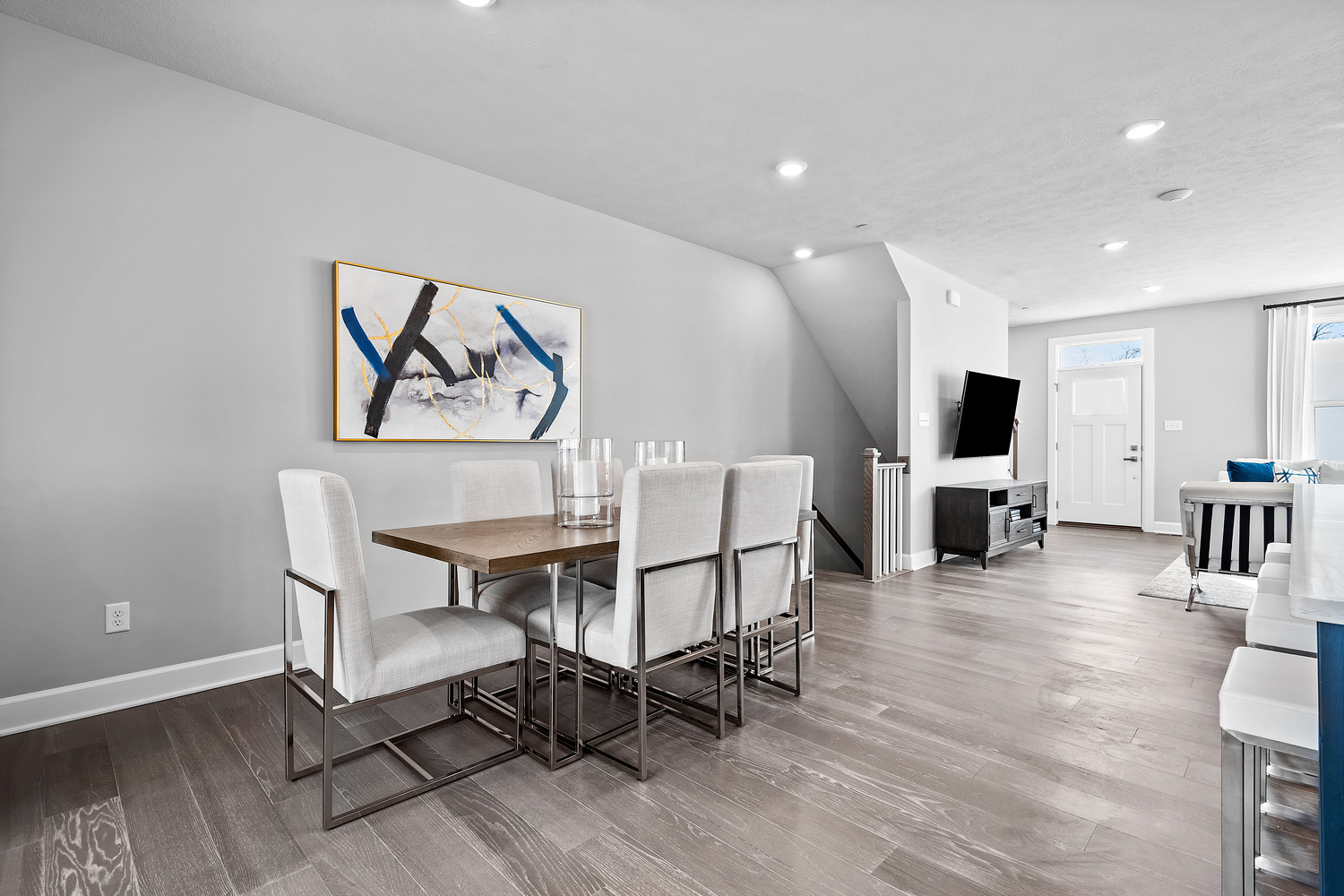 Which One to Choose?
The townhomes are offered in two series: the Mendelssohn and the Serenade. Both models feature 3+ bedrooms, 2.5+ bathrooms, over 1,800 sq. ft. and a 2-car garage. Their starting price hovers in the mid $300s. All home purchases are accompanied by a 10-year structural warranty which gives residents the peace of mind that older homes simply can't offer.
Primarily the difference between the series is found in square footage and the options for upgrades. Both models contain the same number of rooms, but the overall size is different. Mendelssohn floor plans start at 1,863 sq. feet, while the Serenade model begins with 2,125 sq. feet. 
The additional extras vary within the two models as well. The Mendelssohn offers three options to upgrade. Owners can add a powder room on the lower level, or include a double wall oven to the kitchen, or they can change the layout of the 3rd floor owner's bathroom. The Serenade includes four options to expand. Add to the third-floor owner's bathroom with a Roman shower, or add a study to the lower level. Or, clients can choose to make the outdoor living area bigger, and/or make the kitchen a bit larger with the addition of a wall oven. A finished basement is also possible when choosing the Serenade. 
At present, in Phase I, only townhomes are being sold. Current buyers will plan on moving into their new homes this summer and fall. Phase II, happening this summer, will offer 15 "estate lots" which are larger, single-family homes with ample garage space. 
For families with children, the Moon Township School District is highly ranked. It's a large school district, with five elementary schools (K-4), one middle school (5-8), and one high school (9-12). Moon Township comprises 24.2 square miles and home to roughly 24,000 residents. Robert Morris University and several national corporations also call Moon "home". Local business headquarters include FedEx Ground, GlaxoSmithKline, Eaton Electrical Group, Nova Chemicals, Inc., Michael Baker Corporation, and Chevron. 
The model homes at Village at Marketplace are toured by appointment only, in order for Heartland Homes to provide the best customer experience as possible. They accommodate busy schedules with in-person or virtual appointments as well. Please visit their website to schedule an appointment online or feel free to call 412-533-7366.  NH