Our region's industries, universities, and quality of life continue to attract international companies to Pittsburgh
In the last decade, even within the last five years, Pittsburgh's key industrial sectors have witnessed dramatic growth and trajectory—and things aren't slowing down. 2018 marked the best year for business investment in the region since the Allegheny Conference on Community Development—a civic leadership organization improving southWestern Pennsylvania's economic future and quality of life—began tracking business investment data in 2007. With nearly $3.8 billion in total capital investment in 2018 across the 10-county Pittsburgh region, southwestern Pennsylvania continues to see rapid growth in information technology and robotics, new projects underway in manufacturing, and more jobs being added to the burgeoning health care and life sciences industries—just a few highlights among some of the region's leading industries" 
Now, the world's eyes are on Pittsburgh. The region is already home to more than 400 foreign-owned companies that have set up headquarters or branch operations in Pittsburgh, and that number will only grow. Given southwestern Pennsylvania's strong and varied cutting-edge industries, its affordable costs of doing business, and its innovation-focused research universities, global companies have plenty of opportunities in Pittsburgh.
Top companies in Pittsburgh
Pittsburgh is no longer a secret; top companies have thousands of employees in Pittsburgh. Google, Amazon, GE, Chevron, and other major companies have set up
offices and industrial sites in the region. It isn't hard to spot success stories featuring international companies who've thrived
after coming to Pittsburgh, as
well. As a global company, Philips, whose world headquarters is located in Amsterdam, acquired Murrysville-based Respironics in 2008, forming Philips' sleep and respiratory care business, a leader
in sleep and respiratory solutions and technologies.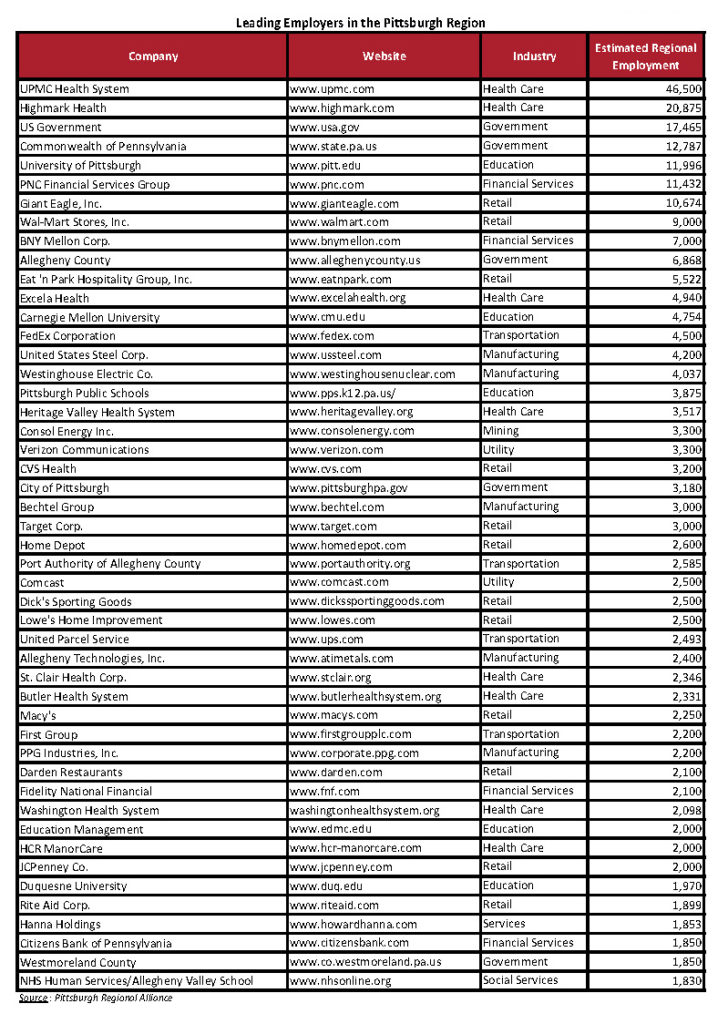 Since then, Philips has continued to deepen its presence in Western Pennsylvania, and the company employs approximately 1,800 people in the region today, says Joseph Alampi, business leader for program management and business transformation. "Pittsburgh has evolved as a hub for technology. As we have continued our own evolution into a focused health technology company, it only makes sense to keep ourselves in physical proximity to such a thriving center for innovation," Alampi said. "In addition to being a great place to live and work, our region provides exceptional access to highly regarded medical, research, and educational institutions that have afforded opportunities for collaboration and access to some of the brightest members of the next generation of our workforce."
In 2017, Philips relocated 125 of its associates to the innovation center at Schenley Place in Oakland as part of its long-term strategy to locate employees closer to Pittsburgh's Innovation District in Oakland. The associates there have been key to helping the company transform from a device company into a global leader in innovative, solutions-based health technologies, Alampi says.
The relocation has also deepened Philips' collaboration and partnerships with local universities and the life sciences ecosystem. The success of this move has prompted Philips to further expand. The company announced in 2018 that it will acquire more than 200,000 square feet of office space in the new nine-story Bakery Office Three building in Bakery Square. Philips plans to relocate the majority of its local associates to this newly built Center of Excellence upon its completion in late 2020, Alampi says. "Philips has been actively executing a strategic real estate program, culminating in this new location for our associates in Western Pennsylvania, closer to universities, medical centers, research partners, and other innovation leaders," Alampi says. "Working in close proximity to these organizations will enable Philips to incubate partnerships and, ultimately, accelerate our ability to develop new solutions to drive the future of health technology."
Pittsburgh's universities lead
the way
Pittsburgh's inherent qualities have helped to attract businesses from across the globe: our geographical location puts us within several hours driving distance to numerous U.S. cities in the Northeast, Midwest, and in the South. Airlines at Pittsburgh International Airport (PIT) offer direct flights to cities across the United States and, increasingly, to international destinations such as Germany and the United Kingdom, thanks to the addition of Condor and British Airways airlines at PIT. Pittsburgh's airport has been highly ranked by travel and air transportation outlets; in 2017, PIT was named the Airport of the Year by Air Transport World magazine, joining the prestigious company of Hong Kong International, London Heathrow, and other previous winners.
Of course, there's much more to our region than ease of access and business connections. Pittsburgh supports a strong and growing workforce and world-class universities, such as the University of Pittsburgh (Pitt) and Carnegie Mellon University (CMU), that support a pool of young, educated professionals who are key to the regional workforce and talent pipeline. "I think of it as a positive feedback loop: Quality companies come and offer employment; students come to Pittsburgh for the quality education and the employment opportunities these companies provide," said Arjang Assad, the Henry Haller Jr. dean of Pitt's Katz Graduate School of Business and College of Business Administration. "The companies benefit from the talent pool
of highly educated students.
The region benefits by keeping talent here."
The region's universities also drive some of Pittsburgh's most cutting-edge and wide-spread innovations in the fields of health care, computer science, energy use, technology, and more. When it comes to attracting international companies (and domestic companies, too), Pittsburgh's universities have played no small part. "We try to make it very easy as a region and, especially, at the University of Pittsburgh to do business with us," says Cynthia Sweet, associate vice chancellor for economic partnerships at the University of Pittsburgh. "The value of our universities is that they attract intellectual capital from around the world," said Assad. "The faculty members can be a huge source of intellectual capital, which is hard to build within a company."
The region's many universities have been essential to Pittsburgh's redevelopment, generating the ideas and research that drive new technologies and products and cultivating graduates for work in the 21st century job sectors that define Pittsburgh's economy, among other roles. As a larger institution, Pitt, Sweet says, possesses the background and resources to help work through the many facets and steps involved with getting businesses started or established in a new region.
For example, in the development of biomedical devices and life sciences technologies—one of Pitt's most visible pursuits—the university can take a holistic approach. Not only can the university and its partners help to engineer devices and explore their clinical applications, Sweet says, they can also work to navigate health care policy and regulations
to help bring ideas and products to the market.
In terms of international focus, Pitt recently finished its Year of Pitt Global initiative to generate awareness of the university's international connections and impact and to mobilize global initiatives, among other goals. Pitt
sends thousands of students abroad
each year, Sweet says, enhancing their global perspective.
As for future growth, Sweet says that neither the region nor its universities have shown signs of slowing down. "I think you'll also see a trend of more venture capital moving to our region as we develop financial opportunities from licensing and developing spinout companies from the inventions and output from the universities," Sweet says. "In addition to all aspects of health sciences, institutions in Oakland focus on topics such as artificial intelligence, robotics, cybersecurity, additive manufacturing, and energy and have strong roots in business and arts and humanities," Sweet says. "And we'll continue to drive these fields. Really, we're world-class, and we're going to continue to drive those topics. We'll continue to draw more companies, more patents, and IP opportunities for investment."
Pittsburgh:
An appealing place for all
Visiting Pittsburgh has also proven to be an organic way to grow Pittsburgh's development and to attract businesses. "Seeing is believing for us," says Tom Loftus, chief marketing officer of VisitPITTSBURGH, Allegheny County's official tourism promotion agency. When people visit Pittsburgh, they see its humming Downtown, green spaces, and eclectic neighborhoods. "We're attracting major conventions and meetings and sporting events to Pittsburgh," Loftus adds.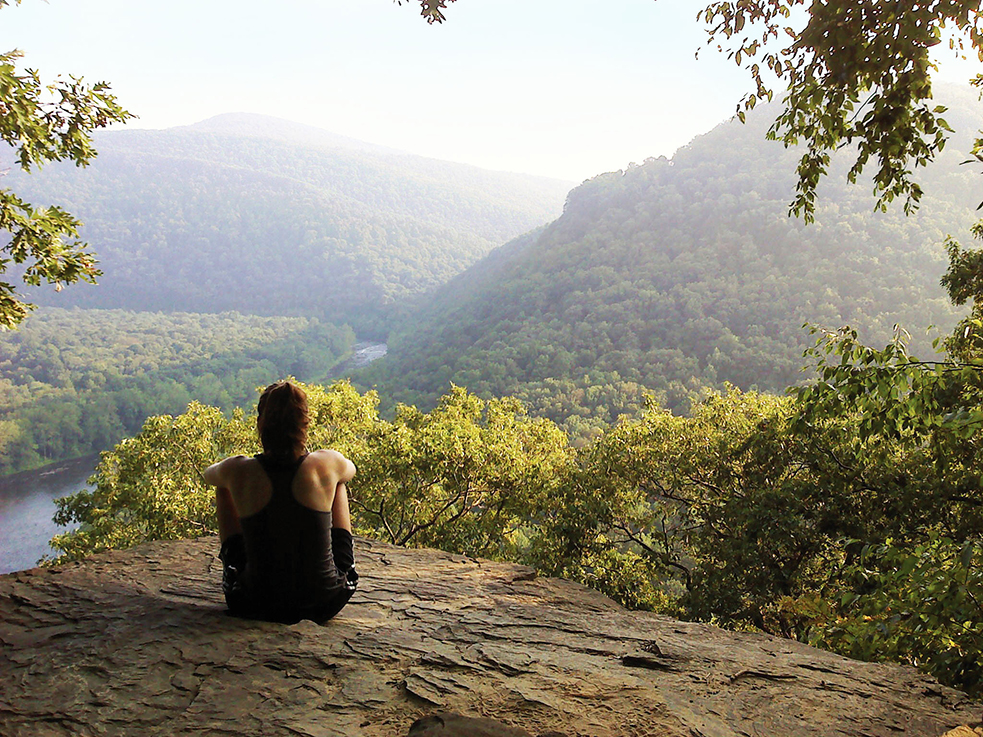 For both international and domestic visitors, a trip to Pittsburgh can lead to accepting a promotion here or relocating a business to Pittsburgh, Loftus says. But the first step is to bring people to Pittsburgh in one capacity or another.
More and more of the 20 million overnight stays in Pittsburgh annually are a result of international visitors, Loftus says. "Food and theater and sports—those are all things that our international audience is latching on to," Loftus says, along with plenty of places and experiences unique to Pittsburgh. Pittsburgh's extensive bicycling trails and bike lanes, as well as the prospect of biking from Pittsburgh to Washington, D.C., via the Great Allegheny Passage trail, have also been especially attractive to international guests, he says.
Culturally, Pittsburgh's exclusive attractions, like the Andy Warhol Museum, Phipps Conservatory, Carnegie Science Center, and the National Aviary, have also helped bring people to Pittsburgh. And, for some global visitors, there's at least one more reason: sports. "The Steelers are well known around the world," Loftus says, and, for that matter, so are the Pittsburgh Penguins, Pirates, and Riverhounds, he adds.
Yet the decision to set up shop in Pittsburgh is driven by more than economic factors and business prospects. For companies that choose to come here, the community and quality of life of the region must also shine. "The lifestyle choices that a community offers are incredibly important to making that decision," says Howard Hanna Real Estate Services CEO Helen Casey, referring to a company's decision to relocate to or establish presence in Pittsburgh. "Their employees have to want to live in a place," she says.
It's also beneficial, Casey says, that the region has a robust housing
market at better value than many
other regions.
Casey also speaks to the appeal of Pittsburgh's culture and arts. "We have fabulous arts here. We're very fortunate because we do have such great museums, cultural arts, theater, and opera," she says. "So that plays a significant role for people who are coming here that have had that kind of cultural diversity."
While we've witnessed the significant growth of Pittsburgh's tech sector, it's not only technology-focused companies that require working space for tech pursuits. Now, financial companies and health care companies often have a tech arm, Casey says, and all companies, it seems, need their employees to be tech savvy, too. Therefore, Pittsburgh's ability to offer diverse types of work and office space is key. Younger employees often prefer more collaborative environments and creative spaces in their offices, Casey says, underscoring the region's need to appeal to young talent.
While Pittsburgh's academic institutions, like Pitt and CMU, and its health care, tech, and energy industries have been among the most visible magnets for drawing in new companies, the region's affordability plays no small role in generating appeal. "We are absolutely an affordable place to do business, from a real estate perspective," says Brad Totten, principal and managing director with Avison Young, a commercial real estate services provider.
Pittsburgh has converted and repurposed some of its older, historic buildings to create offices and working space for some of today's cutting-edge industries. For example, the TechMill 41 offices in Lawrenceville are located where a foundry once stood. In the summer, grocery chain Giant Eagle announced its plan to launch innovation-focused offices in this space to develop customer-oriented technologies.

Health care giant UPMC announced in 2018 its ongoing plans to create the UPMC Immune Transplant and Therapy Center at 5000 Baum Boulevard, the site of century-old former Ford Motor Company assembly plant and showroom.
Still, the region has seen some challenges managing some of the older industrial sites from Pittsburgh's steel-production heyday. "At the turn of the prior century, Pittsburgh was a manufacturing hub," Totten says. "Those buildings, for the most part, are obsolete." Therefore, some of these buildings have become apartments, hotels, and offices, Totten says, as opposed to serving modern industrial purposes.
The old industrial buildings nod to Pittsburgh's manufacturing past. Yet they also signify times past—as much as the region takes pride in its steel town roots, Pittsburgh has changed. Permanently. Technology, not smoke stacks, leads the region forward. Now, the rest of the country, and the rest of the world, are taking note.NH