Low maintenance living is increasingly popular today in many markets, including, and perhaps especially, in Western Pennsylvania, in part due to the increased presence of an older demographic. In response to a growing demand among the empty nester and retiree set, more of the low maintenance housing communities are being built across our region.
Low Maintenance Homes: A Lifestyle Choice
When Paul Scarmazzi and his wife began their company, Scarmazzi Homes, 22 years ago, the goal was to focus solely on the empty nester and active retiree market. "At the time, Baby Boomers were the largest demographic. There were 84 million Boomers in America, and they were looking to simplify their way of living," he said.  
To that end, Scarmazzi's Canonsburg-based company builds luxury patio homes to serve that market. Scarmazzi Homes has five such luxury patio communities in Robinson, Chartiers Township, Union Township, and South Park. These communities include the Villas of South Park, Highland Village, and the sold-out Arabian Meadows in Chartiers Township. Of the latter location, Scarmazzi said, "We've probably built over 300 homes there in the past 15 years. It's been a tremendous location."
"Essentially, it's a lifestyle that people are purchasing with their home," he said, so it follows that many communities marketed as low maintenance will offer plenty of amenities. "Where we can build communities large enough to build clubhouses, pools, and other amenities, that becomes the 'living room' of the community where social networking and connections are made," he said.
A brand-new community called Belmont Park is in the works and will be located adjacent to Arabian Meadows. "There will be more than 100 homes there. It will have full amenities of a clubhouse, pool, and pickleball courts; they will open up for sale this fall," said Scarmazzi. 
Similarly, said Maggie O'Neill, sales associate with Weaver Homes, based in Mars, said that her company also focuses on amenities in its low maintenance lifestyle planned communities, such as a clubhouse, a heated pool, putting green, fitness centers, and even yoga and water aerobics classes. A lot of people get together, form committees, do events… it really becomes more of a family," she said.
Several low maintenance design developments built by Kacin, a company headquartered in Murrysville, include North Meadow, a mixture of patio homes and single-family-homes, and Hillstone Village. The latter features 22 carriage homes and 20 single-family-homes. Both of these communities feature one-floor living as well as smaller yards. And at Hillstone Village, there is also a clubhouse for communal gatherings. Jason Corna, Vice President, Residential Division, said that they've added a pickleball court, a bocce court, and sidewalks.
Low maintenance homes are often in planned communities, which in turn can be governed by homeowners' associations (HOAs). Although there is a membership fee in exchange for benefits, the beauty of being part of an HOA is that it is responsible for property upkeep, as well as maintenance of the common areas. In a low maintenance condominium, for example, the condo association will take care of repairs to common areas like lobbies or elevator repair, as well as the exterior elements of the building like roofs and windows. 
In a patio-style community, the HOA generally will take care of lawn maintenance as well as snow care removal. Those chores can be time consuming and tedious, even for a younger demographic. Depending on the HOA, it may also be responsible for leaf pick up or mulch.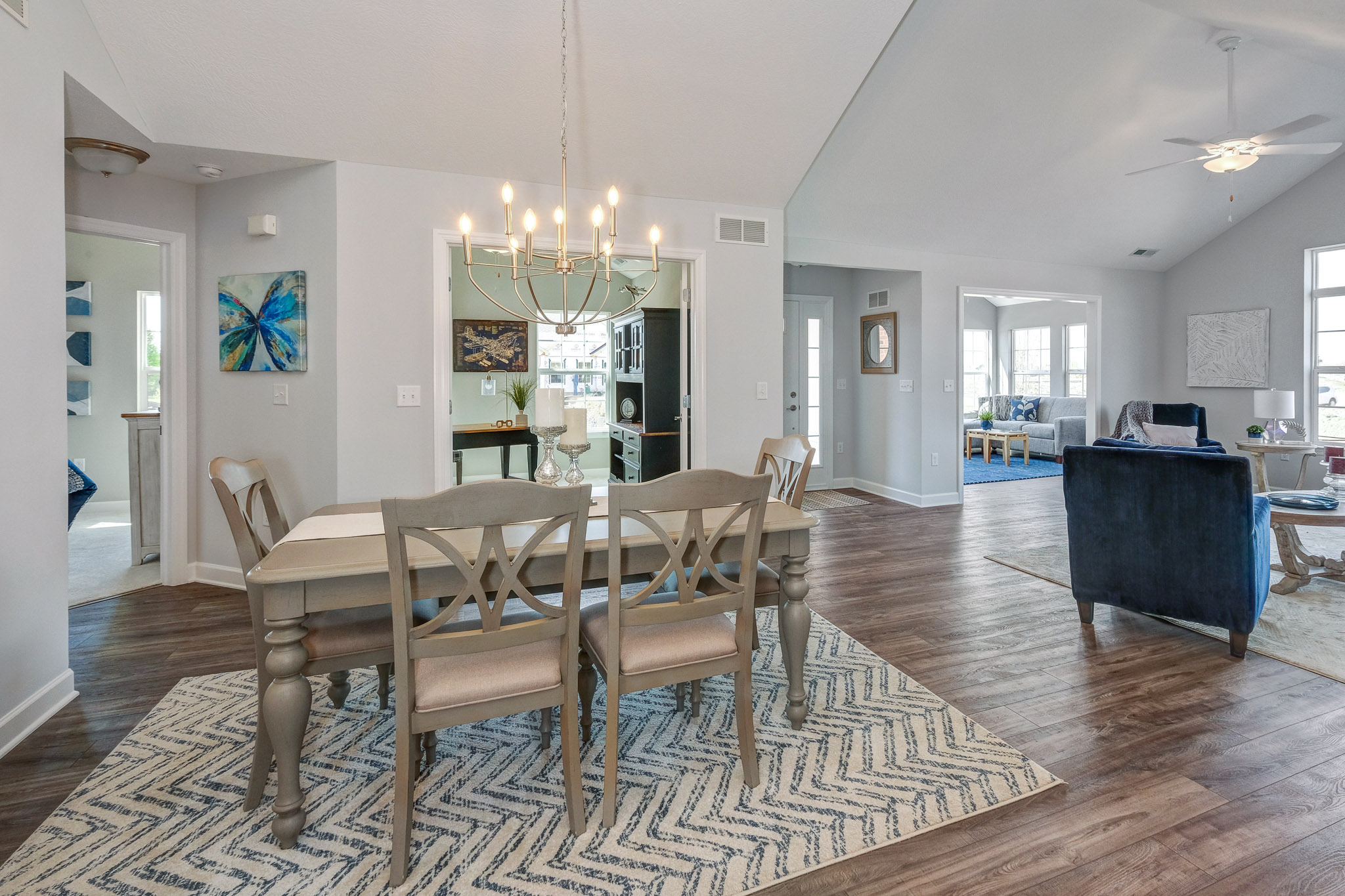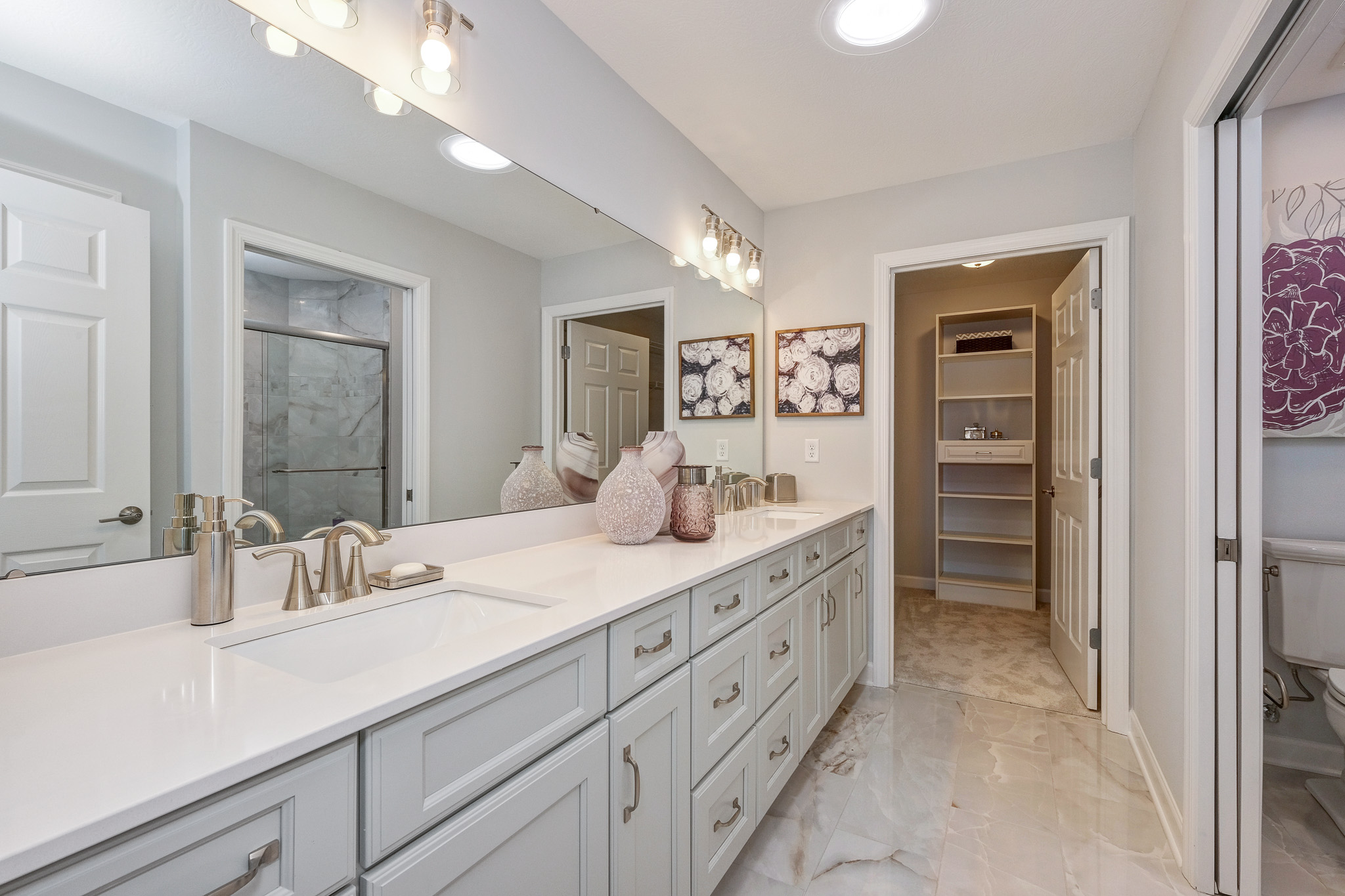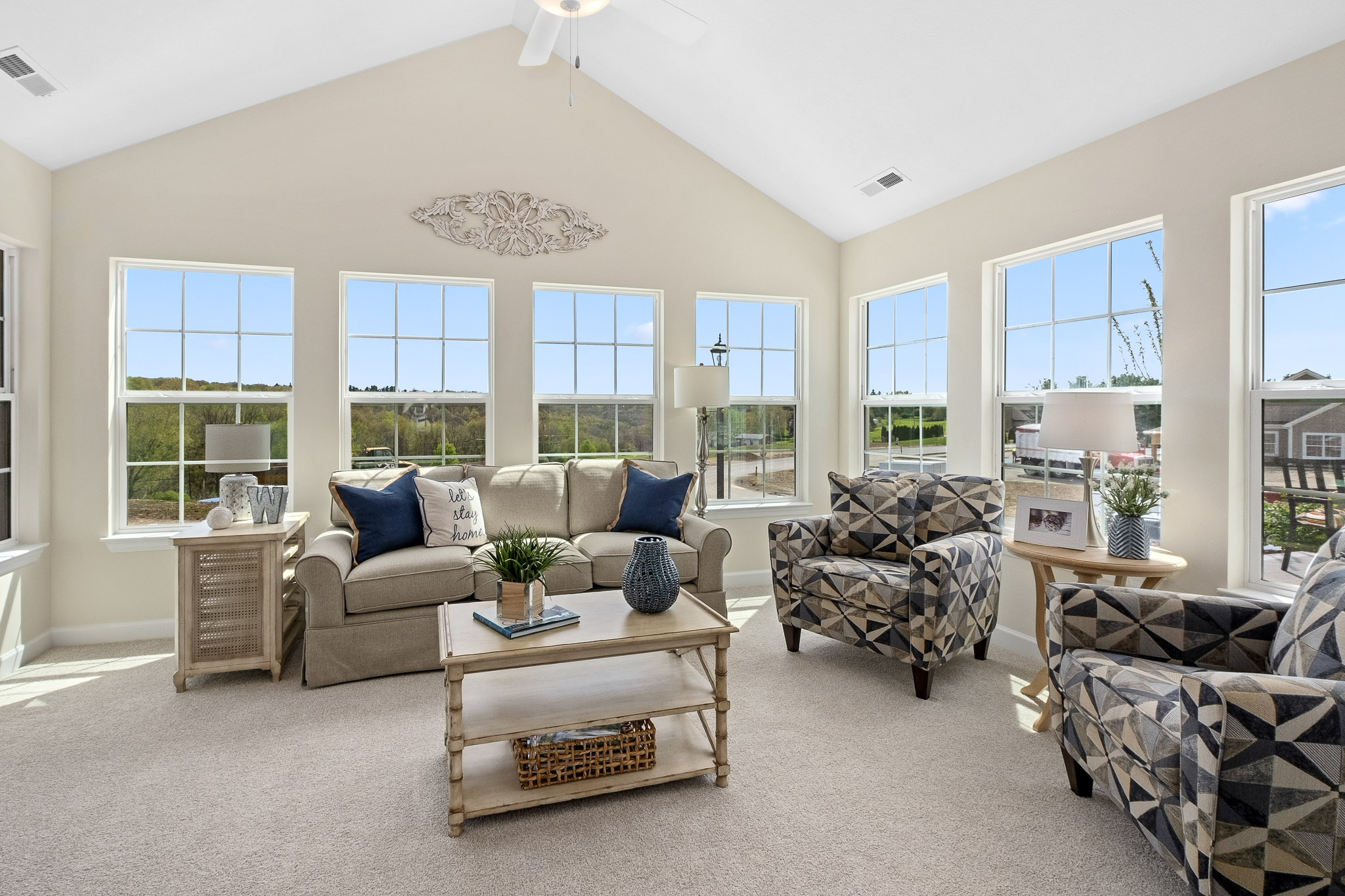 ​Many homeowners of these low maintenance homes are snowbirds, spending winters in the southern or southwestern part of the country. Thus, in a lifestyle called 'lock and leave,' they are literally able to shutter their doors for months while traveling to another home in a warm climate, or go on vacation for weeks or months at a time, with the peace of mind that exterior home maintenance will be in the hands of their homeowners' association. This gives the owner the flexibility to travel and will spare them the burden and expense of hiring people to take care of the lawn or watching the house. Some of these 'lock and leave' communities are gated, which gives the owner an additional sense of security.
"A good percentage have another home somewhere in a warm climate. They like that ability to come here when the weather is nice," said Scarmazzi. 
"You just worry about your inside walls, and the association takes care of everything else—from grass cutting to mulching to snow removal," he added.
The Demographic
When the kids leave the nest, many couples start thinking about what is next—what lifestyle they are seeking, or whether they still want the burden of upkeep on a larger home. 
Scarmazzi said that not everyone is necessarily downsizing, as some empty nesters actually build bigger homes than what they had been living in; he thus prefers the term right-sizing.
Right-sizing is a popular next step for the empty nester or retiree demographic when the time is right. However, many couples do not want to give up the interior space to which they have become accustomed and in particular, would like to have room for visiting children or grandchildren. They also do not want to sacrifice quality nor amenities for minimal maintenance. 
But other buyers of low maintenance homes can include single people just starting out with their first home purchase. Though it is not as typical, occasionally busy young professionals may want to own a home versus renting an apartment. These properties also appeal to first-time home buyers, and even busy families with children are sometimes drawn to low maintenance living so they can devote their weekends to their families rather than to honey-do lists. "It's not crazy common, but our floor plans have a feel, flow and function that works with anyone of any age," said Scarmazzi. 
Still, the majority of low maintenance home buyers are over 50. But make no mistake—low maintenance housing communities are not retirement communities, as many buyers still work. "Customers are very active people, regardless of employment status," said Scarmazzi.
And the homes do not sacrifice on quality. Western PA's low maintenance home communities are ideal for active, somewhat older adults who simply want time to enjoy more leisure time without worrying about mowing or weeding or painting or exterior home repairs.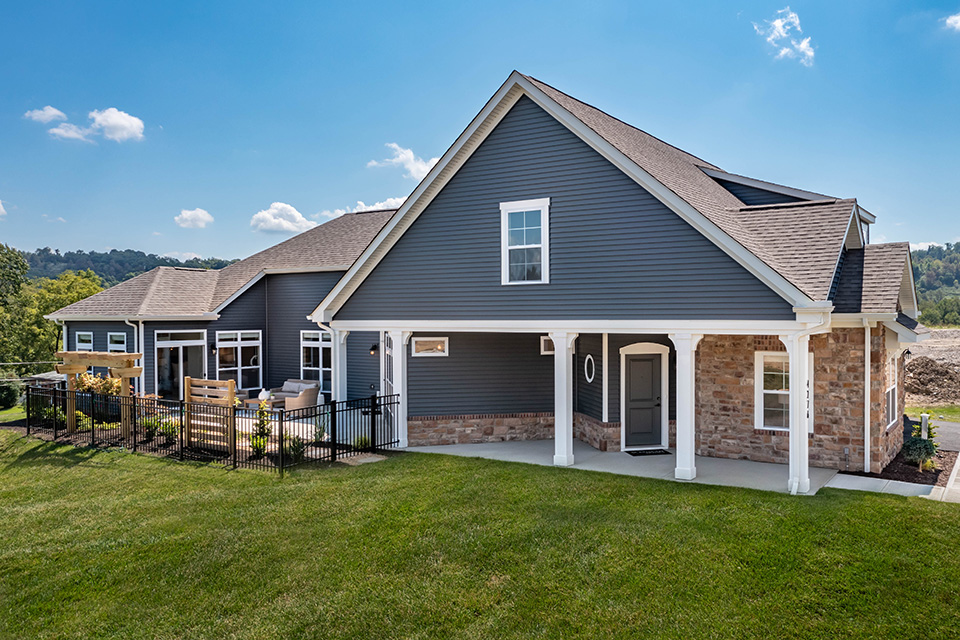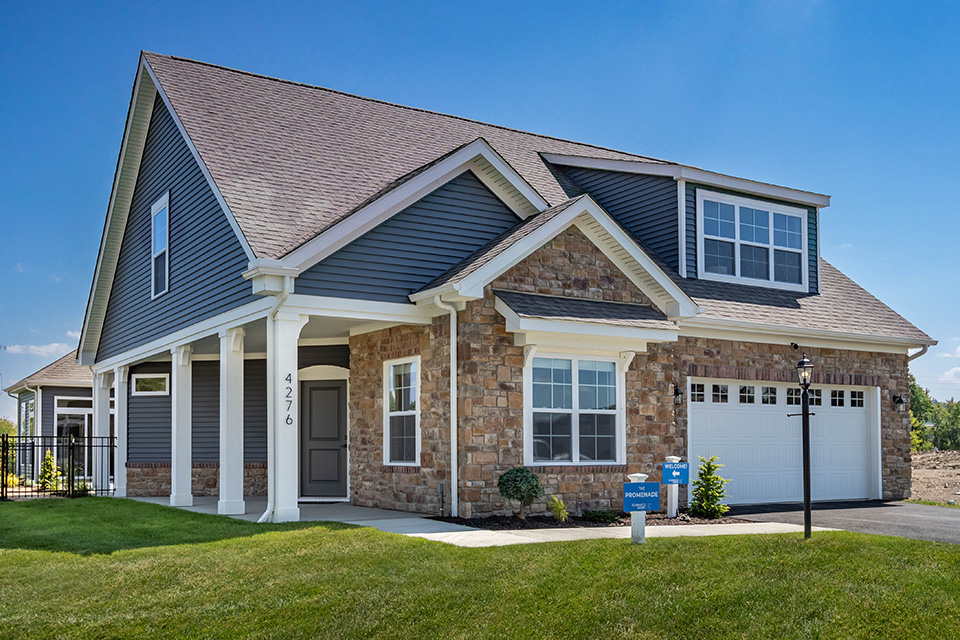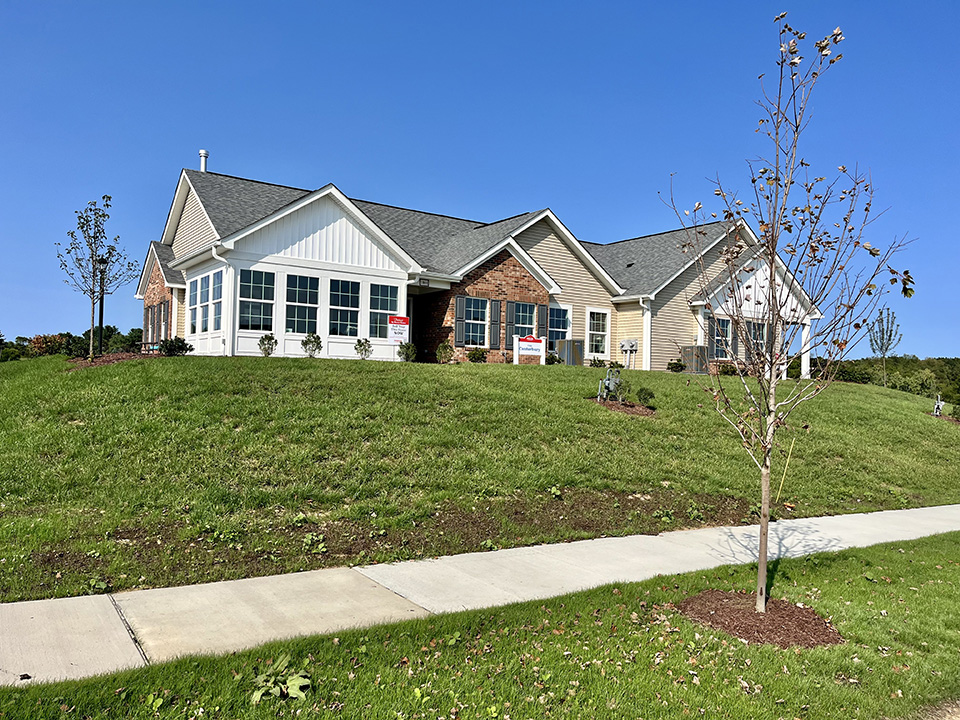 Features of Low Maintenance Homes
Perhaps the most distinctive feature of a low maintenance home is single-level-living, as the general demographic who buy these types of homes prefer not to navigate steps.
When designing his patio homes, Scarmazzi said, "We think about how people live. For example, all of our homes have large islands because people like to congregate." 
Scarmazzi terms his house designs as courtyard homes, because every room in the house can see the courtyard, which serves to bring in the outside and extends the home to have a beautiful outside living area. "We also design homes so the adjacent home has a blank wall and privacy in the courtyard; that is why our homes are special," he said. 
"We can accommodate, modify and customize our homes for a family or a person for their lifestyle and needs," he added. For example, for someone planning to age in place, he can do a wider door, a closet open to wheelchair access, or a no-threshold shower.
Weaver Homes, a builder in Mars, PA, has built or is in the process of building four lifestyle communities. For example, the Villas at Forest Oaks in Butler is an 84-unit community located on a golf course, with buyers able to choose from one of several floor plans. Like most other low maintenance properties, the common denominator of these homes is one-story living, with no steps anywhere, a two-car garage, two baths, and two or three bedrooms. The typical square footage is 1,700-1,800. 
Maggie O'Neill, sales associate, said that Weaver Homes also offers full extension drawers for the lower cabinets as well as walk-in showers in the master bath, two features that appeal to many buyers of low maintenance homes. 
Corna said that buyers seem to be choosing not only a somewhat smaller footprint in this generation of homes but also a home with more usable space, with more open floor plans. 
Materials and Exteriors
The term low maintenance can also refer to the quality of construction as well as materials used. 
The DRB Group is a real estate development company headquartered in Rockville, Maryland. Cindy Plackmeyer, corporate director of sales and branding, outlined several key qualifying aspects that new, low maintenance homes will feature. 
First, she said, there are warranties associated with a new home, such as one-year drywall, two-year systems and ten-year structural, which is part of the definition of 'low maintenance,' as the customer does not have to worry about anything going wrong along these lines.
Another low maintenance feature of a new construction home includes UV resistant vinyl siding. "We use low VOC paint, which is extremely scrubbable, and certain vinyl siding doesn't require painting," she said.
Other elements include synthetic trim that does not rot; water-saving faucets, toilets and shower heads; and 30-year shingles/roofing that you don't get on an older home. "Products have improved over the years," said Plackmeyer, and when they last longer, or are covered by extended warranties, maintenance headaches decrease. In a broad sense, the vast majority of new construction homes can be considered to be low maintenance simply because of the longer lasting products and materials used.
"LED lighting is something that we also offer—they are energy efficient, and those bulbs last forever," she added. "Also, everything is tighter and more energy efficient. A home from ten years ago uses more energy, because all the products we use have been refined; that is industry-standard."
Corna agreed that the exterior features of homes can constitute low maintenance, such as polymer, PVC or Hardiboard materials, requiring the homeowner to do very little maintenance. 
He added that smart home technology can make the operations of your home even more stress-free. "More and more of our buyers get into some of the features that they can use from apps on their phones. They can set thermostats, open and close window shades, check security cameras, etc. A lot has to do with the kitchen experience—high tech appliances that make it easier to clean your oven and even see what you have in your refrigerator from the grocery store," he said.
The Demand
Low maintenance homes are trending across the country, and our region is no exception. "Demand is very strong despite the economy. Interest rates are increasing as well as consumer confidence with the market. In the market we serve and space we play in, the demand will continue and it will remain strong. Our buyers overall are financially in a better place, and we're seeing more cash buyers," said Scarmazzi. In fact, he predicts that 60% of buyers will be cash buyers going forward, which will propel the market to remain strong. 
Corna said that because Western Pennsylvania in general has one of the highest populations of people of retirement age in the country, "I would say that low maintenance living is more important in this area than in any other area of the country."
And from some builders' perspectives, there is a great joy in building low maintenance homes. "We enjoy the impact we have on families. And in the communities we build, we generate real estate taxes for school districts—we improve communities where we operate," said Scarmazzi.
"Everyone I talk to, when they move in, says, 'I wish I would have done this sooner,'" said O'Neill.  NH