Back in the swingin' 60's, prognosticators foretold of retirees in growing numbers and opined about their desire for living space more suited to an active lifestyle.  From those prognostications grew what was termed 55+ active communities.  But prior to 1960, the first age-restricted communities rose from the country's southwestern confines according to a 2016 blog titled "A Brief History of 55+ Communities" written by Mayra Rocha for 55places.com, a resource for those 55 and older considering their next places to live.  She shared that as early as 1954, the "first age-restricted community in the United States was in Youngtown, Arizona."  Developed by Ben Schleifer with friends Elmer Johns and Francis Greer, the 320-acre tract, master-planned adult community garnered media attention via national television, enhancing its image and lending popularity to the retirement community concept.  Not far from the Youngtown site, another 55+, self-sustaining community sprang up, opening January 1, 1960, now holding the distinction as the longest running, age-restricted community to date – Del Webb's Sun City Arizona.  According to Rocha, this development laid the groundwork for future active adult communities, with its clubhouses, golf courses, shopping centers, multiple home models, resort-style amenities and much more.  As Webb developed additional communities across the nation, other builders took note, "… recognizing the needs of baby boomers and began developing active adult communities that included features such as low maintenance homes, single-level living, master suites on the main floor, large kitchens, open floor plans, flex rooms and luxury upgrades."  Additionally, recreational facilities abounded including tennis and bocce courts, fitness centers, walking trails, pools and so much more.  Begun in 1978, The Villages (Florida) offered homes in its 20,000 acre tract and boasted of its self-contained town providing active adults services for all their needs.
Today, builders in southwestern Pennsylvania have developed and built communities for active seniors age 55 and older with some attracting millennials, younger couples and singles who embrace that lifestyle, to what has become the watchword of these communities – Low Maintenance.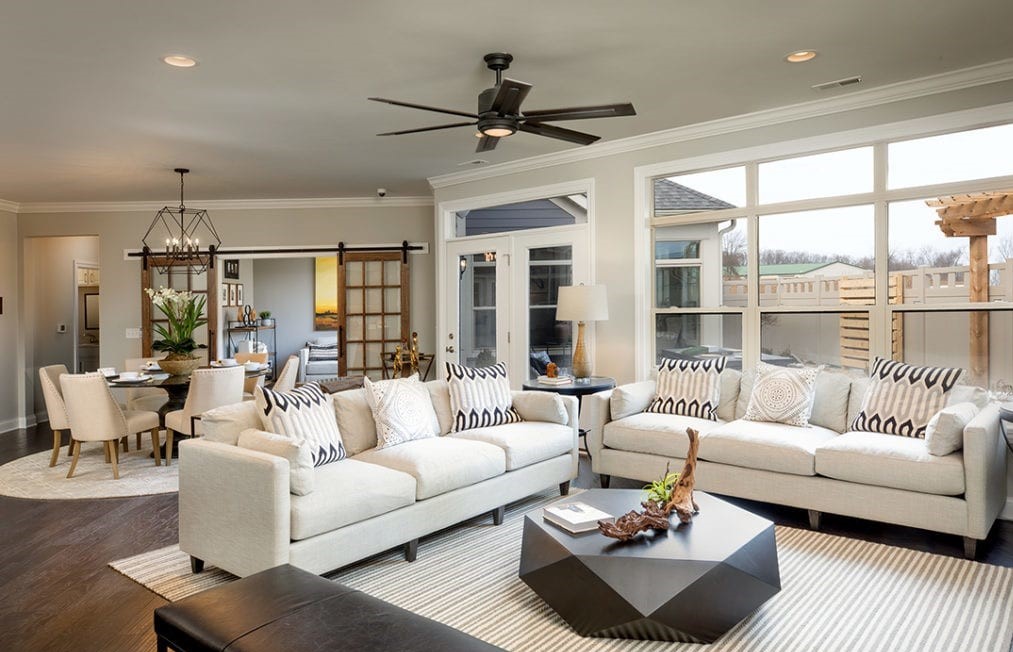 Who Looks for Low Maintenance Living?
The Expert Panel, Forbes Real Estate Council (February 24, 2020) reminds us that "while millennials are a highly sought after target demographic in the real estate world, baby boomers are also viable options."  What entices the more mature buyer who may be looking to downsize, right size or move closer to family, among other criteria: Low maintenance homes, ground floor living, adequate storage space, lifestyle support and community convenience among others, with some of those characteristics equally attractive to millennials.  Tricia Brennan, Partner/Owner of Brennan Homes, headquartered in Evans City, Pa., who has been building low maintenance homes "for decades" noted that "We, as a society, are continuing to become busier, with hectic lives.  Low maintenance housing makes it possible to be able to do more and not get bogged down with upkeep."  Among the low maintenance options offered by Brennan Homes are condominiums, patio homes and single-family villas.  "The single-family villas give the buyer the ability to have a 'single-family home' without the upkeep of one, offering the best of both worlds," she added.  For Paul Scarmazzi, President and CEO, Scarmazzi Homes based in Houston, Pa., low maintenance homes have been a staple in their repertoire for more than 20 years, particularly as a franchisee of Epcon Communities, a premier lifestyle-rich home developer across the nation.  "We embarked on age-targeted lifestyle homes based on the overwhelming size of the baby boomer market and the unmet need for single-level homes," he said.  "For the past decade, we've built primarily patio homes – single-family homes on a fee simple lot."  He continued that their primary target market are empty nester baby boomers looking for one-level living, who want to simplify their lifestyle.  "Perhaps they want to travel more and be able to lock and leave, spending less time working around the house and more time pursuing activities they enjoy."  He sees this group placing a premium on outdoor living.  "Our courtyard homes are unique and have a feel, flow and function that is beyond the traditional two or three level single-family home," he added.  "With the most recent challenge the pandemic has introduced, we see people having a new relationship with their home, and are looking for a place that is comfortable, safe and enjoyable for gathering, working from home, and just relaxing."  Kelly Dunn, Vice President of Sales and Marketing for Weaver Homes, with its hub in Mars, Pa., sites the genesis of their low maintenance home building in the early 1990s, when also becoming a franchisee of Epcon Communities.  "Bill and Bonnie Weaver saw the growing need for the baby boomer generation to find low maintenance, easy living," she noted.  "Our customers are typically those planning for retirement or those already retired.  They are often right sizing, are 55 to 70 years of age looking for one-level living and an opportunity to pick-up and go whenever they want."  She continued that many of these people may not need one level living at the moment, but are looking ahead to their later years.  While their communities are not restricted solely to those 55 and older, Dunn has seen younger couples and singles scattered throughout them with the appeal being its quieter, less chaotic surrounds.  "Our communities don't necessarily trend toward children's activities as opposed to a more traditional neighborhood, which may account for a more tranquil setting," she said.  Building high quality, low maintenance homes since 1989, Pitell Homes couples its award-winning Hampton Patio Home floor plan with significant customization to appeal to buyers.  "Our customers range from empty nesters looking to downsize, to second home buyers looking for their summer home locations, to customers who are very busy and are looking for no exterior maintenance," noted Shaun Seydor, General Manager, Pitell Homes located in Ross Township.  "Customers want high quality, new construction that can be customized and offers the opportunity to design to their own tastes.  They also are looking for a flexible, collaborative and experienced builder who truly makes them a part of the creative home design process."  Make no mistake, boomers who are downsizing or right sizing are by no means looking to sacrifice quality in their new home builds.  "Baby boomers want their retirement home to have the same luxury features of their old home" according to NewHomeSource.com (2020).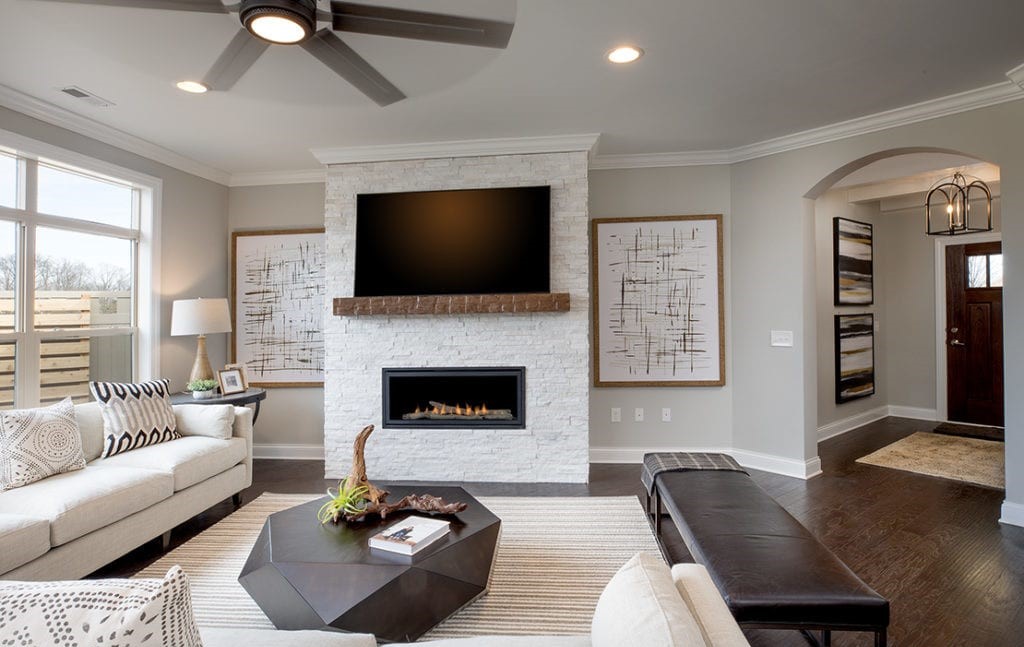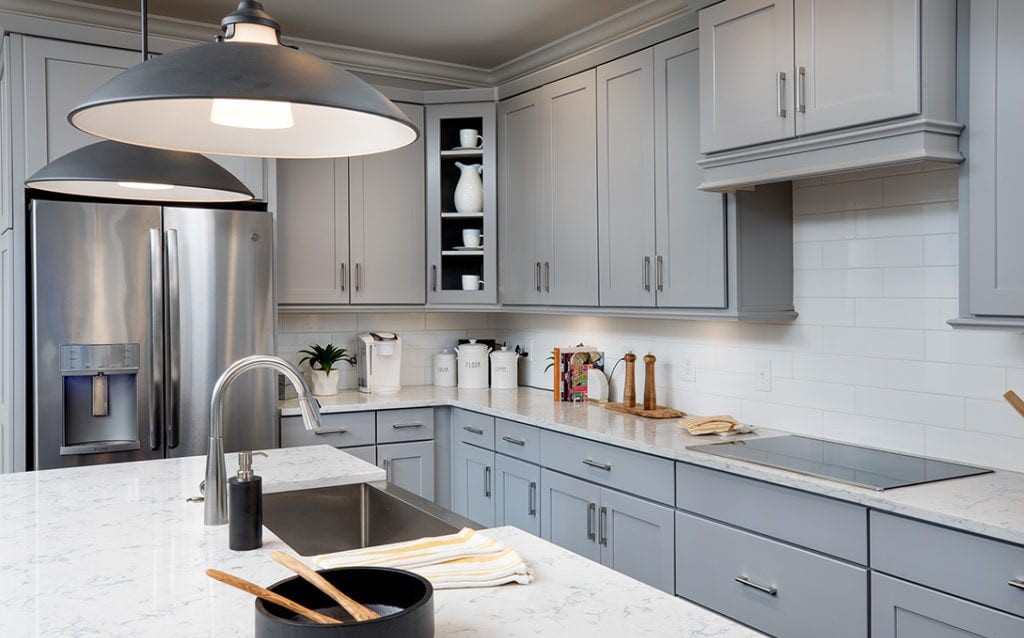 Further, the attention to baby boomers is perhaps wiser than previously thought.  A Forbes.com post in January 2020 written by Fred McGill tells us that a recent study published by Zillow found that "baby boomers are preparing to sell approximately 27 percent of America's homes between now and 2040.  Many of these home owners will ultimately be seeking newer low maintenance homes with fewer stairs to climb and smaller yards to maintain."  The Forbes Real Estate Council, in their "15 Smart Ways to Attract Retiree Home Buyers" cited "a place of belonging" as a key factor.  That "place", as described by Don Wenner, DLP Real Estate Capital, suggests "The key to attracting baby boomers is to provide a sense of belonging outside the home, whether it be through a 'downtown' feel, community events or waterfront dining.  We've seen a trend to prioritizing an active and inclusive lifestyle over maintaining a lawn, garden and expansive home, even at the sacrifice of square feet.  Developing multi-family residential around the above is a recipe for success."  A point not lost on Kelly Dunn who described Weaver communities such as Willow Grove in Cranberry Township or Scenic Ridge in Harmony as places where "people meet others with the same interests; like-minded people at similar stages of life gathering together and bonding through any number of formal and informal activities."  Currently, Weaver communities are located in Butler County, where homeowners realize a tax advantage over those in neighboring Allegheny County while still enjoying the amenities they've come to expect.  Those who work in Pittsburgh have but a short commute when living in Weaver's northern suburbs.  "These areas have been very successful for our home owners who are still working or who want to be close to their children or grandchildren," she added.  The Courtyards at Willow Grove in Cranberry Township, for example, a 15-acre, low maintenance lifestyle community, offers easy access to shopping, dining, and health care services in Cranberry and to nearby routes to Downtown Pittsburgh and the Pittsburgh International Airport.  The Courtyards' boutique cottage community features luxury ranch-style homes ranging from 1,519 to 2,878 square feet with high-end finishes starting in the low $370,000s.  Here, a community garden, walkable neighborhood, landscaping and lawn care, snow removal and tree-lined streets are some of the key elements attracting buyers.  Similarly, Scenic Ridge in Harmony Township, with homes ranging from 1,519 to 2,901 square feet from $296,000, offers all the above with the addition of a clubhouse boasting a vaulted ceiling and two-story fireplace, a gym, gathering room, pool and more.  "You can gain a sense of community and friendship from participating in the many activities here," Dunn explained.  "That camaraderie often results in physical and mental benefits."  Coming soon to Sarver is Weaver's Heritage Crossing plan just off Route 356 and minutes from Route 28.  According to Dunn, this low maintenance community will be attached to a business center – South Pike Square Plaza, replete with shopping, grocery store, urgent care and a movie theatre.
A recent Realtor.com survey discovered that about 23 percent of millennial home buyers pointed to rising rents as the influencing factor for making a home purchase.  That factor, undoubtedly with others, may be among the reasons why Tricia Brennan's home buyer demographic varies a great deal by location.  "As a general rule, the majority of our customers are empty nesters into retirement," she explained.  "Depending on the community, we have quite a few young families as well who are looking to spend less time working around the house and more time with their kids."  Just finishing low maintenance builds in West Deer and Marshall Townships, along with a newly launched site in Jackson Township, "the diverse locations allow potential buyers to choose similar (home) options in different areas at different price points."  For those looking toward proximity to Downtown Pittsburgh, Venango Trails in Mars may just be the ticket.  Offering 1,835 square feet of living space in attractive carriage homes, interior features abound from quartz and granite countertops, hardwood flooring and recessed lighting to a first floor master bedroom suite and fireplace all starting at $395,000.  Situated on more than 100 acres, residents meander on miles of walking paths or relax in the clubhouse overlooking a tranquil lake.  Others may prefer the carriage homes or single-family villas at Harmony Place located in Harmony with square footage starting at 1,500 from $350,000, all within walking distance of restaurants and shops.  "In some of our communities, we make sure there are lots of amenities from the most common options including a clubhouse, pool, walking trials and fitness centers to options not as common such as pickle ball courts," Brennan said.  "Smaller communities with fewer homes may be sidewalk communities, getting people out, walking and mingling."  Because they do not age restrict their communities, Brennan "tries to be strategic in the common offerings based on what demographic is likely to purchase in each community."  Brennan Homes newest community – Duffy Highlands – located in the heart of Butler County, is comprised of single-family villas and carriage homes from $260,000, with six customizable, one-floor living plans, clubhouse, fitness room, pool and extensive walking trails.  This low maintenance setting offers a relaxed atmosphere with convenient shopping, dining, health care and more nearby.
Pitell Homes currently offers patio homes in two locations just north of Pittsburgh: Shelton Place at Leslie Farms in Connequenessing Boro just minutes from Cranberry, and The Plantation at Saxonburg.  Described as "carefree living", Shelton Place at Leslie Farms features single level and two-story  patio homes within this sidewalk community.  Of its 16 total patio-home buildings (or 64 units), only 16 units remain available.  Starting in the mid-$200,000s for two bedrooms/two bathrooms (three bedrooms/three bathrooms with a solarium option start at $270,000), the more than 1,500 square feet homes incorporate high efficiency furnace/air conditioning, ceramic floor tile, stainless steel appliances and 30-year architectural shingles and more into its builds.  In addition to landscaping, grass cutting, snow removal, driveway repairs and exterior maintenance, amenities abound – community basketball court, soccer field, sidewalks and walking trails – a setting that accommodates families, singles, and the 55+ crowd.  Close to Route 8 in Saxonburg, The Plantation boasts a quaint, country-like setting with a community that offers a recreation center, community in-ground pool and clubhouse in addition to the above mentioned amenities and low maintenance appeal found at Shelton Place.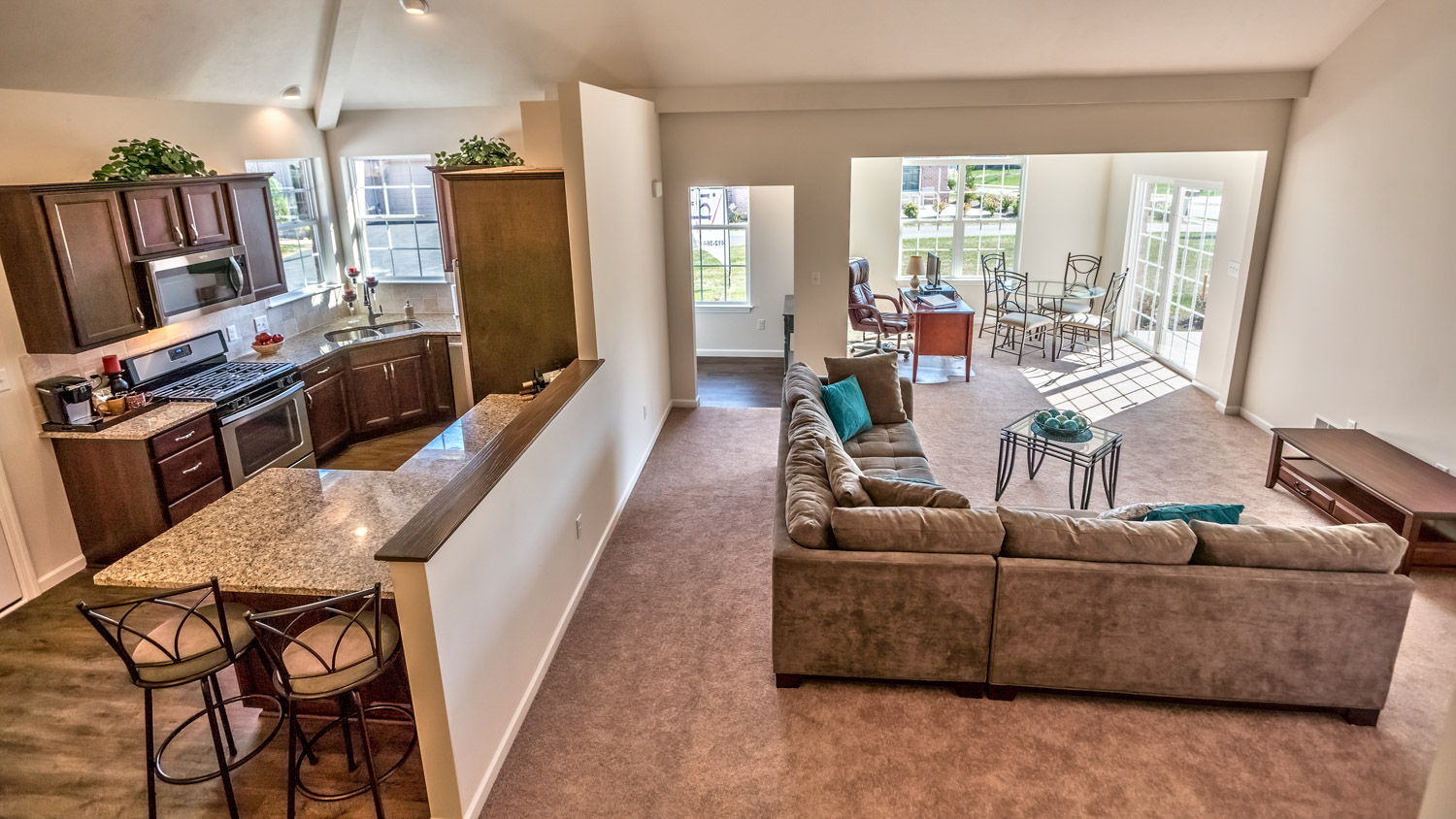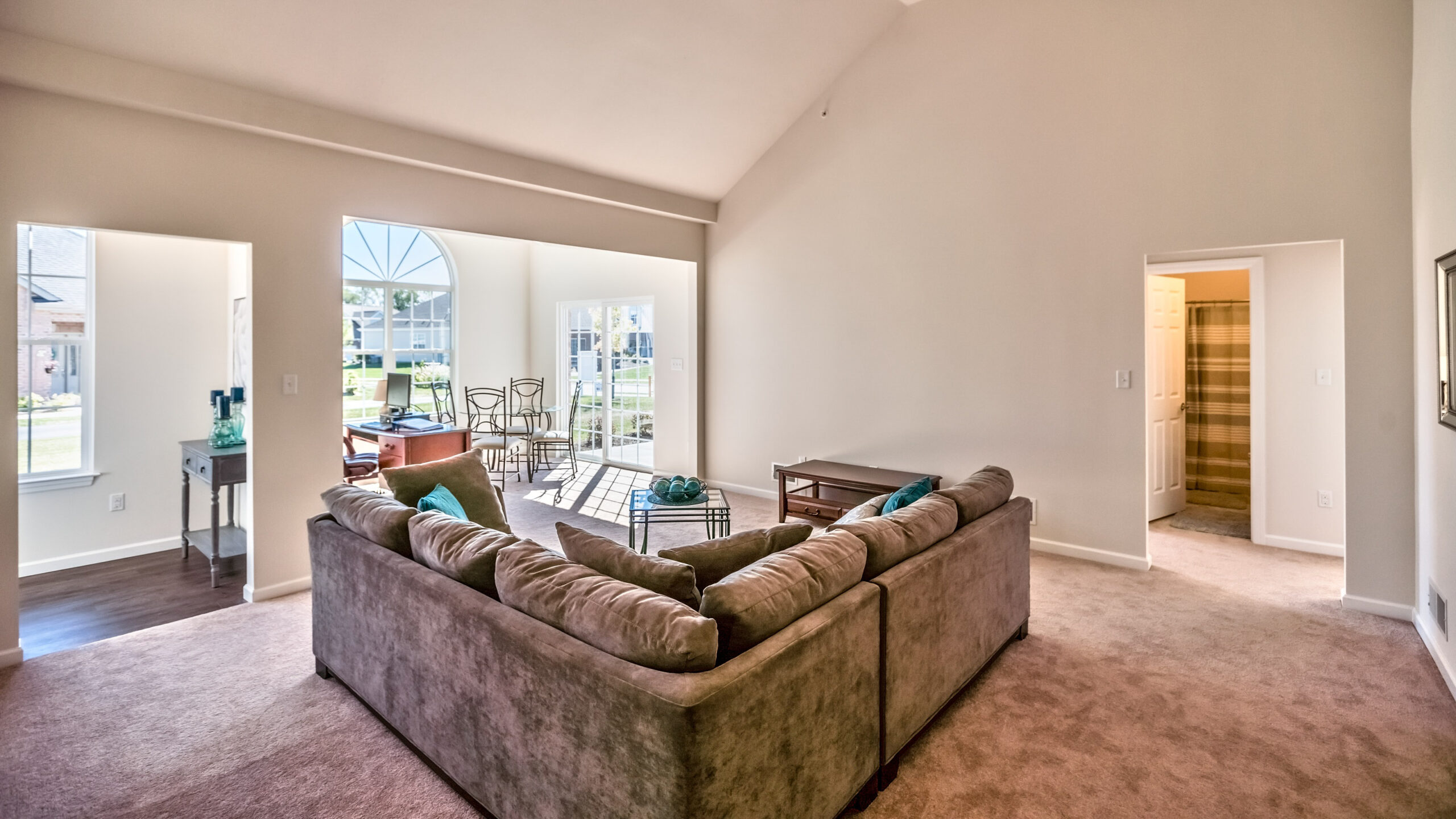 Deep within the pastoral environs of Westmoreland County lies the newest build by Ray Snoznik known as The Village on Kistler Ridge.  The site of a former golf course, Phase 1 of Kistler's Ridge is comprised of single family and paired villas on 93 lots, which will include some single-family homes in a future phase. Bringing together empty nesters, young professionals, families and retirees, the Village features its own Town Center filled with locally owned shops and restaurants, green space, a gazebo and what is called a "tot lot".  Second story apartment units and pickle ball courts round out the town center which is designed to appeal to individuals of all ages.  For those enamored with walking and hiking, trails abound at Kistler Ridge with a path that connects to the Westmoreland Heritage Trail where one passes parks and recreational areas dotted with landmarks reminiscent of the old railroad and industries that sprang up around it.  Additionally, The Village at Kistler Ridge is close to Murrysville, North Huntingdon, Greensburg and Monroeville with major arteries that make a commute to Pittsburgh quick and easy.
Heading south, one can find low maintenance luxury in Washington County via the builds by Scarmazzi Homes.  With specific criteria for his builds, Paul Scarmazzi finds that just the right location is key for a successful community.  "The criteria for our communities is based on several things: ease of access to shopping and service amenities, population density in the defined market area, analysis of unmet needs, and competition as well as proximity to highways and transportation corridors.  Enter The Sanctuary, Scarmazzi's latest patio home community located in Cecil Township with homes starting at $320,000.  Gourmet kitchens, oversized garages, outdoor patios and spacious owner suites are but a few of the perks in these detached patio homes located just off Route 980 with convenient access to Interstate 79, Southpointe, Pittsburgh International Airport and Downtown Pittsburgh.  Second level bonus suites are also available for added living space.  Here, one can relax in a rural atmosphere knowing that walking trails, shopping, medical services and more are just minutes away.  And of course, lawn care and snow removal are but a few of the amenities included in this lifestyle community.  Scarmazzi luxury patio homes also can be found at Arden Farms, just off Interstate 79 in Washington County starting at $260,000.  The open concept home gives way to 1,400 square feet of high-end finishes and features not least among them generous outdoor courtyards serving as an outdoor retreat.  For those with a greater desire for privacy, Arabian Meadows, a private community nestled in Chartiers Township just off Route 79, offers relaxed rural living along with a community clubhouse, pool, tree-lined home sites, sidewalks and more starting at the mid $350,000 mark.  Bonus suites and basements are available and all have private courtyard space for relaxing, entertaining and gathering all without the worries of yard work and close to Tanger Outlets, the Meadows Casino and the airport. 
So Just What Are the Intrinsic Benefits of Low Maintenance Living?
Many homeowners describe home maintenance as tiresome or dull, if not downright exhausting.  Weekends and spring/summer holidays may be fraught with yard prep, weeding, painting or home repairs, leaving little time to rejuvenate, relax, and unwind alone or with friends and family.  So, how does low maintenance living alleviate many of these nagging chores?  "Simply put, our lifestyle communities provide more time for the things our customers want to do and not be tied down to exterior maintenance such as grass cutting, mulching and snow removal," Scarmazzi explained.  "The boomer market places a high value on walkability and we have sidewalks in all communities with several upcoming plans to include walking trails for residents."  The Forbes Real Estate Council reinforces that statement claiming the lifestyle needs of boomers differ from those of first-time buyers, referencing safety, walkability, local amenities and maintenance as key factors in attracting the boomer market.  Brennan cited the lock and go home as an asset for empty nesters into retirement.  "They don't have to worry about home maintenance when they leave for vacation, or if they split their time between here and somewhere south," she said.  "Younger families in our communities are looking for a nice house without having to spend all their free time taking care of it."   "Both of our communities afford residents the opportunity to be part of a larger community and neighborhood, while maintaining a stress-free lifestyle," offered Seydor.  "Neither are age-restricted and are open to all buyers."  A sense of belonging, too, appears high on the list of ideals boomers espouse according to Forbes.com.  "With the arrival of Covid-19, I've seen a beneficial effect within our communities, one not necessarily anticipated," Dunn commented.  "In our large outdoor pavilions and along the walking paths the ability to see people somewhat face to face and communicate with others while still maintaining a safe distance speaks to the advantage of these types of communities as well as the importance of the relationships developed.  It's that sense of community, of support, and knowing you are not alone that makes a difference." NH