When it comes to design, there's no other room in the house where a meticulous plan is more critical than in the kitchen.
What was once a purely utilitarian space for food preparation, the kitchen has evolved into the busiest room in the home. No longer closed off from view, it's where families gather to cook, dine, and entertain. Everyone uses the space differently, so a well thought out plan befitting the homeowner's lifestyle is the key to a successful design.
"Kitchens are often the nucleus of a home and family. They serve many functions and many generations," says architect and interior designer Sarah Drake. "The kitchen's location, the family's lifestyle, and the relationship to gathering spaces both inside and out are critical to the success of kitchen design," adds the owner of Drake Studio.
Arguably, the hardest part about designing or remodeling a kitchen is where to begin. Just deciding what kind of professional to turn to can be complicated, given the array of specialists that can do the job – interior designers, certified kitchen designers, and architects are all excellent options.
Expenses vary with the level of service, so budget plays a large part in this first crucial decision. Home centers like The Home Depot or Lowes offer kitchen design services that are ideal for smaller budgets and remodels that don't require structural or layout changes in the kitchen. "For projects like new cabinets and countertops, big box stores are very affordable and have plenty of current selections," says designer Amanda Carvelli, "They also have design software that make it easy for clients to visualize their dream kitchen," she adds.
For a wider range of choices in styles, materials and surfaces, homeowners can head to specialty kitchen retailers like SPLASH. With locations throughout the Pittsburgh area, SPLASH has a staff of designers that focus on a specific part of the design, like hardware specialist Beth Fay-Lane. "We carry all different design styles and price points and have full departments for faucets, sinks, counter tops, tile, and of course, hardware," says Fay-Lane, who is also SPLASH's marketing director. "Every time I walk through, there are new and different products," she points out as she winds through the several kitchen vignettes that makeup the massive showroom.
Another option in kitchen design is to work with an independent designer, a partnership in which customers pay a fee for design work and take the plans to a builder, cabinetmaker, or retailer. At Evalia Design, owner and certified kitchen designer April Spagnolo offers the gamut of services from design consultation and schematic design to implementation and installation. "Our clients trust us to provide quality products and services throughout the entire project," Spagnolo says. "They feel cared for from the first interaction with our company all the way to the final photo shoot and beyond."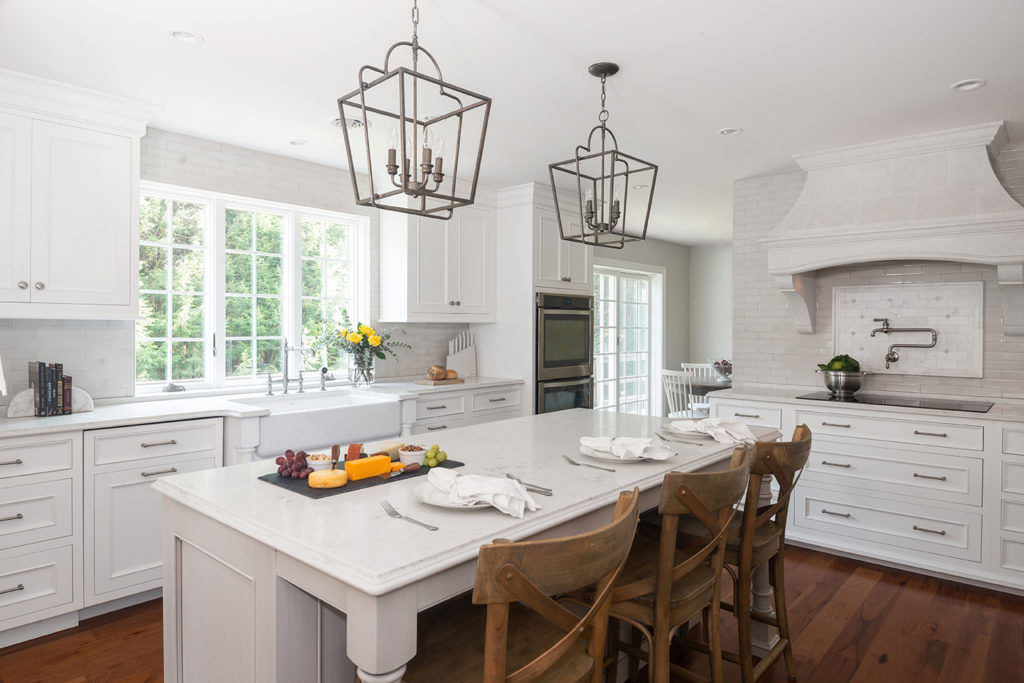 Function & Flow
No matter what type of design professional takes on the job, one thing is certain: understanding just how the space will be utilized – how the homeowner lives and functions – is an essential step in kitchen design. Busy families with young kids might need a gathering spot for a revolving schedule of daily meals plus plenty of space for homework and projects. A self-proclaimed "foodie" might want a gourmet kitchen with professional-grade appliances and tough and functional work surfaces. And other kitchens that are used more for entertaining than cooking call for a layout where guests can gather in an open space and where a wine refrigerator or wet bar might be favored over extra pantry space.
Professionals should take the time to evaluate these varying needs, asking specific questions like how many people in the family cook, how often and where they shop, or what items they typically store in the pantry. "We do a lot of interviews about wants and needs from the client," says interior designer Heather Delaney. "We like to look at how the space will be used, how the person or family lives, and how much actual use the kitchen will get."
Today, the old "kitchen triangle" – the idea that the cook top, refrigerator, and sink should all be placed at points on an imaginary triangle – doesn't drive design as much as it used to. As the kitchen's purpose has evolved so too has the geometry – the triangle might not apply to, say, a kitchen created for easy entertaining, or one in which multiple generations cook together. "Our family is growing. We have three children, two who are married and two grandchildren to date," says Mary Roberts who worked with Spagnolo to create a spacious kitchen in their home in Punxsutawney, north of Pittsburgh. "We host a lot of family dinners and really large groups over the holidays. During those times, we have a lot of hands pitching in for meals and we wanted a large, open space everyone could use." To that end, designers are incorporating several work "stations" where multiple tasks can be accomplished at once.
Lack of storage is often the impetus for a kitchen remodel, so creative solutions can help make or break the functionality. Cabinetry is being created specifically for certain items – like a breakfast drawer, complete with an outlet for the toaster. "I did not skimp on key pieces and storage ideas," Roberts says. Together, she and Spagnolo took note of every item that would need to be stored, and created a custom cabinetry that included solutions like a dish drawer to avoid lifting heavy dishes to higher cabinets, and a coffee station for entertaining and freeing up counter space. "All of the planning made loading a breeze," Roberts said.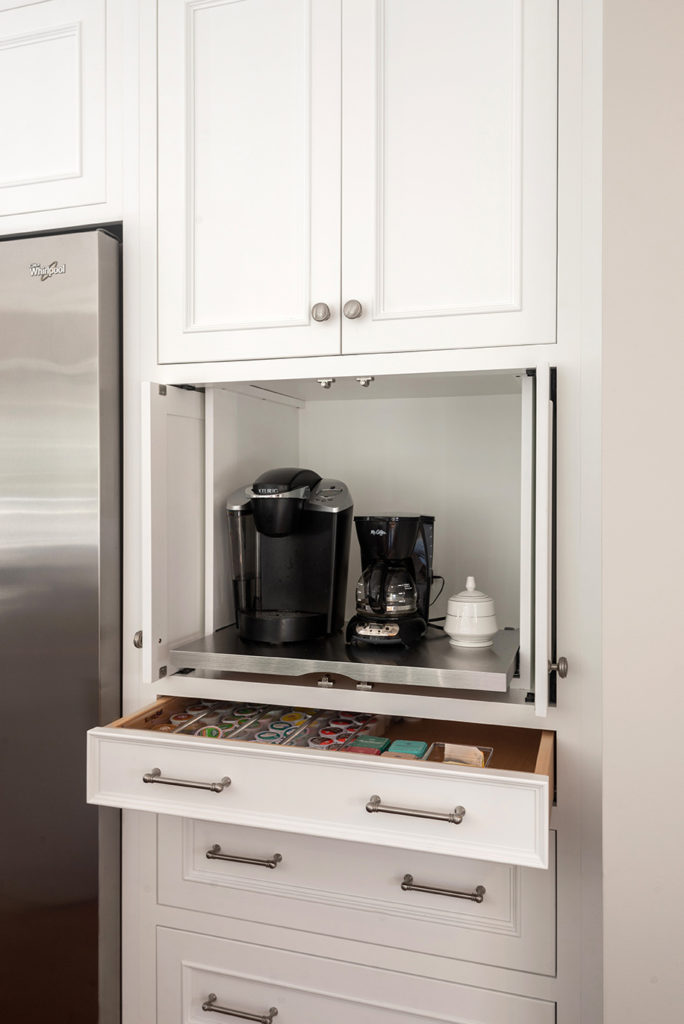 Delaney and her client, Pam Patel, agree. "It was really helpful to take an inventory of what we have and what we could eliminate," adds Patel, whose new kitchen in Fox Chapel features Chrystal Cabinetry with ample storage. "It was important to have abundant storage with various cabinet sizes," she says. Patel especially likes the deep drawers for large cookware and bowls, and lazy susans for a 360-degree visualization of oversized items. "It's important to take the time to walk through all of the cabinetry that they truly need," Delaney cautions.
A detailed lighting plan is equally essential for creating a practical and attractive kitchen. "As our lighting technology has gotten more sophisticated over the years so has the design approaches to lighting a kitchen," Drake notes. When approaching lighting in a kitchen, designers consider ambient, task, and accent lighting. "Using these three types will make your kitchen feel warm and inviting while also providing functional lighting," Spagnolo adds. "Dimmers are great too because you can control the quantity of light you want."
Down to the Details
Designers agree that it's the little details that put the "fun" in a highly functional kitchen. "My favorite part of the process is adding all of the things that are outside of the expected, like architectural elements or wallpaper," Delaney says. "At the Patel's, we did a freestanding furniture piece that really turned out great. It all tied in with the rest of the kitchen but was unique in its own way."
Zeroing in on these details can be a struggle because of the dizzying array of finishes, fixtures, surfaces, and colors. "I encourage my clients to peruse websites like Houzz and Pinterest so I get an overall idea of the color and feel they want," Delaney says. Many people feel overwhelmed by the options so designers like Delany help take that "virtual wish list" and guide them towards choices that are aesthetically pleasing but also functional. "This way, I don't have to try to guess their style. I want to help them make decisions they are going to like for years to come."
Pinterest and Houzz also make it easy for homeowners to get a sense of what's hot and what's not. After years of stark kitchens, for instance, colors are making a big comeback. People are leaning away from white or gray and moving towards deep shades like navy, or pastels like mint green and rose. In fact, cabinet color was a key driver in Marion Fisher and her fiancé, Tim Barns' newly renovated Highland Park kitchen. When Drake told Fisher that Beahm and Sons, a custom cabinetmaker in Evans City, used Farrow-Ball paints, she was sold.
"We created cabinets that were aesthetically clean, minimal in design, and hid as much clutter as possible," Fisher says of the cabinets, finished in a sophisticated shade called Blue Black. Drake admits that many clients have a hard time selecting the millwork's color and wood species. "It's an expensive and difficult decision. I always suggest that the finish is viewed in different lighting conditions and in a vertical orientation similar to its future installation," she suggests.
To balance out the colorful cabinetry, today's designs often include natural stone and wood tones to create a more personal and inviting space. "I call it West Coast contemporary," Fay-Lane says. "It's not the clinical contemporary with all white and stainless steal that we've seen before. This has the same clean lines, but with rich finishes and layers to achieve a high-end modern feel."
No matter what's hot, one of the most important jobs of a kitchen designer is to know how to incorporate trends in a way that aligns with any homeowner's style. "There are a lot of great ideas out there but I encourage clients not to get caught up in trends that won't last. They will tire of them down the road," Delaney cautions. "With that said, I do try to encourage clients to think outside the box a little and try to do a few things that are unique yet timeless."
One place to do so is on the backsplash because the options are endless. Homeowners can take a modern twist on a classic by choosing larger-scaled subway tiles or by laying them vertically. Ceiling-height backsplashes and large-print graphic tiles are also being used to create a focal point in the kitchen that reflects the homeowner's personality.
A hardware expert, Fay-Lane naturally thinks knobs and pulls are great details that bring interest to a kitchen. "It's like jewelry. There is something for everyone from leather to Lucite, brass to black." There is indeed an abundance of choices for hardware, faucets, and fixtures that go way beyond the old choice between chrome and brushed nickel. People are incorporating matt black, brass, gold, rose gold, and black stainless steel. Some companies are even offering mixed metals like a faucet with a gold base and a black handle. "We are seeing a lot of mixing metals these days. We are also seeing an increase in interest in living materials – ones that will patina and change with time," Fay-Lane reports.
Of course, you can't talk about current functional kitchen design without noting appliances and their increasing reliance on technology. Take the refrigerator, which today might feature LCD screens inside that can control temperature via Wi-Fi or alert that foods are about to expire. Ovens and ranges can be pre-heated, adjusted from a cell phone or through voice control. And today's dishwashers can automatically select the best washing temperature, water volume, and cycle time based on the size of the load.
The Bottom Line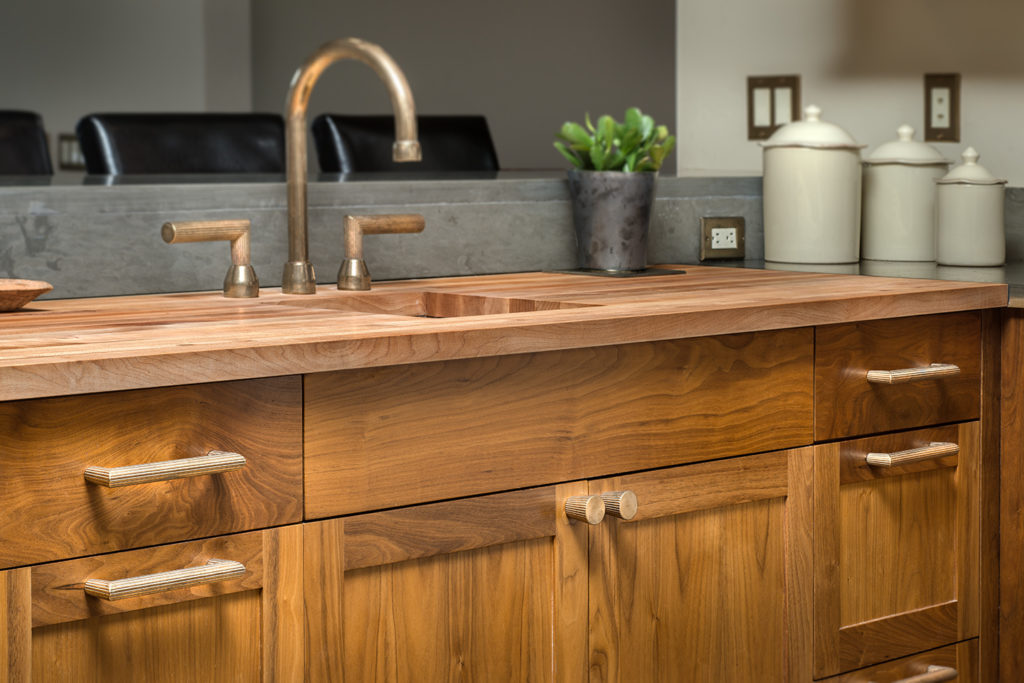 A well-designed kitchen doesn't just impact the homeowner's lifestyle, it impacts their bottom line. A kitchen remodel continues to be a good investment and kitchen upgrades and full renovations still top the list of what buyers want. "The big home-builders are splurging on kitchens," notes Howard Hanna realtor Sabrina Geraci. "So, people who are out shopping around are comparing those kitchens that have all the bells and whistles."
While realtors believe that kitchen renovations are the most likely to increase a home's value, that doesn't mean every penny spent will be recouped. That's why some suggest the best time to remodel a kitchen is not when it's about to go on the market, but a few years before. "Since getting 100 percent return on investment is unlikely, why not enjoy a new kitchen for a few years before selling?" Geraci suggests.
Whether it's a small-scale remodel or a complete kitchen overhaul, partnering with a professional who understands the importance of both fashion and function is the key to the project's success. "A lot of time, effort, heart, and soul go into these projects," concludes Drake. "We become a team – the client, designer, contractor, plumbers, electricians, vendors all work together for a significant amount of time on a common goal. My favorite part is seeing the vision come to life at the end." NH