The "new normal" means working remotely, learning online, and limiting activities and travel. As a result, many are taking the time to tackle home improvement projects they may have otherwise put off.
Among many other things, the pandemic has upended the way Americans spend their time at home. Stuck there during months of quarantine, it's no surprise that homeowners started to notice some flaws – and had ample time to fix them. In fact, 59 percent of Americans admitted that spending more time inside due to lockdown inspired them to renovate, according to research conducted by online home improvement network Porch.com. Over half of American homeowners said the pandemic and associated disruptions gave them time to improve their homes.
"Being home definitely gave us a chance to figure out exactly what we wanted," said Lauri Troutman of the renovations she started on her Fox Chapel home.  Like for the Troutmans, "finally having the time" was the top motivator, with 25 percent of people saying that's what drove them to go ahead with their improvement and remodeling projects. "With my husband working from home and not traveling, I was able to get his input more easily than normal," Troutman agrees.
Since March, three in four homeowners have carried out at least one home improvement project, according to the same survey, and even more plan to undertake at least one project in the next 12 months.
"People are not traveling as much or as far away, and they have few entertainment options outside the home," notes Elizabeth Johnson, Senior Design Consultant at Arhaus Furniture in Shadyside. "The expendable money that would have gone to those outlets is now being poured into their homes." From a fresh coat of paint to a whole-house renovation, sprucing up has indeed become a favorite American pastime.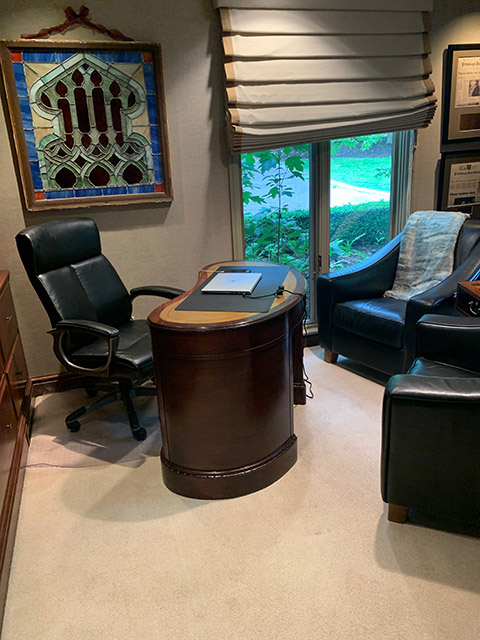 When the Walls Close In
When the stay-at-home orders were put in place in March, people took to the internet or flocked to home-improvement stores, considered essential, to stock up on supplies. "Everyone was just staring at their house and figuring out things they wanted to upgrade," says Josh Amster, owner of Premier Kitchen & Bath in Turtle Creek. "Instead of being a passing thought, projects were staring them in the face daily."
Among the most popular endeavors was interior paint, which accounts for 23 percent of pandemic-era projects.  "We have certainly seen an uptick in requests for quotes for residential painting," confirms Jeff Klysz, owner of Renaissance M.S. Inc., a paint contracting company. "It's an easy and affordable way to update a space."
Shari Zatman chose another popular relatively quick-fix upgrade this spring at her house in O'Hara Township. "We pulled out carpeting on our staircase and did new wooden stairs, and a new railing and wood floors in our second-floor hallway," she says. Flooring, according to Porch.com, is the third most common fixer-upper project during COVID.
"Kitchens, bathrooms, and basement refinishing have topped the lists for most of our clients," Amster reports. "People realize they need space and to be able to utilize it better." For many, home improvement starts out small but gains momentum quickly. That was the case with Katie Frain at her new home in O'Hara Township. "We started with plans for a fresh coat of paint on every wall in the house," she admits. "By the end of it, we had gutted and remodeled the kitchen, sanded and put a fresh coat of polyurethane on every hardwood floor in the house, remodeled the first-floor bathroom, painted ceilings as well as every wall, and sanded and painted every baseboard," she lists.
Frain and her husband purchased the house during quarantine and were racing against the clock to make it livable before their twin girls started kindergarten. "Luckily, with restrictions still in place, there weren't any distractions to keep us from making this house our home," Frain says.
The pandemic and associated orders brought on unique glitches to the already challenging world of home renovation. Jaye Tuppance and her husband had all but completed renovating their 1907 Aspinwall home when COVID hit. "Everything but the master bath, flooring, and finish work were completed by the end of February," she remembers.  "We were feeling pretty good about it. We had brought a TV and gaming system over to the house and ordered pizza to have a game night in our new family room. That was Thursday, March 19, the day non-essential businesses shut down. With contractors not being allowed to work, we had to decide what we could tackle ourselves." 
Likewise, Bridget Boem-Roscher didn't let a pandemic stop her and her husband from not only remodeling a house in Sarver, PA, but selling it too. "We remodeled my uncle's entire house in order to put it on the market," she says. Because they were home, they were able to do most of the work themselves. "We spent $30 thousand – which added $125 thousand to the selling price – and sold for the asking price in 10 days," she exclaims.
The New Normal
The pandemic has given homeowners the time for improvements, but also forced people to adapt to a new way of life. The most notable of COVID's impacts are parents and students working from home, creating the need for spaces that serve as workplaces and classrooms.
Robyn Friedburg reluctantly changed a den to an office for her husband. "I loved this room – it's where I would escape to read a book," she admits. "But with Marc working from home, it just made more sense to convert it." With an antique desk purchased at a yard sale, a couple of chairs and a few other additions, the office is now the perfect spot to conduct business. "He is on conference calls all day long, so he needed a place where there would be no interruptions," she says.
They are not alone in the decision to convert a spare room to an office. "We had two guest rooms. Now we have two home offices," says Sarah Scott of Squirrel Hill. "One is now a studio for my business, so we removed the bed to make room for lighting, microphones, and other equipment." The other serves as an office for her husband. "So, I get to listen to my husband's business meetings all day long," she laughs.
Because working from home seems to be here to stay, desks and office-related items are in high demand. "When Arhaus re-opened in May, the first few weeks were filled with clients wanting office furniture. The sooner the better, but customers would often settle for a long wait to get what they loved and really wanted," Johnson recalls.
Desks and décor aren't the only office-related products in need of an upgrade. Due to a sharp increase in reliance on the internet, more than one in five homeowners has recently upgraded their broadband internet – making it the third most common improvement since the pandemic began, according to Porch.com.  "Aside from painting or fixing up a room for an office, upgrading wi-fi was one of the things I got asked to do a lot," says Jack Clause of Jack's Handyman Services, LLC.
Not only does the internet have to keep up with the demands of the workplace, but with the classroom as well. Whether it's college students not returning to campus, or younger children doing online-learning, study spaces suddenly needed to be both efficient and learning-friendly. "When we found out that my first-grader would continue to learn from home this fall, I knew we had to take school off of the dining room table," says Sarah Kaminski of Shaler.  "We created a 'learning nook' by rearranging some things in his room, picked out a special new desk, and built a learning space in the corner out of other found materials from around the house," she describes.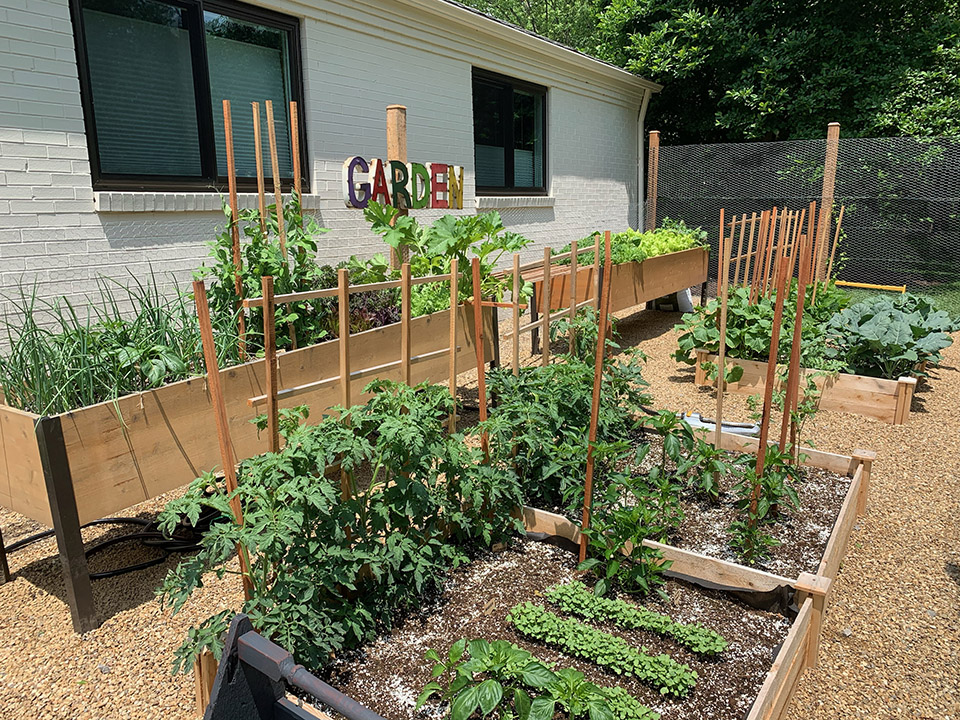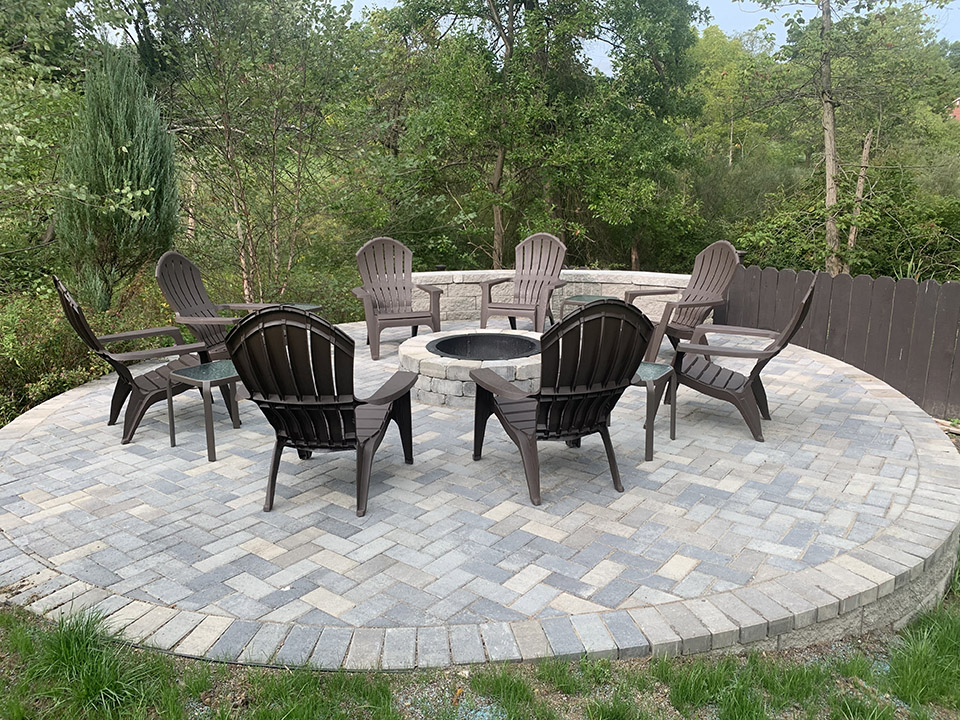 Getting Out
It's no surprise grownups and kids alike began going stir-crazy this spring, so back yards, patios, decks, and porches got a lot of attention as well. "I must have done at least 30 deck repairs or installations. I also put together 10 trampolines, and some above ground pools, too," says Clause. "Expanding or improving outdoor living spaces and anything to keep the kids busy – that's what people are focused on."
With teenagers in the house, the Zatmans opted for a fire-pit for outdoor entertaining. "The patio and fire-pit give us another living space outside," she says. "And since my kids were home, they assisted the landscapers with heavy lifting like carrying bricks and fill."
Similarly, the Troutmans started a back-patio overhaul, complete with a new fireplace and a covered area with heaters in the ceiling.  "It's nice to have an outdoor option when having family and friends over especially if we are going to have to deal with COVID for an extended period of time," Troutman says. "Since spending so much time at home, we realized it would be great to have an outdoor space that we can use almost all year with the exception of the coldest winter months."
By far, one the most popular outdoor pandemic-inspired activity has been vegetable gardening. In late March, interest in growing a garden hit an all-time high, according to Google Trends, as seeds, plants and gardening tools began to fly off the shelves. Some started small, and others, like Amanda Carvelli, went all out, creating an expansive 34'x14' garden. Complete with four raised beds and a gravel walkway, the space is surrounded by a deer and rabbit fence she and her husband built themselves.
"We created the garden for two reasons. We wanted to take our minds off of the current situation. And, second, we did it because at first, we could not get groceries delivered in a timely fashion so we figured we would grow our own produce." All summer, they harvested a variety of tomatoes, peppers, beans, onions and lettuce, as well as various herbs. Aside from the bounty of fresh veggies, Carvelli says the most rewarding part was getting the kids involved with planting, watering, and picking, and plan to continue after the pandemic subsides. "We've kept a journal of when and what was planted, what has worked best for us and what has not."
Another fun trend resulting from the stay-at-home orders is the addition of a shed or conversion of a garage into usable spaces to gather. Take Tim and Luann McLaughlin, for instance, who turned their detached garage in Aspinwall into an indoor/outdoor hangout. "We cleaned out and prettied it up. We added new windows and doors and a fresh coat of paint," he describes. "Being at home, we realized it was an under-utilized space where we could safely have guests over," he says of the project they work on daily, while juggling back to back zoom calls. "Being stuck at home definitely motivated us so we were be able to use it as soon as possible," he added.
Heading into the new year unsure of what the future holds, the increase in home improvement projects in the time of COVID are likely to continue. Settling into her not-quite-finished home, Tuppance reflects on the challenges and lessons of her pandemic project. "I like to see the silver linings in things," she shares. Like many, she has relied on patience and positive-thinking, and also took the time to learn a thing or two about home renovation. "I learned how to restore 100+ year old brass doorknobs and clean and repair mortise locks," she laughs. "Of course, I wanted to move into my completely finished dream house.  I now realize it may never be completely finished.  But it's a lovely, livable place to plan my next project."  NH