From mission to mid-century modern, vintage to industrial, furniture not only brings function to every room in the house, but style and personality too.
Think back to any decade and some obvious furniture trends come to mind. The seventies conjure up images of velvet sofas in shades of avocado or orange. Look back to the eighties and huge entertainment systems were the rage, perfect for hiding all those wires, speakers, and that VHS collection. And the nineties might invoke memories of minimalistic furniture, not to mention the DIY craze that boomed thanks to the launch of HGTV and all its interior design shows. While every decade has its stand-outs, one thing hasn't changed – the need for furniture.  In fact, furniture and home furnishings stores generated about $116 billion worth of sales in 2018.
Department stores, mass merchandisers, home improvement stores, and online and mail order retailers are all options for finding furniture. But in and around Pittsburgh, there are several beloved independent furniture stores – businesses like Bradly-Michaels, Doud's, PerLora and Weisshouse, to name only a few – all focused on bringing personality and individuality to homes across the region.
"The residential market is strong in Pittsburgh," says Cyd Mello, representing the third generation of the family-owned Weisshouse, the iconic furniture and interiors business in Shadyside. "Customers are seeking a customization in product and design that is not available on the internet. They are also looking for quality and for furniture that lasts."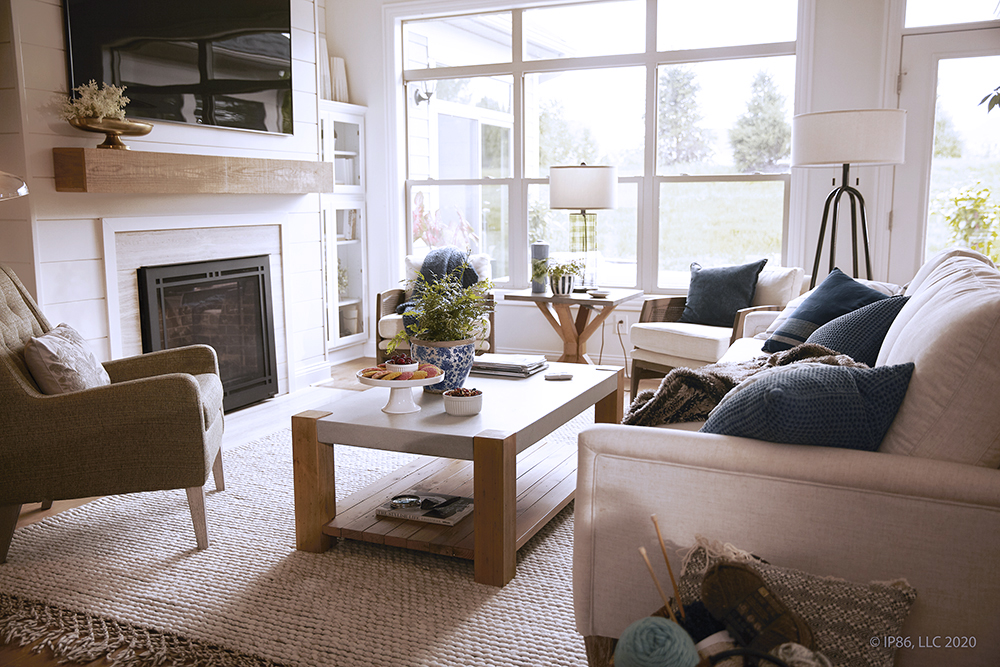 Decisions, Decisions
Whether it's one room or a whole house, purchasing furniture can be a daunting process. Once you narrow down the style, there are countless choices from fabrics to finishes. So people in the industry say it's always better to look for help from professionals, and to create a plan early. "With new construction, we love when people bring in their house plans so we can start helping them choose furniture and pick out paint colors, flooring, and countertops at the infant stage," says Michael Shull who, along with Brad Halstead, owns Bradley Michaels Furniture in Pittsburgh's South Hills.
The duo brings their extensive experience to the process, offering complementary in-home consultation as well as in-store guidance. "We can customize everything from the fabric to the finish on the leg, how many nail-heads you want, how far apart to space them," he lists. Because there are so many choices in the process, he says trust is important. "We've been lucky enough to have repeat customers who can say 'I trust you. Just show me what we need to order,'" he laughs. One such customer, Sharon Steinbock, has been working with Shull and Halstead for about 15 years. "We downsized so in the new house, I wanted to go in a completely different direction," she says of the new carriage house in Nevillewood. After 15 years, it was easy because Brad knows my style. He's become a friend, so the process is easy. I trust him."
Indeed, trust is important, especially where budget is concerned. "You have to consider your lifestyle, and be honest about it," says interior designer Janelle Spilman Affeltranger.  "A family with three kids and two dogs may not make the same investment in furniture as a young couple out of college, or empty nesters," she continues. "We live in a world where things change very rapidly, and you have to decide if you pick furniture for a few years or for a lifetime."
Whatever the budget, it's advisable to be well versed in some basics about furniture construction before you shop. Some quick research will help you understand why some furniture costs more than others – differences like solid wood versus Medium Density Fiberboard (MDF), sinuous spring or eight-way hand tied sofa springs, and alanine or pigment-dyed leather.
If all this sounds intimidating, take advantage of the experienced staff you'll find at many independent, family-owned furniture retailers. Most offer complementary design services, or if your needs are greater, consider hiring a designer. "Furniture can be overwhelming. I always recommend seeking guidance from a professional," says Affeltranger. "They really can save you a lot of time, money, and anguish. You visit a hair stylist to help you feel beautiful- your home is no different."
Expertise is just one reason to consider local companies for finding furniture. "There are many places to buy cheap furniture but often it's just that – cheap," Weiss says. "Once you start to pull a design together it'll show its true colors.  The shapes are a little off and soon its sagging or coming apart."
Lora Sigesmund, who owns PerLora with her husband Perry, agrees. She says an additional advantage to stores like hers – the region's venerable destination for classic contemporary furniture – is their carefully curated list of vendors they choose to represent. "We are very particular about the vendors we partner with," she says. "That relationship is one of the reasons we have been successful. We believe in their product, and they believe in what we do." PerLora is located in Pittsburgh's South Side and its spinoff, PerLora Leather, is in the Strip District.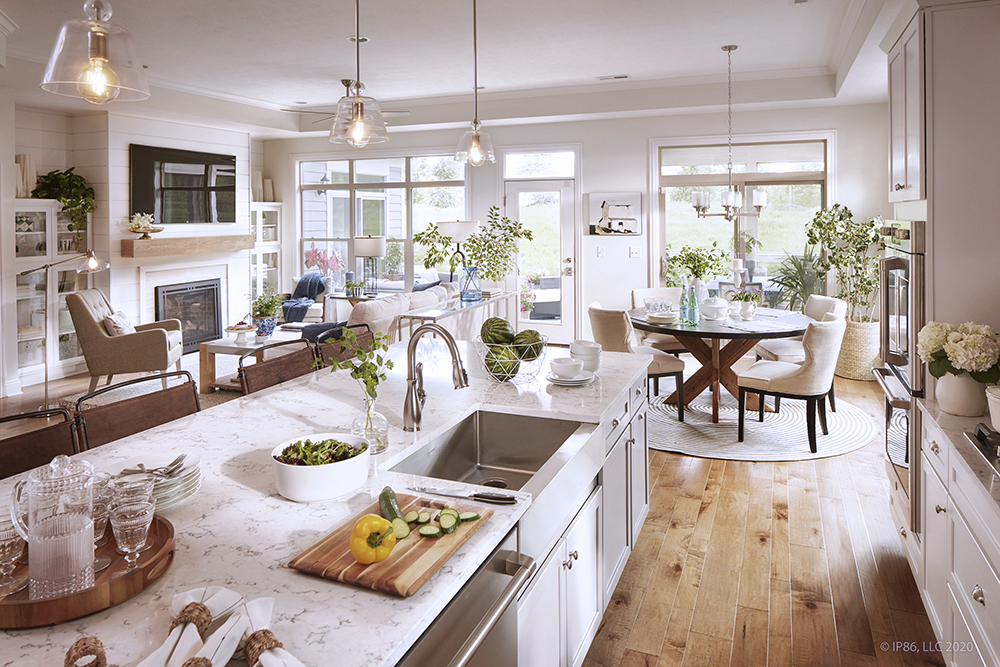 To Trend or Not to Trend
When designing a room and purchasing furniture, it's almost impossible to ignore the trends – especially with websites like Pinterest and HOUZZ. In light of COVID and its impact on how people live, work, and play, today's trends are undoubtedly driven by the desire to create spaces that are both highly functional and cozy.
In the new normal, "multi-functional" is the catch phrase for living rooms in the new normal. "I definitely see a push back to comfortable, relaxed, and functional design," notes Affeltranger. "And there is a lot of personal character coming back into the selection process." Weiss agrees and suggests splurging on a quality sofa. "Invest in rooms where you spend your time. Mixing unique vintage with modern finds creates a well-rounded living environment that will stand the test of time," she points out.
Indeed, living rooms are getting more – as the name implies — livable. No longer just a room set aside for formal gatherings, today's living rooms are really being used, so plush sofas and chairs in inviting fabrics are very popular. Mello says there is a return to a very neutral-dominant color story in the living room. "Many sand and stone shades of subtle creams and grays are being used for foundational pieces of furniture such as sofas. Color trends are also heading to Autumnal spice tones with shades of browns, bronze, charr, ginger and greens."
In order to accommodate more family members at one time, bigger and more comfortable furniture is replacing small, dainty pieces throughout the house. Some are incorporating more living space into the kitchen, for example, so people can gather comfortably. 
In the dining room, the table has become the champion of the home – carrying the weight of the office, classroom and favorite spot for virtual happy hours. "Most people are looking for quality furniture that meets different family requirements.  A large farm table that serves as a dining table and the perfect place for crafts seems to be more appealing than something that might transform or unfold into something else," Mello adds. No longer just as place to eat a fancy meal, dining tables need to be more practical. "Formal is really not around anymore," Shull agrees. "People are turning to what we call 'casual-formal' pieces that are very usable."
The cliché of the bedroom being a sanctuary rings truer now than ever. Whether it's bed linens, wallpaper, or a comfortable chair, bedrooms are a place to retreat. Soft surroundings and furniture made from natural materials like wood and rattan are becoming more popular. Headboards are getting more attention, as they are an inexpensive way of transforming a bedroom, just by choosing a striking color or rich fabric.
Though it may be a sanctuary, the bedroom might also have to double as a quiet place to work from home. With so many people working remotely, they are adding a desk or small workspace or, in some cases, changing a spare bedroom into a full home office. "They still want it to feel like home, or at least reflect their personal aesthetic and design choices. Small scale desks that pair well with area rugs and floor lamps have been popular," Mello reports. "Home offices have become a necessity but most of our customers still want it to feel like it belongs in their home."
Perhaps the one place where furniture is getting the most attention is not even in the house. "We've also seen more interest in outdoor furniture. Since so many of us have been spending more time at home, there's more interest in expanding the living areas into all usable space," Mello speculates.  Overstock.com, for example, saw patio furniture sales increase a whopping 225 percent year over year since April 1.
Indoors or out, when picking furniture for any space, professionals often suggest a balance between what is on trend and what a client is truly drawn to. "Yes, trends are important, but what's more important is to surround yourself with pieces that you love, that are meaningful," Sigesmund says. She urges her younger customers who are just starting out to think of furniture as an investment. "They say this younger market is the 'disposable market' that they don't want to be attached to things – but I'm here to tell you that not everyone feels that way," she insists. "We have many new homeowners investing in pieces that will carry them for more than just a couple of years."
Affeltranger agrees. "It's like buying clothes. You want really good pieces you wear a lot, and all the accessories and fluff doesn't have to be such a commitment."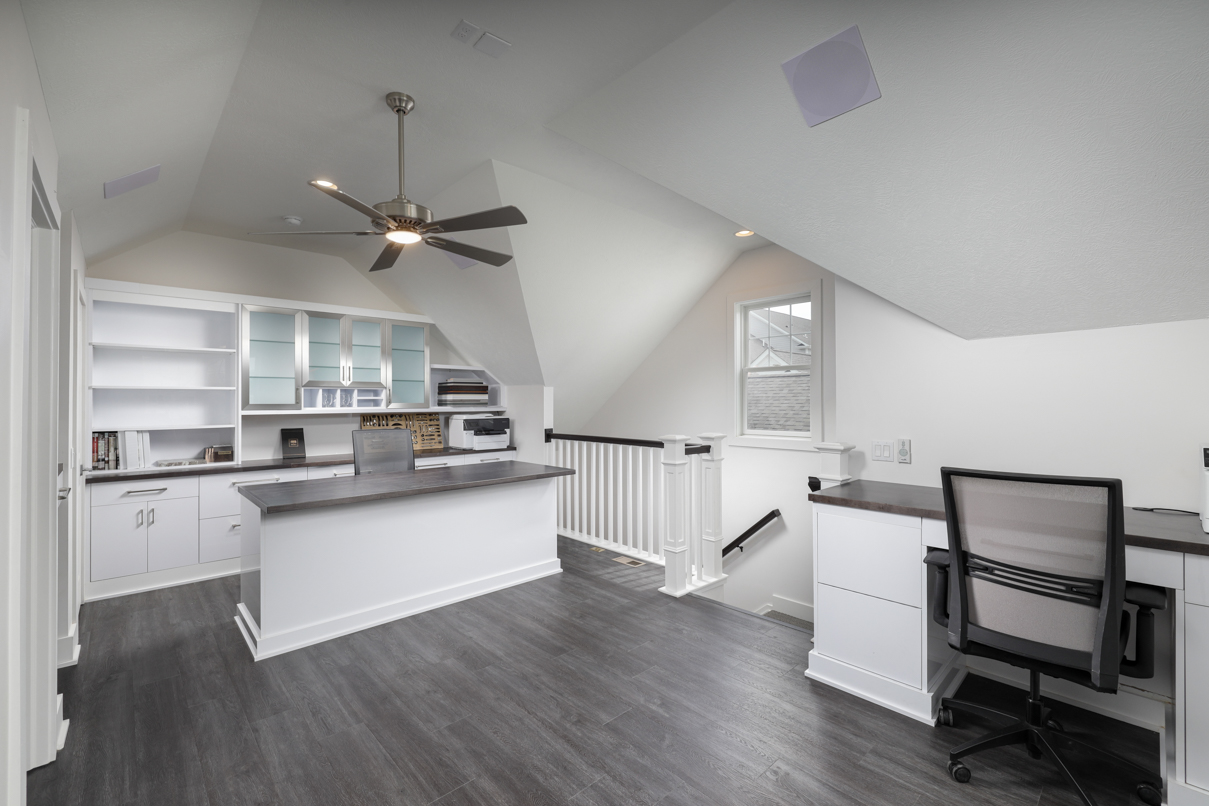 The Vintage Advantage
How long furniture lasts is about more than quality and good investment.  Today, the demand for sustainable furniture and decor has skyrocketed because of environmental concerns. "We are all about upcycling, repurposing, restoring, refinishing, and recycling," says Jonathan Carberry, owner of Pittsburgh Furniture Company in Lawrenceville explains, citing the obvious impact of saving furniture from the landfill. "We refinish couches, dressers, chairs, coffee tables, credenzas, for many years of future use and love." The focus is on vintage style and mid-century modern, but he appreciates all types of furniture and great construction. "We have close to zero waste here and reuse almost all our scrap and deconstructed pieces into repairs and projects."
Designer Tina Cavaliere also breathes new life to old pieces using a fresh coat of paint and a lot of ingenuity. "We've turned headboards into benches, chests into seating," she says of the work she does with her husband in Uniontown. Cavaliere scours antique shops, flea markets, and estate sales for furniture with potential. "It's hard to believe what people don't find valuable. I guess I've always had a natural eye for what can be redone," she admits. Her work is a mix of commissioned pieces and those that just speak to her. "Most of my customers share an environmental concern, and simply don't want to throw things out."
What it comes down to is that what you choose to fill your rooms with reflects your interests and what's important to you. "There is something about buying furniture that is so personal. I try to get to know how people live, and understand each client then emphasize their personality with what makes them happy in a space." Whether its vintage, antique, or a new piece that stand the test of time, the result of thoughtful furniture selection is a home that is as unique as those living in it.  NH