Building a new home with DRB Homes
The ability to select a floor plan and make all the choices you'd like in a new home is yours when you make the decision to purchase from DRB Homes.
It's one of the many reasons why Pittsburgh-area home buyers choose the skill and commitment to quality that are the hallmarks of the DRB Homes' experience.

New name, same high quality
Although new in name, DRB Homes is not new to the home building industry. The homebuilder boasts over 30 years of hard work, dedication, and quality craftsmanship along the East Coast from Pennsylvania to Georgia. 
"The name has changed, but our passion remains for improving the lives of our homeowners," said Cindy Plackmeyer, DRB Group Corporate Director of Sales and Branding. "With over 150 new communities and dozens of home designs to fit every lifestyle, we're proud to offer a more personalized approach every step of the way and deliver on our promise of creating an exceptional new home and a rewarding experience."
Living Your Best Life in a DRB Homes' Community
Living your best life is more than an expression with DRB Homes. DRB Homes features the highest-quality building materials for modern home designs that are beautiful and functional.
Standing the test of time – while offering the maximum resale value – is one of the biggest assets of DRB Homes' property. "We get feedback from real estate agents whenever a DRB home comes back up on the resale market," said Tony Ferro, Director of Sales and Marketing for DRB Homes in Pittsburgh. "They comment on how well the home has held up over X number of years. That's because of the quality of the products and the workmanship we put into every home we build."
Prospective home purchasers can easily tour professionally merchandised model homes in each of the DRB Homes' community locations, said Ferro. They are intended to provide an example of the kind of striking architecture and high-end interior finishes available in DRB Homes floor plans. The floor plans are offering what buyers are looking for today.
DRB Homes for Greater Pittsburgh Home Buyers
Home buyers interested in a new home in the Greater Pittsburgh area have several options, said Ferro.
Broadview Estates features single-family homes in New Stanton, PA. Floor plans range between 1,467 to 3,789 square feet and include 3 to 5 bedrooms, 2 to 4 bathrooms, and 2 car garages. Home prices start at $338,900.
Creekside Manor in Harmony, Butler County, features 3 bedrooms, up to 3 baths, 1- and 2-car garage townhomes in the Seneca Valley School District, and range from 1,340 to 2,781 square feet starting at $288,999.
Deerfield Preserve in Beaver features single-family homes with 3 to 6 bedrooms and 2 to 4.5 bathrooms. These spacious homes boast between 1,784 and 4,905 square feet of living space. Home prices start at $400,900.
Grandview Estates features 2- to 5-bedroom single-family homes nestled in the heart of Greensburg, Westmoreland County. Each plan provides 1,571 to 2,665 square feet of living space with starting prices around $359,900.
Legacy in Collier Township offers luxury townhomes with 2-car garages and ample living space. It is close to shopping, dining, and entertainment in nearby Robinson Township. These townhomes start at $349,999.
Rolling Hills in Moon Township features new, 3-bedroom townhomes starting at $324,900.
Villas at South Park feature single-family homes with 3 to 5 bedrooms and 2 to 4 bathrooms and up to 3,789 square feet of living space. Prices start at $399,900.
New DRB Homes plans coming soon include:
The Abbey in Findlay Township features new luxury single-family homes in the West Allegheny School District.
New Single-Family Homes in Jefferson Hills Borough
New Townhomes in Middlesex Township
Homebuilders interested in new coming soon communities can join the VIP list to receive notifications about availability.
In addition to several communities in the Pittsburgh region, Ferro said DRB Homes also builds in Morgantown, Fairmont, and Bridgeport, West Virginia.
"The old adage of location, location, location hasn't really changed," said Ferro. "Our buyers are looking for a specific location. The communities we're in right now are suited for today's buyers and are located right where they want to be."
The DRB Homes Difference
We understand that building a new home is not a one-size-fits-all process, and we're ready to personalize your home — and your journey — to meet your unique needs.
By choosing DRB Homes, home shoppers can find the support they need to choose a new home with confidence. Beyond the physical quality of the workmanship that goes into every DRB Homes property, Ferro said the entire team takes the time to listen to what buyers want. "We ask what they are looking to change in their lives so we can help them along in the process," he said. Different floor plans and preferred finishes are two common points of exploration as buyers seek their dream homes.
With our dedication and expertise, we want our buyers to trust us as the experienced expert to help guide them through this emotional and important process.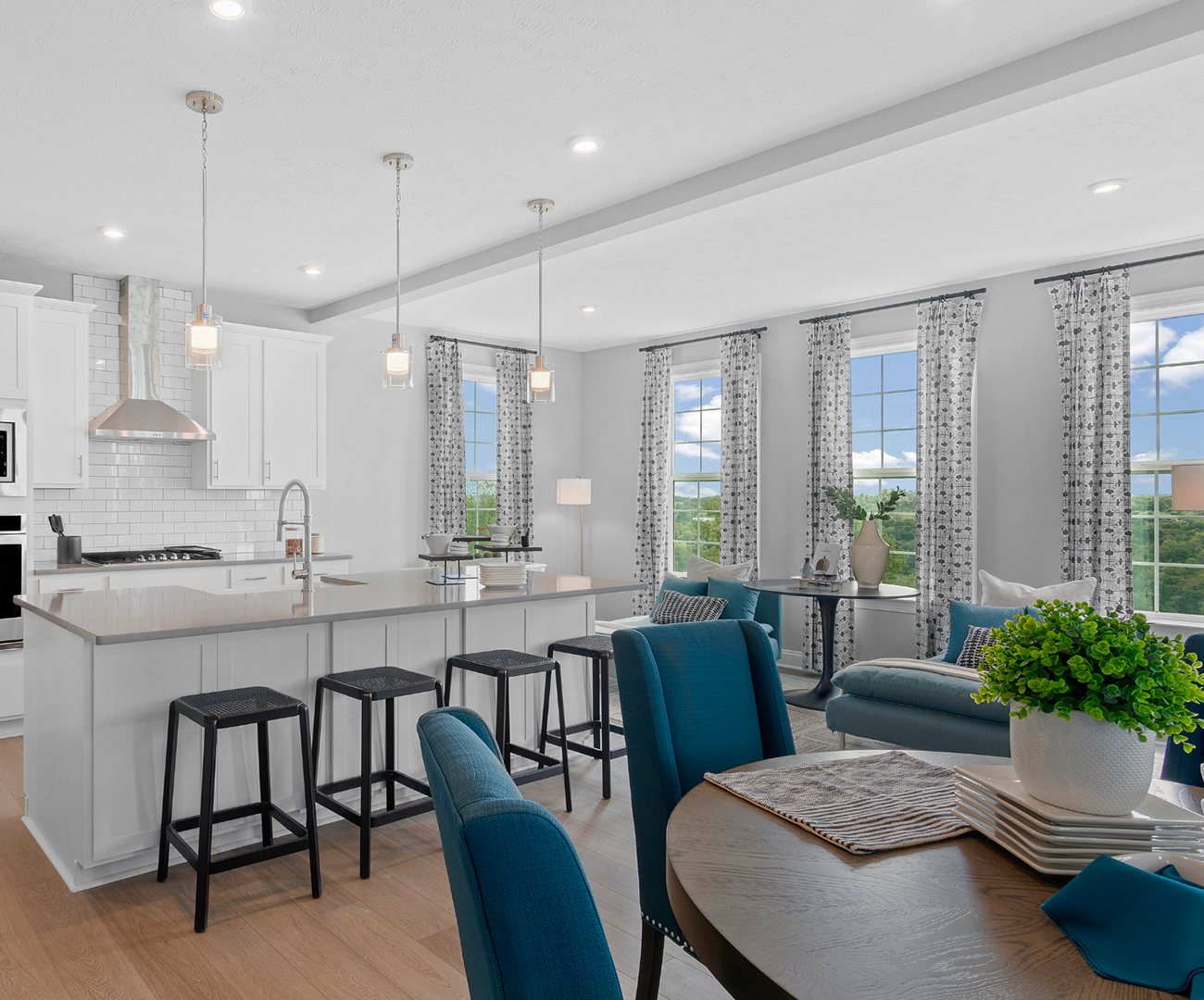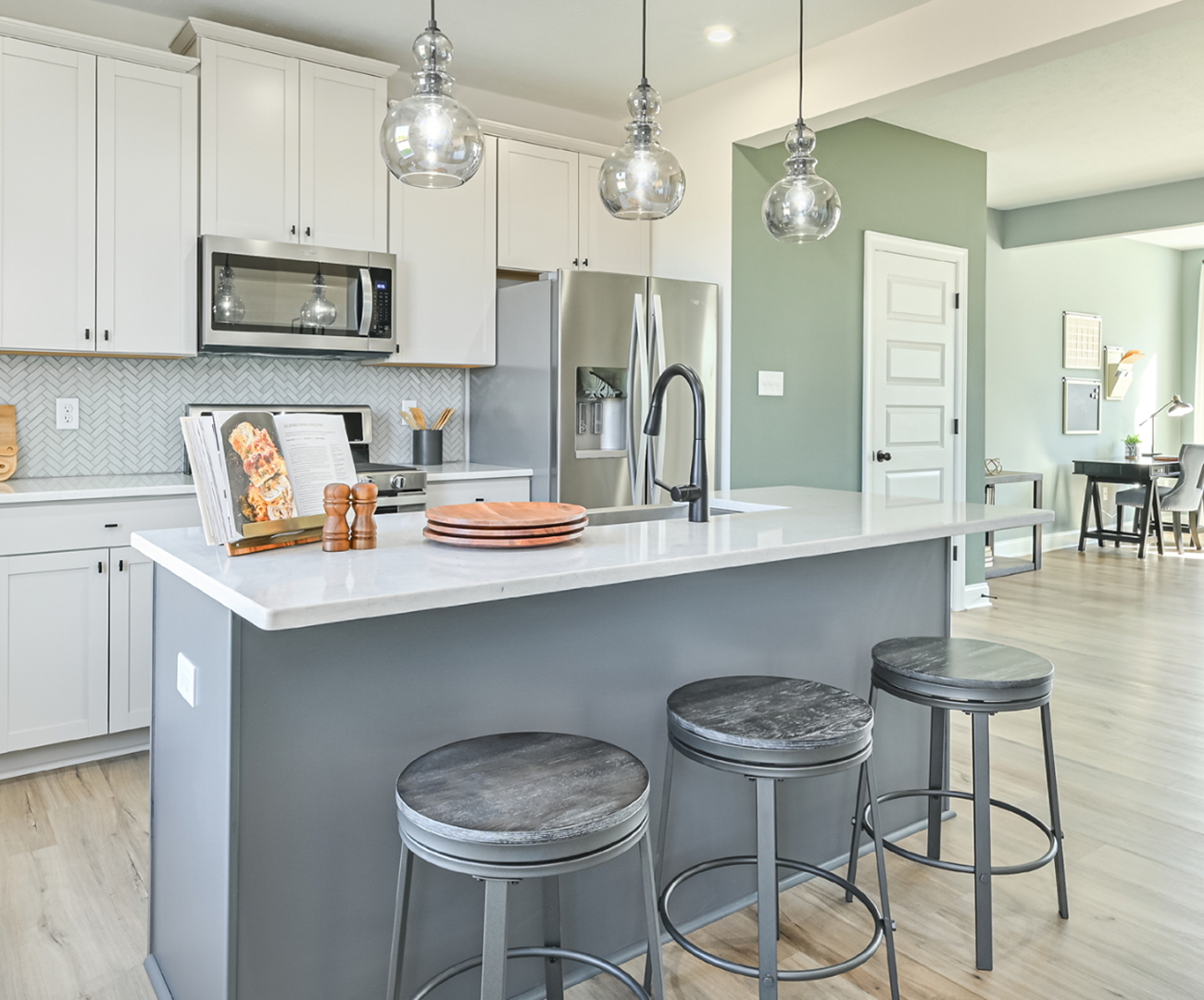 Design Center Adventures for Home Builders
One of the most exciting advantages of building new is making that trip to our Design Center to personalize the home exactly the way you've dreamed.
The design center in Canonsburg, Washington County, is easily accessible to all buyers in the Greater Pittsburgh and West Virginia areas, said Ferro.
At the Design Center, homebuyers meet with a professional design consultant, go through all their choices, then choose everything they want on the interior and exterior of their homes. "They can coordinate their choice of interior finishes including flooring, cabinetry, lighting, and plumbing fixtures," he said.
Popular Home Building Trends in Pittsburgh Region
Open living is the most popular request from new home builders in the Pittsburgh market, said Ferro. "Formal living rooms and formal dining rooms are going away in favor of more flex space," he said. "That space can then be used for a home office, a play area for the children, or for a larger family or recreation room."
Home buyers want more versatility in the way their homes live. Young families value properties that include nice backyards for the kids to get their energy out. "It doesn't have to be large," said Ferro. "Just a nice space in the back, whether there's a deck or a patio down below just so the kids have a space to run around and play. Convenience to work and social events are important, as is having local amenities nearby."
With so many great Pittsburgh communities, DRB Homes suggests that you check out their new website, drbhomes.com, to find a few places you'd like to tour, and come on out to meet our highly qualified and knowledgeable community consultants. They will take the time you need to be certain you find just what you're looking for. And while you're visiting the website, why not ask the DRB digital assistant 'chat bot' DaRBy all your questions? This assistant is available before or after regular sales center hours just for you.  NH