Whether you are building, selling, or just refreshing your home, investing in its exterior design will deliver a return on your investment in both resale value and personal enjoyment.
They say don't judge a book by its cover. But curb appeal, the popular realtor's term for how a home appears to passers-by, is beneficial even to those who have no intention of selling anytime soon. In addition to increasing a home's value, curb appeal is a great way for homeowners to showcase their unique style. From large surfaces like siding and roofs to small touches like potted plants and hardware, there are many opportunities to freshen the exterior design of a home to improve its function and style.
"Curb appeal sets the expectation for the rest of your home, so you want to put your best foot forward," says Berkshire Hathaway HomeServices realtor Julie Rost. While this is especially crucial for her selling clients, Rost also recognizes that it's just nice to come home to a house that makes you happy.
Take a stroll through the Pittsburgh region's diverse neighborhoods and you'll find all sorts of exterior styles. Narrow brick homes are tucked into urban areas like Lawrenceville, grand Tutors line the streets in established neighborhoods like Mount Lebanon, and in newly developed suburbs like Hastings in South Fayette, where custom homes are being designed in a variety of contemporary classic styles.  "Whether it's a small stoop or a big front porch, every home has only one chance to make a good impression," says Rost.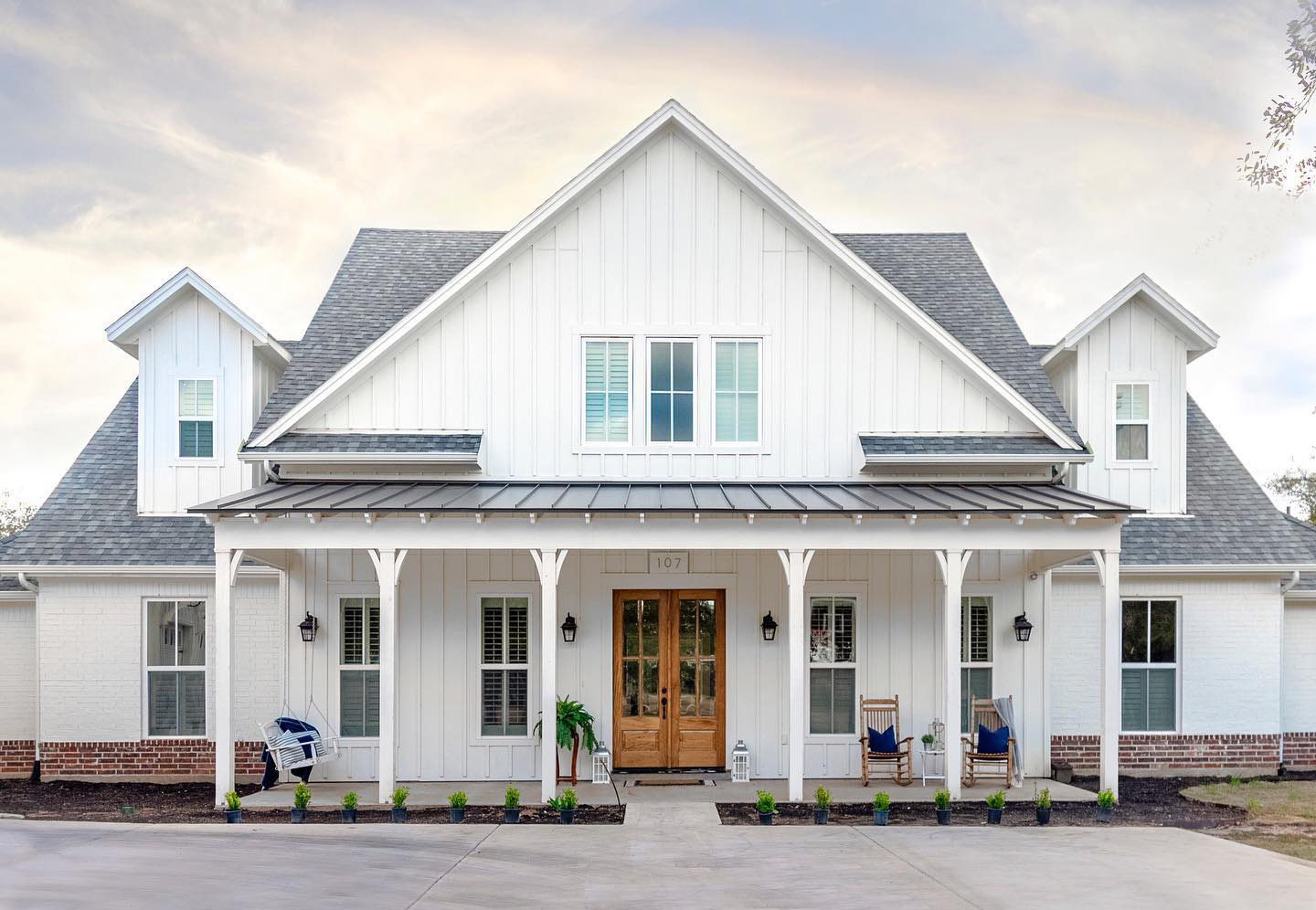 The Big Picture
Sprawling or cozy, modern or historic, any type of home looks best with a good fresh coat of paint. Afterall, color is often the first thing people notice, so paint is one of the best ways to give the exterior an instant "face lift." Depending on the size and intricacy, painting can be a cost-effective task. But it can be a daunting task too, what with endless color choices.
"I tell my customers that the best paint colors are the ones that highlight the most beautiful features of their home," says Jeff Klysz, owner of Renaissance M.S. Inc., a paint contracting company based in the Fox Chapel area. "You want to call out the positive aspects, like beautiful trim, but you also want to downplay the not-so-great things like air conditioning units, gutters, or uneven windows," he cautions.
"Your exterior paint scheme should feel appropriate to the home's style," Klysz adds. For example, a palate of various pastels may not be the best fit for a ranch-style house, just like bold colors might look out of place on the intricate details of a Victorian home.
For some, the choice is easy. "I knew from the start that I wanted to paint the brick white and do all the trim in black," says James Scott of the Aspinwall home he and his wife have been painstakingly updating for two years. "I grew up in a brick house with black trim. This house was originally yellow brick, but it just didn't match with what we wanted to do."
For others who find the color conundrum a bit more stressful, the best way to start is with a walk around the neighborhood to see what is appealing. Then do some research online and look to paint companies for guidance on what's trending. Behr, for instance, announced Back to Nature as their 2020 color of the year, which is among the many earthy hues that are currently popular in exterior houses. Sherwin William's Naval is a nod to the art deco era of the 1920s and brings a fresh new look to paler, neutral house exteriors. Benjamin Moore's feature color of 2020 is Bright Light, and Pittsburgh Paint's Chinese Porcelain, both aimed at creating a sense of calmness.
Once you've narrowed it down to a family of colors, consider using one of the many visualizing tools offered by major paint companies to zero in on the perfect shade. Many companies offer online tools that allow customers to upload exterior photos of the home and "try on" different paint colors to see how they might look like on the house. "It is a great way to experiment without making a commitment, or wasting time and money," Klysz suggests.
Of course, painting isn't the only choice for reviving a home's exterior. Depending on budget and durability, siding is a popular option for both new construction and renovation. A wide variety of siding options are available from companies like James Hardie, whose products grace the sides of more than 8 million homes cross North America.
"Here in the Pittsburgh region, we are seeing a lot of modern farmhouses," says James Hardie Market Development Manager Natalie Rossa. "Our products replicate that popular shiplap look made popular by HGTV's Chip and Joanna Gaines," she says. With an extensive variety of siding and trim, James Hardie helps builders and homeowners narrow down their choices online. "Our website has a lot of ideas and inspiration, including a Home Color Tool that helps people visualize styles and colors."
Whether it's painted wood, siding, stone or brick – or some combination of these materials – the home's front elevation is one of the best reflections of the owner's personal style. At Hastings, a newly constructed Charter Homes neighborhood in South Fayette, the choices buyers are given in architectural styles has resulted in a new neighborhood that feels like it's been around for a while. "We believe that people are special, and the homes they live in should be too," says Lindsay Dunn, Charter's vice president of marketing. "Our streetscapes are interesting and unique, rather than just more of the same." Charter makes it easy to choose colors and materials with the help of professional designers and access to all of the latest choices in our design studio.
As for materials, masonry remains a popular choice for its durability and performance. But board and batten exteriors are trending, and the modern farmhouse look is still going strong. There's also a significant increase in the use of stone in new construction exteriors, with an increase in stone mixed with board and batten or traditional siding.
Aside from the façade, another of the larger exterior surfaces to consider as part of the overall curb appeal is the roof. It might seem purely functional, but a roof can be used as a beautiful design element. So, when the time comes to choose or replace a roof, coordinate materials and colors with the rest of the façade for the greatest impact. Whether its metal, wood shakes, or slate, the roof is also the most important part of your home's weatherproofing and insulation system, and can save on heating and cooling bills.
Weekend Warriors
---
If painting the whole house or tearing up the yard isn't in the cards, consider some smaller DIY projects that will instantly freshen up the look of any home.
The Power of Power Washing: In addition to power washing the exterior, clean the porch, decking, gutters, and garage doors. A little bit of elbow grease can make a home look brand new.
Paint the Front Door: Replacing an entryway door with a new steel door can cost $1,200, on average, so a can of paint is a great alternative. Add new hardware and modern house numbers that stand out from the norm.
Porch Pick Up: Add a new doormat, spruce up the furniture, and get some new pillows. Consider changing out the front porch decor seasonally for ongoing appeal.
Mailbox Makeover: The mailbox is in many cases the first thing people see. Make sure it isn't battered and worn. Spray paint or replace it, then add some simple landscaping for instant wow.
Tend the Lawn: Get out the lawn mower, cut the grass regularly and don't let weeds get the best of you. Consider edging your flower beds for a tidy look.
Driveways & Garages: Don't forget the impression a cracked driveway or aging garage doors can make. Reseal, repaint, then drag unsightly garbage bins to the side of the house.
Makeover Magic
If a house's main color is like the face of a home, then think of the shutters, windows, doors and trim as the makeup. Done right, they'll highlight features that bring out the house's best qualities. 
Home builders and owners no longer think of windows as merely functional, recognizing they can also be a key design element. Interesting and dramatic window configurations are increasingly popular and even simple changes, like the number of panes, can make a big impression. "I have always loved small-paned windows," says Susanna Godwin, who recently updated her 1890s home in Pittsburgh's Shadyside neighborhood. "I'm from the South, so I wanted the windows to have a Charleston or New Orleans feel," she admits. "The windows transformed the entire look of the house, so much so that we periodically see people stop and take pictures of our house!" The Godwins are not selling, however as a general rule, buyers do love new windows because they appreciate the increased energy efficiency. As such, sellers typically see a good portion of their window investment returned.
If replacing or adding windows isn't in the budget, consider highlighting existing ones by adding or painting the exterior shutters. Shutters are traditionally made of wood, aluminum, vinyl, composite, or fiberglass. New composite materials, such as PVC resins or polyurethane, make them more durable and low maintenance. No matter the material, shutters come in various styles that can give a home a distinctive look, and many companies offer custom options.
For homeowner Maya Tuttle, a new coat of paint on existing shutters is all they needed to make a huge impact on the curb appeal of their Fox Chapel home. "It's amazing the difference it made just by going from beige to black shutters," she says, adding they updated all exterior house trim, too. Similar to shutters, the primary function of trim is to accent the home's architecture so making sure it is maintained goes a long way to increase curb appeal.
Last but certainly not least, a surefire way to make a great first impression with color is at the front door. Custom doors can be simple or exotic, clad in copper or aluminum, or crafted from recycled woods. But a door doesn't need to be brand new to add a pop. A simple can of paint can go a long way, as was the case at the Scott's black and white Aspinwall house. "As we've been updating the house, the number one question we get from people is 'what is that bright blue color of our door?'" Indecently, it is Sherwin Williams' Honorable Blue, a color the Scotts chose after admiring it on homes around the Boston area.
Landscape Love
All of that time, effort and money spent on increasing a home's curb appeal wouldn't be worth a thing if the home's landscaping goes ignored. "Without the removal of our overgrown bushes, you wouldn't notice our new windows or the house itself, for that matter," Godwin points out. The Godwins removed the old retaining wall and installed a new Versa-Lok wall, added bushes along the foundation, and created a small square of grass surrounded by boxwoods. "We finished by adding white stone to give it a nice clean look," says Godwin who, along
with her husband, did the landscaping themselves. 
While some projects like theirs may fall in the DIY category, others require the help of a professional. "Curb appeal landscaping, if done right, boosts property value and delivers big returns for a small investment," says John Fries of John Fries Landscape and Maintenance in Gibsonia. He agrees that the first job is to tackle any overgrown shrubs and trees that block the façade, address numbers, walkways, or windows. "Physically stand in the street and make sure your entry is visible and inviting," he suggests.
Landscaping projects don't have to be elaborate to produce big results. A simple but bold shot of color can perk up any front door, stoop, or porch. "I love to do colorful pots filled to the brim with interesting plants that complement the color of the house, the door, or furniture on the porch," says Monica Colantoni-Minturn, owner of Wild Iris Landscape in Aspinwall. "Container gardens are a great way to add personality to your entryway," she says. "Here's a place where you don't need to conform. Have fun with colors and materials." Minturn is a fan of succulents inside and outdoors. "They are so unique and beautiful, and also relatively easy to maintain. You can transfer them to different pots and plant boxes pretty easily."

Down to the Details
"Curb appeal starts when you drive by a home and continues all the way to when you are standing right at the front door," reminds Rost. So, from a realtor's perspective, even the smallest details like hardware, house numbers and lighting are important. "If there's one small thing that she suggests to clients, it's to update their porch lights. "Statement sconces on either side of the door can make a huge difference," she says, adding that popular options range from rubbed bronze to copper. "The hardware on the doors is another easy update and makes a nice impression."
Rost knows that each homeowner and seller has different priorities and budgets to improve their residence, but also knows the value in doing so. In fact, adding curb appeal can increase your home value three to five percent, according to Consumer Reports.
"The bottom line, whether your selling, or just want to feel good about your home every time you pull up, you never get a second chance to make a first impression," she concludes.  NH