Committed to the Job
Chuck and Jeanine Wiggins, the husband/wife team behind All Star Homes, reside in the Willow Estates Plan in North Huntingdon. It is a lamppost light, sidewalk community, with easy access to lots of shopping, highways and the PA Turnpike.
But what makes this community special to Chuck and Jeanine isn't just the great location, but the people around them – their customers. When Chuck and Jeanine built their home in 2015, they were breaking ground alongside some of their projects for other families in the area.
"Years ago, people would say, you never want to live where you build in a plan," Chuck Wiggins said. But for him, that wasn't the case. It's not only a convenience, but having invested much time and hard work into building homes in that community and trying hard to keep customers happy, he and Jeanine are proud to call it home.
All Star Homes has built about a dozen single-family homes and nearly a dozen villa units in the Willow Estates Plan and the community is still growing.
"Back in 2016, the developer of Willow Estates approached Chuck about building a street of villas in the plan" Jeanine said. "We have a street of patio homes and they have proven to be a very successful product. We refer to them as luxury villas due to their high-end finishes."
Chuck said that it is rewarding to maintain a relationship with his customers, whether that means waving when driving by or getting the chance to build for them again. There is no better testament than returning customers or referrals.
"I'm building a house right now for people who bought one of my original homes years ago," Chuck said. "When I initially got into the business, we built their home. Now they are moving into one of my villas. They are in their 70s."
Chuck has been building custom homes all throughout the local area since 1980. His builds can be found in North Huntingdon, Greensburg, Murrysville, Elizabeth Township, Jefferson Hills, South Hills and more, having probably built close to 500 homes. Over the years he has completed many commercial projects as well and engineered and developed his own plan, the Parkside Plan in North Huntingdon. Today, Chuck along with Jeanine, still prides himself on working to create each customer's perfect, personal space they can call home.
"It's about making people happy," he said.
Constructing a Career
Before the inception of All Star Homes, Chuck had already been building homes since the early 70s with his then father-in-law. He started when he was in his early twenties, right after he returned from serving in the Vietnam War.
Before he was drafted, Chuck was in school for aviation – he wanted to become a mechanic or possibly an engineer. "I was going to go back, but when I got out of the military, the PIA [Pennsylvania Institute of Aeronautics] was laying off airline pilots and things were kind of slow," he said.
So, he started a painting company and would help his father-in-law on the job.
"He asked me, why don't you start checking the homes like a foreman would do?" Chuck said. "That's how it all started. Within months, I was sitting down at customer meetings and learned from him. I also worked with the bricklayers and carpenters to get a feel for the job in all of its different phases."
For Chuck, home building came naturally, and when it came time for his father-in-law to retire, he was more than capable to take over.
"It worked out perfectly because it was right up my alley," he said. "It's a gratifying type of business. I always enjoy dealing with the customers and helping them to bring all of their home visions and dreams to reality."
All Star Homes stands true to that value. Each home is built custom, from scratch, specifically to the lifestyle and routines of each homebuyer.
"It would make it a lot easier if we went the other way," he said, such as offering a series of set plans for homes like many other building companies. "I wouldn't have to sit down and spend five or six days bidding out a house, but I don't mind starting from scratch."
In fact, that custom building with each unique element is what makes Chuck love his job.
"That is Chuck's passion. He loves it," Jeanine said. "Working with the customers and dealing with them closely is so rewarding. There is nothing better than starting a new design, and the day you break ground is always so exciting."
Building a Bond
While the building process can be stressful at times for all, Jeanine said we do our best to eliminate the stress by meeting with the customers, always being available for phone calls and guiding our customers through the building process. In paying close attention to design and detail and allowing our customers to be part of the process and customize to their liking, it is rewarding to help to create that vision and see customers ultimately so proud of their homes.
Like Mike Maurizi and his wife, who closed on a villa residence in Willow Estates in July of 2017. Looking to downsize and retire to one-floor living, they decided to build a luxury villa with All Star Homes.
"What we really liked about All Star Homes is that they were willing to allow us to change and customize some areas of the floor plan from the model," Maurizi said.
When they looked at the original model, there were several areas that they wanted to customize to their own preference and liking.
"We put skylights in the great room," Maurizi said." They also changed the location of the fireplace wall, and customized the master bath to allow for a dressing table for Mrs. Maurizi.
With their custom finishes and perfect layout, Maurizi, his wife and three dogs couldn't be happier with their home.
"We have a second floor, the "loft floor," with a bedroom, bathroom and a big storage area," he said. "The heating is another great feature. Our heat is hot water that runs through pipes underneath the floors, so it's great when you're walking around barefoot."
The house itself isn't the only thing that drew Maurizi and his wife to Willow Estates. The location and land is ideal for low maintenance and letting their dachshunds run.
"In Western Pennsylvania, it seems like you either have a house on a hill going up or a hill going down," he said. "My backyard had the part of the hill that tapered to the ground."
Behind his house, trees blanket the land and provide excellent privacy, especially when the leaves are full in the warmer months.
When it comes down to the building, Maurizi and his wife appreciate that their home is built by a hard-working couple.
"All Star Homes is just two people. That's it," he said. "When you are dealing with a big company, you're just a number. With All Star Homes, you get a more personal experience."
And if you're not careful, they just might become your friends.
"We didn't have to be friends with them," he said. "But we had no reason not to be!"
Creating a Community
When building custom homes that are upwards of $400K plus, every person who interacts with a single build is important to the overall product. Chuck and Jeanine pride themselves in maintaining a great relationship with their vendors and subcontractors, as well as supporting other local businesses.
"He has had a great team of subcontractors and vendors for a good many years. A lot of our customers will make positive comments," Jeanine said. "All Star Homes is only as good as our subcontractors. We do have a good team."
In addition to their hardworking laborers, All Star Homes' vendors include: 84 Lumber in North Versailles, Plumbers Equipment in Greensburg, ProSource in Monroeville for flooring, carpet and ceramic, Manor House Kitchens Inc. in Greensburg/Plum for kitchens, vanities, tops and appliances, The Fireplace and Patioplace, The Lighting Gallery in Greensburg and more.
Many of these vendors have been working closely with All Star Homes since its beginning, including Chuck and Jeanine's own home in the Willow Estates Plan. And while they have lived happily in that home for five years, they are ready for a change.
"It's time for a move," Chuck said. "We are in a big two story now. I'd like to get into a ranch with one-level living."
This time, they are moving into another one of their building communities – The Totteridge Golf Community (See page 38 for more on this development.)
"Totteridge feels like it's out in the country, but it's only a three or four mile drive out of Greensburg," he said. "You see cows and barns, but it's just six minutes from the mall and downtown Greensburg."
They plan to build a modern-style ranch home with walkout basement overlooking the golf course. The Village of Banbury at Totteridge is a new section of luxury homes where All Star Homes will be building.
All Star Homes is currently building its luxury villas at a cul-de-sac overlooking the No. 1 Hole at Totteridge, which Jeanine said has proven to be a really popular model.
The Luxe model has a side entry with high ceilings and an open floor plan, flowing from the great room to the dining room and the kitchen. It also boasts a large master suite with a window seat and storage, large walk-in closet, and a master bath with showers six or seven feet long.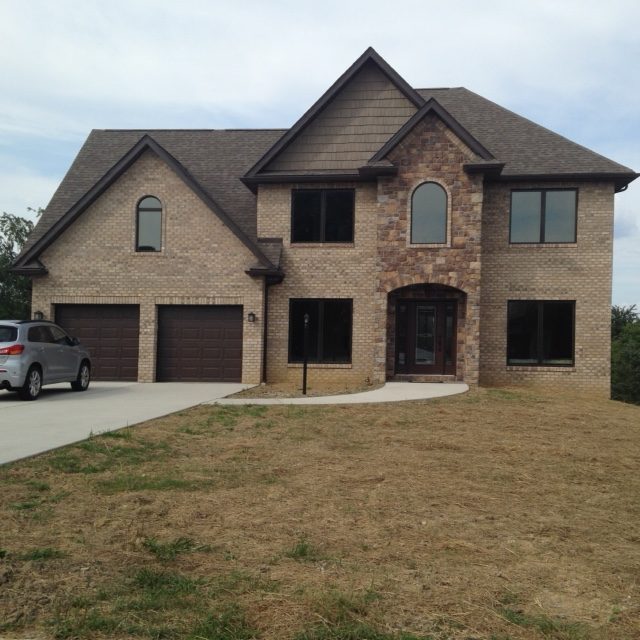 The Luxe offers one floor living with a loft, complete with a recreation area, bedroom, bathroom, large storage area and even a space for a wet bar.
"The loft seems to appeal to a lot of people," Jeanine said, noting that many of her customers want to use it as a man cave or a spot for visitors to stay.
"Most of our customers are in their upper fifties to low sixties and are selling their big family homes," she said. "A lot of them are empty nesters, but still want space for their children or grandchildren to visit."
For many, a favorite part of the Totteridge villa community is that it is located on a golf course, which means that the HOA covers yard maintenance and snow removal, there is a pool and clubhouse, and community members get reduced rates for golf.
And for Chuck, living at Totteridge will mean once again being conveniently close to his new builds, which is always a plus, as well as being on the golf course, his 2nd passion!
"You don't always see the main owner/general contractor around a build site, but Chuck is out there every day," Jeanine said. "He is committed and enjoys the job." NH